Foodies, snag a seat at this special omakase dinner running for one month only
Highlights of the nine-course dinner – a collaboration between chef Willin Low and private dining chef Annette Tan – include crispy mee siam, truffle buah keluak short rib bossam, and giam her (salted fish) pasta.
Looking for date night ideas? Or a dining spot for a meet-up with friends? If you're a fan of omakase dining, and lover of local cuisine, snag a seat at this special omakase dinner that's running for one month only.  
Chefs Willin Low, founder of Roketto Izakaya, and Annette Tan, founder of FatFuku, are collaborating to create a one-of-a-kind omakase menu. The pop-up collaboration, starting Sep 15, will be held at Roketto Izakaya at Frasers Place.
Both chefs are known for their creative takes on local heritage cuisine. Low, who is known as the godfather of Mod-Sin cuisine, made his name with the now-defunct Wild Rocket restaurant at Mount Sophia. In 2019, he opened Roketto Izakaya, a casual Mod-Sin dining bar.
Tan is a food writer who started supper club FatFuku in 2017, serving modern takes on classic Peranakan and Eurasian fare. "The idea for a collab took root when Annette came to my restaurant Roketto in Niseko as a volunteer chef last year. We found ourselves talking constantly about ideas that we could steal from each other, so we figured this was the best way to actually get those dishes done without offending each other," Low joked.
The nine-course dinner, priced at S$160 per person, comprise dishes from Tan and Low's repertoire including a surprisingly different version of Tan's signature crispy mee siam, a truffle buah keluak short rib bossam, and Low's giam her (salted fish) pasta.
Together, the chefs have also created several new dishes including Nonya pineapple tom kha fish, crispy chicken skin with buah keluak mayo, and fried yam ring with secreto Iberico char siew. For those with a sweet tooth, on the menu for dessert is chocolate durian coconut.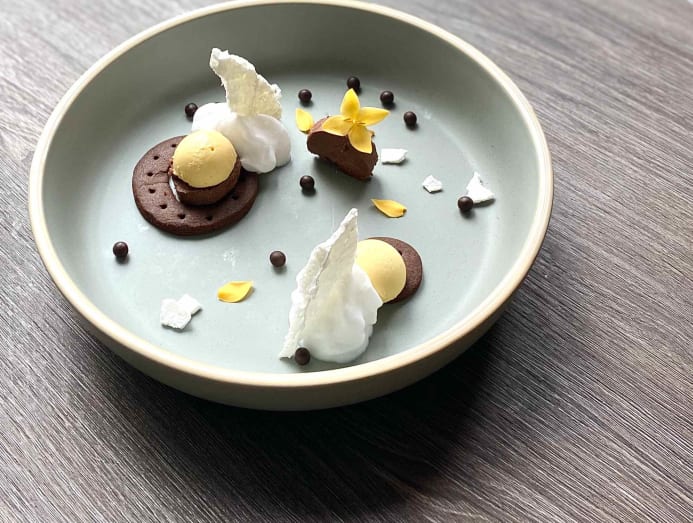 The Roketto x FatFuku omakase dinners will run for one month only, from Sep 15 to Oct 15, taking place on Tuesdays, Wednesdays and Thursdays. Seating is limited and only by reservation.
For reservations, call 69040458