Made in Singapore: The world's first wine… made from soy
Made from soy whey, Sachi began as a lab experiment in sustainable food production but is now available as a commercial alcoholic beverage.
Most of us in this part of the world eat some kind of product made from soybeans every day: Tofu, soy milk, bean curd, and perhaps even soy ice cream. It is such an essential staple of our diet that we think we know all there is to know about this humble legume.
SinFooTech, a local alcoholic beverage company, got us looking at the soybean from a new perspective. It has introduced what they call a soy wine made from soy beans, or more accurately, soy whey. Named Sachi – a Japanese name which means "blossoming flowers and wisdom" – the drink is apparently the world's first tipple made from soy. The product was launched in November 2021.
Sachi was created by Chua Jian Yong, an instructor at the National University of Singapore's Department of Food Science & Technology. In 2016, while pursuing his PhD, Chua found that soy whey – a nutritious by-product generated from tofu production – was often thrown away by tofu producers. He decided to turn the whey into a sustainable food product.  
Chua collected soy whey from a tofu factory and inoculated it with yeast to start its fermentation and produce alcohol. The fermentation, which lasts between 18 and 38 days, is then stopped using a flash heating process to kill the yeast. The alcoholic beverage is then filtered to improve its clarity and texture. It has a low ABV of 5.8 per cent.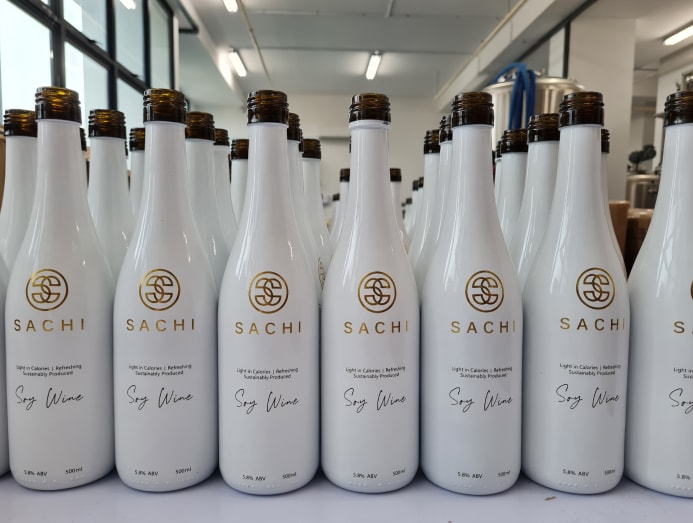 Early trials of the production were carried out in a laboratory at NUS until 2019, when an upscaling facility was set up in Tuas by SinFooTech, which was co-founded by Chua and his former junior college mate, Jonathan Ng, in 2018 to handle the commercialisation of the product.
     
Chua, who was initially SinFooTech's chief technology officer, has since left the company and handed over the reins to Ng, who serves as the chief executive officer. NUS owns the patent for Sachi's fermentation method, and SinFooTech holds the rights to use it. Chua receives royalties via SinFooTech's payments to NUS.
     
Deciding the type of alcoholic drink category Sachi fell into was a tricky matter for SinFooTech. After all, there was no precedent for such a product. Technically, one can argue that it doesn't qualify as a wine, since it isn't made from grapes. But Ng said they decided to call it a soy wine "to capture the essence of how the product should be enjoyed".
     
"Even though Sachi is not made from grapes, [we chose 'wine' because] products like rice wine and honey wine or mead use 'wine' in their names to help consumers capture the product idea quickly," said the 30-year-old Ng, an entrepreneur whose previous business pursuits included the trading of exotic pets and setting up a web design company.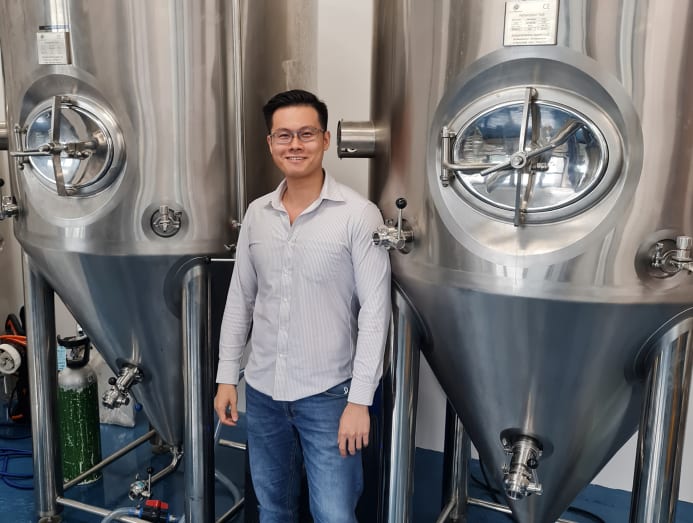 "We are targeting a new generation of lifestyle connoisseurs, regardless of age; people who feel strongly about positive social change like sustainability." – Jonathan Ng
Ng's friends were surprised by the taste of Sachi.
     
"They were shocked at the refreshing taste of floral and fruity flavours as they were expecting the taste of soy milk and soy beans," he said.    

CNA Luxury was invited to taste Sachi at a launch event at Club Street Wine Room. The rusty hue of the beverage reminded us of a young amontillado, a sherry wine from Spain that is first aged under a layer of yeast and then left to oxidise in a slow manner via porous oak casks.
     
Taste-wise, it felt like a diluted amontillado – very supple on the palate, with subtle nutty and doughy flavours. For oenophiles, it may be too much of a stretch to accept Sachi as a wine, given its lack of body structure and tannins; a characteristic that also makes it very challenging to pair with heavy or rich food.
     
However, it seems to work very well with all kinds of cheeses – as demonstrated during a pairing – as its gentle umami notes accentuate the taste of the dairy snacks.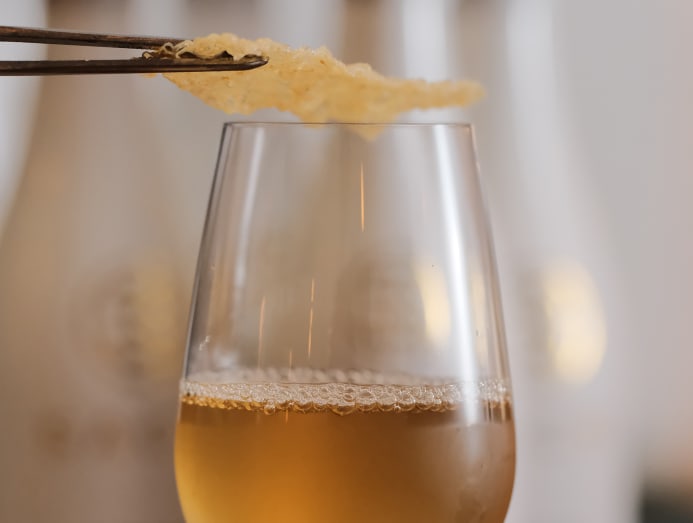 Ng said he loves pairing Sachi with Nut Culture's vegan cheese made from cashew nuts. "The soy wine's refreshing quality cuts through the creaminess of the cheese and allows me to enjoy the product again and again until I finish the entire cheese," he said. He also enjoys matching it with sushi.
     
Sachi was developed to taste best at a serving temperature of 4°C, which, according to Ng, was based on a practical decision to accommodate the fact the most household fridges have a chiller compartment with a temperature between 0°C and 4°C.
SinFooTech is marketing Sachi as a healthier alcoholic beverage option – it only has 70 calories per serving (compared to around 120 calories for most glasses of wine) and is high in antioxidants.  
     
Ng, who is currently testing processes for a new sparkling soy wine, said "adventurous wine drinkers and non-wine drinkers who want a healthier, more sustainable way of drinking will find that Sachi fits into their lifestyle needs".
     
He added: "We are targeting a new generation of lifestyle connoisseurs, regardless of age; people who feel strongly about positive social change like sustainability."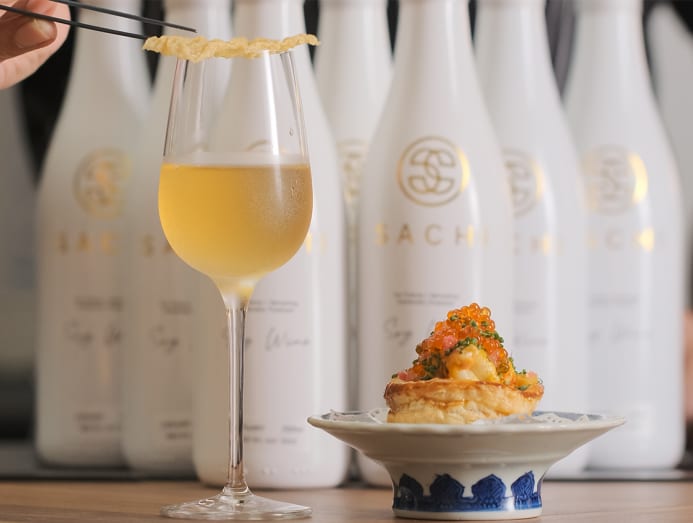 Sachi is available from sachi.sg and fairprice.com.sg at S$38 (500ml)