Now open: Chef Andrew Walsh's highly anticipated seafood restaurant Catfish
The Irish chef of acclaimed restaurant Cure has created his vision of the sexy, contemporary seafood joint that he believes this city needs.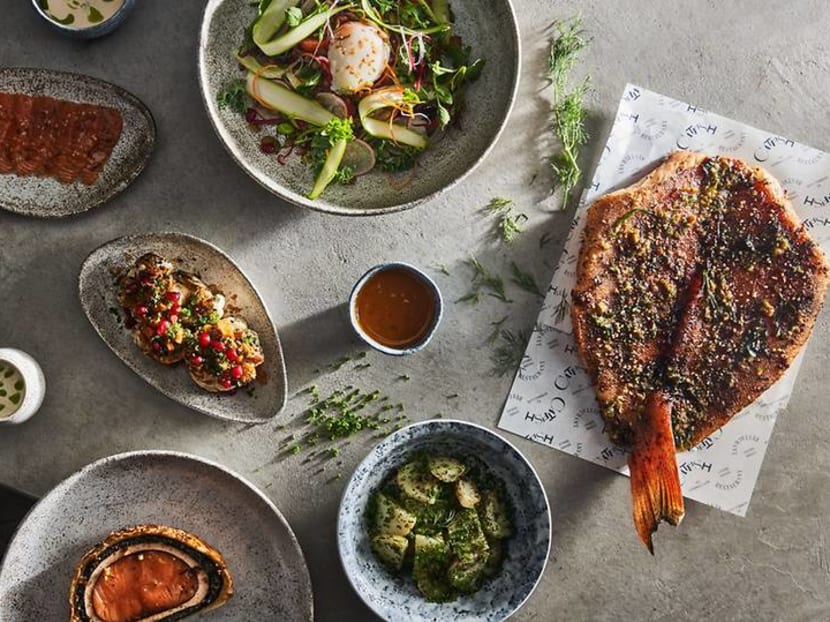 Chef Andrew Walsh has been a busy man. In the past few months, he's not only steered his acclaimed restaurant Cure through the Circuit Breaker, serving the comfort fare of his native Ireland to diners at home, he's also launched Ember Beach Club at One & Only Desaru Coast last month.
And on this first day of October, his latest concept, Catfish, opens its doors to the public. Described as a "contemporary fish grill and raw bar", Catfish sits along Gemmill Lane, taking over the space vacated by Club Street Social.
"Catfish is really my vision of a seafood restaurant that is lacking in the market at the moment," said Walsh.
"There are lots of good oyster bars, but I wanted to do something more modern in terms of presentation and technique, but still not fine-dining. It's a casual hangout. It's vibe-y, it's fun, it's contemporary. It's great for lunch with lush greenery during the day, and at night, when the lights are dimmed, it's a really intimate place that you can come to with your friends and family to eat fish and feast."
Like Butcher Boy, Walsh's meat-centric Asian fusion bar and grill, Catfish will serve food for sharing, with bright Asian inflections in its flavours. His vision will be channelled through Catfish's head chef Erik Gustafsson, whose resume boasts stints at F12 in Stockholm and, most recently, a tenure as R&D executive chef at Hidden Door Concepts.
The lounge-y restaurant, tricked out in tropical urban style – think jade tiled floors and sleek dark wood accents – will feature highlights such as hasselback potatoes topped with bluefin tuna and wasabi, and a catfish taco with umeboshi and hazelnuts. The latter comprises a taco shell made of crispy wanton skin filled with Japanese catfish sashimi, plum jam and an umeboshi (pickled plum) mayo.
Its raw bar features more Asian-style treats such as hamachi or kingfish sashimi with ponzu and nashi pear, while larger groups can tuck into heartier options such as a whole Sichuan barbecued fish with crispy herbs and lobster laksa sauce.
Prices for the a la carte menu start from S$16 for the catfish taco and go up to S$58 for a decadent sesame prawn toast with uni and caviar. Additionally, there are appealingly priced bento lunch boxes and weekend brunches themed "fish feasts".
Naturally, there are drinks too – wines, beers like Suntory on tap, and cocktails with prices starting from S$24. Bar manager Michael Matthew De Costa also draws from the Asian canon to yield concoctions such as Lantern Fest, featuring a mix of Paper Lantern Gin with Sichuan syrup, orange butter and cardamom.
Catfish is open from Tuesdays to Sundays; for reservations, call +65 9069 9207 or click here