Immersing in Cambodian culture in Siem Reap, while staying at the king's former royal guesthouse
What is it like to travel to Cambodia's tourist town of Siem Reap post-pandemic? As a guest at the exclusive Amansara resort, CNA Luxury's Melissa Stewart experiences solitary temple visits, a spiritual water blessing and a private cruise down the freshwater lake of Tonle Sap.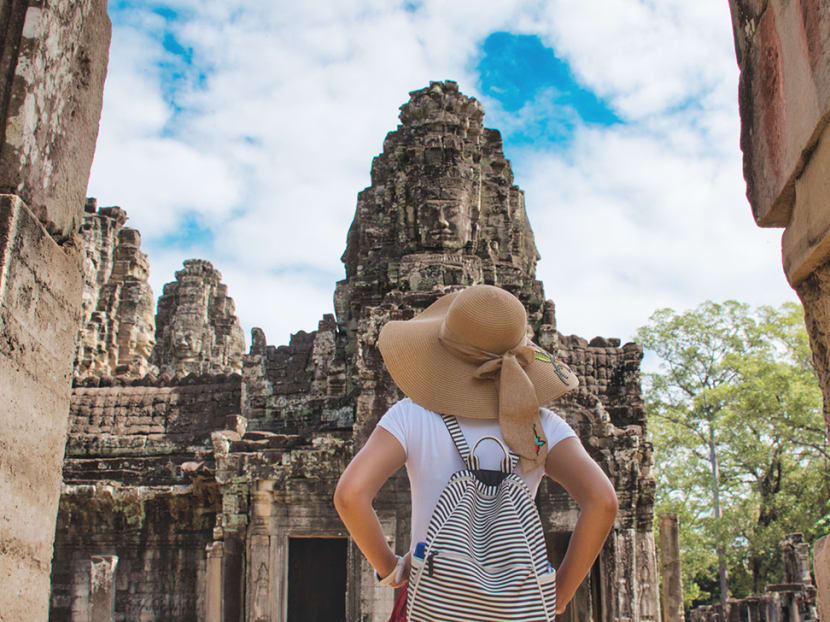 It is 5am in the morning and I have found myself whizzing through the streets of Siem Reap on board a remork.
My guide Chay, perched rather precariously on the edge of the Cambodian tuk-tuk, tells me that I am lucky. During the pandemic, while Siem Reap was closed off to international tourists, the government had embarked on a major reconstruction of the city's roads. They are now cleaner, wider and more efficient, I am told.
I am on my way to catch the sunrise at Siem Reap's star attraction, Angkor Wat. The streets are eerily quiet with most of Siem Reap still asleep. Although Cambodia was one of the first countries in the region to fully lift COVID-19 testing requirements for vaccinated tourists by the time my trip took place in early April, travellers were still few and far between.
But that, I learnt on my trip, only made the experience all that more special. 
LIVING LIKE A ROYAL
A day earlier, I had checked into the tranquil Amansara resort. Waiting for me in my suite was a carefully planned itinerary for the next four days, promising an immersive experience into Cambodian culture and visits to Siem Reap's cultural sites in solitary splendour.
Amansara was built in the 1960s for the Cambodian royal family and was once the guesthouse of King Norodum Sihanouk. Notable guests during the course of the property's history include French president Charles de Gaulle and former US first lady Jackie Kennedy. More recently, actress Angelina Jolie is known to be a frequent guest at Amansara.  
The resort is surrounded by a canopy of trees and gardens. There are only 24 suites on the property, but my experience was all that more exclusive as for the first two nights of my stay, I was the only guest. This gave me the opportunity to have plenty of engaging conversations with the resort's friendly staff.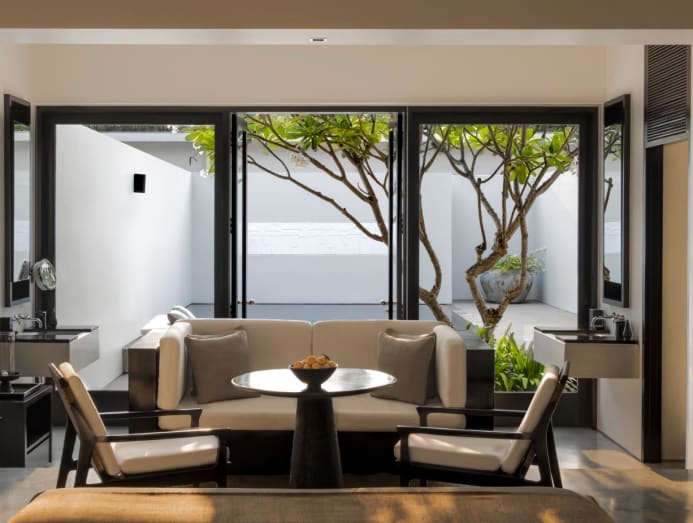 Returning to the secluded resort after a full morning of temple explorations felt like true luxury. In the afternoons, I'd take a dip in my suite's private plunge pool. If time permitted, I'd squeeze in a quick nap in the evening, before waking up to the singing of cicadas and heading to the resort's dining room for dinner. Here, a choice between Western and Khmer cuisine is served. I chose the latter every night, tucking into fragrant, tantalising dishes such as "sngor jrouk sach kor" (sour beef soup), "bong korng ang" (grilled freshwater prawn with Kampot pepper sauce) and "amok trei" (fish amok with fresh coconut milk).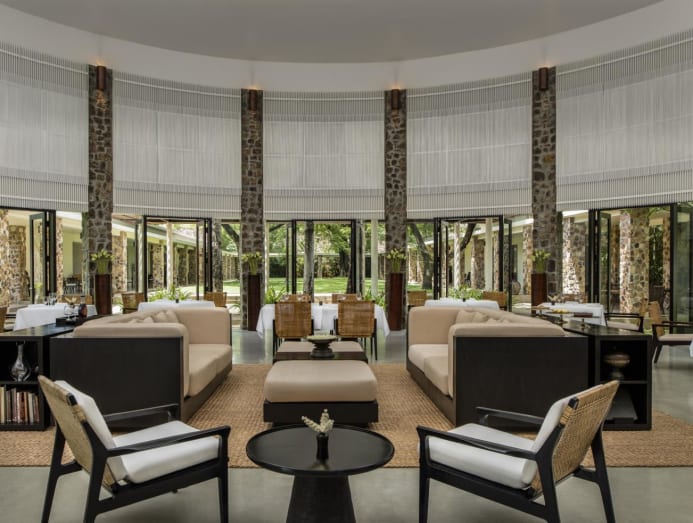 Other facilities in the resort include not one but two pools – a stunning, Instagram-worthy curvilinear pool, and a more private 25 m lap pool tucked away at the back of the resort. There is also the legendary Aman Spa and a gym.
Aman resorts are renowned for their exceptional standards of service and each morning before I left for my activities, a continental breakfast, right down to my exact order, was served in my room. One evening, I returned from dinner to find a floral bath had been drawn for me. Little souvenirs were also left for me on occasion to bring home, including a traditional Cambodian scarf and a mini woven bamboo basket.
EMPTY TEMPLE VISITS AND CHANNELING ANGELINA JOLIE
The Amansara property is a beauty in its own right, but what makes the experience especially memorable is its tailored guest experiences, including private tours of Siem Reap's cultural sites.
"Amansara is housed in a beautiful, historic building, but what really separates the resort from others is what we do outside the building and how we immerse guests in the local culture, creating experiences that have a lasting impact on them," said Tom Rutherford, general manager of Amansara. "That is a key component in any Aman property, but in Cambodia, we have a huge opportunity to do that."
That's how I found myself making my way to Angkor Wat at the crack of dawn. Amansara's excursions begin early in the morning so as to beat the crowds. And with tourists gradually coming back to Siem Reap, that experience of solitude was magnified tenfold.
I'd read stories of an empty Angkor Wat prior to my trip and on the day of my visit, after entering the complex through a forested path from the East gate, I spot just a small crowd gathered in front of the famed reflecting pool, awaiting the sunrise. In pre-pandemic times, the entire lawn would have been packed to the brim by hordes of tourists. But now, one surely need not jostle for that perfect Instagram shot.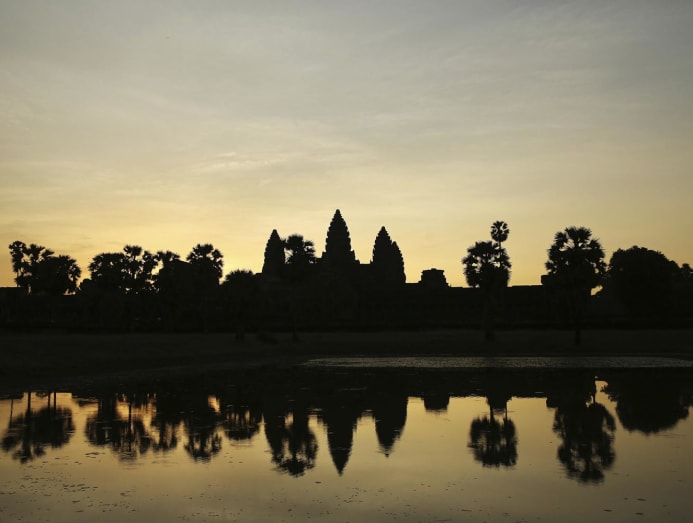 Starting our day early meant that we reached our next destination, the Ta Prohm temple, even before 9am. Ta Prohm is famous for its role in the 2001 Lara Croft: Tomb Raider movie, starring Angelina Jolie.
While Angkor Wat has been carefully preserved through the years, at Ta Prohm, nature had been left to do its magic for decades. Silk cotton trees have taken root here, wounding through the structure and breaking through the crumble. This only added to its beauty and was a sober reminder that nature will always have its way.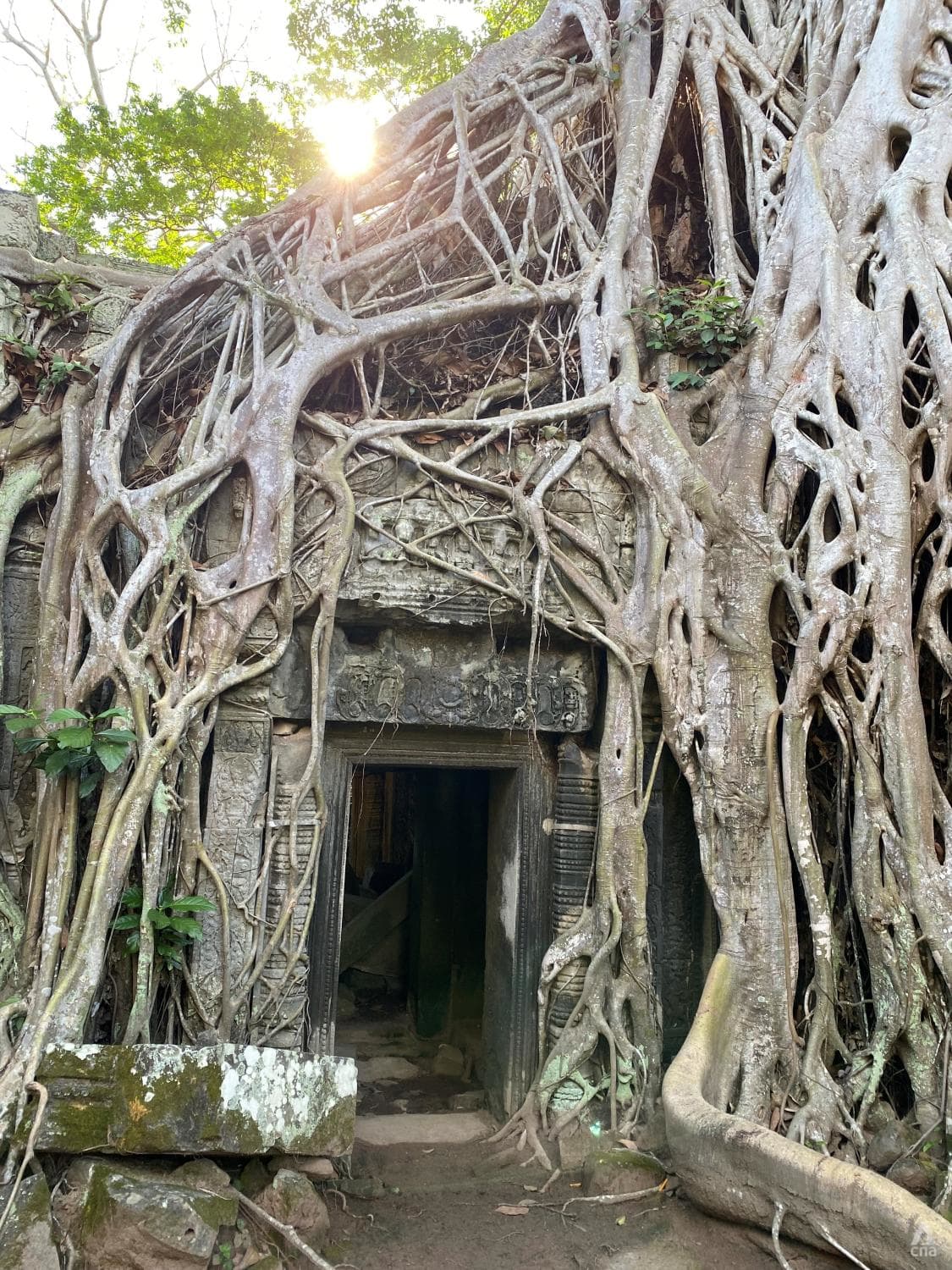 With no other tourists around, I was left to explore Ta Prohm on my own. So mesmerised was I by the beauty of the temple that Chay nudged me to take a couple of photos. "You can pose like Angelina Jolie in Tomb Raider," he suggested. "Sometimes when you are so absorbed in exploring a place, you don't think it's important to take photos. But when you look back on your trip, you'll wish you had them," he gently reminded me.
POUNDING NOODLES AND RECEIVING A SPIRITUAL WATER BLESSING
By 11am, I had hopped back onto the remork as was making my way to breakfast. In typical Aman fashion, my driver presented me with a bottle of water and a cold towel to cool off from the heat.
After a rather bumpy ride through a local village, we arrived at Amansara's Khmer Village House, a traditional stilted abode owned by the resort. Here, I would have to work for my meal as the staff guided me through an almost back-breaking rice noodle-making class.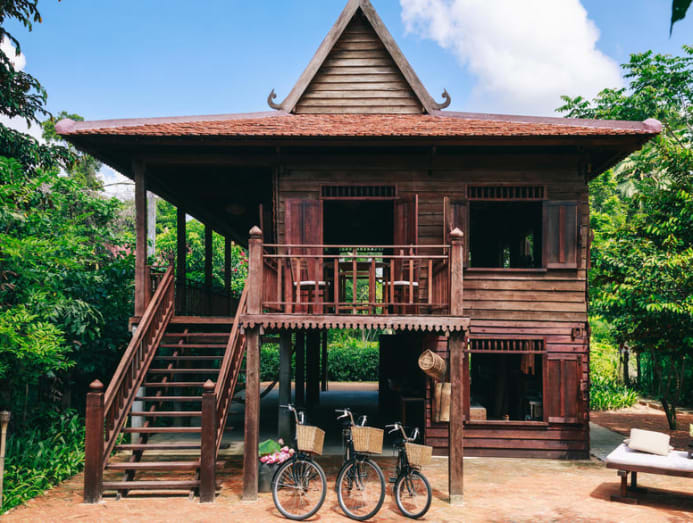 We pounded the noodles through a wooden mill, following which, the staff guided me through a process of delicately intertwining the noodles through my fingers so as to present them in a basket.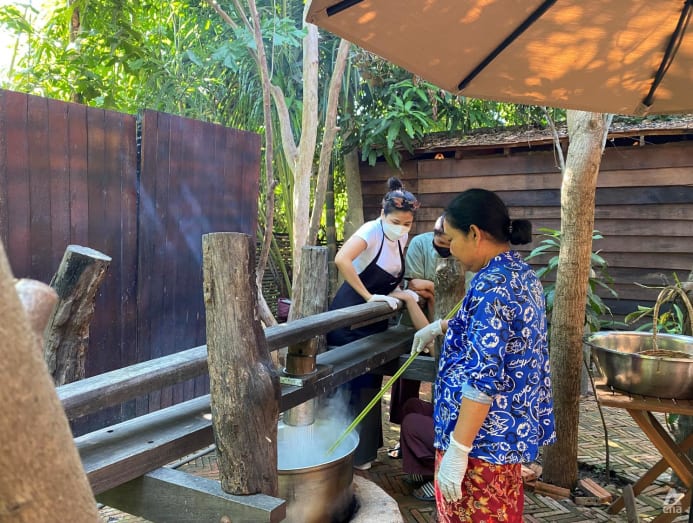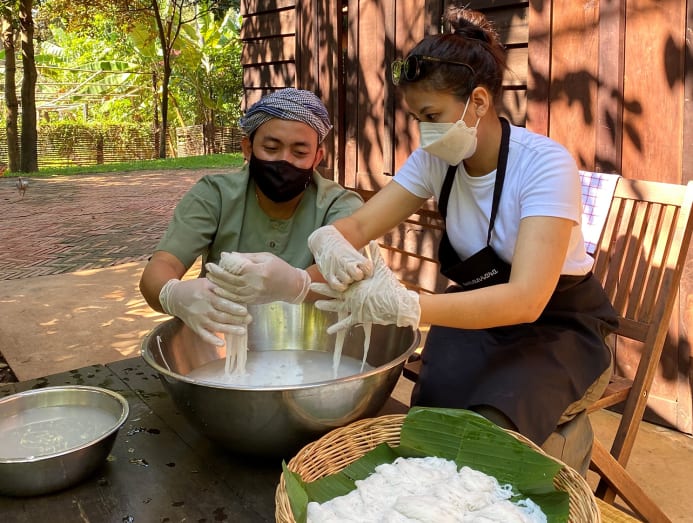 It was hard work that certainly paid off when I was presented with a homely traditional Khmer breakfast of Cambodian sweets, pastries and green curry, alongside my freshly made noodles.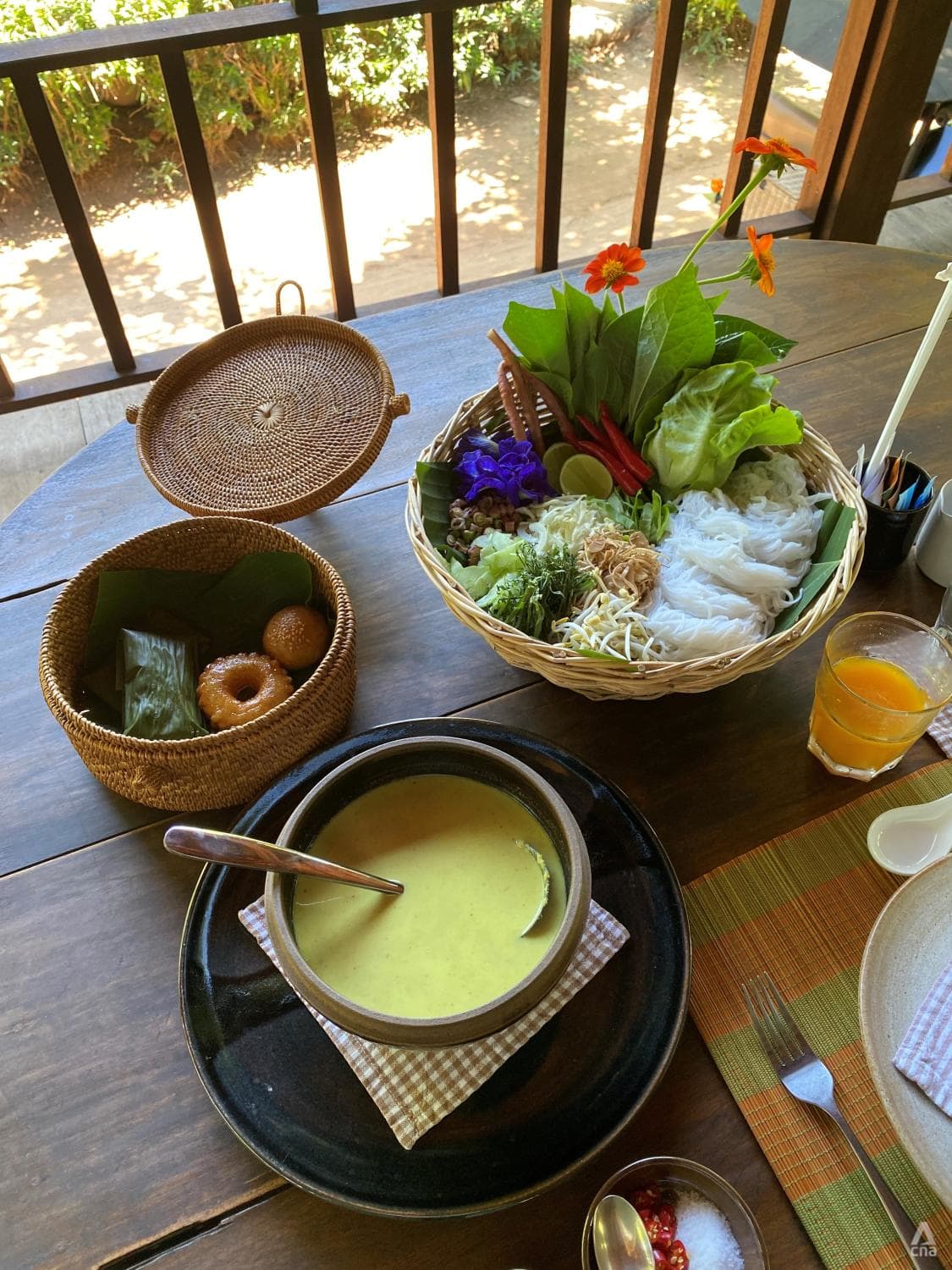 That same evening, Amansara had also planned a sacred experience for me –  a spiritual water blessing conducted by a Buddhist monk. It's a ritual that dates back centuries, where one is doused with lotus-infused water to represent purification, renewal and good fortune.
I was driven to a temple on the outskirts of Siem Reap, passing through countryside paddy fields. After the ritual, I felt a sense of lightness, as though cleansed of negative energy accumulated through two years of getting through a pandemic.
A VISIT TO AN ANCIENT CITY AND A FLOATING VILLAGE
Day three started early too, reserved for exploring the sprawling ancient city of Angkor Thom. At its centre is the Bayon temple, known for its mysterious smiling faces that have sparked wonder and intrigue for several decades.
Once again, I found myself all alone at the Baphuon temple. It was so quiet, the chatter of the temple's workers echoed through the compound. Chay urged me to climb up the extremely steep stairs to explore Baphuon's upper levels. "If anything happens to you at the top, just shout and I will hear you," he quipped.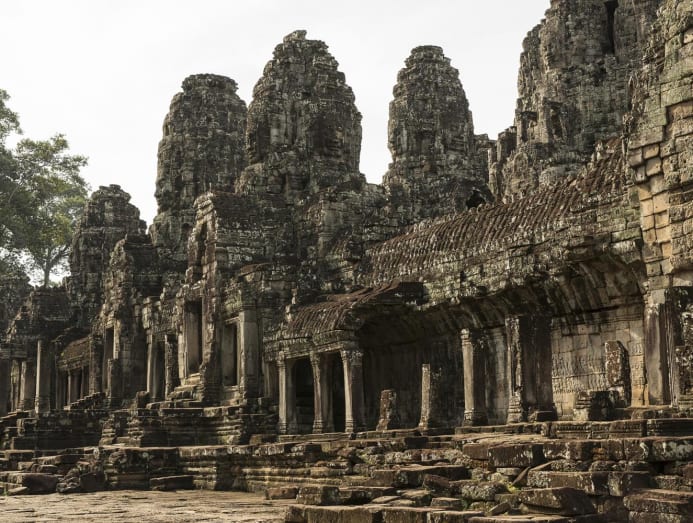 To round up my stay in Siem Reap, I was treated to a private lunch cruise through Tonle Sap aboard the Amanbala, Amansara's wooden boat. As I boarded the boat, I couldn't help but notice several empty tour boats parked along the riverbank.
Tonle Sap, Southeast Asia's largest freshwater lake connected to the Mekong river system, was a bustling tourist destination in pre-pandemic times. Alas, it was all mine to explore for the day.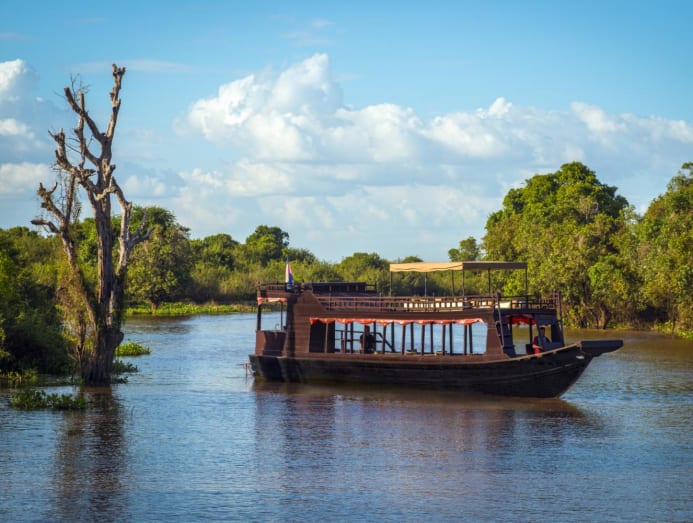 After a scrumptious Khmer picnic on board, we hopped onto a smaller speedboat to explore the lake's floating villages, home to an ethnic Vietnamese immigrant population. We cruised by several houses, shops, churches, hospitals and schools on stilts. Men were fishing in the river, women cooking in their homes, children swimming in the water.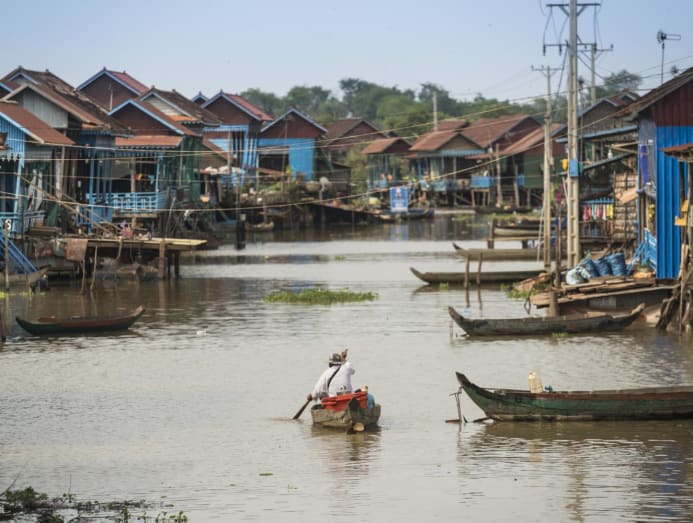 Being the only tourist on the river that day did make me feel like an intruder, and I made the conscious choice not to take out my camera. But as we cruised past a group of children playing on a boat, they waved enthusiastically at me, crisscrossing their fingers to form the Korean heart sign. When I did the same back, they burst into excited giggles.
EXPERIENCING THE WARMTH OF THE LOCALS
Looking back on my trip, what has stuck with me was the warmth of the local people. As a city that is highly dependent on tourism, Siem Reap has suffered through the pandemic, and now, its people are excited to welcome travellers back. It's something I noticed on a visit to the local market, where shop owners were chatty, all smiles and ready to assist, without being pushy.
It also stood out during my interactions with Chay. As a tour guide, he had been greatly affected by the pandemic. Nonetheless, he is optimistic that tourist crowds will return to Siem Reap. "Don't lose hope," he had said to me.
Indeed, several weeks after my trip, Amansara's Rutherford shared by phone that he has seen a greater number of bookings at the resort, driven by private jet travellers from the US and South America. He expects a full travel recovery for Siem Reap by Q4 2022.
Still, for those who do make the trip now, they're in for a once-in-a-lifetime experience. As Rutherford surmised: "You'll never be able to go to Angkor Wat again and say that you were the only person there for a few hours."
"There's such a positive spirit about the people here," Rutherford added. "There's a sense of enthusiasm and warmth, and that's going to put Siem Reap in good stead."
CNA Luxury was in Siem Reap, Cambodia, at the invitation of Amansara.