We sampled SIA's new home delivery menu. Here's what we thought
Why would anyone want to replicate an airplane meal on land? Well, for one, there's a matter of national pride, argues one food critic.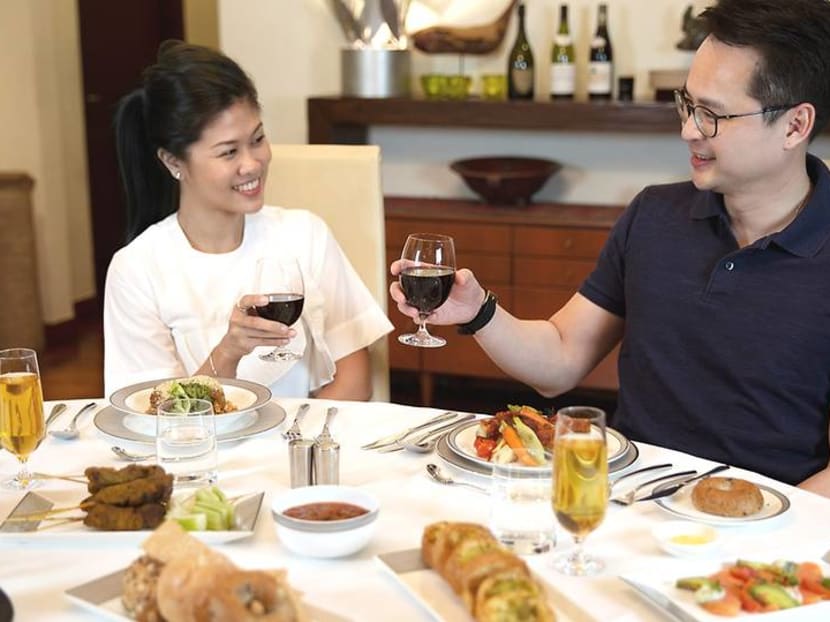 Say you are one of those frequent fliers on Singapore Airlines (SIA) who misses everything about those flights that used to punctuate your adventures in and out of Singapore. Say you miss the friendly cabin crew who know you by name and how much champagne you like to drink. Say you miss the famous SIA satay and those comfy Lalique pyjamas that you would have slipped into before going to sleep. And say you're such a diehard SIA fan that you even miss the inflight videos featuring perfectly coiffed cabin crew telling you what to do in case of an emergency.
For all that and more, there is now SIA@Home, which as its name suggests, allows you to create that unique SIA experience in the comfort of your abode, complete with fine Wedgwood and Narumi china if you so desire. And no, there is no melamine tableware on offer because… well, no one ever said they miss eating economy class meals.
MILES FOR SMILES
With prices starting from S$288 or 36,000 Krisflyer miles, customers can purchase a menu for two designed by the likes of three-Michelin-star French chef Georges Blanc, with your choice of a bottle of French Champagne or wine, and two newly designed SIA Business Class Penhaligon amenity kits.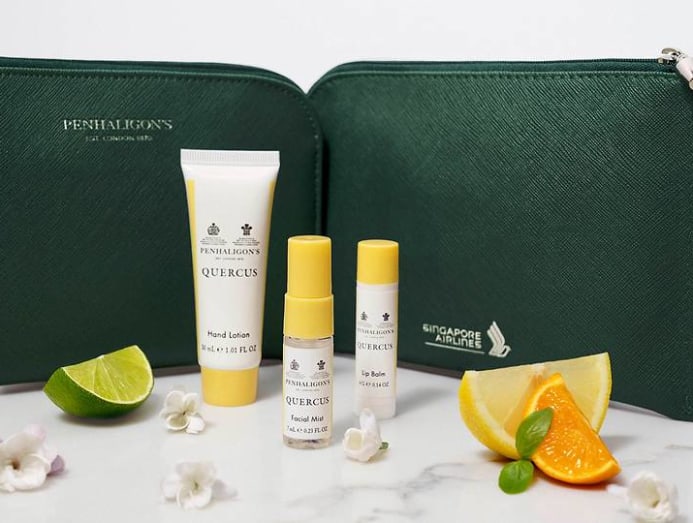 If you have more cash or miles to spare, there are First Class packages starting from S$448 or 56,000 miles, which will get you a meal for two designed by feted Australian chef Matt Moran or Indian celebrity chef Sanjeev Kapoor, preceded by that fabulous satay and caviar service, and your choice of a bottle of red or white wine.
Exquisite Japanese meals dreamed up by three-Michelin-starred chef Yoshihiro Murata of the famed Kikunoi in Japan cost a little more, starting from S$318 or 39,750 miles.
JUST YOUR HEAD IN THE CLOUDS
"To clarify," said Betty Wong, SIA's divisional vice president of inflight services and design, at a media presentation on Oct 5, "this is not a home delivery service. SIA@Home is about recreating the holistic SIA experience at home. It is the food, wine and signatures of SIA, like the signature satay, caviar service and garlic bread. We have even curated these menus based on the season. So if you were flying to Paris at this time of year, this is what you would have been served (on the plane)."
While your food is not sent to you by a kebaya-clad cabin crew member (but by a regular ol' delivery driver), specially trained cabin crew-turned-concierges will call you upon receiving your online order to note your choice of dishes and wine. There are QR codes and URLs that lead to videos which demonstrate how your food should be plated and messages from SIA's wine specialists waxing lyrical about the accompanying libations.
And should you really, really miss being on the plane, there are cabin tour videos of all the different aircrafts under SIA's stable.
The food, we are happy to report after sitting down to it at the presentation, is on par with many good restaurants. Naturally, much thought has gone into ensuring that the dishes stand up well to reheating, just like they would be done in a pressurised cabin 30,000 feet above ground. Except on terra firma, your taste buds are uncompromised and there is no post-meal cabin pressure bloat.
GOODWILL AND A STEAL
But why would anyone want to replicate an airplane meal (no matter how memorable) on land, you ask? For one, support. SIA has given plenty for Singapore to be proud of. In good times, we fete the undeniable fact that it is indeed a great way to fly. We love our impeccably styled Singapore girls, the spotless flight records of SIA's pilots, and those beautifully produced safety videos that people actually stop to watch before the planes take off.
In these dire times for aviation, many of us feel it only right to give back to an entity that has given us numerous bragging rights over the years, especially if we've afforded more than a few business class seats per annum. If that sense of altruism buys just a bit of high-class kitsch in the comforts of home, then why not? God forbid we should one day make it out of our closed borders without a national airline to boast of.
And then there's the tableware. For a supplement of about S$100, you can buy a 22-piece dinner set from Wedgwood or Narumi and six Lalique crystal champagne and wine glasses along with your meal. For comparison's sake, anyone who's ever window-shopped at Wedgwood knows that S$100 would typically buy you three-quarters of a similarly designed dinner plate.   
This might explain why 72 percent of the 57 orders that SIA received in the 15 hours since its launch at midnight on Oct 5 comprised food and wine sets with tableware. Singaporeans, grounded or not, can sure spot a bargain when they see one.