What it's like to dine on board SIA's Restaurant A380@Changi: A first-hand experience
From a rare, behind-the-scenes tour of the A380 aircraft to a full-service dinner, Singapore Airlines' Restaurant A380@Changi is a worthwhile experience, not only for the sheer novelty factor, but also as a gesture of support for Singapore's national carrier.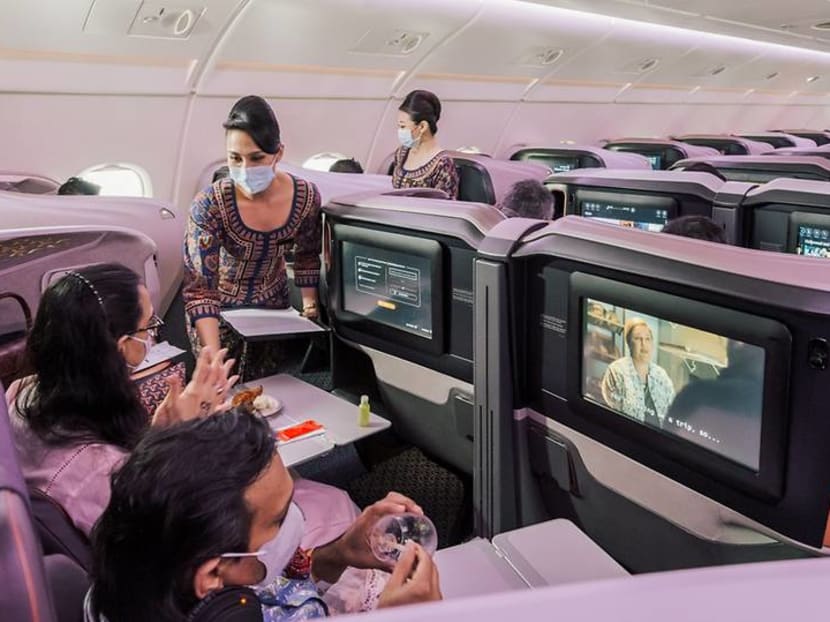 When Singapore Airlines (SIA) first announced that they were launching a dining experience on board an A380, I polled a few friends to see if they were as receptive to the idea as I was.
"You're crazy. I'd rather spend that money on a staycation," more than one remarked.
Well, I begged to differ. The sheer novelty of the Restaurant A380@Changi experience was reason enough to consider booking a seat. But I was too slow in doing so – bookings were famously snapped up within half an hour.
So imagine my delight when SIA extended an invitation to me – as well as to other members of the media – to experience the dinner service on Oct 24, part of the additional seat allocation in response to the overwhelming demand. And they were graciously hosting us in Business Class, in seats that would have otherwise cost S$321, inclusive of GST. (Seats in Suites went for S$642; Premium Economy, S$96.30; and Economy, S$53.50).
On the evening of Oct 24, I made my way to Changi Airport's Terminal 3 brimming with excitement, like a kid on Christmas morning. It had been nine months since I had left the country; and two months since I last set foot in the airport to send a friend off.
Terminal 3 was a hive of activity. While members of the public got to "check-in" to Restaurant A380@Changi at a check-in counter (to heighten the authenticity of the experience), the media (53 of us) "checked-in" at a makeshift counter. We surrendered our passports in exchange for visitor passes.
All 400-plus diners were then ushered to the holding area, Departure Gate B, in groups of five. Once past the security check, we were free to explore the area. Two A380s were parked on the tarmac to accommodate the pop-up restaurant; I don't think I've been as excited to see a plane since I was a kid.
SIA had set up a few activity zones to keep guests occupied until "boarding time". This included a photo opportunity with SIA cabin crew members; a batik rose-making workshop; and a chance for guests to have their digital portrait drawn by a caricature artist.
The mood was buoyant, though I couldn't help but think how surreal the situation was. There we were, over 400 of us, looking for all the world like normal passengers about to board a regular flight. Reality, of course, was altogether very different.
Before dinner, we were taken on a tour of the double-decker superjumbo aircraft. Tours were conducted in groups of five or less, in keeping with safe distancing measures.
The planes have a capacity of 471 each, with six Suites and 78 Business Class seats on the upper deck, as well as 44 Premium Economy and 343 Economy seats on the lower deck. We were allowed to take as many photos and videos of the cabin classes. We could even step inside the cockpit for a look and pose for a photo with a pilot, though his co-pilot was the only one authorised to press the shutter, due to the sensitive nature of the surroundings.
Once done with the tour, it was back to the holding area to await the "real" boarding sequence, which, though delayed by about 30 minutes, proceeded smoothly and much faster than the real thing.
Back on board and having located my seat, I began to notice slight differences. For one, SIA now provided a Care Kit, consisting of a face mask, hand sanitiser and disinfectant surface wipe. Standard issue for all future flights, presumably.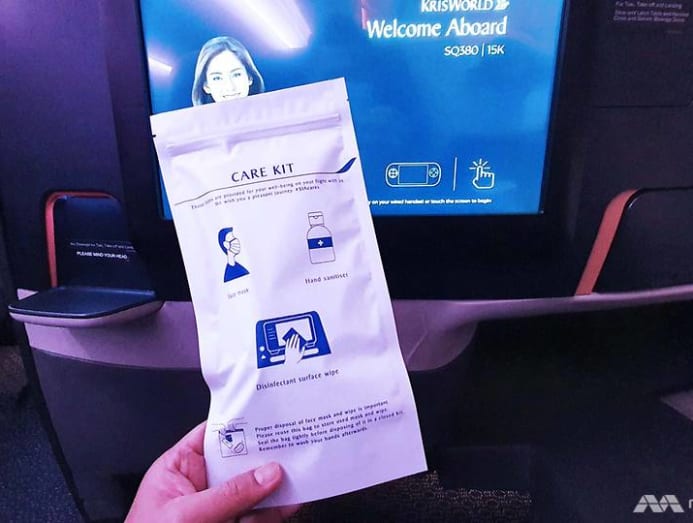 I didn't feel the need to wipe down my seat, knowing full well that SIA would have gone the extra mile to ensure our safety. I did, however, notice the absence of SilverKris (SIA's inflight magazine), KrisWorld (the airline's entertainment guide) and the menu. I guess browsing physical copies is a thing of the past.
There were also no hot towels distributed – a gesture that I eagerly anticipated in pre-pandemic days. Was this part of the new normal? Presumably so. Before I could lament further, a stewardess plied me with a Singapore Sling, one of the airline's signature welcome drinks.
Then the pilot-in-command, Captain Goh, officially welcomed us on board, introducing his co-pilots Captains Yong, Chew and Lee, as well as the inflight manager, a Ms Meina, with whom I would have a lovely chat later. The dinner was staffed by a crew of 31 (26 cabin crew and five safety crew).
Goh mentioned that the aircraft had been retrofitted, meaning newly equipped with hand sanitiser dispensers and HEPA filters. The latter is said to remove more than 99.9 per cent of microbes in the air. The cabin air is also refreshed every two to three minutes.
"Thank you for joining us, ladies and gentlemen, and once again, we remind you to keep your seatbelt unfastened at all times," Goh joked. "Enjoy the evening."
That we did, over the next three hours. Suites and Business Class diners could choose between the International Selection or Shermay Lee's Selection, with eight courses for the former and six for the latter. I picked the latter, which was specially designed by the Singaporean chef renowned for her local heritage and Peranakan cuisines. Lee had apparently volunteered her services in support of this event.
Over in Premium Economy and Economy, diners were served a three-course meal consisting of appetiser, main course and dessert. Of the three main course options in both cabins, they could also pick a Shermay Lee Selection: Itek Siow and Chap Chai in Premium Economy, or Ayam Tempra and Brinjal Sambal in Economy.
When my starter of SIA Signature Satay arrived, I felt a bit melancholic – in the pre-COVID-19 era, the dish was something I especially looked forward to when returning from a business trip: A taste of home. It was as good as I remembered, with thick chunks of chicken heaped with a generous dollop of peanut sauce.
My appetiser of Chicken, Prawn and Jellyfish Salad with Coleslaw Dressing was a tad bland, but then the Satay was a tough act to follow. Consisting of shredded chicken,  prawns and jellyfish on a bed of crisp lettuce, it was a retro dish from the era of the Four Heavenly Kings of Singapore's culinary scene. (This was in the 1960s and 1970s, when Cantonese chefs such as Sin Leong and Hooi Kok Wai of Red Star came up with now-ubiquitous dishes like yusheng).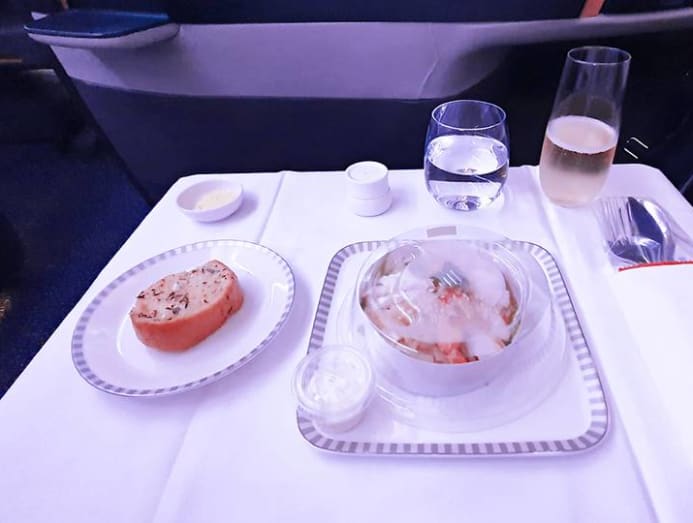 If my appetiser was slightly underwhelming, my main course – Nonya Grandma's Nasi Lemak – more than made up for it. The combination of coconut rice, sambal prawns and fried ikan bilis was good enough on its own, but the addition of a fish in tamarind-turmeric gravy lent a wonderfully tanginess to the mix of flavours.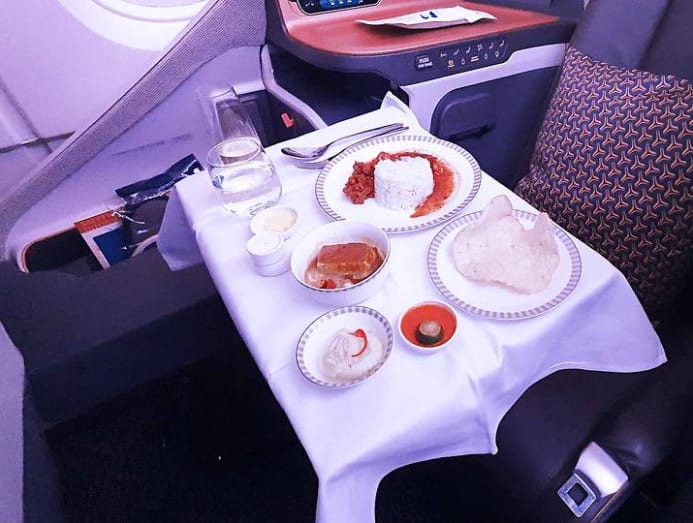 There was no wine menu, but the evening's selection comprised two reds, two whites and a Champagne: A 2015 Chateau Magnan la Gaffeliere, a Saint-Emilion Grand Cru; a 2017 Dandelion Vineyards Lionheart of the Barossa Shiraz; a 2017 Joseph Drouhin 'Drouhin-Vaudon' Chablis; a 2018 Wairau River Sauvignon Blanc from New Zealand's Marlborough region; and a Laurent Perrier La Cuvee Brut NV.
I opted for the latter – it seemed fitting as a celebratory toast to a special event, even if under very unusual circumstances.
Of the final three courses – dessert, cheese and fruit – I skipped the cheese platter. I headed straight for the fresh fruit assortment and the Nostalgic Local Ice Cream Sandwich: Sweet-savoury gula Melaka ice cream sandwiched between thin wafers. Another welcome blast from the past.
In normal circumstances I would have plugged into KrisWorld almost immediately after take-off. But that evening, I struggled to sit through even a single episode of Westworld, distracted by the goings-on in the cabin. For once, I didn't want to shut the world out but soak it all in, because who knows when I would be able to set foot on a plane again?
Bookings for Restaurant A380@Changi on Oct 31 and Nov 1 are currently waitlisted; visit SIA's reservation platform for more information