Come 'fly' with me: What it's like on board SIA's cable car dining experience
Singapore Airlines' KrisFlyer Experiences officially takes off on Nov 20, but we had a foretaste of what to expect.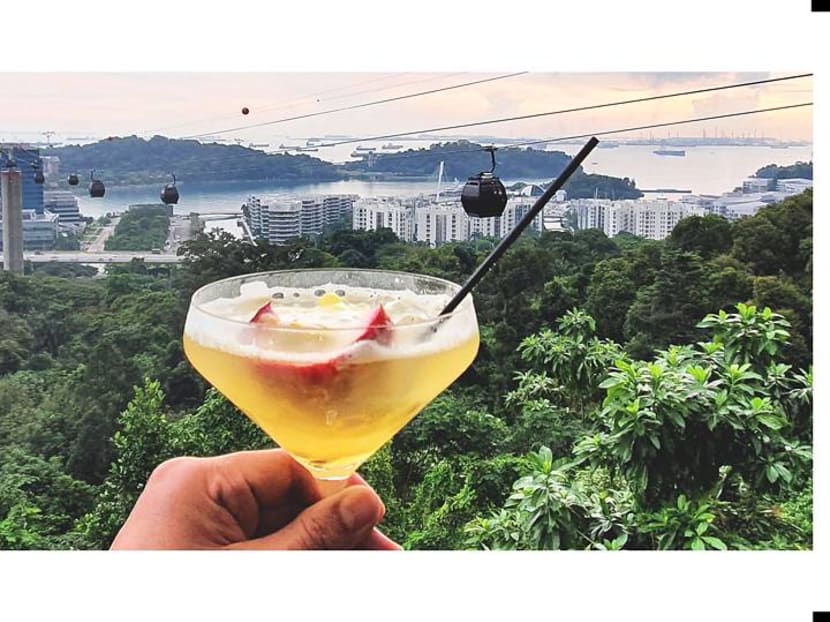 Just two weeks ago, I had the chance to step inside an aircraft for the first time in months, during Singapore Airlines' (SIA's) Restaurant A380@Changi dining experience.
Some aviation enthusiasts lamented the fact that the aircraft was grounded, and that it might have been more enjoyable if the A380 could have taken off and circled for a bit. But the argument was that it would have been a complete waste of fuel, and not the most environmentally-sound decision.
The good people at SIA must have heard these cries – and considered both arguments – because a few days later, they launched KrisFlyer Experiences with One Faber Group.
It gave KrisFlyer members a chance to use their miles to enjoy SIA's First Class menus on a 90-minute trip on the Mount Faber line (Mount Faber, Harbourfront, Sentosa). Voila! No fuel wastage, and a dining experience up in the air. Everyone ought to be happy, right?
Well, that's the hope anyway.
At a media preview on Nov 9, we were told that the KrisFlyer Experiences – which runs over five nights from Nov 20 to Dec 6 – is 70 per cent sold. Of the 58 cable cars in operation, 30 are reserved for sky dining, all of which will be allocated to SIA during the five nights.
"Maybe it'll be 100 per cent sold after your article is published!" said the spokesperson from One Faber Group, chirpily.
The KrisFlyer Experiences kicked off with a welcome drink at Dusk Restaurant & Bar on Faber Peak. "Boarding time" is between 6.30pm and 7pm, but guests are encouraged to show up at 5.30pm to enjoy a drink or two, SIA's Signature Satay, and, weather permitting, the glorious sunset from Faber Peak.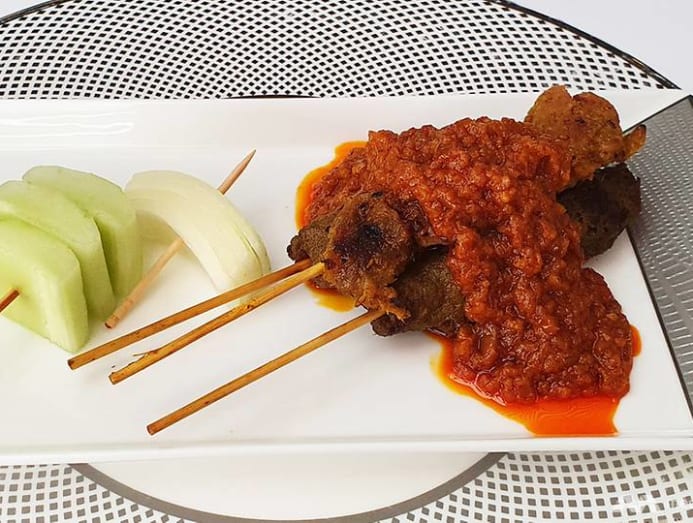 We were told that SIA's cabin crew will be on hand during the five nights to usher guests on board, to replicate the actual inflight experience. There weren't any cabin crew during our preview, but no matter. My dining companion and I – another member of the media – hopped on board as quickly as we could, but not before taking a plethora of pictures and videos.
Inside the cabin, the table was already set, with our Appetiser course laid out, bread basket brimming and wine glasses filled. We had both pre-selected the French Cuisine option (the Georges Blanc Menu), so fittingly, a bottle of Morey-Saint-Denis Premier Cru "Les Sorbets", a Burgundian pinot noir, accompanied us for the evening.
The "flight" from Mount Faber to Sentosa and back takes 30 minutes – the duration of one course. It was just about enough time to take in the views, chat and savour the food. In between courses, staff would only have a 14-second window to clear our plates and introduce the next course – kind of like an F1 pitstop.
My dining companion and I were curious to witness this in action, imagining worst-case scenarios. Nothing untoward happened, of course – the staff were experienced enough to execute this choreographed sequence with warmth and precision. Kudos to them.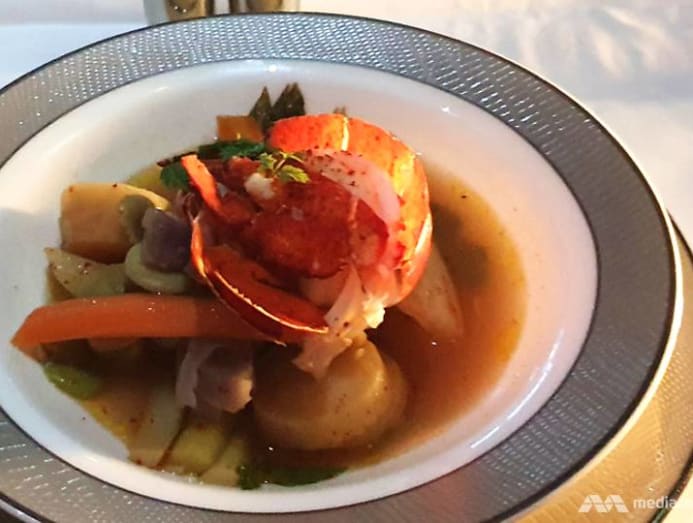 The "flight" was smoother than I expected, with the occasional "turbulence" occurring only when the cars entered and exited the stations. My dining companion admitted that she somewhat wished it would be more "turbulent", to add to the realism. I agreed, laughing.
It was so smooth, in fact, that at various points we forgot we were suspended in the air; we could have been in a restaurant on the ground. And the 90 minutes flew by, too, such that I had barely touched the cheese platter by the time we had to disembark.
Beyond the KrisFlyer Experiences, One Faber Group has lined up an Italian-centric sky dining experience in December, Italy being the first of a series of "destinations".
Called Fly Me To Italy (S$328++ for two), the four-course meal features dishes from different Italian regions, including a pan-seared tuna from Sicily, a roast pork stew from Friuli Venezia, and a grilled lobster from the Amalfi Coast, all washed down with wines from Abruzzo.
KrisFlyer Experiences launches on Nov 20. (Update: According to SIA, as of Nov 18, redemptions for the Experiences at 65,000 KrisFlyer miles for two diners are now closed)
Fly Me To Italy launches on Dec 1. Reservations can be made here