Singapore Art Week: Here's our recommended itinerary for an artful day out
Art lovers, there's something to look forward to this weekend. Singapore Art Week is back, and we've crafted an itinerary with all the best exhibitions to check out, plus pitstops for you to refuel along the way.
If you're running out of activities to do over the weekend, there's good news. The highlight of Singapore's visual arts calendar, also known as Singapore Art Week (SAW), returns from Jan 22 to Jan 30 for its ninth edition, bringing with it more than 100 programmes that take place all over the island.
Spend a day to check out all that Singapore Art Week has to offer. Here's what we plan to do. 
10AM: BUS.STOP.ART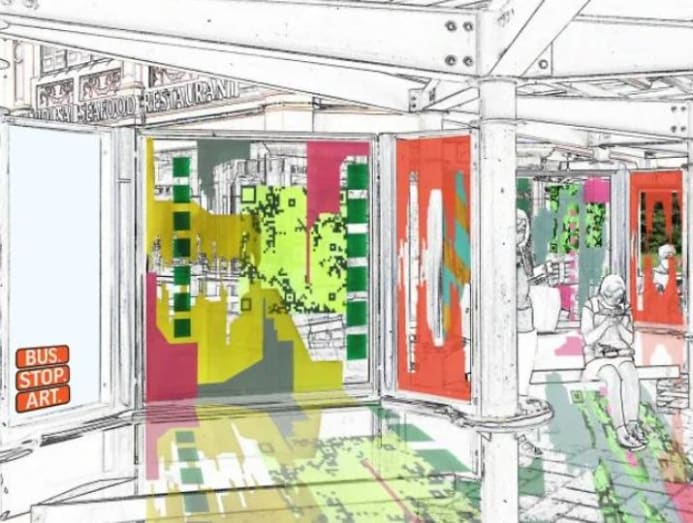 Start off your morning by heading on an adventure. These days, art doesn't have to be consumed the traditional way – in a gallery or museum. How about hopping on a bus, and checking out art installations along the way?
Curated by Amelia Abdullahsani and Merryn Trevethan, Bus.Stop.Art is an innovative public art exhibition constituting art installations and interventions by Singapore-based artists along the route of bus 175.
The route begins at Lor 1 Geylang, before winding past Bugis, Orchard Road, Bukit Merah and Alexandra, terminating at Clementi Interchange. At 10 bus stops along the way, you'll spot artworks by Singapore-based artists Alecia Neo, Rizman Putra, The Next Most Famous Artist and more.
12PM: NETWORKED BODIES
Make your way over to Gillman Barracks, Singapore's contemporary art cluster where a number of exhibitions are taking place. Our picks include Networked Bodies (9 Lock Road, #02-21), an exhibition that seeks to investigate communication and intimacy through the Internet. This exhibition will feature digital works, media installations, and works that use social media as a platform.

2PM: LUNCH AT MASONS, DESSERT AT CREAMIER
It's time for a lunch break. You can dine in a pre-war, colonial-style building at Masons, a restaurant serving European cuisine with a strong French influence and a Singaporean touch, situated in Gillman Barracks.

For dessert, there's also Creamier, which serves up handcrafted artisanal ice-cream along with a range of coffees.
3PM: SINGAPORE CERAMICS NOW 2021
Your arty day continues. Also at Gillman Barracks is Singapore Ceramics Now 2021: Marking Making is one of the largest surveys of ceramic art in local art history since the 90s. This exhibition focuses on contemporary ceramics made by Singapore-based artists. There will be a line-up of engaging and immersive programmes with artists in conversation, live demonstrations, audience participatory performances as well as experimental sound performances.
4PM: RESITUATING HOME(MAKING): HYPER-MATERIAL DOMESTICITY

Leaving Gillman Barracks, make your way over to Cuturi Gallery on Aliwal Street. This exhibition, organised by Tekad Kolektif, centres itself around domesticity, craft and the feminine, working beyond the artifice of the art-versus-craft hierarchy.
Four artists – Amirah Raudhah, Dipali Gupta, Fatima Bano, and Masuri Mazlan – will present works looking at the domestic realm as a means of elevated expression. The exhibition features a range of artworks from paintings, sculptures, new media, and installation art, as well as artist-run workshops on various craft-making techniques.
5PM: TIPPLES AT ATLAS

As the evening comes around, how about a cocktail or two? Head over to ATLAS at Parkview Square, ranked No.4 on the World's 50 Best Bars list and home to the world's largest gin collection. Opt for a Gin Tower Experience (a guided tour of the collection) or just sit back and enjoy a gin-based concoction. Reservations recommended. 
6.30PM: DINNER AT NATIONAL KITCHEN BY VIOLET OON

The facades of major art institutions, such as National Gallery Singapore and The Arts House, will once again be enveloped by art installations and light projections for the Light to Night festival, a key component of Singapore Art Week.
But first, dinner. Feast on local flavours at National Kitchen by Violet Oon, located within the National Gallery itself. Specialties at the restaurant include Buah Keluak Ayam, Kueh Pie Tee, Dry Laksa and more. Reservations recommended. 
8PM: LIGHT TO NIGHT FESTIVAL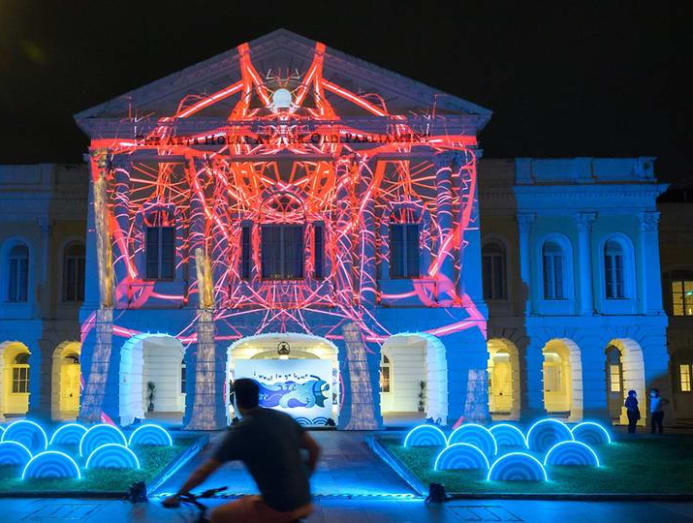 You're now fuelled for the night. Venture around the Civic District, starting with the National Gallery, of course, before making your way to the Padang, Asian Civilisations Museum and The Arts House.
This year's theme, "____-in-Progress",  is inspired by current times and is set to explore "the idea of things evolving, growing and being in flux", National Gallery said on its website. Change, after all, is the only constant in life, no?