Singapore's CBD has a new restaurant – great if you're returning to the office
Jigger & Pony Group's latest F&B concept turns the former Black Swan space into a warm and inviting fine diner with food and drinks that keep conversations flowing all night.
With many companies still on work-from-home arrangements, it begs the question whether opening a fine dining restaurant in the CBD is still relevant. Rosemead, F&B group Jigger & Pony's latest concept, makes the answer to that a resounding "yes".
The warmth of human connection over simple dishes and drinks done well take centre stage here. The restaurant, named after executive chef David Tang's hometown in California, eschews stiff white linen and marbled tables for a welcoming modern Californian country home with earthy tones, wooden tables, and a blazing open-hearth kitchen in the middle of the 80-seater main dining hall.
There is attention to the little details, such as bag hooks and champagne bucket stands that you wish more restaurants would have in a more discreet way. At Rosemead, they're so neatly subsumed into the design that exudes relaxing vibes that you don't even realise it, but it makes your life and the aesthetics better. In the works is a 40-seat alfresco dining area, a 10-seat private dining room in the basement, and a bakery counter for customers to pick up pastries, cake and bread.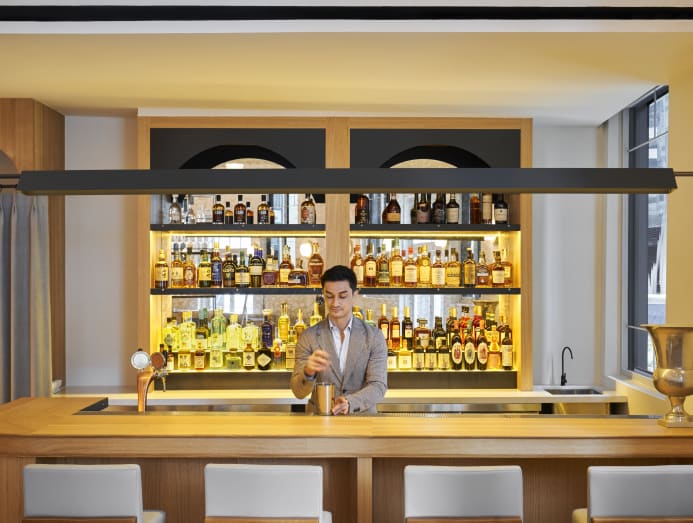 I'm having dinner on the second day of Rosemead's official opening and the service is smooth and cheerily attentive, while the food and drinks are impressive in balancing texture and flavours consistently.
Tang's dishes are informed by his Asian-American heritage, memories of living in Los Angeles and over a decade of culinary experience in the kitchens of Cut by Wolfgang Puck and Spago. The menu takes up only one A4-sized page, but the choices are big on flavours, local ingredients and wood-fired goodness.
Tang shared: "The biggest emphasis is on the quality of the product, where we know the farmers, and we work on bigger, stronger flavours. A lot of Californian cuisine is built off heritage cooking where we look to our roots. If I cook a Thai dish, I want to find out how to make that traditionally." The grass-fed wagyu tartare, for example, is marinated with a phrae laap spice mix pounded by hand with a mortar and pestle.
Even something as simple as grilled Chitose tomatoes harvested in Malaysia, usually served all dainty and refreshing in most places, don a louder, spicier suit with nduja sauce and pork skin crispies that burst in your mouth like tiny umami bombs. I'm now thinking how to persuade Tang to bottle the pork lard for sale so I can have a sprinkling each time I eat mee pok tar.
And while no one would go to a restaurant to eat bread, you may well start doing so with Rosemead's pretty flower-shaped brioche glazed with a mushroom stock reduction that includes kombu and smoked bacon. It is a bottomless rabbit hole from the first bite into its crisp savoury crust and fluffy inside, with a generous spread of cultured butter with caramelised shiitake. The bread is not available for takeaway, so it may well become the motivation for that next booking (it's that good).
Pace yourself though, because the mains, cooked over orange and lychee wood embers, are worth saving lots of space for. The wagyu short ribs, marinated with local Kwong Woh Hing soy, fermented bean paste and rice wine, are slow-braised for 48 hours before they are finished over coals and served in a black truffle and bone marrow sauce. The result is an intense savoury stew of fork-tender meat drenched in marrow marvel in your mouth. The Canary Islands bass, which was dry aged for at least seven days, came in a crispy coat and moist, firm flesh, with sweet and spicy overtones from roasted Italian Chioggia beets and a chermoula sauce.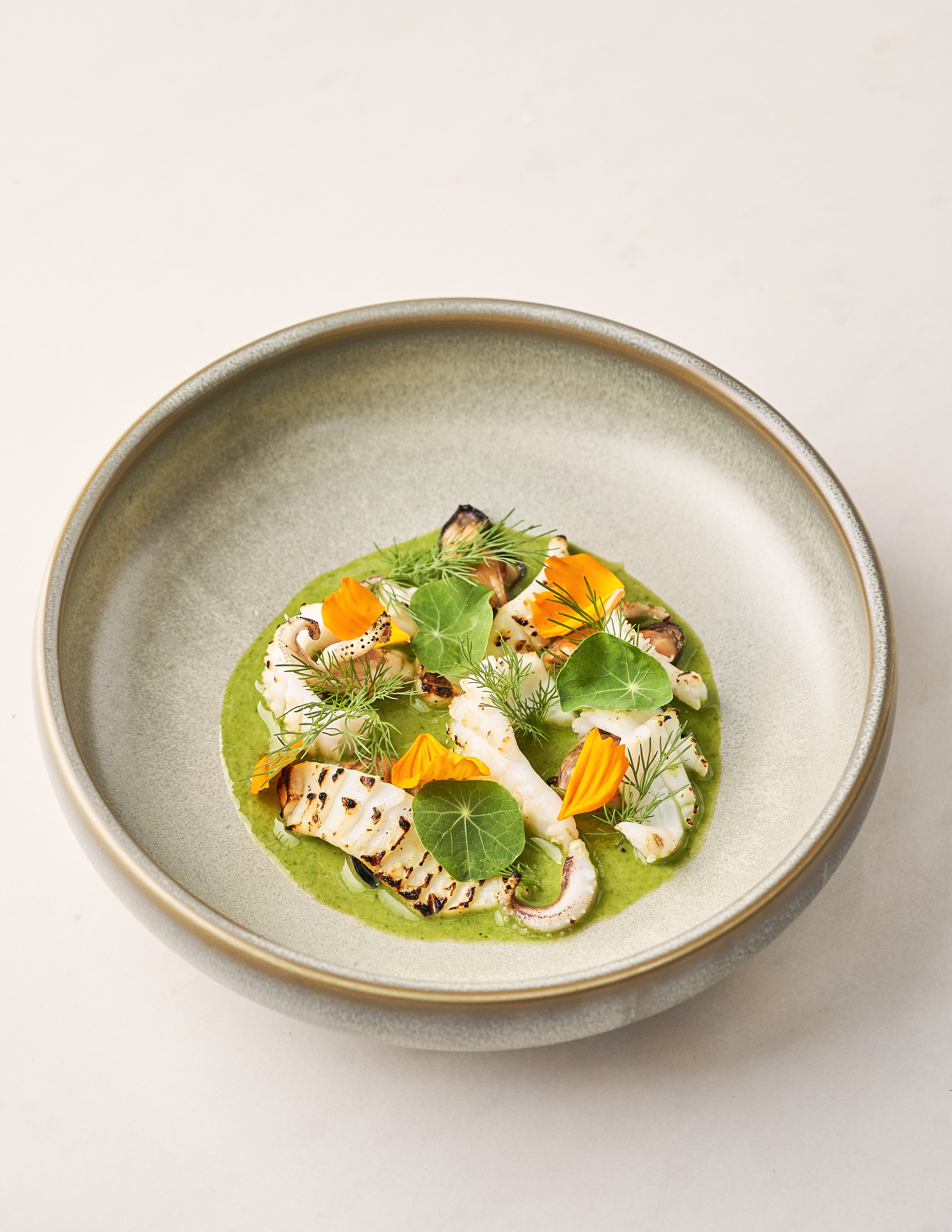 My favourite was the juicy swordtip squid and mussels from Ah Hua Kelong, finished with local microgreens and perked up by a subtly acidic green chilli harissa. The local mangrove crab tartine rolled up in avocado slices and drizzled with yuzu citrus vinaigrette and buckwheat crumble was clean and refreshing (all these dishes are meant for sharing, but be warned, there'll be fights to monopolise them).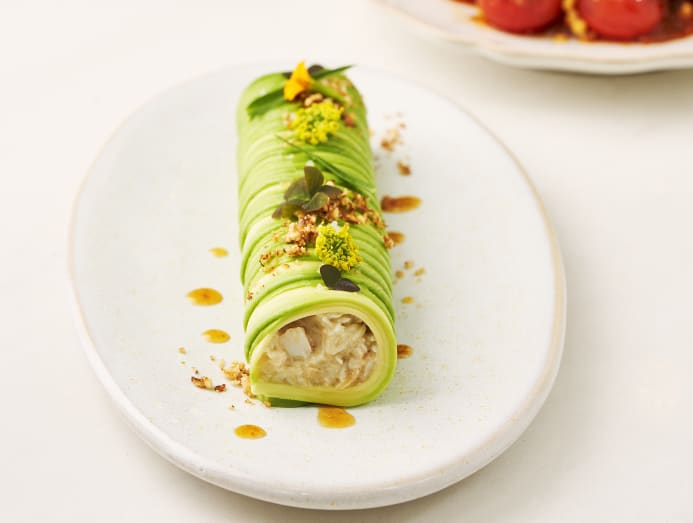 The desserts were no second fiddles either. Fun and refined sweet endings came in the form of a S'mores riff of burnt honey meringue and malted milk chocolate, and strawberry and beetroot sorbet with vanilla cream and daubs of chardonnay vinegar gel. Cocktails follow the same fresh ingredient philosophy in creations such as the Trigona Honey Bellini, which uses Trigona honey puree from stingless bees in Malaysia, and a Hearth-side Sour with Jack Daniel's Single Barrel Rye Whiskey, wood-fired cherries and BBQ bitters. The wine list is also varied, with over 170 labels, including those from small American producers.
Jigger & Pony's co-founder Indra Kantono said: "The expectation of luxury is changing. It's not about formality or following other people's expectations; it's about being very comfortable. We want to build places where people can find comfort, forge friendship and share happiness and Rosemead is one of them."
"The expectation of luxury is changing. It's not about formality or following other people's expectations; it's about being very comfortable." – Indra Kantono