The chicken's humble origins belie its truly universal appeal as a top table ingredient
According to Singapore's leading F&B professionals, the right breed when farmed right makes all the difference.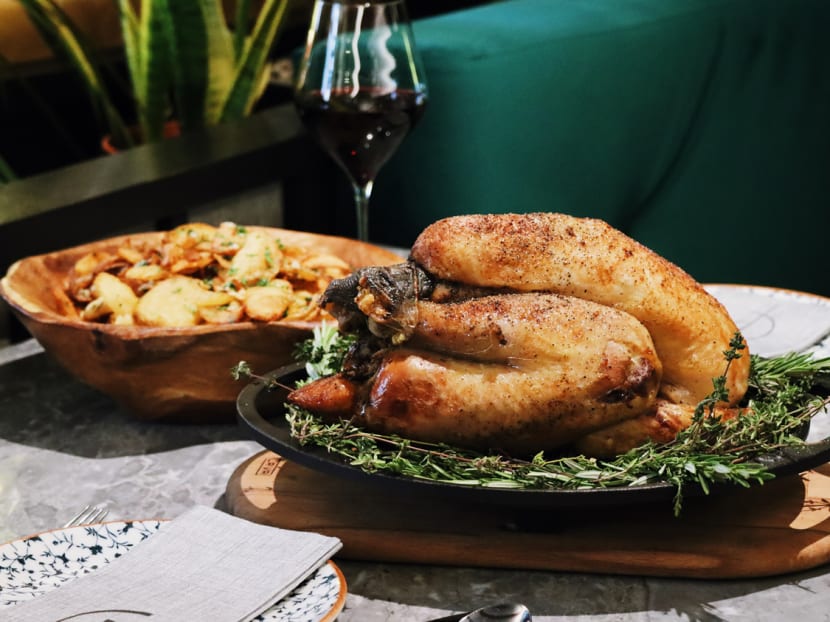 I have often found it odd just how quickly someone would claim a piece of protein they had trouble identifying tasted like chicken. Was it the less-than-flavourful sample that threw them off? Or perhaps a less than adept palate is to blame, although that too would be okay. We have, after all, been entertained by the fact that even trained chefs have at some point failed to identify the common poultry. 
Granted, there are good (and even properly scientific) reasons why meats like frog, crocodile and even rabbit taste like chicken ‒ albeit a little gamier. But to generalise this familiar white meat as being comparatively bland would be foolish. We would be better off admitting that the ignorance on the subject that many share in their impetuous consumption of the more affordable factory farmed alternative doesn't help more of us nurture a keen appreciation for the chicken's unique and delectable qualities. 
UNCOMMON UTILITY
There is no doubt the world will always be in love with the chicken's culinary versatility ‒ not that it requires any fancy treatment to shine ‒ whether it's barbecued (preferably brined or lightly marinated) or grilled like yakitori ‒ a veritable head-to-tail celebration of the common poultry.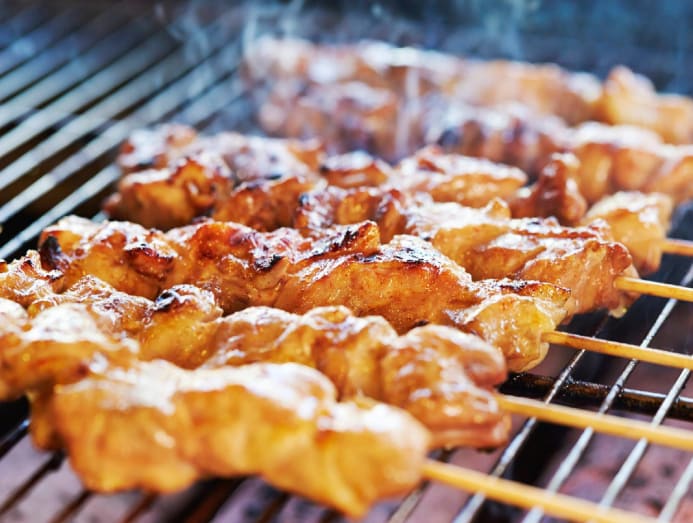 Truth is, though, the choice breed of chicken in most leading restaurants is anything but ordinary. Acclaimed yakitori chefs, coincidentally, are famously picky about their choice birds, which coincides with the aptly wide range of cuts and parts they famously proffer. This is why diners at some of Japan's finest yakitori joints are seldom surprised to find a variety of breeds being utilised, ranging from the vegan (by virtue of its strictly plant-based diet) Iwate Saisaidori, to the more widely prized Okukuji Shamo. According to Japan's Geographical Indication Protection System, the latter is a local cross breed jidori chicken that's reproduced using a long established method (since 1975) unique to the north of the country's Ibaraki prefecture. More importantly, when prepared right, its meat is said to boast a fine balance of firmness and juiciness with little on the nose to distract. 
Of course, there are ample recipes that revel in the chicken's clean yet penetrating depth of flavour. Like a nostalgic pot of my mum's chicken afritada (a tomato-based Filipino chicken stew) that the family still craves. Growing up, I had never gushed specifically about the flavour of the chicken she used, which was often the cheapest one available (although I'd like to credit this fact to my mum's deft touch in whipping up a consistently memorable dish). But recreating the dish with a more flavourful French chicken (because I can now afford to splurge on one) yielded new insights into the untapped potential of such plebeian fare. Not to mention the mellow yet distinct deliciousness of the chicken's natural flavour that seem to shine through the tastiest of sauces. 
UNIVERSAL DARLING
One famously native breed though has long been regarded the universal top pick across various cuisine styles and locality. The pride and joy of the Bresse region in Eastern France, its rise to fame can be traced back to ancient Rome. More importantly, this affectionately dubbed "queen of poultry" is such a highly coveted specimen that as early as 1957, the French National Assembly awarded the breed the registered designation of origin or AOC (Appellation d'Origine Contrôlée). Like Champagne, that means only Bresse chicken raised in the French province of the same name can be considered Bresse chicken. It's so French that its feet are blue, feathers white and comb red, French chefs have jokingly highlighted. And it remains their choice chicken.
"I would like to add that the Gallic rooster is a symbol of France, so you can say that we take our chicken very seriously," assured Louis Pacquelin, chef-owner of reimagined French brasserie Clos Pasoh. "These well-treated chickens (are reared) in a natural environment that allows them the space to roam free in fields," he said, before elaborating on the qualities Bresse chickens are well positioned to develop, such as a much firmer meat compared to caged chickens. These birds are healthier and stress-free, which makes for a sweeter and tastier meat. They also enjoy milk in their diet yet boasts thinner bones and a higher meat-to-bone ratio, explained Pacquelin.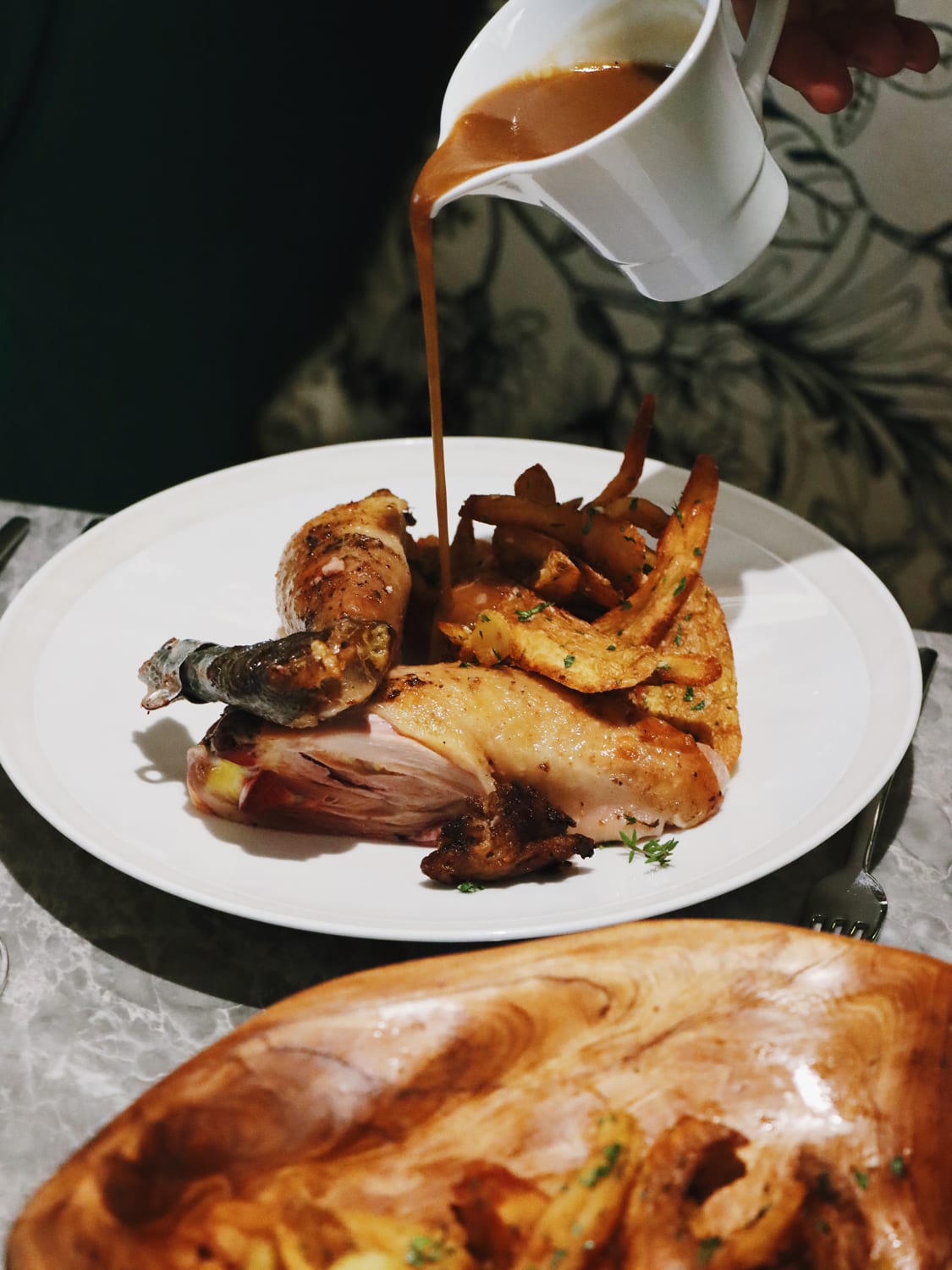 He admitted that roasting is the most common method of showcasing the Bresse chicken but he also emphasised on the multi-step-process that is adopted at Clos Pasoh. This incudes immersing the chicken overnight in a brine of salt, sugar, herbs, garlic and different spices. This step tenderises the chicken while allowing it to absorb more flavours. Just before it is slow cooked sous vide overnight, lemon, more herbs and spices, salt and a quarter-loaf of sourdough bread is stuffed into its cavity. The finish also requires different cooking times for the breasts (which are naturally drier) and its fattier legs. 
He added: "This way, the chicken skin gets its perfect colour and crisp (texture), and the meat does not dry out. We then remove the (stuffed) bread, cut it into small squares and pan-fry them like French toasts. Having absorbed all of the flavours, they make the perfect accompaniment to the chicken." This is not to say that he wouldn't consider another traditional recipe, as well, like preparing Bresse chicken a la albufera. This time poularde is poached in chicken consomme and the same consomme is then combined with foie gras, creme fraiche, cognac and madeira wine to make the signature accompanying sauce.
GOOD FOR YOU
The benefits of working off tried-and-tested recipes are multi-fold when it comes to whipping up dishes that are tastier and healthier. And they tend to be especially specific when it comes to the ingredients in play ‒ such as the use of one of the oldest breeds of chicken.
Originating in China, the silkie is a fluffy looker that has grown into a popular choice of pet. Though not enough to stop restaurants from serving it in a nourishing soup. Point is, this black-skin-and-bone variety (due to a rare genetic mutation of hyperpigmentation) has long been a tasty pick, one that boasts a slightly gamey flavour and a naturally chewier bite. It even has "a nice nutty flavour", affirmed chef Lee Hongwei of restaurant Yue Bai ‒ a relatively new addition to Singapore's plethora of elegant-yet-casual Chinese dining rooms. Unlike most, this standalone not only specialises in updated renditions of heritage dishes, the recipes are rooted in ancient dietary principles designed to satisfy and enhance wellbeing. Removing its skin, he shared, will make the silkie taste less gamey. But one of the main draws of using this breed whole is its nutritional qualities ‒ a delectable "18 kinds of amino acids after hydrolysis", eight of which are "essential", said Lee, who also pointed out how the level for 10 of these amino acids are higher than those of ordinary broiler chickens, as are the silkie's measure of carotenoids and vitamin C. These facts may not make you salivate, but rest assured, the dish satisfies on multiple levels.
Lee added: "The silkie chicken is usually cooked with Chinese herbs. By double-boiling the meat, we can maintain all the above benefits and render the meat more tender. The use of jasmine adds a calming effect and also makes it gentler on the palate." This cooking method also makes the most of what little meat there is. "Our silkie chickens are a mixed breed and sourced locally," Lee shared. Each chicken weighs about 800g after 42 to 45 days, he noted, and only 40 per cent of that weight is meat. However, these silkies are fed mainly corn, and supplemented with only vitamins and minerals. That said, these little adaptations might be all it needs, given that silkie meat, he assured, is naturally high in iron and minerals, while comparatively low in cholesterol.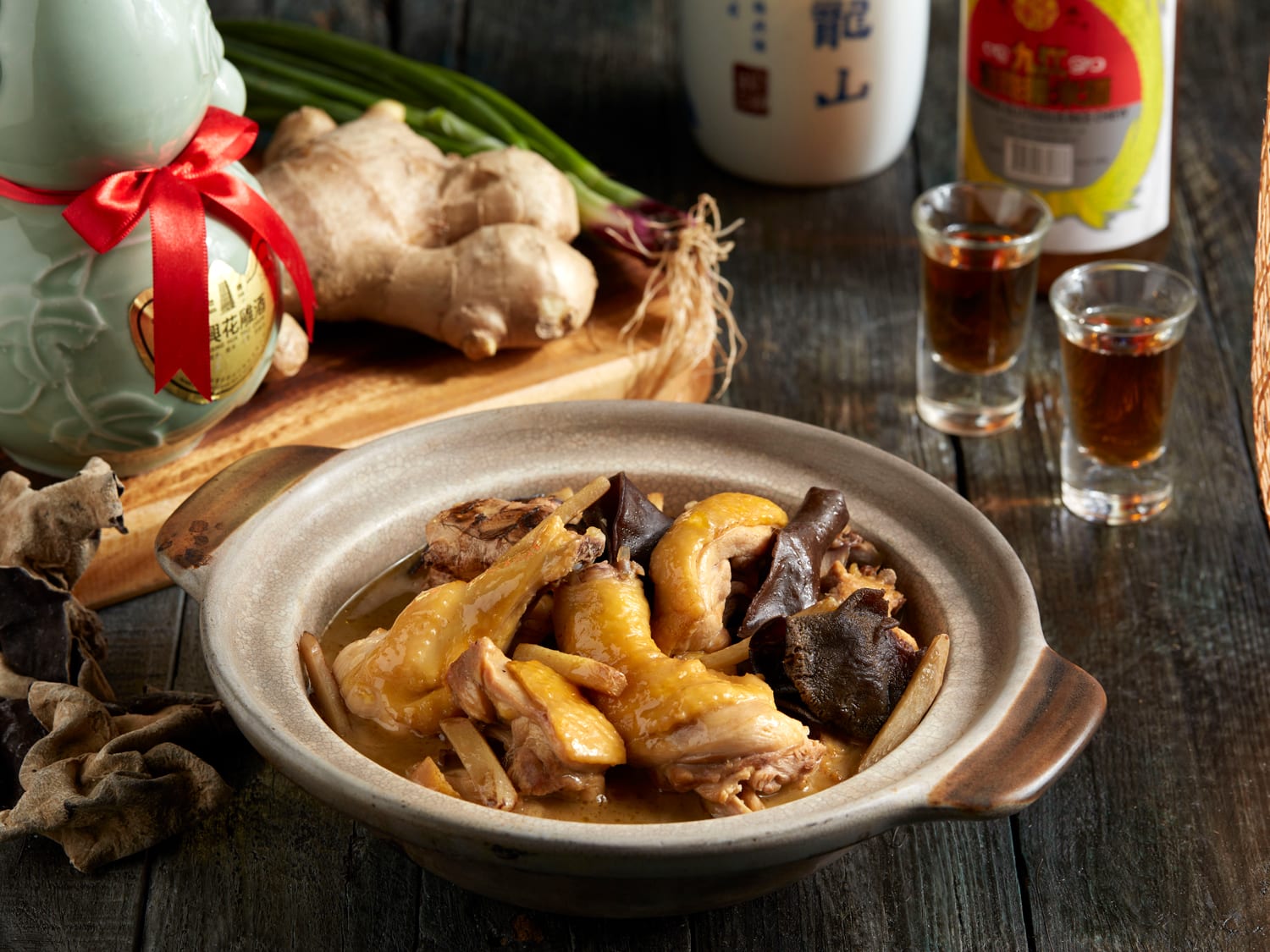 When it comes to the wider range of chicken dishes, a larger and more familiar breed of corn-fed free-range poultry is never too far away. There are in fact a healthy number of quality breeders of the kampong chicken located just across the causeway that restaurants here depend on. It's a cost effective alternative that's not lost on local stalwarts, be it chef Damian D'Silva's well-loved all-day-dining restaurant Rempapa, which champions local heritage cuisines or acclaimed destination for contemporary Chinese fare, Majestic Restaurant. The former has diners returning for classics such as the ayam masak merah, and the chef's feted chicken curry (which draws inspiration from Indian and Eurasian cultures). For decidedly oriental recipes, the latter is where one can savour seasonal variations by maestro Yong Bing Ngen, such as the double-boiled kampong chicken soup with prized Matsutake (Japanese pine mushrooms) and dried scallop, as well as a claypot dish of free-range chicken prepared with glutinous rice wine, ginger and wood ears.
Yong imports his daily supply of kampong chicken fresh from Malaysia. The fact that they can run freely, he said, strengthens their legs and bodies, making their meat firmer and to some extent sweeter. He continued: "Additionally, for this particular breed of chicken, corn is fed to them as part of their diet. Hence, when the chicken is (boiled), the skin of the chicken (appears) more yellow, making it more appealing and appetising to consume."
DOMESTIC CHIC
Now you might at this point be tempted to suggest importing and then farm-raising a particularly favoured bird closer to home. And you would not be wrong to do so. That is in fact what Singapore's Toh Thye San Farm (TTSF) has successfully managed with its GG French Poulet, which is raised antibiotic-free and without added hormones. It was also certified humanely farmed by the Humane Farm Animal Corporation in 2018. Not only is this a decidedly flavourful option but one that is also primed for human consumption and low in carbon footprint. For the same reasons, this has been a choice pick at the island's top eats ‒ from the internationally acclaimed tables of Waku Ghin and Burnt Ends, to the elevated expressions of hawker staples at The Coconut Club. 
The breed in question is the "naked neck", shared TTSF's head of projects Kenny Toh, who noted its ability to handle hot weather as one of the key qualities outside its desired flavour profile. Rearing the birds from hatchling also allows for early quality checks. It begins with day-old chicks being flown in from Sabres in France to be reared as breeders, and only select male and female hatchings are reared.
"We try to keep things simple, and as such, we provide them with a 100 per cent natural and vegetarian feed with a strong emphasis on corn to help them develop true natural chicken flavour," Toh explained.
Additional ingredients in the feed are targeted at providing a balanced diet, to help the chickens stay sick-free. The result is a chicken with a clean and natural taste, and a texture that is firmer from the exercise these cage-free chickens get, he affirmed. These attributes are fully developed at around 60 days, which is the minimum age of sale (according to weight) he stressed. He did however add that the older the chicken, the better the flavour. More importantly, it flaunts just the sort of balanced flavour profile chefs appreciate. It is, simply put, flavourful, juicy and tender, said The Coconut Club's managing partner, Daniel Sia. But it's also how its qualities are able to shine through even in richly seasoned Asian dishes that reinforces the restaurant's decision to go with the GG French Poulet as its preferred breed of chicken. For its dish of ayam goreng berempah (spiced fried chicken) he explained, the chicken is first marinated for 12 hours, "for supreme tenderness", in The Coconut Club's house-made rempah (spice blend) that includes galangal, lemongrass, ginger and shallots. It's then fried at a low temperature over a slightly longer period, resulting in that crisp exterior and juicy meat fans of the restaurant have come to crave. The overall quality of the chicken also allows the kitchen team to leverage its less popular cuts. Like they've done with the Sate Ayam Bumbu Kacang ‒ an adaptation of the previously featured satay kulit (chicken skin satay) that exploits as well the tail and thigh.
"Yes, we've tried using other chickens, such as white chicken, yellow chicken, kampong chicken, and even organic Sakura chicken," Sia admitted, quick to assert that "while there are no real problems with the other breeds, we find that organic local chicken gives us the best balance of meat, fat, and tenderness, and which come through in our dishes".