Celebrating Chinese New Year at home? You can order pen cai for takeaway
With safe distancing measures still being enforced, many are likely to consider celebrating the Chinese New Year at home. And restaurants are going out of their way to ensure that must-have dishes like pen cai remain fresh until they arrive at your doorstep.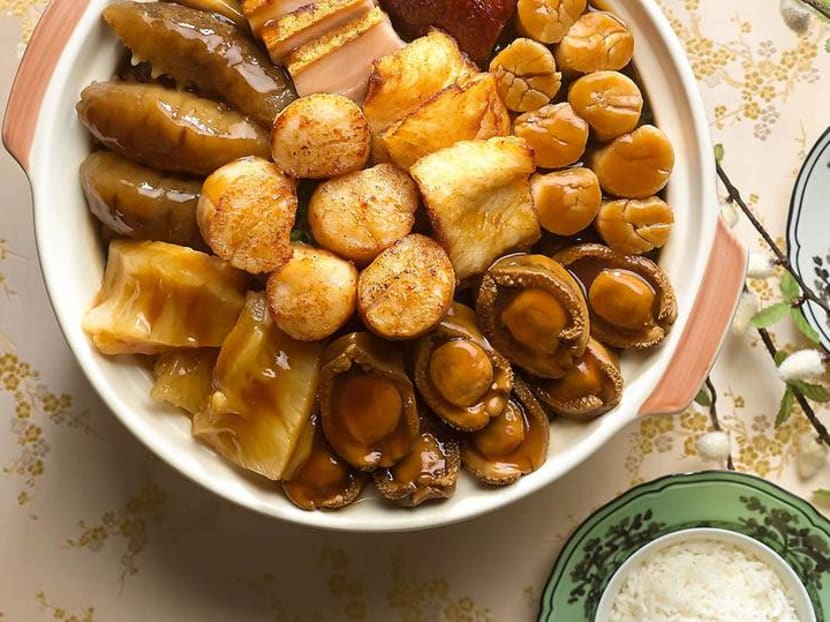 Every Chinese New Year, there are dishes that are an absolute must on the dinner table. Pen cai is one of them. What used to be a peasant dish is now a luxurious pot often filled with top-grade ingredients, from abalone and prawns to roast meats and scallops.
With safe distancing measures still being enforced, many are likely to consider having their Chinese New Year celebrations at home. With pen cai orders, restaurants take meticulous care to ensure that the pot remains top-notch until it reaches its destination. Ingredients are usually cooked individually and packed into its vessel as close to delivery or collection time as possible.
Cavaliere Giovanni Viterale, general manager of The Fullerton Hotels and Resorts, says that the pen cai from their Cantonese restaurant Jade is made on the day of collection or delivery. The hotel also has its own fleet of drivers on standby and engages a third-party courier service during peak delivery periods.
"We recommend consumption on the first day for the best pen cai experience. Customers may also choose to store their pen cai in the refrigerator overnight for safe consumption the next day," added Viterale.
For Min Jiang at Goodwood Park Hotel, the pen cai is first placed in a steel pot before being placed inside a wooden one. This gives the traditional appearance while providing customers with a practical method of steaming the dish before consumption.
According to a Goodwood Park Hotel spokesperson, the pen cai is prepared "according to the time of pickup or delivery to ensure freshness. We recommend consumption within four hours."
Summer Pavilion's Signature Pen Cai is only available for self-collection from its restaurant at The Ritz-Carlton, Millenia Singapore. The hotel's director of public relations and marketing communications Nathalyn Fong says that orders have to be made at least three days in advance.
She said, "It is best consumed within three hours and should be reheated over a low fire if necessary. If the pen cai needs to be kept for later in the day or the next day, it should be refrigerated after the pot has cooled down."
So don't worry too much about mushy textures or half-heated pots. We recommend these steaming vessels of goodness for your Chinese New Year feasts.
HAI TIEN LO, PAN PACIFIC SINGAPORE
Cantonese restaurant Hai Tien Lo has offered their Premium Wealth Treasures pen cai for the past nine years.
It is filled with 15 ingredients such as dried oysters, eight-head whole abalone, sea cucumber, goose web, black moss and dried fish maw.
This year, executive chef Ben Zeng added a personal touch with minced pork dumplings, which is not commonplace in the dish.
He explained, "My wife is from Dongbei and dumplings are usually comfort food, especially for those returning home after a long time away from their parents. In our family, making dumplings is also a regular bonding activity." He recommends eating the pen cai within four hours of delivery and not to keep it overnight.
Order the Premium Wealth Treasure Pot (S$508 for six persons, S$788 for 10 persons) from panpacificsingapore.oddle.me
JADE, THE FULLERTON HOTEL SINGAPORE
Jade restaurant's Great Treasures Pen Cai has been around for 12 years and its version features pork balls made from scratch using Chinese executive chef Leong Chee Yeng's special recipe.
The rich and flavourful combination also includes ingredients signifying prosperity and abundance such as ten-head whole abalone from South Africa, fish maw, deep-fried fresh beancurd stick, lotus root and stewed pork belly.
Order the Great Treasures Pen Cai (S$568 for six pax) at least a day in advance from fullertonhotels.com/fullerton-hotel-singapore/offers/jade-lunar-new-year-goodies-takeaways
MIN JIANG, GOODWOOD PARK HOTEL
Min Jiang's Prosperity Sea Treasures pen cai has been a staple on its Chinese New Year menu for the past 15 years.
Its wooden container harkens to the dish's origins where Hakka villagers provided food in giant wooden basins to a fleeing emperor (or general, depending on which story you prefer).
Besides the usual ingredients such as Australian abalones, Min Jiang's house-made roast pork, fresh scallops and Tianjin cabbage, this year's special addition includes eel fish maw.
Another new soup dish available for takeaway is the Double-Boiled Abalone Soup With Eel Fish Maw, Handmade Prawn Dumplings And Minced Pork Balls.
Order the Prosperity Sea Treasures (S$488, serves six) and Double-Boiled Abalone Soup (S$248, serves six) from minjiangfestive.oddle.me
SUMMER PAVILION, THE RITZ-CARLTON, MILLENIA SINGAPORE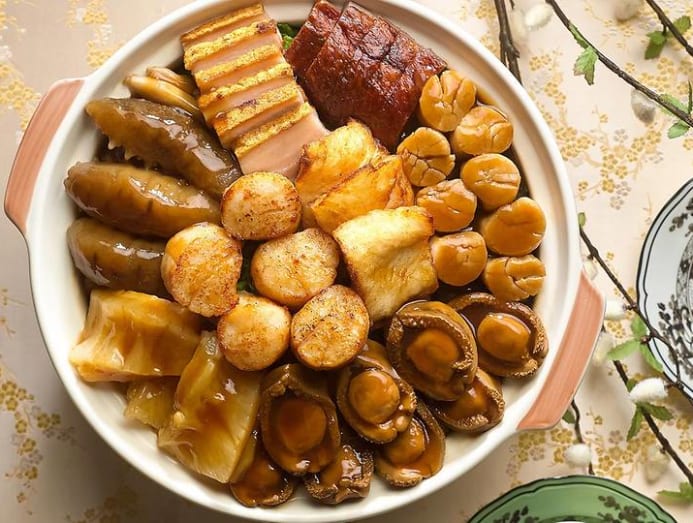 The sumptuous Signature Pen Cai from one-Michelin-starred Summer Pavilion includes fish maw, prickly sea cucumber, goose web, scallop, conpoy, Chinese mushroom and seasonal vegetables in rich brown gravy.
Available for self-collection only. Call the restaurant at least three days in advance to order.
Order the Summer Pavilion Signature Pen Cai (S$428 for four persons, S$856 for eight persons) by calling 6434 5286 or emailing rc.sinrz.summerpavilion [at] ritzcarlton.com ()
YAN
The beautiful Yan Harvest Pen Cai arrives at your doorstep in a claypot that can be reheated directly on the stove. The 18 ingredients, including king grouper, yam, Tianjin cabbage and fish maw, are individually prepared before being simmered together in a flavourful braised duck gravy.
Order the Yan Harvest Pen Cai (S$300 for five persons, S$600 for 10 persons) at least two days in advance from yan.com.sg/cny. Available only for self-collection.