Think you've eaten it all? These local food tours will show you otherwise
There's no shame in being a tourist in your own country, especially if you're on a constant quest to discover food that spans the generations.
There are over 13,000 licensed food shops in Singapore, which means even if you're an ear-to-the-ground foodie who eats out every day, it's practically impossible to have sampled every restaurant, hawker stall or eatery in town.
So what better way to discover gastronomic gems, both old and new, than with a food tour of areas whose nooks and crannies you've yet to explore. You'll be surprised how much you can learn about your own city by tagging along on one these excellent foodie expeditions.
Just make sure you show up hungry.
STREET ART, BITES AND CRAFT BEER EVENING TOUR
There is good reason why this is the Everyday Tour Company's top outing. For Singaporeans and visitors alike, Kampong Glam holds that special allure of mystery and modern, where the Muslim community's deep history and distinct culture meet the vibrancy of the city's hippest streets.
For S$68 per head, tour guide and the company's CEO (Chief Everything Officer, that is) PS Yeo, leads participants through the enclave's colourful lanes and alleys, where they'll sample a taste of the Malay street food on offer, as well delicious gems from the likes of Indian Muslim restaurant Zam Zam, which has been in business for over a century.
Stories and legends of Singapore's indigenous Malays are brought to life by Yeo's regaling storytelling style as the tour winds it way across the area's historical sites. The journey ends with a beer (or three) at a local craft beer house, where guests can taste the brews while learning about the nuances of their ingredients and processes.   
JOO CHIAT/KATONG FOOD WALK
Betel Box started out as a backpacker's hostel in 2003. In its early days, its friendly owners would take hostel guests out to dinner around their historic Joo Chiat neighbourhood, and those jaunts quickly turned into informal food tours.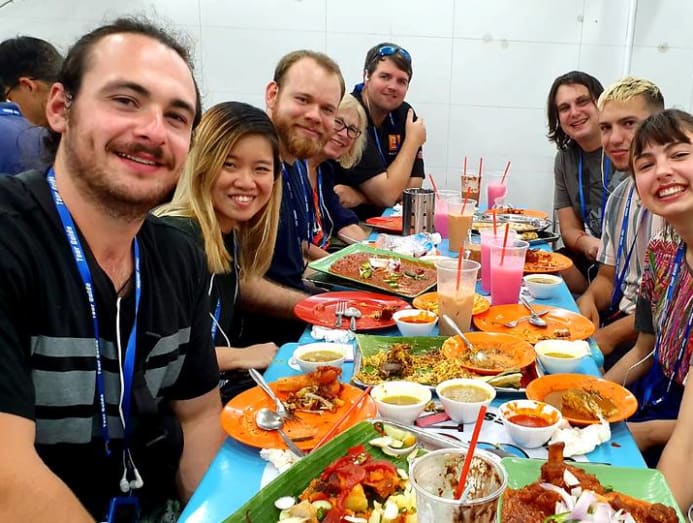 "The rest, as they say, is history. We got ourselves licensed and started running tours commercially," said co-owner Tony Tan, who joked that he has conducted the tour over 1,000 times, "which probably explains my increasing waistline."
What sets this S$100-per-head tour apart is the sheer selection of dishes that participants get to try in four belly-busting hours. The variety of more than 30 dishes can be breathtaking, from Malay and Indian-Muslim delights like roti John, sup tulang and putu piring, to tropical fruit, kueh kueh, Nonya delights and zichar classics.
Where other similar tours generally serve up hawker favourites and one-plate meals, this walk takes participants through what Tan calls "celebration foods" like ayam buah keluak, durians and chilli crabs – "dishes that visitors would only be introduced to if they had a local friend," he said. All that eating is interspersed with talk about recipes, food etiquette, Singapore's food history, property, and what it's like to live and eat as a Singaporean – all the things that Singaporeans love to talk about.
Best of all, these walks are conducted in the evenings, when the tropical heat of the day has abated and the Vietnamese ladies-of-the-night emerge to ply their trade.
NEXT GEN HAWKER FOOD TOUR
We know much about the heritage hawkers who have been at it since long before Singapore's independence, and about the hawkers with their Michelin stars and snaking queues.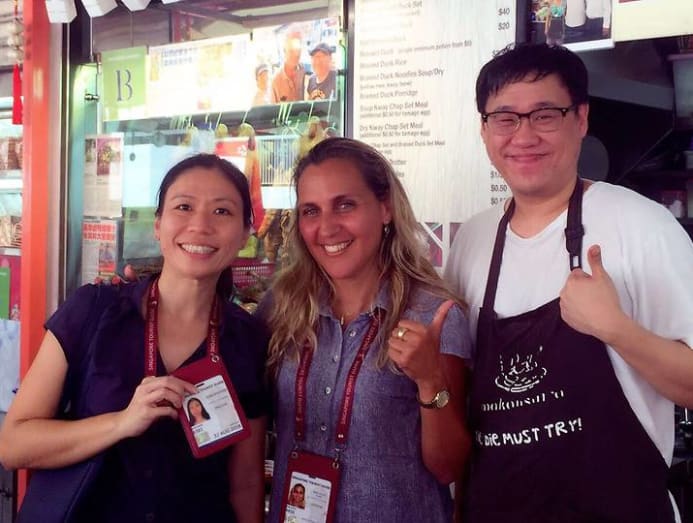 But what of the new generation of young Singaporeans who have swapped their corporate suits and air-conditioned offices for aprons and sweltering food stalls? Throughout this almost three-hour-long experience by food tour company Wok 'N' Stroll, participants will meet the likes of former fine dining chefs Ben Tham and Gwern Khoo, who run A Noodle Story at Amoy Street Food Centre, and mechanic-turned-second-generation hawker Melvin Chew who dishes out kway chap from his stall in Chinatown Complex.
Not merely a showcase of the new breed of hawker-preneurs, the S$130-per-head tour demonstrates the evolution of Singaporean hawker food through tastings of old and new. So you might be fed a packet of S$3 nasi lemak versus the S$13 version from The Coconut Club, or tea made by a young hawker as a comparison to traditional teh halia from an Indian sarabat stall.
"This is our way of telling the story of Singapore as a nation through its food," said Wok and Stroll's founder Karni Tomer. "For us, these tours are not just a business, they are our passion."