How are Singapore's social clubs navigating these coronavirus times?
With spaces reconfigured to allow members to practise physical distancing and stepped-up sanitisation measures, private members' clubs such as 1880, Crane and Straits Clan say they are actually seeing an increased demand for their facilities and services.
In the days before COVID-19, Singapore's social clubs were known for their unique lineup of interesting events for members seeking intellectual and creative stimulation. From an exclusive performance by burlesque performer Sukki Singapora at 1880 to a closed door dialogue session with funnyman Ronny Chieng at Straits Clan, not to mention a multitude of cool parties to ring in special occasions like Halloween or New Year's Eve, there were plenty of choices to keep the social crowd engaged.
But the coronavirus changed all that. Like many other businesses that have had to evolve due to physical distancing regulations, members clubs such as 1880, Crane and Straits Clan can no longer rely on tried-and-tested methods of fostering social activity by throwing grand events and parties to keep their members coming back for more.
Instead, they are now focusing on transforming their already ultra-stylish premises into private and exclusive havens where members may retreat to when they need a respite from life during a pandemic. With spaces reconfigured to allow members to practise physical distancing in the clubs and stepped-up sanitisation measures, private clubs say they are actually seeing an increased demand for their facilities and services.
For instance, 1880, which is located at Quayside on Nanson Road, reconfigured its premises to convert spaces such as its studio for F&B purposes to make up for the reduced number of tables in its dining room.
"Business is booming. We are usually fully booked on busy nights and have had to turn tables, something we've never entertained before," said co-founder Marc Nicholson.
Over the past few months, many members have also sought out the clubs as a refuge from WFH (work from home) arrangements. At Crane on Kim Yan Road, demand has increased, said Federico Folcia, Crane's founder and CEO.
"Our members run small businesses and home businesses; they need a safe, clean space to run meetings, make connections and grow their business, and they are happy to find a safe and quiet space to work from."
It is a similar scenario at Straits Clan on Bukit Pasoh Road. With more members looking to work from the club, there are plans underway to make its workspaces "more comfortable and accommodating", said co-founder Wee Teng Wen, who is also the managing partner of The Lo & Behold Group.

The clubs' events and community organisers have also been hard at work putting together carefully curated Zoom sessions to allow members to maintain social connections even when they are unable to meet in groups of more than five.
Sometimes, virtual events can even be more popular compared to past physical events.
"These events have allowed us to reach even the busiest of members who typically wouldn't be able to attend in person and also to accommodate much larger groups than before," said Wee. For instance, an off-the-record, online fireside chat with newly-elected MP Jamus Lim saw a turnout of over 200 people.
Likewise, 1880's Nicholson has discovered that online sessions have in fact facilitated the forming of connections across geographical borders.
"Our members who were based abroad or stuck abroad could join us as well, including a member who was stuck in quarantine with his daughter who called in from London for a nice father-daughter activity," he said.
The club, whose signature salon discussions on specific topics can draw up to 300 attendees, has also found a more intimate way to encourage members to continue interacting with each other.
"One of the biggest issues with the five-person limit is you don't get to meet new people," Nicholson observed. "So we started our Table for Five dinner series, bringing together members who have similar passion projects, are champions of causes, are lonely hearts, or just really wonderful people we think should meet each other."
To ensure that there are no awkward silences, participants are equipped with a "conversation menu" of thought-provoking questions should there be a need for an icebreaker.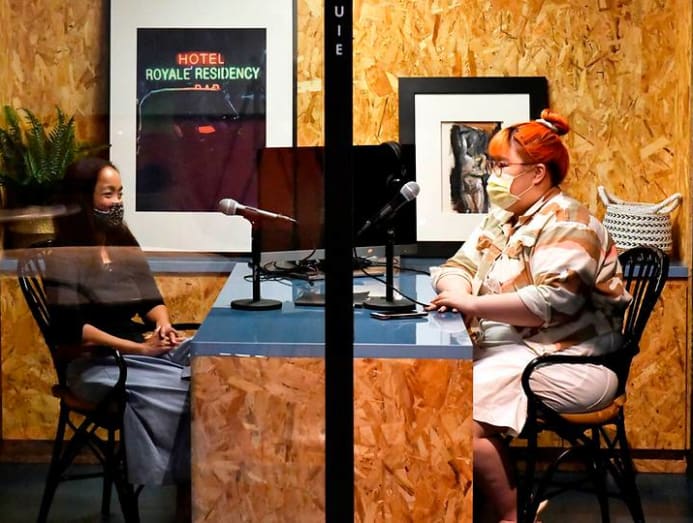 The clubs are also pitching in to support members' entrepreneurship and social impact efforts. Crane has recently installed podcasting equipment in the club for members to run their own podcasts.

At Straits Clan, its Clan Circles, which are member-led interest groups on WhatsApp, "really came alive during these times of safe distancing," said Wee.
"Members gathered to seek social outlets, discuss current affairs and even work out together. During the circuit breaker period, the Social Impact group coordinated and raised resources to meet the growing demands of the migrant community, as well as refurbished donated laptops for underprivileged children when they had to do home-based e-learning."
The biggest reward was seeing how these carefully curated communities stayed vibrant through tough times.
Wee added, "I think the world is increasingly leveraging human capital and recognising the value of building intentional communities in professional and personal capacities both locally and abroad.
"A club like Straits Clan is a perfect home and breeding ground for these meaningful conversations to take place, filling the gap between home and work in a seamless and hospitable way that's centred around community."