What it means for Singapore passport holders to use eGates at London Heathrow
There seems to be a new division, evident elsewhere in the world, where passport control is easier for arrivals from richer countries than poorer ones. But is using eGates an advantage?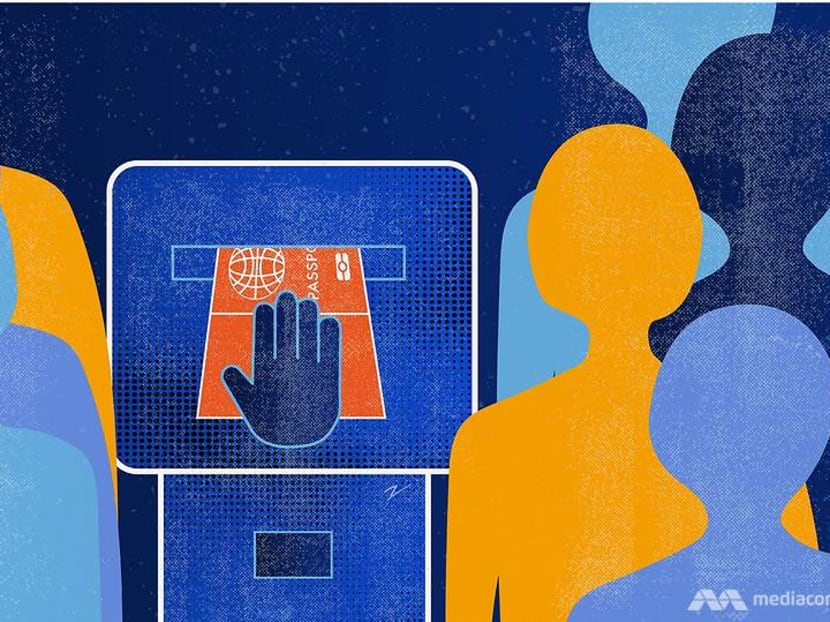 Had I noticed, a friend asked recently, that UK airport immigration signs had already changed because of Brexit and that they no longer directed people to queues marked "EU" and "other"?
I had noticed a change, but on a recent return from Barcelona to London's Heathrow I paused to look at the details. It's true that the signs no longer direct arriving passengers to EU and non-EU queues, but I doubt it has anything to do with Brexit.
Instead, there seems to be a new division, evident elsewhere in the world, where passport control is easier for arrivals from richer countries than poorer ones. At UK airport arrivals there is now a sign directing some customers to the electronic gates. The sign says "UK", followed by a series of 12 flags. One carries the blue and gold stars of the EU and there are the four flags of the European Free Trade Association: Norway, Switzerland, Iceland and Liechtenstein. The others are the flags of Australia, Canada, Japan, New Zealand, Singapore, South Korea and the US.
Adults (and accompanying 12 to 17-year-olds) from those countries with a computer-chipped passport can go to the eGates, insert their travel document, pose for a photograph and then, with a swishing of the gates, enter the UK. Everyone else has to join a queue to be interviewed by an immigration officer.
Is using the eGates an advantage? Increasingly. Electronic gates have become better; the refusal of the gates to open has become rarer. The EU queue in European airports has long moved more quickly than the "others" one, even before electronic gates. The immigration officer in the EU queue would look at the passport picture, peer at your face, pass your document under a scanner to check what it threw up, and, if the answer was nothing, hand it back. The electronic gates have made the process even quicker. The "others" queue has always been more onerous.
So how did the UK government select the seven lucky countries, whose passport holders, along with UK, EU and EFTA citizens, can go to the electronic gates? When the UK Home Office announced in May that passport holders from the seven countries would be allowed to use the eGates, it described the additional seven as "low-risk countries".
When I asked the Home Office for more information on how they were chosen it told me: "The decision was taken after careful consideration and in consultation with security partners across government." Security doesn't ring quite true as a reason. Terrorists have come from several countries on the favoured list, including the UK. Low-risk probably means low-risk of staying illegally. The seven countries are prosperous. Their citizens tend not to come to the UK as refugees.
Is the same happening elsewhere? Australia allows a far wider group of countries' passport holders – 27 ranging from Argentina to Malaysia – to use its airport arrivals SmartGates. But then Australia exercises its controls in advance. Everyone needs a visa to get into Australia, apart from New Zealanders who can apply for one on arrival.
In the US, Automated Passport Control (which still has to be followed by the presentation of a receipt from the machine to an immigration officer) is open to US and Canadian citizens, anyone travelling under the Esta visa waiver programme or anyone with a visitor's visa. Visas require an interview. Visa waiver does not. Passport holders of 38 countries are eligible for the visa waiver programme. They are mostly European and wealthy Asia-Pacific countries such as Singapore, South Korea and Australia.
At a time of public controversy over immigration this rich-country bias may be inevitable but trusted traveller programmes, in which people can be cleared for electronic gates based on their personal histories and records, are surely fairer.
By Michael Skapinker © 2019 The Financial Times