Ramadan Iftar: The best places to break your fast with friends and family
Options range from buffets that offer cuisines of every kind and lavish set menus that feel like a buffet.
The holy month of Ramadan began on Saturday evening (Apr 2) when the world's 1.8 billion Muslims will fast for 30 consecutive days. The fasting ends each evening as the sun sets and resumes when it rises. The act of fasting symbolises the purification of body and mind, allowing Muslims to devote themselves to their faith and grow closer to Allah or God.
It is an act of devotion filled with equal parts sacrifice and joy as it draws families and communities together, highlighting the sense of gratitude as a day of hunger and thirst comes to a close.
Iftar, the evening meal that signals the end of the day's fast, is a communal event surrounded by family and friends. It can be as simple as rice and a few dishes at home or as elaborate as a buffet spread laden with all manner of dishes imaginable.
If you are in search of a Halal-certified restaurant for a special Iftar meal, the following establishments have pulled out all the stops for one that will leave you sated until sunrise.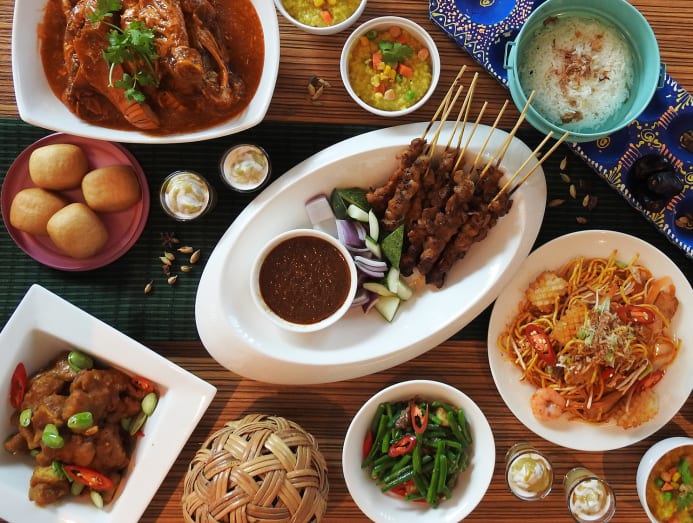 At the comely marine-hued Mediterr-Asian restaurant that is 21 On Rajah, iftar delights come in the form of an a la carte buffet. As you'll also see in the other establishments that follow in this story, sashimi and sushi are as de rigueur to the Singaporean buffet line as epok epok and laksa (all available at this restaurant, too).
Beyond that, dip into festive highlights such as bubur lambuk (the traditional rice porridge eaten during Ramadan), assorted satay, and roasted beef ribeye with rendang sauce. Mediterranean offerings include grilled lamb, chicken and beef kebabs, and beef shawarma with creamy garlic sauce. Dinners start from S$58 per adult. Available until May 2.
ASIAN MARKET CAFE
The buffet stations at Asian Market Cafe are named after Singaporean neighbourhoods including Joo Chiat, Serangoon and Pasir Panjang. But that doesn't mean all you'll get is local fare. The Iftar spread roams further into Southeast Asia, with dishes like roasted lamb leg served with rosemary sauce, basmati sauce, pappadum and cucumber raita. A gado-gado live station lets diners put their own peanut-sauced salad together, while offerings like beef rendang ensure that festive Ramadan foods are well-represented. Dinner starts from S$84 per person (for non-Muslims who aren't fasting, lunch is priced at S$78). Available until May 2.
ATRIUM RESTAURANT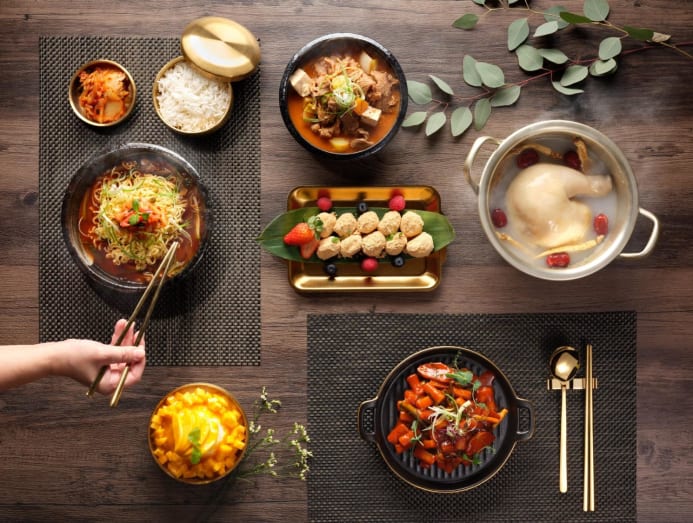 If kimchi ramen, ginseng chicken soup and mango bingsu sound like great ideas to break your fast with, then head to Atrium Restaurant where the Ramadan buffet serves up fabulous Korean options. All the classics are available, including tteokbokki (spicy rice cakes), pajeon (pancakes) and beef brisket soybean paste stew. Singaporean favourites such as freshly made prata, laksa and chicken rice supplement the Korean selection, alongside freshly shucked oysters and salmon sashimi. Available until May 31 and buffets are now priced at 50 per cent off. Prices start from S$47 at dinner per adult and S$41 at lunch).
CAROUSEL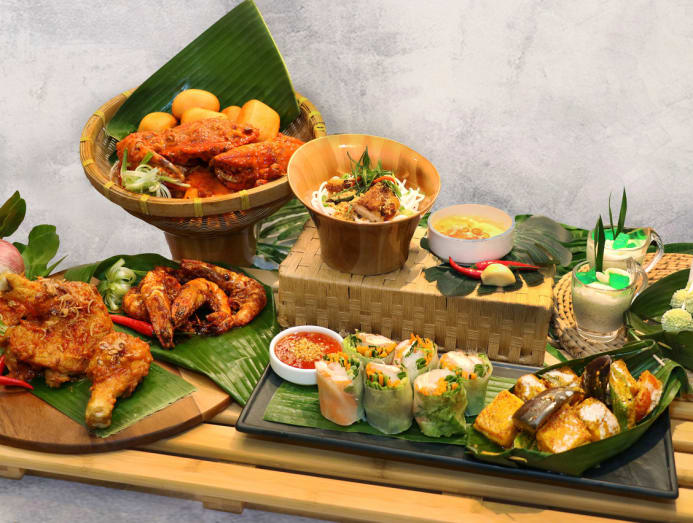 The Iftar buffet at Carousel takes diners on a journey across Southeast Asia with more than 70 dishes spanning Vietnam and Luang Prabang to Singapore, Indonesia and Malaysia. Expect appetisers such as fresh Vietnamese spring rolls and Thai beef salad, before bellying up to mains like Laotian grilled chicken, Bruneian ayam belado, Filipino duck adobo, and Singapore's chilli crabs. Round off the robust meal with a serving or three of cendol as well as other sweet treats such as ondeh-ondeh rocky road and gula Melaka creme brulee. Available until May 2, with prices starting from S$68 for dinner and S$62 for lunch.
GINGER
Beef cheek masak merah, crab lemak nanas, and rock lobster mee siam are just some of the irresistible offerings at this gorgeous botanical-themed buffet restaurant. The Iftar menu offers some modern takes on classic Malay dishes including a mango kerabu, the beloved Ramly burger and mutton soup. With a list of savouries like that, it seems only apt that the dessert line-up features durian pengat, putu piring and bubur chacha. Dinner costs S$72 per adult and lunch is priced at S$49 per adult. Available until May 6.
PEPPERMINT
Sundown Feasting is an apt name for the Iftar buffet at Peppermint. When the sun sets, break your fast with a bevy of culinary delights including Black Angus short rib satay, bebek rica rica (slow-cooked Manado-style duck leg), and Australian baby lamb shank rendang. If you are more of a seafood fiend, there are excellent options like grilled octopus with Urban Farm calamansi and sambal, and Indonesian lobster kalio.
The dinner buffet is available until May 2 and priced at S$98 per adult and S$49 per child. If a hankering for drinks like iced bandung and Milo Dinosaur strikes you, you can order them for S$8 a pop.
PERMATA SINGAPORE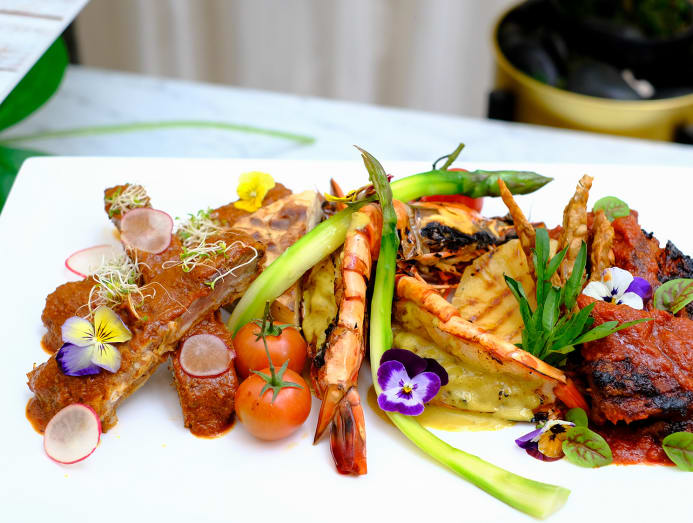 A Nusantara feast awaits at Permata, set in the historical Gedung Kuning or "yellow mansion", once part of the royal enclave in Kampung Gelam.
The S$78 Iftar set menu offers numerous dishes with each course, so you'll want to pace yourself. Created for the occasion are dishes like opor ayam cakerawala (opor chicken rice balls served with green chilli sambal and rice crackers) and ayam bekakak with lalapan (Sundanese grilled chicken with king salad, fried tempeh and sambal bajak). Culinary director Mel Dean has also recreated rare dishes such as mee Maidin (noodles in a thick prawn gravy) and celebratory ones like lemang and serundeng (traditional Minangkabau glutinous rice topped with coconut floss). Wash it all down with a rose lychee bandung.
STRAITSKITCHEN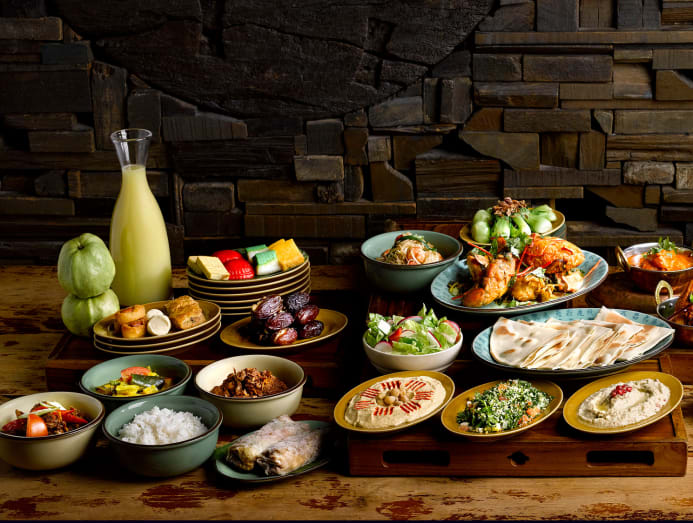 You will have to leave restraint at the door when you dine at StraitsKitchen. This popular buffet restaurant has the full works this Ramadan, beginning with warming appetisers such as rojak and gado-gado alongside a delightful array of mezze. Dip freshly baked pitas in baba ganoush and nibble on salads like fattoush and tabbouleh, before diving into the lavish Malay spread.
Highlights include ikan lemak (local barramundi in a spiced coconut cream gravy), ayam buah keluak (chicken stewed in a gravy rich with the Indonesian black nut) and betis kambing berempah (slow-braised Australian lamb shank). You'll want to save space for other dishes from the barbecue grill, the selection of Singaporean classics, and the always delicious Indian station (the butter chicken has never failed us).
And just for Ramadan, the dessert list comprises Arab-esque sweets including baklava, basbousa and halva. Available from 6.30pm to 9.30pm daily at S$88 per adult and S$48 per child until May 4.