Your favourite F&B outlets are now offering takeaway and delivery options
From Nasi Lemak Grain Bowl to Seafood Linguine Cartoccio, the choice of takeaway items has expanded significantly as restaurants switch gears to cater to those staying home.
With Singaporeans being urged to defer non-essential trips to the malls, and purchase food and groceries online, casual lunches and fine dinners might have to wait for a while. This is the best time to support your favourite F&B businesses, which are struggling to cope with the latest social distancing measures and drastic drop in bookings.
The situation is grim. Jeremy Nguee, who founded events catering service Preparazzi and Batu Lesung Spice Company and co-founded MRS KUEH, says that the recent launch of his Dream Shop online pop-up, featuring well-loved heritage fare such as Hokkien mee, nasi lemak and ngoh hiang, was a result of him realising the importance of diversifying his operations.
"COVID-19 caused all our events to be cancelled but it also forced me to be creative – and fast! It isn't as if there's less business gradually. It felt like the earth opened up and you just free fall into nothing," he told CNA Luxury.
"COVID-19 caused all our events to be cancelled but it also forced me to be creative – and fast! It isn't as if there's less business gradually. It felt like the earth opened up and you just free fall into nothing." – Jeremy Nguee
Michael Pekarsky, Director of Operations for The Dandy Collection, which is behind Neon Pigeon, Summerlong and Fat Prince, agreed: "It's unfortunate that it takes a crisis like the one we are currently facing to provide an impetus to launch our restaurants for delivery service. Nevertheless, it does give us an opportunity to create new offerings and build sub-brands within our bigger brands." This includes Neon Pigeon Bentos and Summerlong delivery menus that will debut in the coming weeks.
"It's unfortunate that it takes a crisis like the one we are currently facing to provide an impetus to launch our restaurants for delivery service. Nevertheless, it does give us an opportunity to create new offerings and build sub-brands within our bigger brands." – Michael Pekarsky
The Deliciae Hospitality Management group of restaurants, which include BTM Mussels & Bar and L'Entrecote The Steak & Fries Bistro, has also started delivering Family Packs suitable for four from its restaurants.
Restaurants that CNA Luxury spoke to say that the usual mandatory food hygiene and handling practices apply with takeaways and deliveries, and orders are usually prepared as close to pick-up timings as possible to ensure freshness.
Staff temperatures are recorded twice daily, with some such as Putien taking additional measures such as delivering food with the names and temperatures of the delivery staff to assure customers that everything is being tracked. Prefer contactless delivery? Your meals can be left at your doorstep upon request whenever practical.
In this crisis, every order is a delivery of hope. Here's a selection of what's available.
ALMA BY JUAN AMADOR
It's hard to say no to an Angus Beef Burger paired with housemade Valrhona chocolate brownie, a Country Sourdough Sandwich with a vanilla financier, or a generously stuffed Rye Sourdough Reuben Sandwich with a Gula Melaka Canele.
These lunchbox sets are now available for takeaway in limited portions of 50 a day from the one-Michelin-starred restaurant from Tuesdays to Thursdays, with 10 per cent of the proceeds going to the National University Hospital (NUH). You can also order a set specifically for the staff as Alma has committed to delivering 50 lunchboxes to NUH twice a week. 
To order, email reservations [at] alma.sg () or call 6735 9937. More info on alma.sg
BISTRO DU VIN

Create your own classic French meals from Bistro du Vin with dishes such as seasonal mushroom soup, braised beef cheek and 72 per cent Venezuelan dark chocolate mousse. Wines are also available for takeaway.
To order, call 6733 7763. More info at bistroduvin.com.sg
BTM MUSSELS & BAR

Order from a range of seven different flavours of seasonal European mussels, such as the popular savoury Au Roquefort and the more Asian-styled Thailandaises and Au Curry. There are also small bites such as Jamon Croquettes and Beef Tartare Toast as well as cheese and charcuterie platters. Add in a wine bottle or two and you're ready for a chillax soiree.
Order from Deliveroo, GrabFood and Foodpanda​​​​​​​. More info at dhm.com.sg/btm
CULINA AT COMO DEMPSEY (CULINA BISTRO)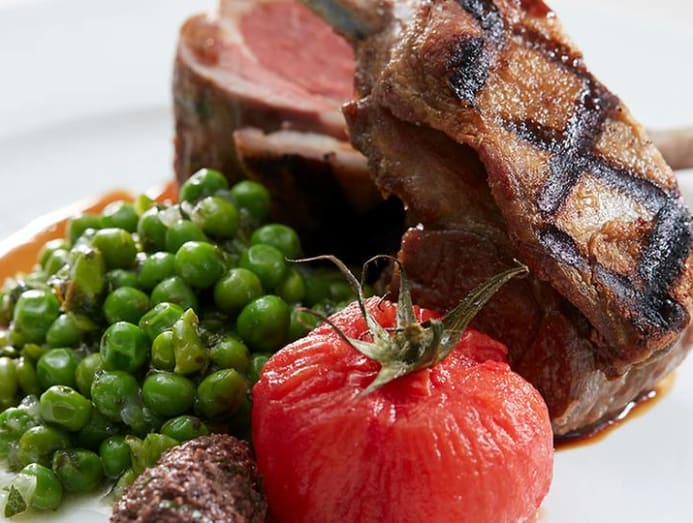 Sate those hunger pangs with appetisers, salads, pastas and mains such as grilled octopus, Kabocha pumpkin salad, SRF Kurobuta pork chop and bouillabaisse. Call at least 30 minutes in advance.
Order from bit.ly/culina-delivery or​​​​​​​ call 6854 6169. More info at culina.com.sg
DA PAOLO RESTAURANT & BAR DEMPSEY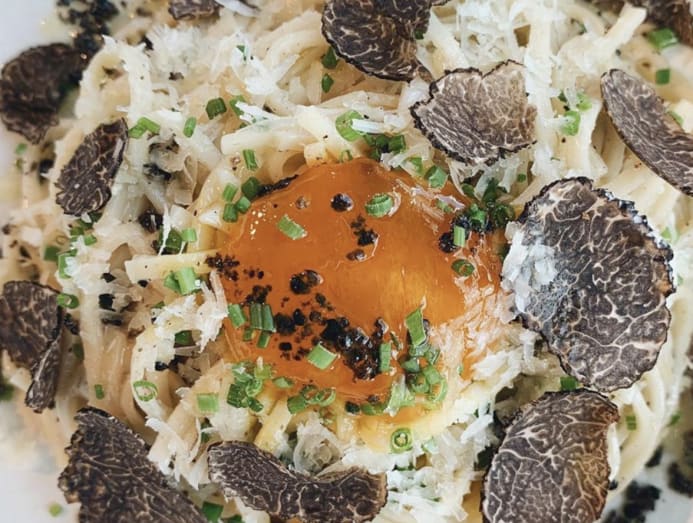 Italy has extended its lockdown so the next best way to satisfy your Italian cravings is ordering some of Da Paolo's bestsellers such as its pizzas, the Mushroom Truffle Risotto served with carnaroli rice, mushrooms and topped with Italian black truffles and pecorino, and the Seafood Linguine Cartoccio, which is brimming with slipper lobster, scallops, squid, mussels and lobster bisque.
Order from Deliveroo and dapaolo.com.sg/dempsey
DON QUIJOTE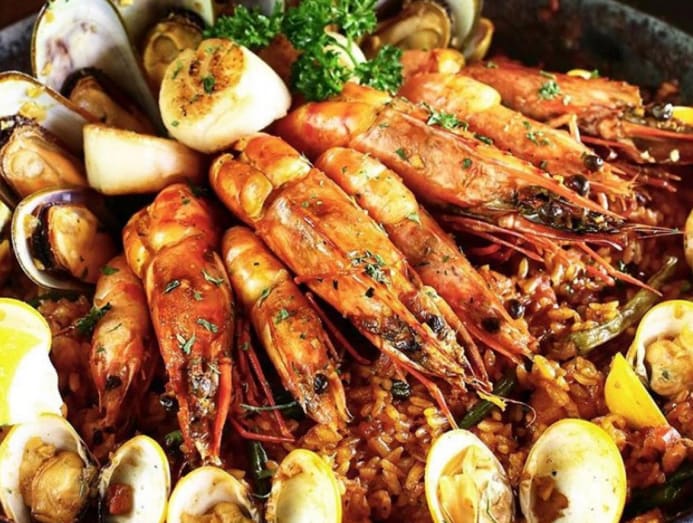 Get your paella and fideua fix here and they will come in a proper pan for you to scoop up the delicious socarrat. Just wash and keep the pans aside when you're done and the restaurant will pick them up another day. There is also a wide range of hot and cold tapas and meats for an all-rounded, happy-belly meal.
To order, send a WhatsApp message to 8218 6969 or go to GrabFood
DREAM SHOP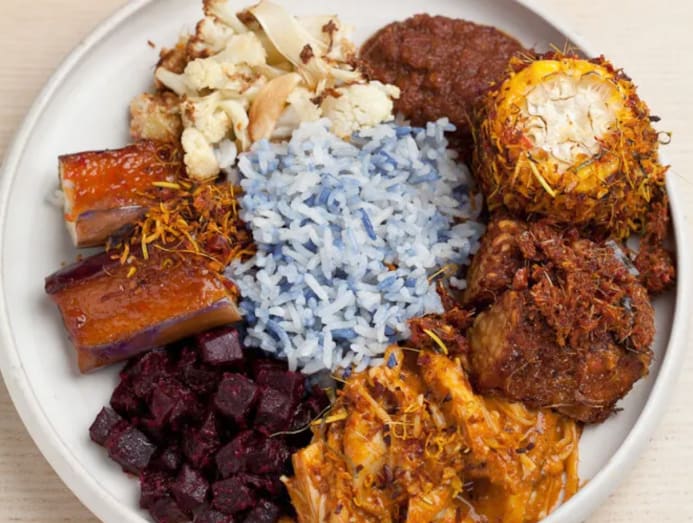 Cheers to heritage fare prepared with the freshest ingredients and hours of home-cooked love. The menu changes every month and includes seasonal mains such as the Great Nasi Lemak Grain Bowl that has Angus beef cheek, rempah and local mushrooms, Ngoh Hiang with a whole prawn at the centre of each roll, and Kueh Salat made with pure pandan juice, fresh coconut cream and high-quality glutinous rice.
Order from dreamshopsg.com
ESQUINA

From Esquina, say hola to Spanish signatures such as the Carabinero Paella (serves three to four), Iberico Ham Arturo Sanchez with Pan Con Tomate (serves two) and Basque Cheesecake (serves six to eight). Feeling especially hungry?  Get the Homely Spanish Family Meal that includes all the above plus a Traditional Spanish Omelette.
Order from esquina.oddle.me at least two hours in advance. More info at esquina.com.sg
FAT PRINCE

Take a virtual trip to West Asia as you savour aromatic flavours of dishes such as the Cashew Hummus that comes with fluffy baked Turkish flatbread, Spring Pea Falafel Kebab, and the hot favourite Pit Roasted Lamb Kebab filled with zhoug, olive, dukkah, rocket and fried garlic.
Order from fatprince.oddle.me. More info on fatprincesg.com
GOODWOOD PARK HOTEL (COFFEE LOUNGE & MIN JIANG)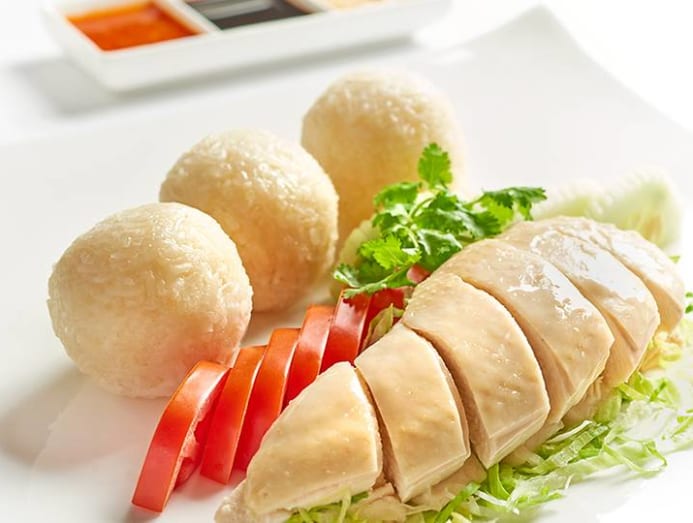 If you're within a 2km-radius of the hotel, or in the Raffles Place and Tanjong Pagar neighbourhoods, you're in for a treat. Delivery items include Asian delights from the Coffee Lounge such as Hainanese Chicken Rice and Provencal Herb Marinated Spring Chicken, and Min Jiang's Sichuan and Cantonese signatures such as Drunken Chicken and Fried Mee Sua with Seafood in XO Sauce.
Order from goodwoodparkhotel.oddle.me. Delivery fees apply. More info at goodwoodparkhotel.com
JANICE WONG SINGAPORE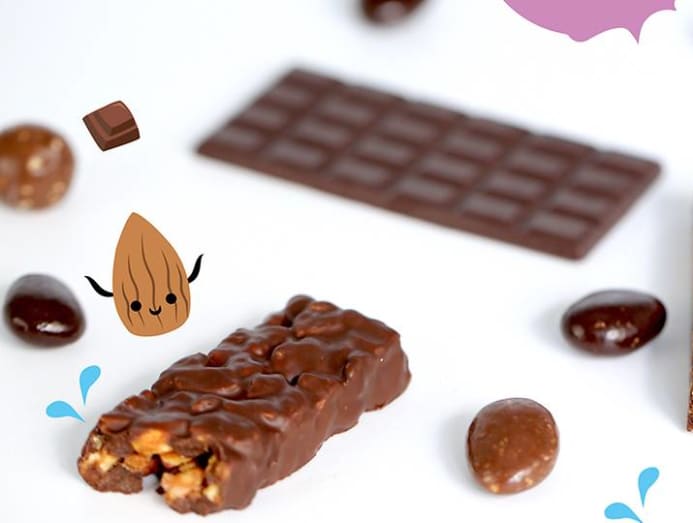 Learn a new craft while staying home. Janice Wong's new monthly subscription boxes are not only filled with her signature products and yet-to-be-released exclusives, they also include a "Bake at Home with Janice Wong" recipe card with instructions to replicate her treats.
There are five chocolate paint jars, two brushes and edible paper and chocolate crayons. Subscriptions start from a minimum of six months at S$35 per month.
Order from janicewong.online

NEW UBIN SEAFOOD
Its mouthwatering zi char-style dishes are already available for takeaway and delivery. This May, it will launch UbinEats with six different one-person meal boxes such as the Ubin Nasi Lemak and Vijay Banana Leaf rice set served with choice of chicken masala, black ink squid or mutton curry.
Order from newubinseafood.com and GrabFood.
PUTIEN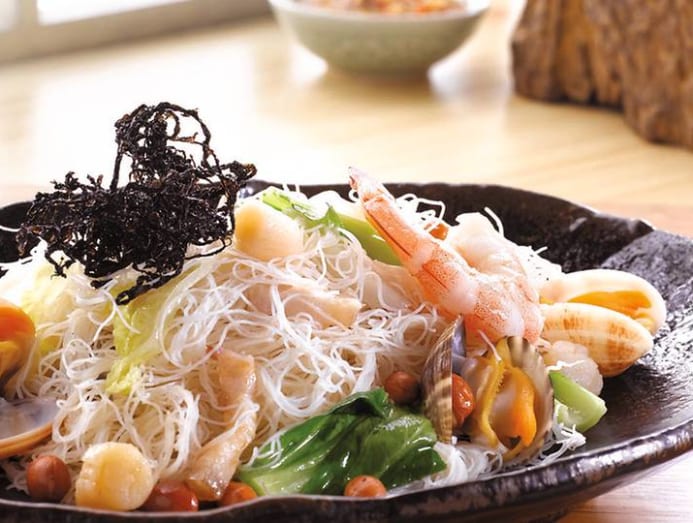 The restaurant chain has introduced Takeaway Specials at all its outlets (except Jewel Changi Airport), with popular favourites such as Fujian Lor Mee and PUTIEN Cabbage Rice available in lower-priced and smaller portions. It has also extended its delivery menu to include set meal options and dishes such as Deep-fried Pork Trotters and Braised Luffa with Conpoy.
Order from on Foodpanda, Deliveroo and GrabFood. More info at putien.com
THE CICHETI GROUP

Chef Lim Yew Aun's wood-fired Neapolitan pies and fresh handmade pasta paired with biodynamic wine gems come with an accompanying 20-track, Spotify playlist too. Items include handmade Casarecce pasta, Iberico Pork and Brussel Sprouts.
All three Cicheti concepts – Cicheti, Caffe Cicheti and Bar Cicheti – will have takeout menus with pre-orders available on their respective websites. There are also DIY kits with pasta, sauces and instructions also available.
Order from Deliveroo, GrabFood and Foodpanda or the respective restaurant websites
THE HALIA

While it isn't quite the same as dining at The Halia's foliage-filled location, its modern European dishes with Asian influences is still a comforting indulgence indoors.
Their halal delivery menu ranges from their famous Singapore-style Chilli Crab Spaghettini to the Paperbag Oven Baked Halibut Fillet, which comes with sesame Japanese rice, wakame and truffle aioli.
Order from Foodpanda, GrabFood and bit.ly/haliaonline
THE SHOP @ APPETITE

Nouri's chef-owner Ivan Brehm has opened a new multi-disciplinary space Appetite to celebrate art, food and design under one roof. The online shop has just started pick-up and delivery service, and already popular items from their R&D kitchen such as the To Nourish You bread and broth care package and Just Buy A Loaf rye sourdough bread are sold out. Fastest fingers first as Chef Brehm rolls out more items in the coming weeks. 
Order from shop.appetitesg.com

VIANNEY MASSOT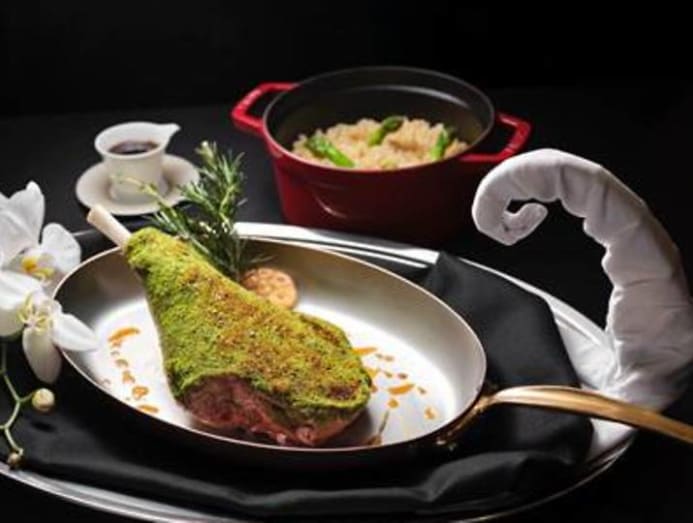 The highlight of Vianney Massot's eponymous one Michelin-starred restaurant's L'Agneau de Lait takeaway set is legs of milk-fed lambs from the Pyrenees mountains. These are pan-seared before being slow-roasted to juicy perfection. Served with freshly-made bread and pilaf rice, the dish feeds four to five persons, with the option of items such as Tarte aux Fraises and red wine.
To order, call 6909 6360 or email reservations [at] vianneymassot.com () at least one day in advance. Delivery fees apply.
VIOLET OON SINGAPORE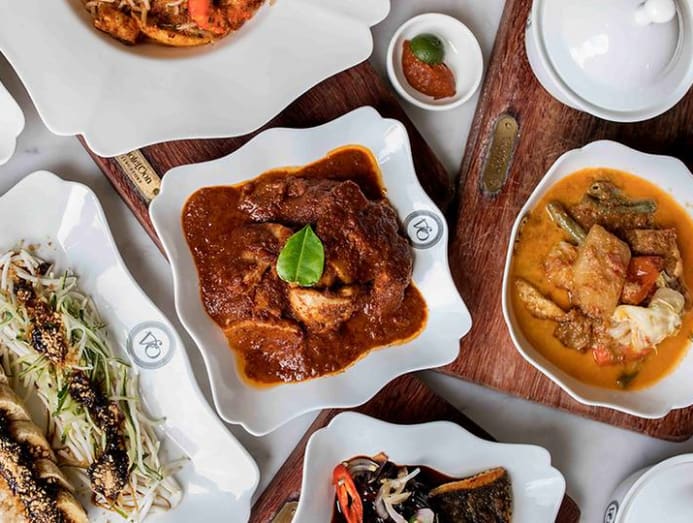 Choose from Nyonya Bentos, a la carte choices and Petit Feasts good for four to six people. The Petit Feasts come in four different six-course menus, featuring flavourful Peranakan dishes such as Rebung Masak Lemak, Violet Oon's signature Dry Laksa and Gado Gado. 
Violet Oon Singapore Satay Bar and Grill has also launched a Stay Home BBQ Feast with a selection of grilled meats and vegetables and VO Street Satay in beef, chicken and Impossible Meat variations.
To order, email eat [at] violetoon.com or call 9138 3592 (Violet Oon Singapore Satay Bar and Grill) / 9834 9945 (Violet Oon Singapore at Buikit Timah)

ZAFFERANO​​​​​​​

Enjoy a heartwarming meal of modern Italian dishes such as Linguine Astice Pomodoro with Canadian lobster and Merluzzo Asparagi Verdi Patate (oven-baked cod with asparagus and roasted potato puree). Or pick a freshly baked pizza or two with homemade focaccia bread for simple, rustic evenings.
Order from Deliveroo. More info at zafferano.sg