Singapore's drink scene is bubbling with new options to savour fine spirits
Local restaurants have been pulling out the stops to attract Singaporeans unable to go overseas to spend their travelling bucks with them. Now, it's the bottle boys' turn to dial up their game.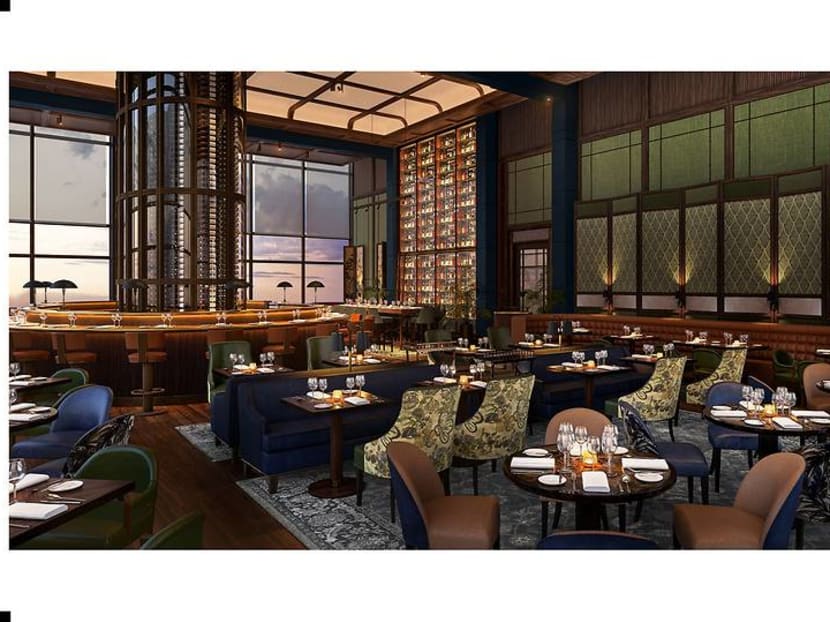 A flurry of new openings are bringing exclusive and rare spirits to our shores as locals increasingly seek new labels and unique experiences to satiate their wanderlust and boost their social media standing.
The growing luxury sector is also fuelling a pent-up demand. Last year, according to a Bain & Company study, Asia was the top region for luxury sales. In Knight Frank's 2021 Wealth Report, Singapore topped a list of cities seen as urban powerhouses for the wealthy, and is projected to overtake Tokyo in terms of the number of Ultra High Net Worth Individuals (UHNWI) in the region.
Spotting the potential, family-owned Scottish distiller William Grant & Sons, which has brands like Glenfiddich, the Balvenie and Monkey Shoulder, has opened the world's first Distillers Library in Singapore.
"As consumers become connoisseurs and then collectors, it made sense to create a space where this community of passionate collectors could come together to share, appreciate and get access to ultra-rare whiskies from our archives," said Satya Sharma, regional managing director SEA and Australasia at William Grant & Sons.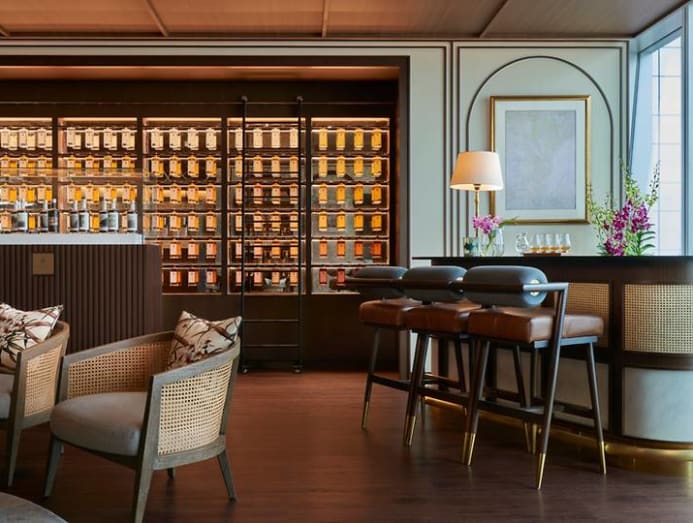 "We chose Singapore as the first home for The Distillers Library to offer this burgeoning community of passionate collectors access to ultra-rare whisky liquids from the Grant family archives."
The invite-only space, located in the distiller's 79 Robinson Road office, is only accessible by referral or contacting William Grant & Sons (email James.Ting [at] wgrant.com).
The lucky few get to walk through a well-hidden door into a handsome room with mahogany leather sofas and shelves of liquid gold from the Grant family archives. At a media preview, we sampled cask drawings from a 1993 Glenfiddich Bourbon Barrel that had notes of melon Starburst sweets, pear, and apple and hints of sauna wood, and a 1984 The Balvenie American Oak (only one bottle of this green-hued unicorn, resplendent in its tequila salt and butter profile, was sent to Singapore).
Rare bottlings will also be released for sale, such as the limited-edition Ladyburn 1966 Edition One collection featuring 54-year-old nectar from the long-shuttered Ladyburn distillery. A single bottle costs approximately S$30,000, or you can splash out S$350,000 on the full 11-bottle collection. There are only 10 sets of the latter, which includes a black swan bottle with a full-colour photograph.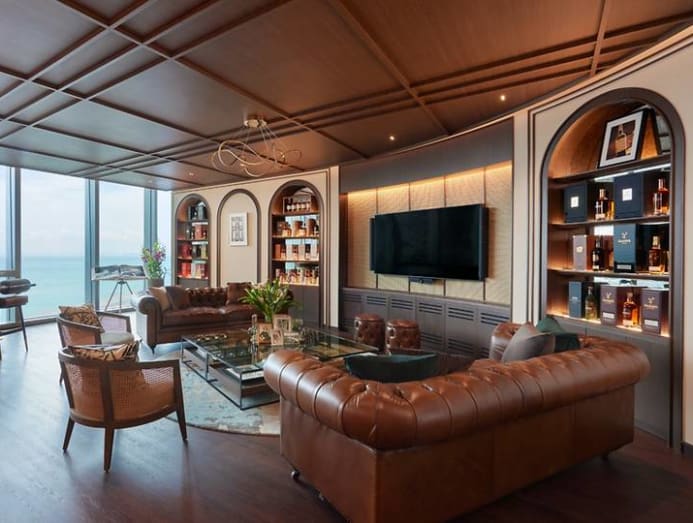 Sharma said: "Increasingly, we've noticed that consumers in Singapore procure whisky for a variety of reasons, from purchasing a bottle from a specific year to commemorate an anniversary or a birthday, to collecting exceptional bottlings. Our goal with The Distillers Library is to provide our clients with a space to share in their love and knowledge of whisky, and an opportunity for exploration and learning."
The philosophy of tasting and learning first-hand about whiskies was the inspiration behind the opening of whisky gastrobar Signature Reserve at The Fullerton Hotel Singapore. Besides boutique wines, bubblies and cocktails, its main draw is 500 whiskies by the glass and a whisky omakase menu consisting of four drams and a cocktail paired with food.
Co-founder Benjamin Tan shared: "We saw the gap between the demand to try old and rare whiskies and their supply. It is almost impossible to find any bars in Singapore that open more than five different 40-year-old whisky expressions for people to try by the glass.
"Typically these liquid golds are only accessible if they decide to purchase the full bottles... we want to make any whiskies accessible to anyone who cares to try."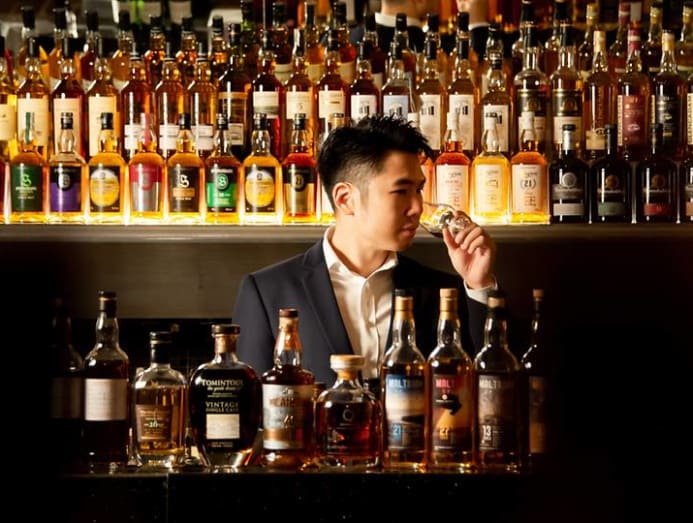 This means that instead of shelling out S$5,500 for a bottle of rare 1977 Tomatin single malt, you can sip a shot for S$166 at Signature Reserve, or an Ardbeg 22 Year Old Rare Cask from Tan's private collection for S$157.
Another player staking a claim on the luxury spirits pie: Louis XIII Cognac, which launched a permanent "shop" in The Whisky Distillery's flagship at One Raffles Place. The boutique offers the widest range of Louis XIII products available in any Southeast Asian domestic market, from miniatures to a gigantic six-litre crystal decanter Le Mathusalem.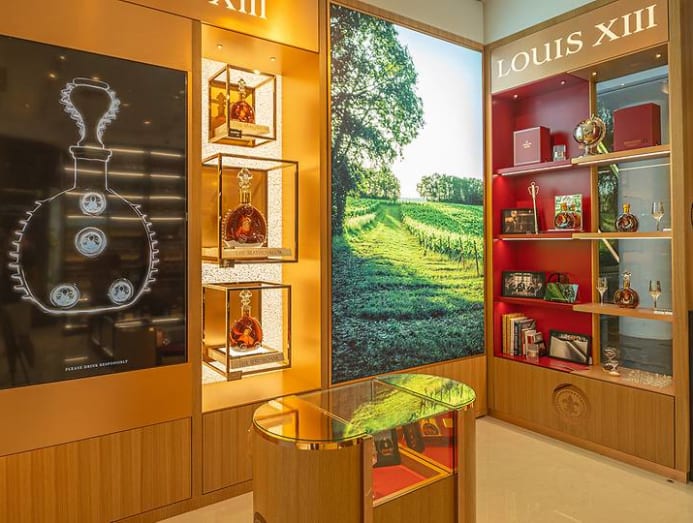 Remy Cointreau's managing director for Southeast Asia Pacific Tyrel Ball said: "We see a big opportunity for local consumption with travel off the table and Singaporeans redirecting their income to be spent locally. There is clear evidence of [an inclination towards premium products] and even during these challenging times, Louis XIII has been the most resilient part of our cognac portfolio within Remy Cointreau in Singapore."
Come November 2021, wine lovers can sample fine and funky blends at 67 Pall Mall. Even before the official word was out, the London private club's Singapore outpost already had those-in-the-know snapping up its initial offering of 2,500 memberships.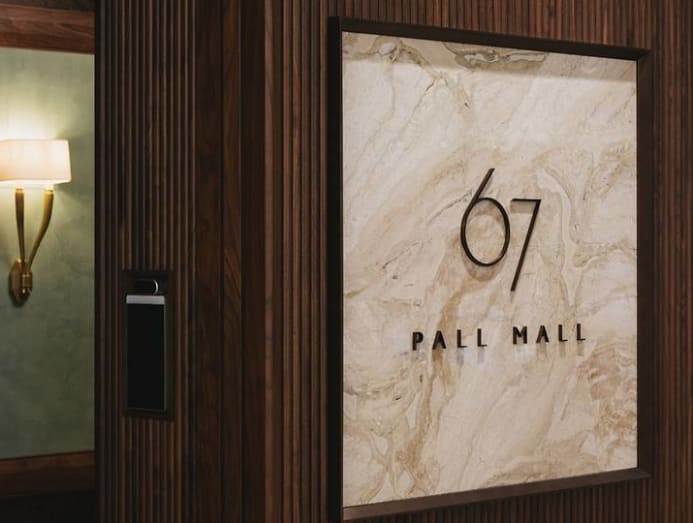 Niels Sherry, 67 Pall Mall's chief operating officer, shared that the 11,000 sq ft space occupying the 27th floor penthouse of Shaw Centre will have soaring ceilings and a 270-degree view of the Orchard Road shopping belt.
It will offer over 6,000 wines from 42 different countries, with 800 wines by the glass, ranging from a Domaine Jamet Cote-Rotie – a classic French red sold only by allocation – to a rare Hughes & Hughes "25% Whole Bunch" Pinot Noir from a small-scale vineyard in Tasmania.
The club is partnering Les Amis Group on the food menu, which will be "70 per cent stylised on what we do in London and 30 per cent locally influenced".
Sherry added: "One reason I think we're going to be successful here in Singapore is that we don't take ourselves too seriously, We're here to relax and have some good wine that you can get for less than half the price you pay per bottle in a restaurant. Amazing food, wine and people in an amazing space, it'll be very cool."