Binge-watched Single's Inferno? 5 facts about the hotel 'paradise'
Did you know that the hotel is really called Paradise and that it's a favourite among celebrities such as Blackpink's Rose?
There's no denying that we love a good ol' reality dating show. The latest release that has us hooked is Single's Inferno, which follows 12 South Korean singletons as they attempt to find love while stranded on a secluded island.
Their only escape is date nights in "paradise", where contestants and their chosen partners get to spend the night at a luxurious hotel. Here, they open up to each other about their ages and occupations, while they eat to their heart's content, take a dip in the pool or hot tub or get massages at the spa.
So, where exactly is this "paradise"? Here's what we found.
1) THE HOTEL IS REALLY CALLED PARADISE
Fun fact: the resort referred to as "paradise" on Single's Inferno is really called Paradise, or more specifically, Paradise City. It's located near Incheon International Airport, approximately an hour away from Seoul. It is also located near to the "inferno" island Saseungbong-do where filming took place, which explains the helicopter rides contestants take to get to the hotel.
The Paradise City complex consists of two hotels, Paradise Hotel & Resort, a contemporary luxury hotel, and Art Paradiso Boutique Hotel, an art-inspired lifestyle design hotel. However, the latter has been closed since July 2020 due to the pandemic, which means filming took place at Paradise Hotel & Resort.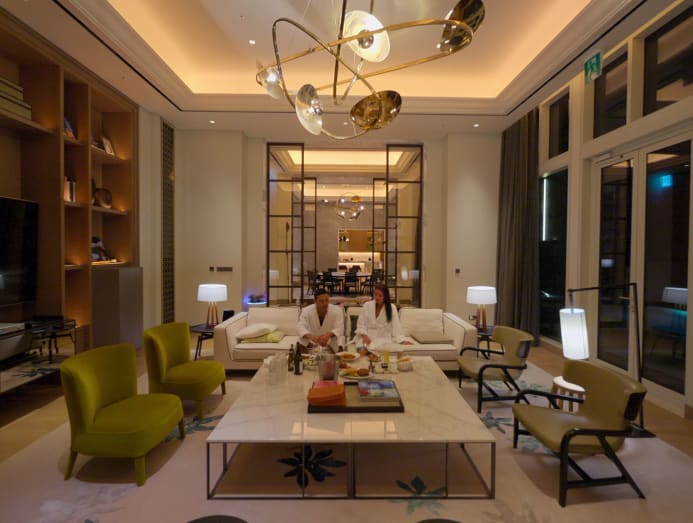 2) IT HAS HOSTED SEVERAL CELEBS, INCLUDING BLACKPINK'S ROSE
If the hotel's interior looks relatively familiar to you, that's because you might have seen it on the Instagram profiles of famous Korean celebs. The hotel has quite a celebrity following. In September 2021, Blackpink's Rose enjoyed a getaway here.
It is also where Big Bang's Taeyang and actress Min Hyo-rin held their wedding reception. Other celebs such as singer Rain and girl group Mamamoo are known to have filmed music videos and other promotional content here.
3) IT HAS A MICHELIN-STARRED RESTAURANT 
Right when they get to paradise, the first thing that cast members of Single's Inferno do is to order-in food, and rightfully so. The hotel is a gourmet paradise, home to five restaurants, including the Michelin-starred Imperial Treasure.
Other restaurants include Raku, which serves contemporary Japanese cuisine, La Scala, which serves Italian cuisine, On The Plate, a buffet restaurant with a total of five stations, and Rubik, a live music lounge.
4) OTHER FACILITIES INCLUDE AN INDOOR THEME PARK, SHOPPING PLAZA AND NIGHTCLUB
Guests are spoilt for choice at Paradise City. Aside from a spa, indoor and outdoor pool and a sauna, other facilities at the resort include Wonderbox (an indoor theme park), a shopping plaza and a nightclub.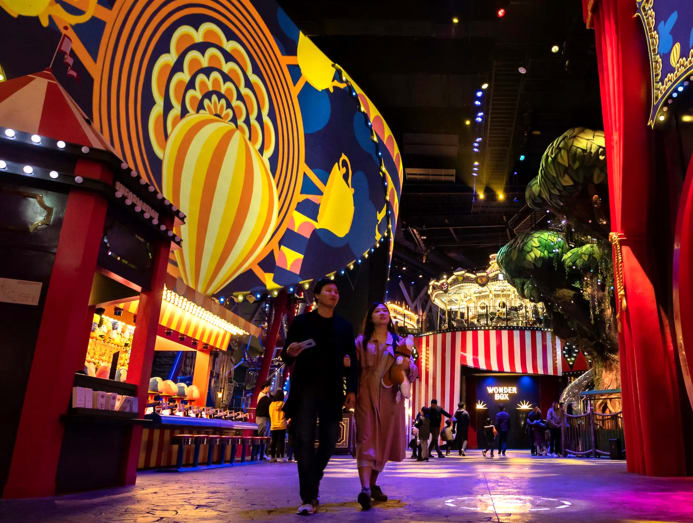 Wonderbox is a carnival-inspired indoor theme park that has been featured in K-dramas such as Hotel Del Luna. Meanwhile, the shopping plaza features several beauty and fashion brands, while nightclub Chroma has hosted several world-class DJs at its premises.
5) THERE'S ALSO AN EXTENSIVE ART COLLECTION
Paradise City is known for its extensive art collection, which adorns the walls of its rooms and suites. It also has its own dedicated art space with a collection befitting of a museum. Some famous works include Jeff Koons' Gazing Ball sculpture and Damien Hirst's Aurous Cyanide painting.
Guests can also take a short stroll at Paradise Walk, a bridge connecting the two main spaces of Paradise City. This installation with lights and music was created as an homage to American artist James Turell, featuring an arched ceiling and pillars lined up along the wall.