Suffering from a sore neck and shoulders? Try these soothing spa treatments
Besides stretching regularly at your desk and having the right posture, these heat-based massages from Auriga Spa, Banyan Tree Spa, Spa Esprit and The Spa at Mandarin Oriental will help ease those tense knots.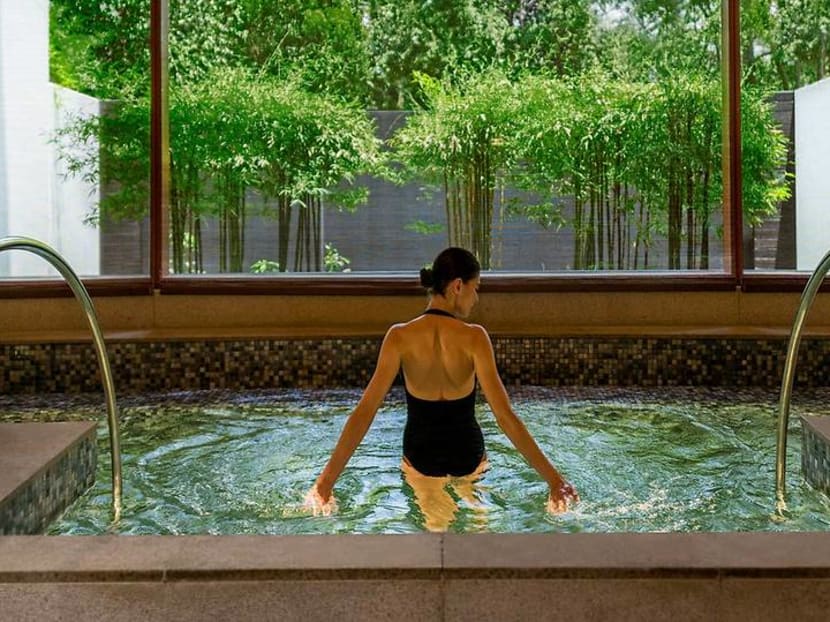 If working from home is giving you stiff shoulders and neck aches of late, you're not alone. Poor posture and desk ergonomics, coupled with insufficient exercise and prolonged immobility, are often the culprits.
Besides incorporating regular stretching exercises in your daily routine, consider giving yourself a treat with these effective yet indulgent treatments. Not only can you knead those knots away, it is also an opportunity to take a break and refresh your mind and soul – a sure way to unravel any tensions.
AURIGA SPA – SENJA SUNYI
This signature treatment was named after the Indonesian words for "twilight" (senja) and "quiet night" (sunyi) and uses heated moonstones made from fossilised trees growing on a mountain in Indonesia that has minerals beneficial to the body.
My therapist Mei Huang, who has been with the Capella Singapore spa since its pre-opening more than 10 years ago, began by using a luxurious shea butter balm enriched with organic argan oil to massage my body and limbs with long strokes and firm thumbing on pressure points.
Her experience and sensitive touch were keenly felt when she stretched my limbs to improve flexibility while constantly asking if I was okay to extend beyond a certain limit.
Heated moonstone orbs were then rolled over my body, but not before she tested my comfort level by holding the heated orb in her hand and then introducing the heat to my skin surface. It felt very hot at first, but afterwards that I could not get enough of it, as they were glided smoothly over my shea-buttered body to soothe out the soreness in my shoulder blades and neck.
She also taught me a few simple stretching exercises to keep my upper limbs supple and relaxed.  Maximise the experience by taking a day off to enjoy the hydrothermal facilities, and the lush tranquil grounds of the hotel, which can be a solace for the soul.
60 minutes, S$190++. Click here for more info
BANYAN TREE SPA MARINA BAY SANDS – MASTER THERAPIST
Come for the massage, linger for the fantastic views from the 55th floor of Marina Bay Sands.
The Master Therapist treatment starts with a Thai deep tissue massage from the lower limbs to the upper body with a focus on the neck and shoulders.
My therapist Khun Bank then began stretching and bending my limbs as she guided my breathing. Following this, she used a warm oil of sesame, jojoba and sweet almond to massage my body with long strokes. The best part was when she rolled warm bamboo sticks on my neck and shoulders, and placed a thermal compress on my back and abdomen to release tension and improve circulation.
This treatment is customised to every guest's needs, and is done only by Banyan Tree's top therapists, who have at least five years of experience and are handpicked for rigorous Master Therapist training at the Banyan Tree Spa Academy.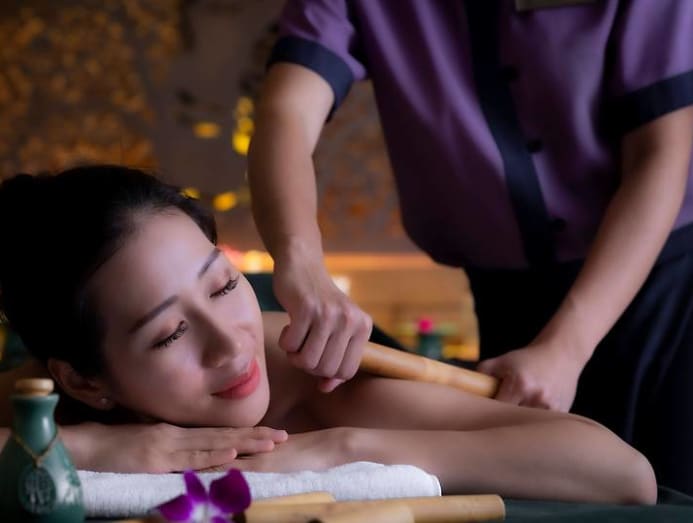 Khun Bank, who has 10 years of experience, had such a reassuring demeanour and skilful touch that I felt totally safe throughout, even when she contorted my limbs into positions I thought was physically impossible.
She also demonstrated several neck and upper back stretching exercises that I could easily do at my desk to prevent tension. The whole experience was so good that I've booked the next one and convinced two friends to tag along for a ladies' afternoon out.
90 minutes, from S$389 nett. Click here for more info
Sands Rewards members can enjoy 50 per cent off all treatments and earn 10 per cent instant reward dollars. Valid until Nov 15, 2020
SPA ESPRIT – HOT STONE THERAPY
If you want a change from the classic spa environment, Spa Esprit's vibrant interiors and super cheery staff provide a younger, funkier alternative.
The spa is known as the original purveyor of hot stone therapy, and it uses heated volcanic stones from Indonesia in this treatment to soften muscle tissue and improve blood circulation.
Choose from a range of in-house blended essential oils, from a relaxing concoction of sandalwood, rosewood and frankincense, to a detoxing mix of vetiver, juniper, marjoram and lavender.
I chose the latter for my treatment at the Wheelock Place branch, where I winced through the initial deep thumb presses. My therapist Tina encouraged me to put up with the pain as the pressure was necessary to unknot the tightness in my shoulders and neck before she could go on to longer strokes.
I held out and found the massage more bearable as it progressed. Ditto for the heated stones, which were used to massage around my armpits to improve lymphatic circulation, and placed in turn on my back and stomach and in the palms of my hands.
Tina would gently tap the stones on the surface of my skin until I was used to the heat before they were fully placed on different parts of my body. The soothing warmth was so comforting that I fell asleep and awoke at the end feeling rejuvenated and more flexible around my upper limb area.
Senior Branch Manager Yvonne Kamy later explained that the stones are washed after every treatment, then heated in the hot cabinet before being soaked in essential oils and placed in a singing bowl as the latter is rung with a mallet.
She said, "This is to dissipate any negative energy that may have been absorbed from the previous customer and ensures a set of 'clean' stones for the next."
90 minutes, S$220 nett. Click here for more info
THE SPA AT MANDARIN ORIENTAL – TEH HIJAU
A hot green tea poultice is used in this treatment to alleviate stiffness, improve blood circulation and ease away tension.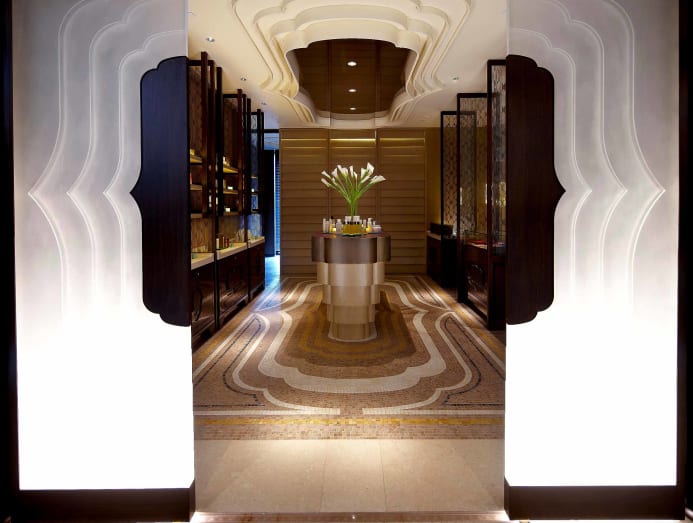 Following a foot bath, herbal compresses – which have been steamed – are then dabbed along my body's energy pathways, and periodically left on the skin for deeper heat penetration.
Occasionally, the compress felt too hot, so my therapist Janet placed a towel on my body to mitigate the heat. I eventually decided to ditch it as having the poultice directly on my skin was more effectively soothing.
Janet alternated the heat therapy with Swedish and Shiatsu massage techniques, using the Mandarin Oriental signature Quintessence body oil of frankincense, mandarin and ginger.
As she stretched my limbs purposefully yet gently, I could feel her expertise and felt completely safe to let her guide my movements and even a little beyond my comfort zone.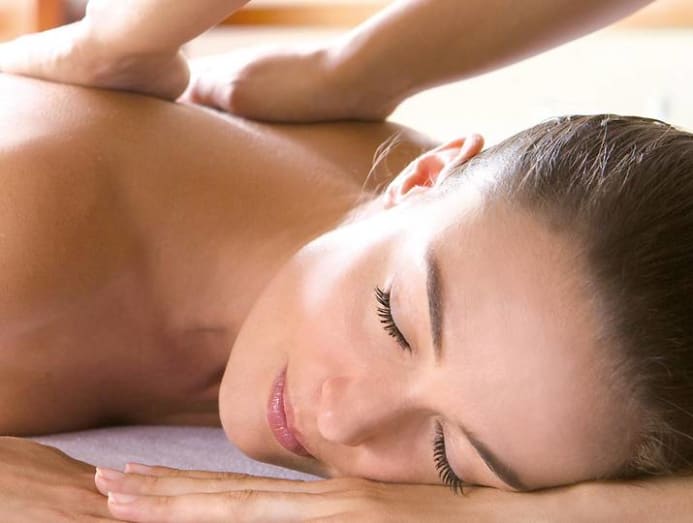 At the end of the treatment, she shared that deep heat and tissue massages are not miracle cures if one has bad posture and is constantly tensed seated in front of the computer.
She demonstrated a few simple stretching and breathing exercises, and encouraged me to use the experiential shower and steam facilities 45 minutes before the next treatment to maximise the benefits of the massage.
Janet's skilful and caring touch and the cosy spa ambiance are definitely reasons to return. Fingers crossed that the oriental spa music with er hu strains and cymbal crashes would be replaced with something more relaxing by then.
105 minutes, S$330++. Click here for more info