Sustainable travel: A road trip in Finland with the all-electric Polestar 2 and off-grid living at the Koja House
Swedish electric carmaker Polestar reimagines sustainable travel with Koja House, designed for off-grid living in commune with nature. We journey to its secret location in the middle of a Finnish forest for a night's stay.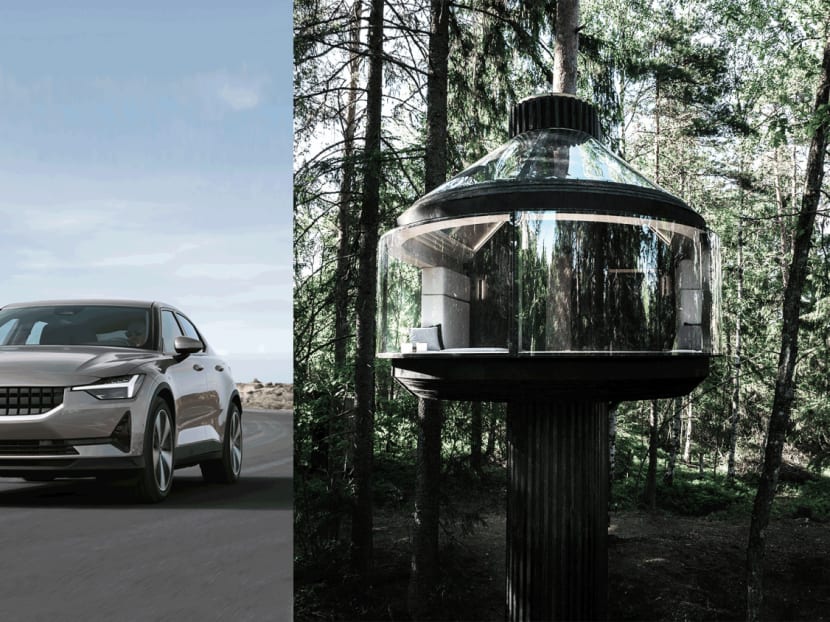 Would you drive an electric vehicle on a road trip to the countryside in a foreign land?
If you had asked me two years ago, I'd probably have said 'no'. But electric vehicles have come a long way since, and they certainly proffer much greater range on a full charge today.
And so I find myself in rural Finland, en route from Helsinki to Fiskars Village (yes, home of the famous scissors) in the fully electric Polestar 2, on invitation by the Swedish electric performance car brand.
They've given me the top-ranging model of three available variants: the Long Range Dual Motor, equipped with two electric motors that generate a range of 480 km, which should more than suffice for the 174km return solo road trip – lest I get spectacularly lost, which is highly unlikely as this is the first car in the world to feature Google built-in, and Polestar is known for its accurate, intuitive and reliable satnav system.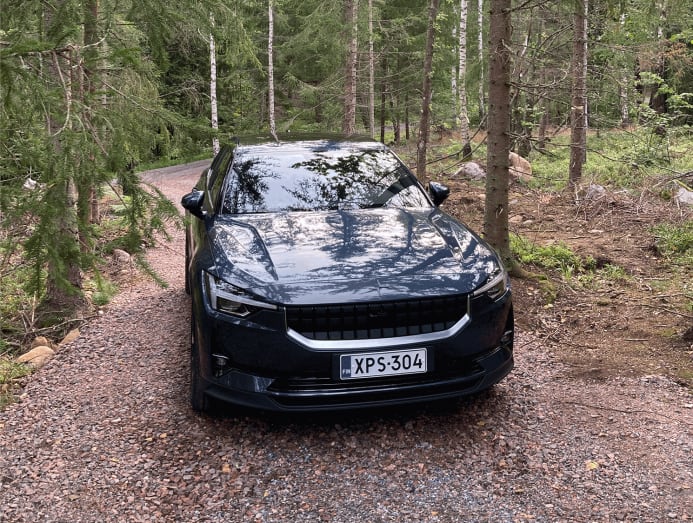 I pack into the car, which was named "Car of the Year" in Norway and Switzerland and "Best All-Round EV" by BBC Top Gear magazine, and I embark on my journey to a secret location that's so completely off-the-grid, you can't even Google it. 
FINDING FISKARS
Somewhere in the vicinity of Fiskars Village, a solitary tree house has been erected in the middle of a forest, designed in accordance with Polestar's sustainability ethos; the product of the '2021 Polestar Design Contest' based on the theme of "progress", and aimed at reimagining sustainable travel. After driving 87km west of Helsinki, I arrive at Fiskars Village, a charming town with a long tradition of craftsmanship and ironworks history in the 1800s. It's a lovely little settlement that appears delightfully preserved in time with stately architecture and red-brick buildings largely untouched by modernisation – save for the two charging stations for electric vehicles the sight of which provide both comfort and reassurance on this pure-electric road trip.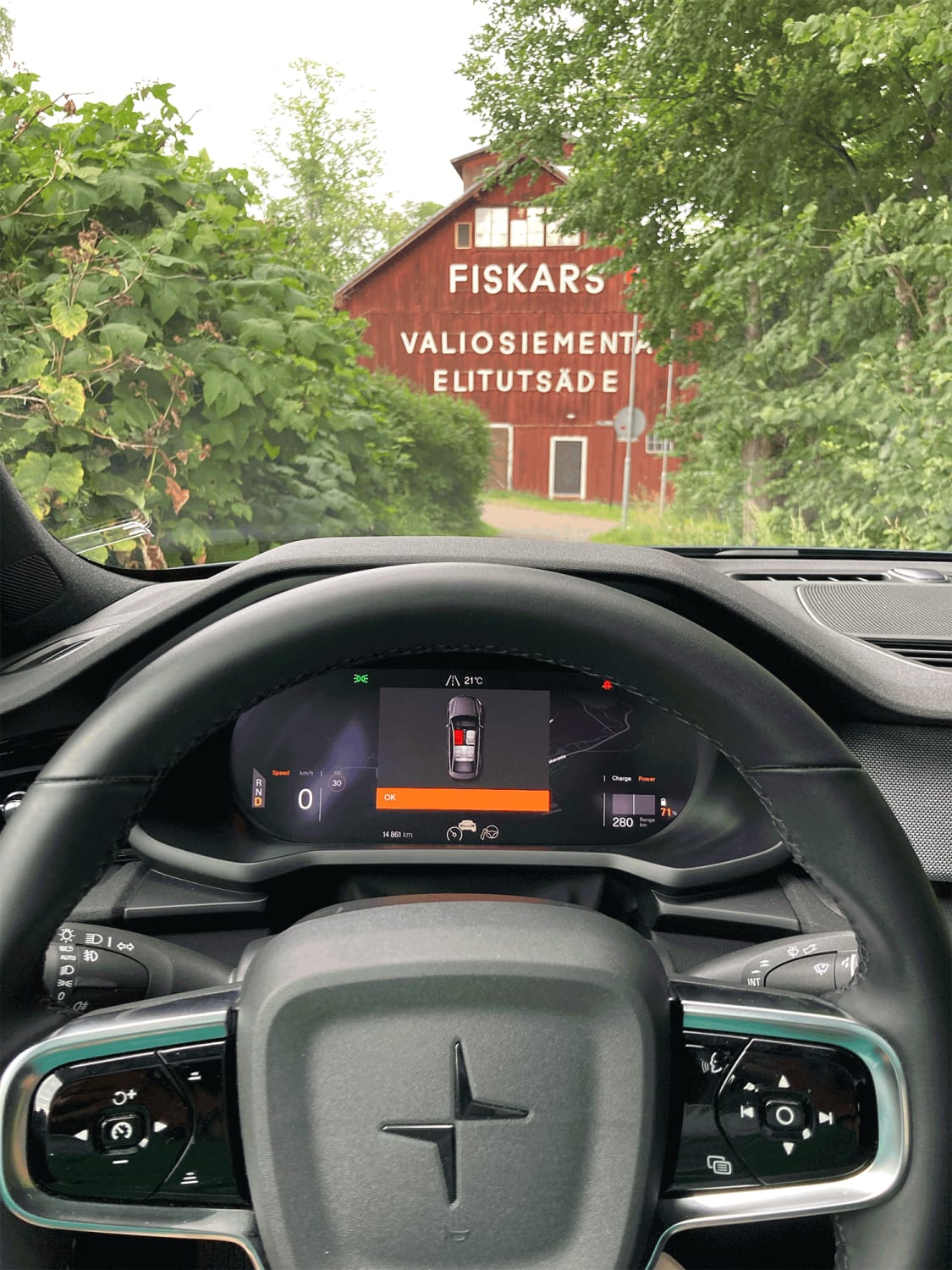 Today, Fiskars Village is a popular tourist destination in summer also known for its artisan and artist community. And since 2019, the village, which has fewer than 1,000 inhabitants, has also been home to the Fiskars Village Art & Design Biennale, which is happening right as I arrive.
Polestar is the official design partner of the biennale, and the tree house I'm hunting down is part of the biennale's 'House by an Architect' tiny homes exhibition.
But the public won't get to view it – only myself and a handful of other journalists and influencers from all around the world have had the privilege. You can't book a stay on Airbnb either, which is a shame because it's quite the experience of a lifetime.
KOJA HOUSE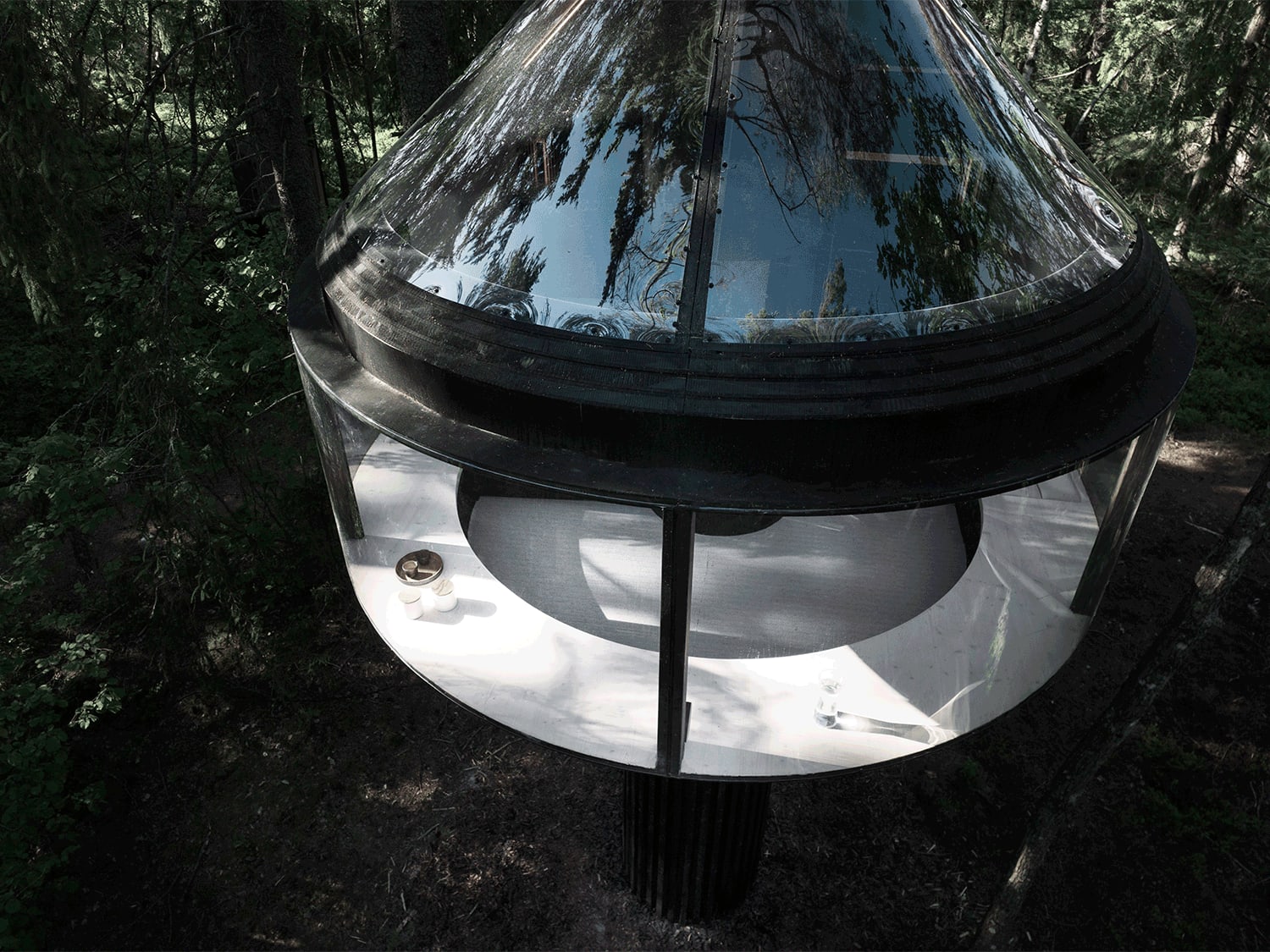 I pull up at the general store (there's only one in the village, of course) to meet the Polestar Helsinki rep and we head for some exceptionally delicious pizzas for lunch at Waldemar; its menu was designed by Michelin-starred chef Sasu Laukkonen from Helsinki (fancy that!).
We then drive to the edge of the village and into the woods, and I find myself, in that moment, never more relieved that my family actually tracks me on the iPhone's 'Find My' app on my travels.
The next 24 hours turn out to be pure bliss.
Koja House is situated barely a five-minute drive from civilisation – but it's a world removed.
'Koja' means 'hut' or 'den' in Swedish, and the treetop structure has been designed as a micro space by Finnish designer Kristian Talvitie as part of the global '2021 Polestar Design Contest' aimed at showcasing innovative thinking that encourages positive change in society.
Koja is the first-ever submission from the contest to be realised in full-scale.
To translate the design into reality, Talvitie had worked closely with the Polestar Design team based in Gothenburg, Sweden, and with Finnish design agency Ultra to create a pod-like structure made from sustainable and durable materials such as locally sourced wood and wool – while minimising ecological impact with its space-efficient, low resource-use design.
BACK TO NATURE
The Polestar Helsinki rep hands me the keys to Koja, my home for the night, and bids me goodbye. My mission: Relaxation.
Koja is a remarkable specimen of the growing tiny house trend, and it is designed for solitude; for its occupants (two-people maximum) to reconnect with nature.
There's no kitchen, no shower, no running water (there's an outhouse if you need a latrine). There is, however, electricity for a dim night light and for the Nespresso machine to make a cuppa the morning after – but no Wi-Fi, as you are encouraged to unplug and immerse one's self in this wonderfully serene natural environment.
The tree house itself is attached to a tree trunk just below the canopy, and it is enveloped by a panoramic glazed façade for the most awe-inspiring views of the surrounding wilderness and the placid lake below. Never mind that I had to assemble my own bedding. Admittedly, all that silence was rather unsettling at first, even for someone who already loves escaping the city for the great outdoors and wide open spaces.
When I was on the ground outside, every stirring in the forest made me spin around, imagining the worst (too many Hollywood horror flicks, perhaps). The anxiety was palpable – the opposite of the relaxing getaway that was intended.
Then, something magical happened in that forest.
Anxiety eventually dissolved into a surrendering into nature's sweet embrace and by nightfall, sleep came easily: 10 glorious hours of deep slumber for someone who suffers from severe insomnia was itself some form of sorcery.
Morning arrived with utter resplendence as rays of golden light streamed through the forest canopy and woodland creatures emerged. I spotted a pair of squirrels playing catch among the trees and, across the lake, a real-life Bambi was casually grazing till she saw me stir and pranced away.
In the deep and profound commune with nature, there was also a stirring of heart and soul that was exquisite in its intensity yet too esoteric to adequately express.
And in that moment, I understood.
I understood Koja as more than a concept. I experienced what its designers had intended, and that was for its occupants to travel beyond the tangible. 
The solitude was beautiful and bountiful, and if feeling closer to nature inspires us to take better care of our planet, that's a sustainable proposition, indeed.