Take the opportunity to sample the food at these popular new restaurants
Because once dining-in is allowed again, reservations will likely be difficult to procure. 
More than a year into the pandemic and we are all weary of 'Corona restrictions. But if there is one silver lining to be gleaned from the situation, it is the ability to sample fare from popular restaurants without need for a way-in-advance reservation.
When they are allowed to open to the public, restaurants offer an escape from the drudgery of the Groundhog Day that we've been forced to wake up to every morning. But that also means that reservations at popular, and in particular, new restaurants can be difficult to come by.
Thus, the salvation of takeaways. Though quite different from what a restaurant might offer when its dining room is open, delivery menus provide diners a sampling of what its kitchen can do even in the worst of times.
So if you've been meaning to check out these popular newcomers, now is a good time to slide into their ordering apps and have their food come to you.
BUTCHER'S BLOCK
Butcher's Block may not be a new restaurant, but a quiet buzz has surrounded it of late as Hawaiian chef Jordan Keao took the helm in early June. Keao ran his critically acclaimed restaurant Aina in San Francisco for six years before coming to Singapore in 2019 where he found a place in the open kitchen of Burnt Ends.
At Butcher's Block, he is continuing in the tradition of his latter experience by offering what he calls "wood-fire focused" cuisine. Among his treats for takeaway are Western Australian marron with burnt bearnaise, New Zealand salmon with yuzu sabayon and A5 Kagoshima wagyu striploin with beef demi-glace and butterhead salad.
CASA BY REMY LEFEBVRE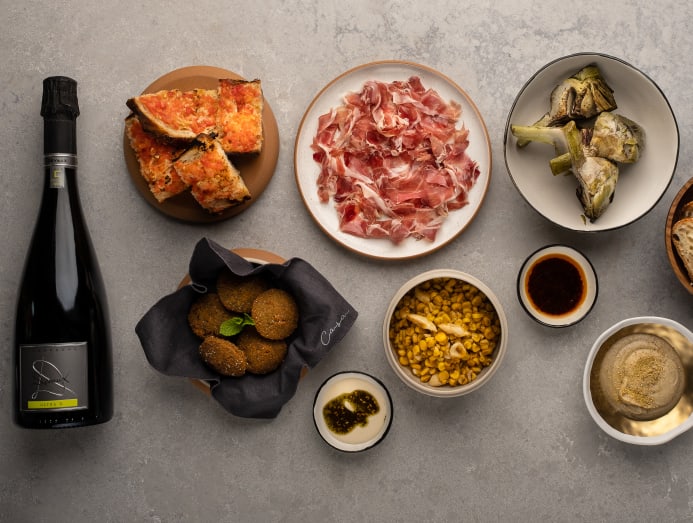 The food at chef Remy Lefebvre's Casa reflects his diverse life experiences that span Africa, Europe, the Gulf and Asia. Unsurprisingly, his brand of cuisine defies neat labelling and brings together unexpectedly delicious ingredient pairings. In keeping with the restaurant's theme of dining in Lefebvre's casa or home, his takeaway menu features easy-to-appreciate offerings such as the Casa Living Room Set comprising Joselito Iberico ham with bread and tomato, Freres Marchand cheese platter, house-smoked Petuna trout and a bottle of wine.
A heartier Champagne Brunch is available for two or four and includes all of the above, as well as an organic wood-fired chicken with roasted carrots and an apricot and miso tart with coconut cream. The champagne part of the set comes in the form of a complimentary bottle of bubbly when you pre-order from Monday to Thursday. 
FIRANGI SUPERSTAR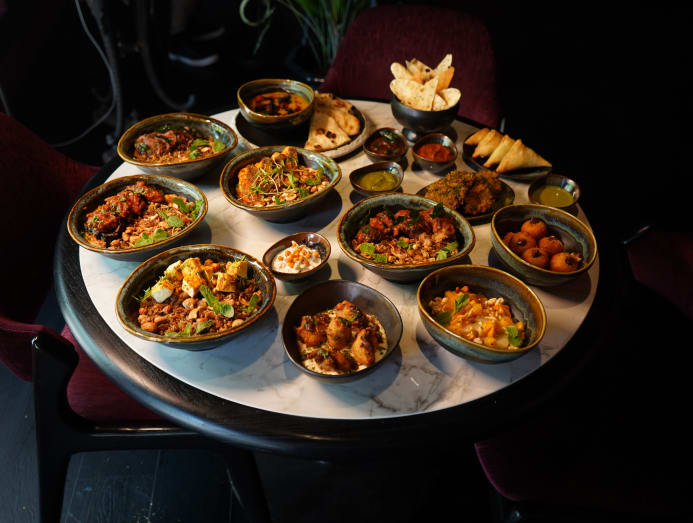 This newly minted, atmospheric ode to India is exciting not just for its beautifully designed themed dining rooms – think an Officer's Club, Old Railway Room and an Elephant's Palace – but for its cocktails and inspired Indian fare by former Spago chef Thiru Gunasakaran. Take the opportunity to order delights like dahi vada or lentil fritters served with curry leaf yoghurt and tamarind sauce, and biryani with butter chicken or Malabar grilled snapper.
LA BOTTEGA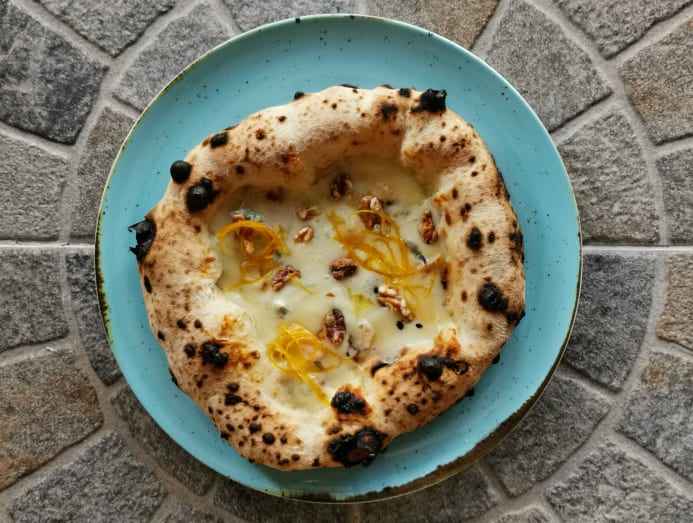 Antonio Miscellaneo's incredible Neopolitan-style pizzas turned his private dining outfit Casa Nostra into the hottest ticket in town. So it was a massive deal when word got out that he was opening La Bottega, a restaurant along Joo Chiat Road where more than a handful of people at a time would be able to eat his fabled fare.
The current Phase 2HA restrictions, while a drag for the restaurant – which had to delay its opening – has been a welcome boon for eager fans. La Bottega began offering pizzas and pastas for takeout a fortnight ago, with offerings like Miscellaneo's DoubleCrunch pizzas stuffed with mortadella and ricotta, and his Newpolitan pizzas topped with the likes of gorgonzola and walnuts, or burrata and Parma ham. The lunch and dinner sets, typically comprising a pizza, pasta, side and bottle of Prosecco are only available in limited quantities, so like when reservations open, it's fastest fingers first.
NAE:UM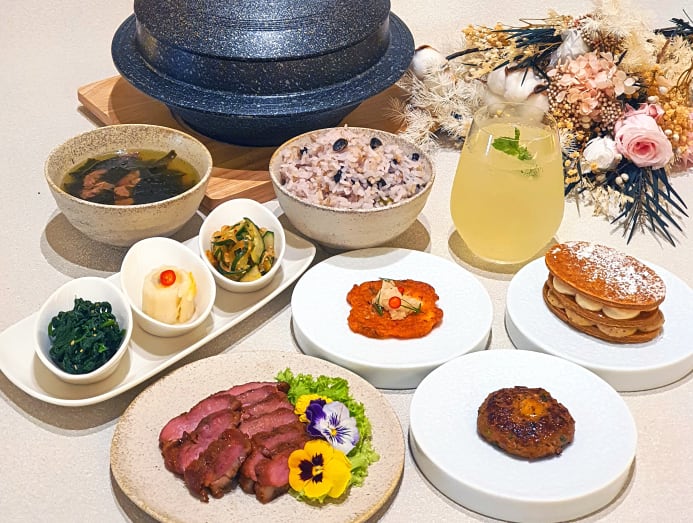 Another intriguing new entrant to the dining scene is chef Louis Han's Nae:um. The former head of the now-defunct modern Korean restaurant Kimme delivers similarly contemporary takes on this native South Korean fare here, but this time in a more introspective and detailed manner. One of the signature dishes that has made it to Nae:um's takeaway menu is the uni somyeon – cold noodles tossed in a truffle and white kimchi dressing and topped with coral tongues of sea urchin.
For takeaway, the dish is presented as a kit that comes with two portions of ready-to-cook somyeon, its seasoning, 50 grams of uni and a sharing portion of abalone mulhwae with yuzu chilli dressing. There are also a Korean barbecue kit, a bangsang set featuring multigrain rice served with a choice of grilled meats, soup, kimchi, Korean pancake and mini duck galbi pancakes, and several a la carte items.
SEN-RYO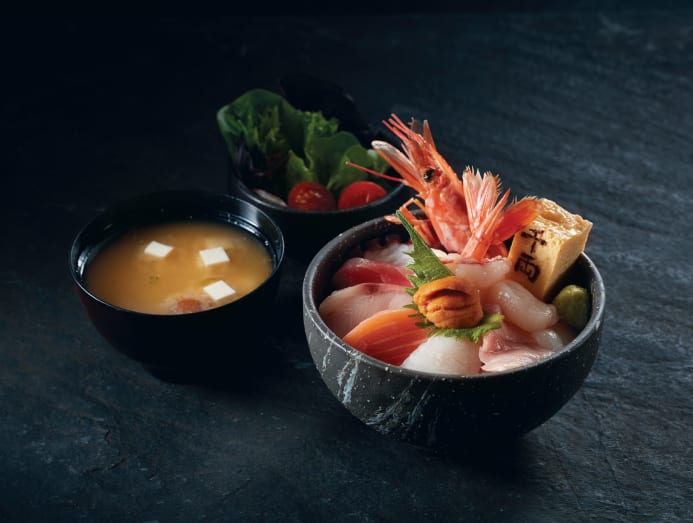 This popular Hong Kong import hit the ground running as soon as it opened at ION Orchard last May. When we tried to make a reservation just before the latest restrictions were announced in mid-July, the earliest available booking was at the end of August.
Happily, we now don't have to wait to enjoy things like a S$34 bowl of premium maguro served over rice with chawanmushi, miso soup and tomato salad, and 14-piece sashimi platters for just S$40.10.
The quality of fare here far outweighs the food's prices, which explains why  cannot get enough of this slate and curve-walled restaurant when it is open to the public. Walk-in orders enjoy 10 per cent off the nett bill until Aug 18. Alternatively, pre-order via 6974 6782 or 8938 6026.