Tanzania: Where to stay and what to expect
These luxury resorts not only have great views, there is also plenty to see and do.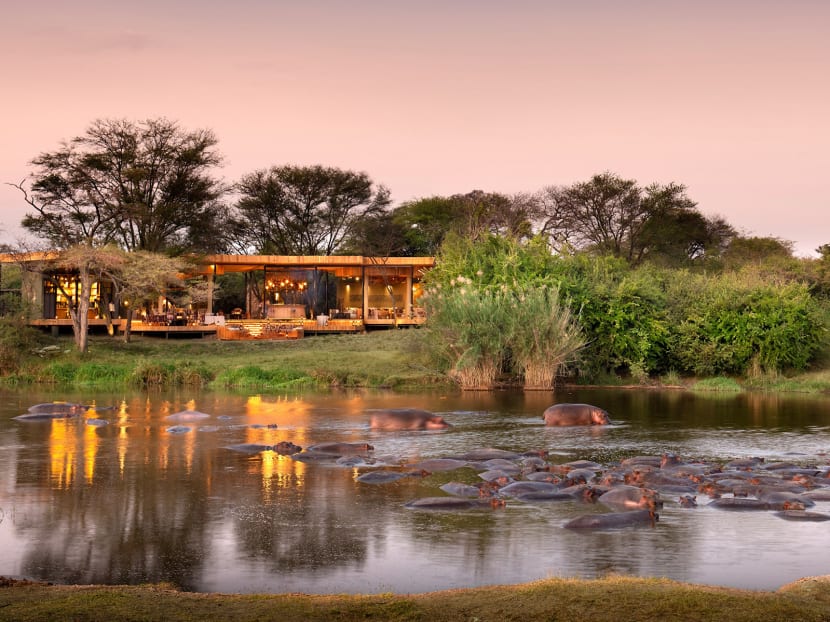 A few weeks ago, I found myself in a 12-seater Cessna, flying to safari expert andBeyond's recently revamped Grumeti Serengeti River Lodge in Tanzania. Our route took us over tree-covered plains, then Lake Manyara, a vast taupe-coloured body of water bordered by sand flats dotted with palm trees. Then I saw it – my first animal – a giraffe, like a child's forgotten plaything, and felt that familiar frisson of excitement that only safari brings.
"In Tanzania, the inflight entertainment is through the window," joked our pilot, a line he knew would draw appreciative laughter.
Minutes later, a silver ribbon of water appeared below, this time a tributary of the mighty Grumeti River, lined with small suites. After an aborted landing (thanks to baboons parading across the airstrip), I finally arrived at the lodge, which reopened last June after an extensive rebuild. And what an arrival. The foyer immediately opens up to a river filled with snorting, splashing hippos, a sight guaranteed to transfix you for several minutes. (Quick tip: Grumeti's resident hippos are active day and night, so bring earplugs if you're a light sleeper.)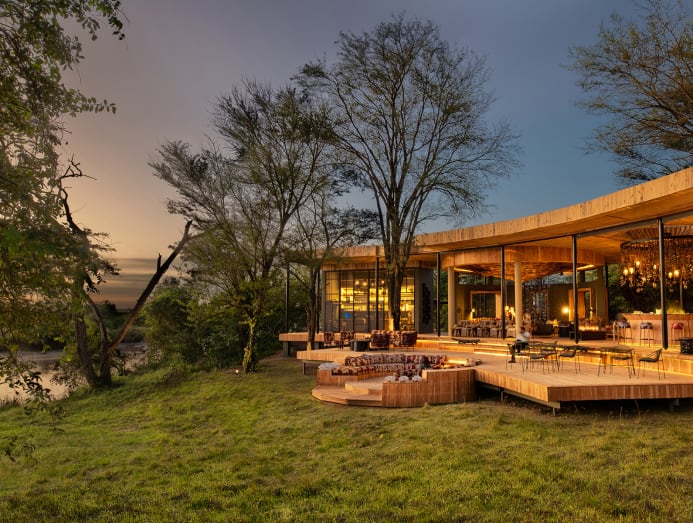 Previously a tented camp, Grumeti Lodge was rebuilt from scratch with permanent structures in a years-long project with architectural design by Jack Alexander and interiors by longtime collaborators Fox Browne Creative. A low, curving building that follows the contours of the river, the lodge's open-air main area seamlessly creates a flow between sitting and dining areas that feels immersed in its natural environment. A new bar topped by an arresting tangle of twisted fabric "ropes" and mouth-blown glass lights serves as its focal point, a watering hole where guests gather over pre-dinner cocktails.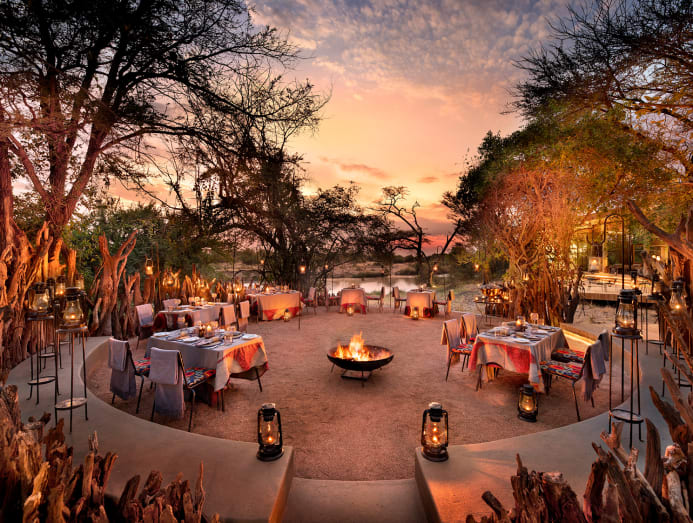 There are 10 guest suites, including a new family suite with two bedrooms, ideal for families with children. Suites have doubled in size to 95 sq m, their spaciousness accentuated by open layouts and soaring ceilings shingled with woven banana fibre. Each offers a masterclass in luxurious, contemporary design with a strong sense of place, with regional accents of kitenge (African wax cloth) upholstery, rough-hewn bamileke stools and dark carved-wood furniture. The new bathrooms have a touch of theatre, with drapery you pull closed for privacy as well as a deep soaking tub and shower area set against floor-to-ceiling window views of the river and plains beyond.
Outside, a wooden deck holds a lounging area and private plunge pool, an ideal place to hippo-watch while the hippos watch you. In your room, there's a pair of Swarovski Optik binoculars, available for use throughout your stay, a guide's journal with illustrated wildlife, bluetooth music player and a generous all-inclusive minibar of soft drinks, house wines, beer and spirits. There is daily laundry service, especially useful because each guest is only allowed to bring a total of 15kg of luggage (carry-on and check-in combined) due to internal flight restrictions.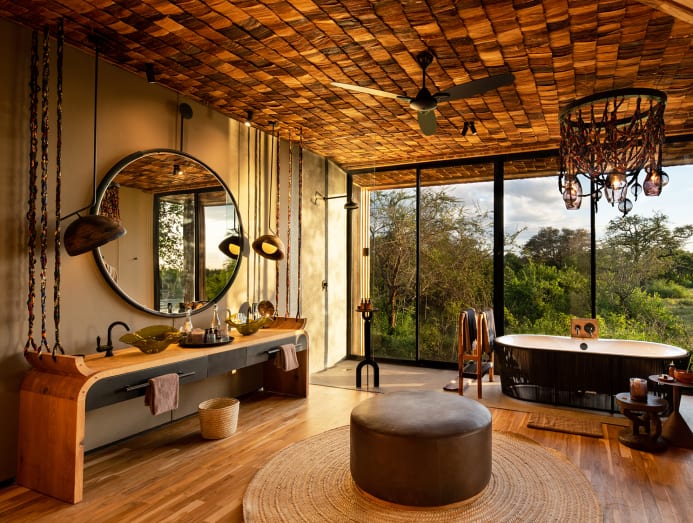 The lodge offers a limited menu that skews Mediterranean – think roasted butternut soup and grilled tiger prawns with paella-style vegetable rice and peperonata – though I would have welcomed more local choices. Breakfast – with its lavish trays of fresh juices, fruit and condiments like baobab powder – was a highlight, as were dining at night in the lodge's boma, a traditional wood-fenced enclosure where diners can enjoy meals cooked in outdoor ovens under the stars.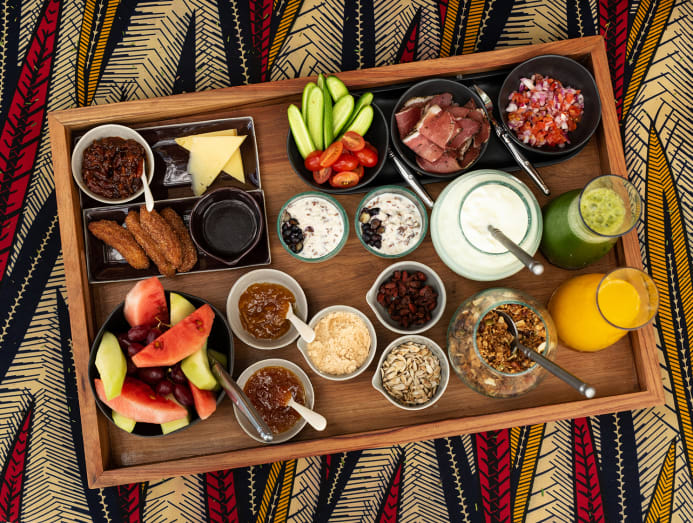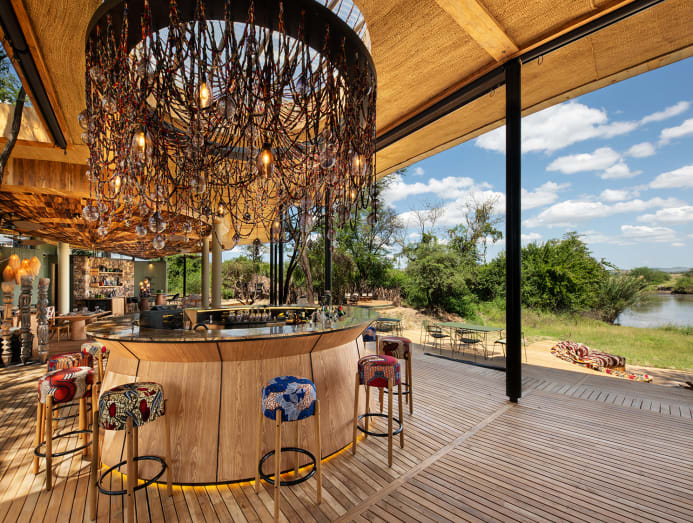 Guests here are spoiled for choice when it comes to activities. I visited Lake Victoria (Africa's largest lake) and Mwaburugu, a large community of fishermen which lives on its coast, but the main attraction is the Serengeti, and Grumeti's remote location in the National Park's western reaches mean guests feel like they have the wilderness to themselves. As per tradition, game drives here occur in the early morning and evening, and offer a smorgasbord of wildlife encounters. The Serengeti's only Colobus monkeys are found here, as well as baboons, zebras, giraffes and elephants.
During my drives with guide Wilfred Sarwat, we watched a female hyena lying on her side, watchfully nursing her two cubs. "We call them the cleaning squad," said Sarwat, pointing out the hyena's incredibly powerful jaws, which can crack bone. We also saw a lion pride of 13 splayed out in the shade, the group's males' spotted foreheads and haunches betraying their youth. And, under the spreading branches of a gardenia tree – a very special sighting – four 10-day-old lion cubs, still blue-eyed, yawning and yapping as they clambered unsteadily over each other.
But nothing quite beats the scale and magnificence of the Great Migration, when millions of wildebeest journey from the Serengeti to Masai Mara in Kenya for fresh grazing land and water. Trundling down seasonal roads carved anew each year, we surprised a lioness crouched flat in the tall grass by the road. Her snarl of shock and displeasure as she looked up at me, just a metre above, will remain seared into memory. In the north, we saw massive groups of thousands of wildebeest and zebras, linked by endless chains of animals plodding in single file, all intuitively moving closer to the river where many would be lost to crocodiles and other predators – a moving, awe-inspiring sight.
Ngorongoro Crater Lodge
This lodge has been described as "the game lodge at the top of the world" and "Maasai meets Versailles", neither of which are exaggerations. It's perched on the rim of Ngorongoro Crater, a truly spectacular vast "fishbowl" resembling a primaeval scene from Journey to the Centre of the Earth.
The lodge comprises three camps. North Camp, where I stayed, resembled an elegant Baroque chateau but with a twist – the decorative French moulding on the vaulted ceilings in the main lodge, for example, is whimsically rendered in rough-hewn local wood. Its spaces are utterly dramatic – think plush couches and crystal sherry decanters enjoyed before roaring fires, rich raw silks in jewel tones, armloads of fresh red roses, colourful tinkling chandeliers and white tablecloths and crystal stemware in the restaurant. Romance aside, I appreciated that the lodge offers a positive new chapter for the site, a former hunting lodge whose original foundations can still be found under South Camp.
There are a total of 30 stilted mud-and-thatch suites, each inspired by a Maasai homestead. My suite, which was set apart from others, had its own sitting area and fireplace (it's much colder here than in the Serengeti) and views of the crater. The spacious, light-filled bathroom is particularly Instagrammable, with the freestanding bathtub (flanked by a rose-filled terracotta urn) taking centre stage.Game drives in the crater are different from elsewhere – each day's drive usually started early in the morning and finished after lunch. It's also worth noting that unlike at other andBeyond lodges, there is strictly no off-roading here and drives are conducted in closed vehicles (with pop-up roofs) as mandated by park rules.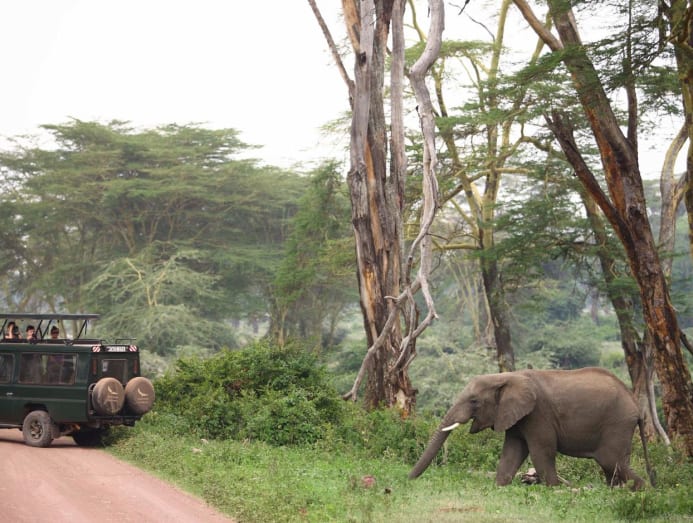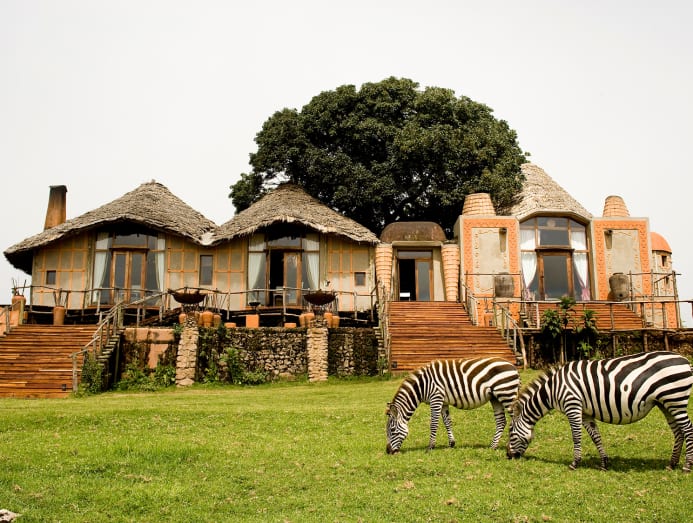 Once an enormous volcano, the nearly three-million-year-old Ngorongoro crater is actually a caldera, the world's largest. While it looks devoid of life from above, 600m down, the crater floor is bursting at the seams with wildlife (including the endangered black rhino), and in peak season, tourists too. Incongruously, there are numerous large, clean bathrooms, and even a coffee kiosk near a lakeside picnic area – making you momentarily forget that beyond this bustling tourist attraction are animals that could easily kill you.
Our guide was a bit of a tourist attraction herself. Aziza Mbwana, who's worked for andBeyond for 19 years, was the first-ever female guide employed by andBeyond in East Africa and Tanzania's second female guide. The winner of 2020's Best Female Safari Guide is a skilled guide to the crater, which offers up-close encounters because its wildlife is very used to safari vehicles. At one point, a magnificent black-maned lion casually strolled down the road, unfazed by the convoy of slow-moving jeeps trailing it.
"You can see we have many different habitats in the crater," said Mbwana, who pointed out flamingos in the alkaline soda lake (which contains high levels of carbonate salts), the large, gangly Kori bustards (which at up to 19kg, are Africa's heaviest flying birds) near its wetlands and eland (a type of a large antelope) in the grassy plains. Enroute back to the lodge, we drove through the crater's Lerai forest, where the air was thick with white butterflies fluttering between quinine trees. Its sunlit foliage recalled the lodge's tree nursery, which was established in 2004 by andBeyond employee Joachim Joseph Hhawu, and has seen over 60,000 trees donated to neighbouring local communities.
Lake Manyara Tree Lodge
This lodge basically allows you to fulfil your childhood fantasy of sleeping in a treehouse – albeit one tricked out with every creature comfort. It is the only lodge in Lake Manyara National Park, a singular location – which like Ngorongoro – features diverse habitats including a Rift Valley soda lake, dense forest and steep mountainsides.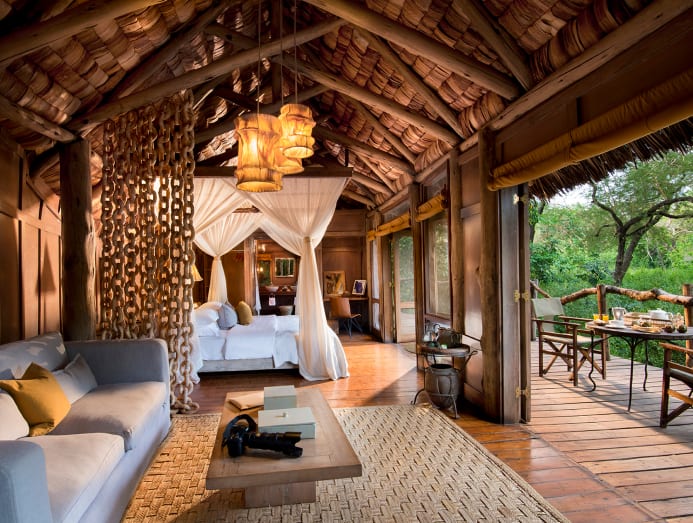 Located in an ancient mahogany forest are the lodge's 10 stilted treehouses, each incorporating a living mahogany tree. Each suite has a rustic, neutral-chic aesthetic – think cream canvas, woven fibre ceilings, exposed wood beams and wicker lights. The bathrooms have freestanding baths with forest views and outdoor showers, while a large deck suspended above the forest floor allows for yoga or outdoor dining.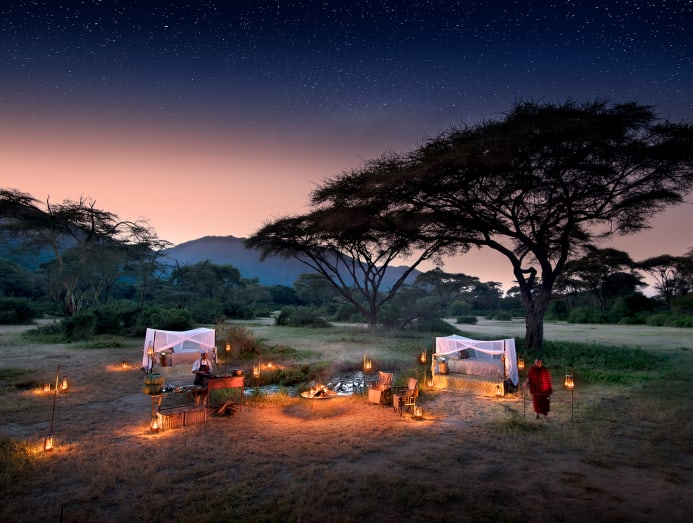 Nights here bring a unique soundscape of trees creaking in the wind, the occasional piercing cries of bush babies and the silent footfall of leopards possibly slinking past below. Dining-wise, the meals here were my favourite – especially the dinners served in the forest boma, which included freshly-made naans, lamb curries and coconut rice under the night sky.
Lake Manyara was renowned for its thousands of flamingos, but massive flooding in 2020 has driven them to other lakes further afield. But there are plenty of other attractions in its forests, like the dramatically swollen trunks of its baobab trees, with one 1,000-year-old specimen wide enough to drive a Nissan through. The bird life – as seen in the park's African fish eagles, palm nut vultures and a swarm of black storks surfing a thermal above the lake – is profuse.
It is also an excellent place for elephant watching. One evening at golden hour, we watched a large family of 15 engaged in everything from play-fighting to nursing – a curiously affecting experience. Lake Manyara is also well-known for its tree-climbing lions, a unique behaviour said to help evade insects and gain strategic vantage points. Our guide, Chris Kivuyo, found us two regal lionesses perched majestically on a branch just above our vehicle, their eyes like molten gold. We would see them again during our night safari, their eyes now brilliantly reflecting our tracker's headlamp. Later at a safe distance, we stepped out of the vehicle for some stargazing, admiring the curved hook of the Big Dipper and the Scorpion, while Venus shone brightly on the ridge of the great rift – a fittingly poignant, cosmic farewell to our time in the wild.