Stream it or skip it? Here are 10 things we hate about Netflix's Bling Empire
We binged on Bling Empire so you don't have to. Here's what we thought of the series, which, by the way, features Singaporean heir Kane Lim as one of its stars.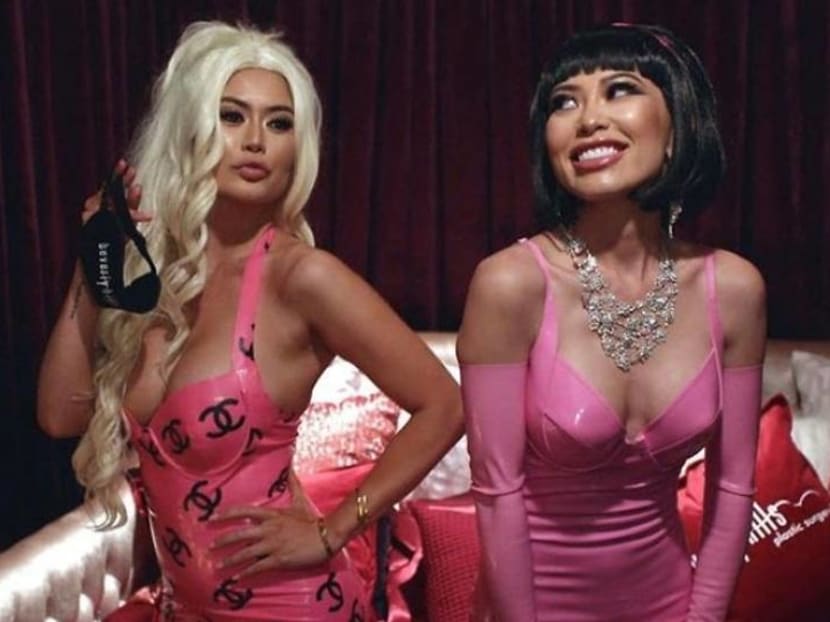 If you're not living under a rock, you would have known that Netflix has a new reality series. Bling Empire, which follows a group of super rich friends in Los Angeles, is being described as a cross between Gossip Girl and Crazy Rich Asians.
Now, we're fans of both shows, so naturally, we were intrigued by the premise of the series. But let's just say that the eight-part reality drama is not one you can binge at one go without losing some brain cells.  
Stars of the show include Kane Lim, who's the son of a Singaporean billionaire. There's also Asian-American model Kevin Kreider, philanthropist and couture collector Christine Chiu, "world-famous" DJ Kim Lee, entrepreneur Kelly Mi Li, denim heiress Cherie Chan, and former equestrian and daughter of a Beijing tech billionaire, Jaime Xie.
Not forgetting half-Japanese and half-Russian Anna Shay, daughter of a billionaire who supposedly manufactures weapons, and who is our personal favourite character.
OK, hate is a strong word, but here's what we really really disliked about the show.
THE OVER-THE-TOP FASHION
Yes, we get it, almost everyone in the show is rich. But when it comes to fashion, the stars certainly don't do stealth wealth. We really don't need all that high-fashion/couture shoved down our throats all the time.
Even fashion influencer Jaime, who's meant to be the most stylish of the lot, shows up with fluorescent pink stiletto boots to go bowling, and a turtleneck sweater to the beach. And what is with the cast's love for leopard prints?
THE LION DANCES, RED LANTERNS, BUDDHA FIGURES...
Need we say more? Yes, we get it, the show is Asian. But we really don't need to be reminded of it every few minutes. Oh, and all that bubble tea...
WHAT'S WITH THE TIARAS?
This one got us really confused. We know the show's named Bling Empire, so expensive jewellery was naturally heavily featured. But why were Anna, Cherie and Christine wearing tiaras during their interview segments? Cherie actually seems really sweet, bless her heart. But, tiaras, really? Pretty sure she's not royalty.  
Unlike Christine, of course, whose husband is apparently the 24th direct descendant of a Song Dynasty emperor (we're rolling our eyes here). 
WHY IS (ALMOST) EVERYONE SO UNLIKABLE?
With the exception of Kevin (the only "non-rich" person in the cast, and therefore, the token outsider), Kane (he's actually hilarious) and Anna (we love her no-nonsense attitude), we struggled to root for any of the cast members. Don't even get us started on Christine, a self-described philanthropist who bragged about sponsoring orphans in China as a door gift for guests who attended her lavish Chinese New Year party.
To be fair, Christine does have her fair share of struggles, especially when it comes to her in-laws. But her love for name-dropping and showing off made it hard for us to empathise with her.  
THOSE CRINGEWORTHY STATEMENTS
At one point in the show, Kevin says that the rent for his apartment is US$1,000 (S$1,330). Jaime scoffs, "That's less than a pair of shoes!" The entire show was filled with cringeworthy statements like these. Just, stop. 

THE PETTY DRAMA

The show does have deeper moments, like Kevin's struggle with his identity (he's adopted), and Kim's search for her father. But these were overshadowed by the petty squabbles between some cast members. 
The first hint of drama we had was when Christine showed up at Anna's party in a Louis Vuitton high jewellery necklace that Anna also owns. Anna retaliates by seating Christine and her husband at the end of the dinner table, away from their friends. Very important struggles, everyone.
KELLY AND ANDREW'S RELATIONSHIP
We were surprised to see the Red Ranger starring in the show (Kelly's boyfriend Andrew Gray is an actor that played the Red Ranger in Power Rangers Megaforce). But everyone knows their relationship is toxic, even Kelly herself. How many times do we have to watch them argue? 
A VANITY PROJECT?
Speaking of Kelly, she's apparently one of the producers of the show. Talk about a vanity project. Why else would anyone want to start a reality TV series starring, erm, themselves?
THOSE WEIRD RITUALS
Umm, is this a rich people thing? First, Kevin brings a shaman to meet his friends. Then, he goes to see a hypnotherapist. Very strange, definitely not Asian, and actually quite uncomfortable to watch.
THE SHOW'S PRETTY TONE DEAF
It's a mystery why Netflix chose to release a TV series that celebrates ostentatious wealth during a time when people are struggling to cope with the pandemic. It smacks of being tone deaf, if you ask us.
But one could also argue that the series is meant to be a form of voyeuristic escapism. For one, it was filmed before the pandemic, so no one's wearing masks, and everyone's attending huge parties. 
We'll admit though, Bling Empire does make for mindless entertainment. Just don't binge all eight episodes at one go.