Thai dining: Book a table at these 7 new restaurants on your next trip to Bangkok and Phuket
The pandemic period has been a trial, but the gourmet scene in the Kingdom remains vibrant. CNA Luxury offers some ideas for your next gastronomic adventure.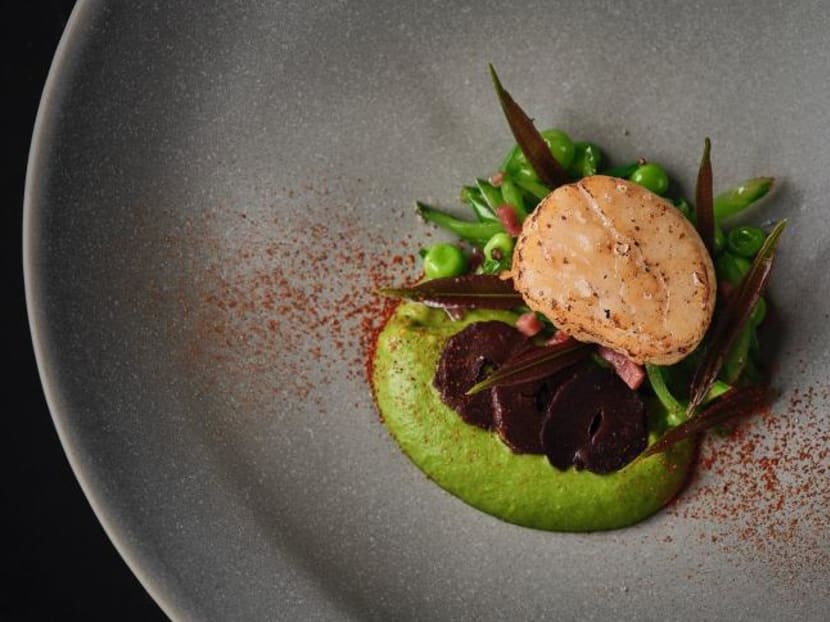 Thailand's fine dining sector is made from stern stuff. Given the trauma of the last couple of years, it has needed to be. Frequent closures and restrictions allied to patchy government support have made the pandemic era a trial for the hospitality sector around the Kingdom.
Some familiar favourites are no more. Those that have remained have been forced to evolve in the face of adversity. Others still have emerged during this painful period to inject new momentum into the gourmet scene in Thailand.
If you're planning your next holiday in Thailand, here are some of the top tables you may not have noted before.
WANNA YOOK
Proof that a talented chef can elevate even the most blue-collar Thai food tradition comes at Wana Yook. Here Chalee Kader – whose nose-to-tail dining venue 100 Mahaseth is rightly revered – supplies a unique spin on the country's khao gaeng shops.
Although the name translates from Thai as "rice with curry", there's more to these lunchtime perennials than just those two items. Diners can heap their plates with selections ranging from spicy stir-fries to dried fish and veggies. These ready-made morsels are laid out in giant publicly displayed serving tins for customers to choose from.
At Wana Yook, Kader retains the no-holds-barred flavours beloved of Thais while placing them in a refined context befitting of the elegant period venue: A pastel house with white shutters that dates to the early years of the 20th century.
His 10-course tasting menu includes bites such as tapioca crisp with shrimp and a relish and mussel tartlet with oyster emulsion, house-made soy sauce and aubergine. More substantiative offerings feature khao gaeng classic hoy lai ped (clams stir-fried in chilli paste) reinvented courtesy of sides of duck and pickled line and topped with a winter melon espuma. Curries, meanwhile, run the gamut from a wagyu beef massaman to a fiery gaeng som (sour spicy southern curry) with belly pork that has the kick of a Muay Thai champ.
5 Phaya Thai Rd, Thung Phaya Thai, Ratchathewi, Bangkok. Tel: +66636623598. More information here.
HERE
Chef Garima Arora originally trained as a journalist before ditching her pen and notebook in favour of a kitchen knife. And she's been writing a new chapter in her rise to the pinnacle of Bangkok's culinary scene with Here.
The Mumbai-born chef became the first Indian woman to earn a Michelin star with her pioneering Bangkok venture Gaa. A sense of playfulness and willingness to experiment with unexpected flavour combinations marked her out as a maverick. This willingness to throw a curveball or two shines through at Here. When it opened, the venue was billed as a brunch spot with a distinct Indian tinge. But while the casual, breezy vibe remains the remit has expanded and all items on the menu are now available all day.
Diners can still while away lazy late mornings in the venue's sun-dappled dining space over breakfast-inspired creations such as black rice dosa with house-made butter and coconut jaggery chutney and smashed spiced eggplant with eggs. More substantial offerings, meanwhile, include curried tiger prawns with crispy rice noodles and banana wrapped grilled fish.
Also notable is a variety of topped naan bread that range from spicy, savoury finishes like spiced potato, green chilli and Stracciatella to a decadently sweet version with candied ginger, lime, sour cream, and coconut ice cream. 
46/1 Soi. Sukhumvit 53, Klongtan Nuea, Wattana, 10110 Bangkok. Tel: +66971405647. More information here.
LE NORMANDIE BY ALAIN ROUX
While many young pretenders emerged battered and bruised from the pandemic, one of Bangkok's oldest fine dining favourites has come out swinging. The standard by which other international restaurants in Thailand were judged for much of its 60-year history, Le Normandie – the French dining room at the Mandarin Oriental – is worthy of its iconic status.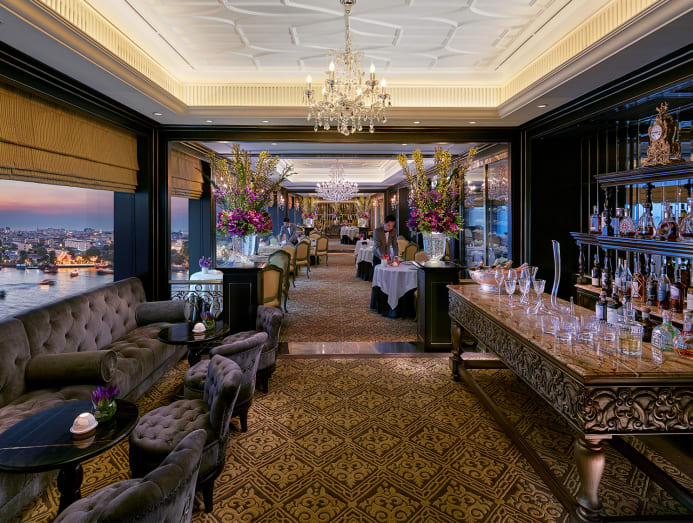 Proof that you can teach even the most venerable grande dame fresh tricks comes with the unveiling of the venue's new, improved iteration. Of course, it helps when the man overseeing the tuition process is Alain Roux. The famed French chef, whose family business The Waterside Inn in the UK, has long been regarded as one of the world's top restaurants.
In Bangkok, Roux has dispensed with some of the formality associated with La Normandie. But make no mistake – this is a truly top-tier experience worthy of its two Michelin stars. Roux's creed of letting amazing ingredients shine is displayed in minimalist creations like sea bass and octopus ceviche with passionfruit juice.
48 Oriental Avenue, Bangkok 10500. Tel: +6626599000. More information here.
CHARMGANG
Geravich "Mew" Mesaengnilverakul, Aruss "Jai" Lerlerstkull and Atcharaporn "Aew" Kiatthanawat –  the trio behind Charmgang – are long-standing friends and collaborators. And their camaraderie shines through at a venture that combines homely humility with significant culinary panache.
Working studiously in an open kitchen inside a stylishly converted shophouse a stone's throw from Bangkok's iconic Hualamphong Railway Station, the trio applies their chops to concise, compelling set menus. These change every three-to-four weeks with new dishes rotated alongside established signatures.
While the young chefs are not afraid to apply innovation, they are mindful of the need to balance sweet, salty, sour and spicy tastes: The four key elements of Thai cuisine. They do so successfully in a curry with smoked kingfish and pennywort and a smoked duck salad with Marian plum. Desserts are also on the money with sapodilla in fresh coconut milk providing a perfect palate-cleansing finale to a memorable meal.
4, 35 Nakhon Kasem 5 Alley, Talat Noi, Samphanthawong, Bangkok. Tel: +66988823251. More information here.
L'AROME BY THE SEA
A likelihood, one would have thought, to earn a star in the next instalment of the Michelin Guide Thailand is L'Arome by the Sea.
Perched invitingly by the ocean on the outskirts of Patong, the venue majors in classic French cuisine at its most creative and refined. Chef Yannick Hollenstein was part of the Swiss culinary national team that won the Expogast Culinary World Cup in 2014. And he's playing a blinder at L'Arome by the Sea by harnessing his Alpine heritage, a flair for the avant-garde and pin-sharp attention to detail across a la carte options and a splendid tasting menu.
Hollenstein aims high and, for the most part, succeeds. Standout items on his "Menu Prestige" include pan-seared Hokkaido scallop served with petit pois and enlivened by a citrus and chorizo dressing.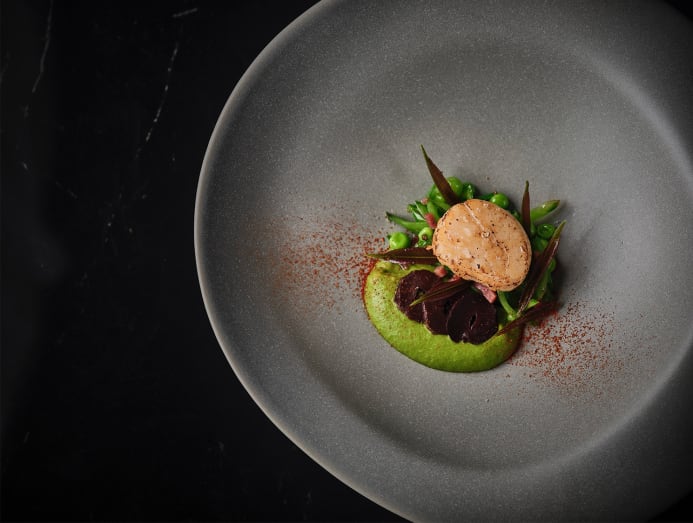 Another masterly combination is poached tail of Phuket lobster accompanied by head meat cannelloni, bisque, lobster shell oil with butternut squash, passionfruit and arabica coffee. As is busyu wagyu striploin A5 with French white asparagus, morels, and sauce bordelaise. A souffle made with Chiang Mai chocolate and infused with a healthy glug of Chalong Bay rum, meanwhile, makes the perfect finale.
247/5 Pra Baramee Road, Patong, Kathu, Phuket 83150. More information here.
POTONG
The juxtaposition between old and new is evident at Potong, where acclaimed celebrity chef Pitchaya "Chef Pam" Utarntham is flying the flag for progressive Thai Chinese cuisine in her family's former residence.
At Potong, she mines inspiration that has been with her since early childhood.  "What I want to do at Potong is to use my experience as a professional chef to elevate the humble dishes I grew up eating," she said.
The handsome 112-year-old building that houses the restaurant is a prime example of Sino-Portuguese architecture and has been painstakingly restored. But Chef Pam is confident that her progressive dishes will at least share the social media spotlight.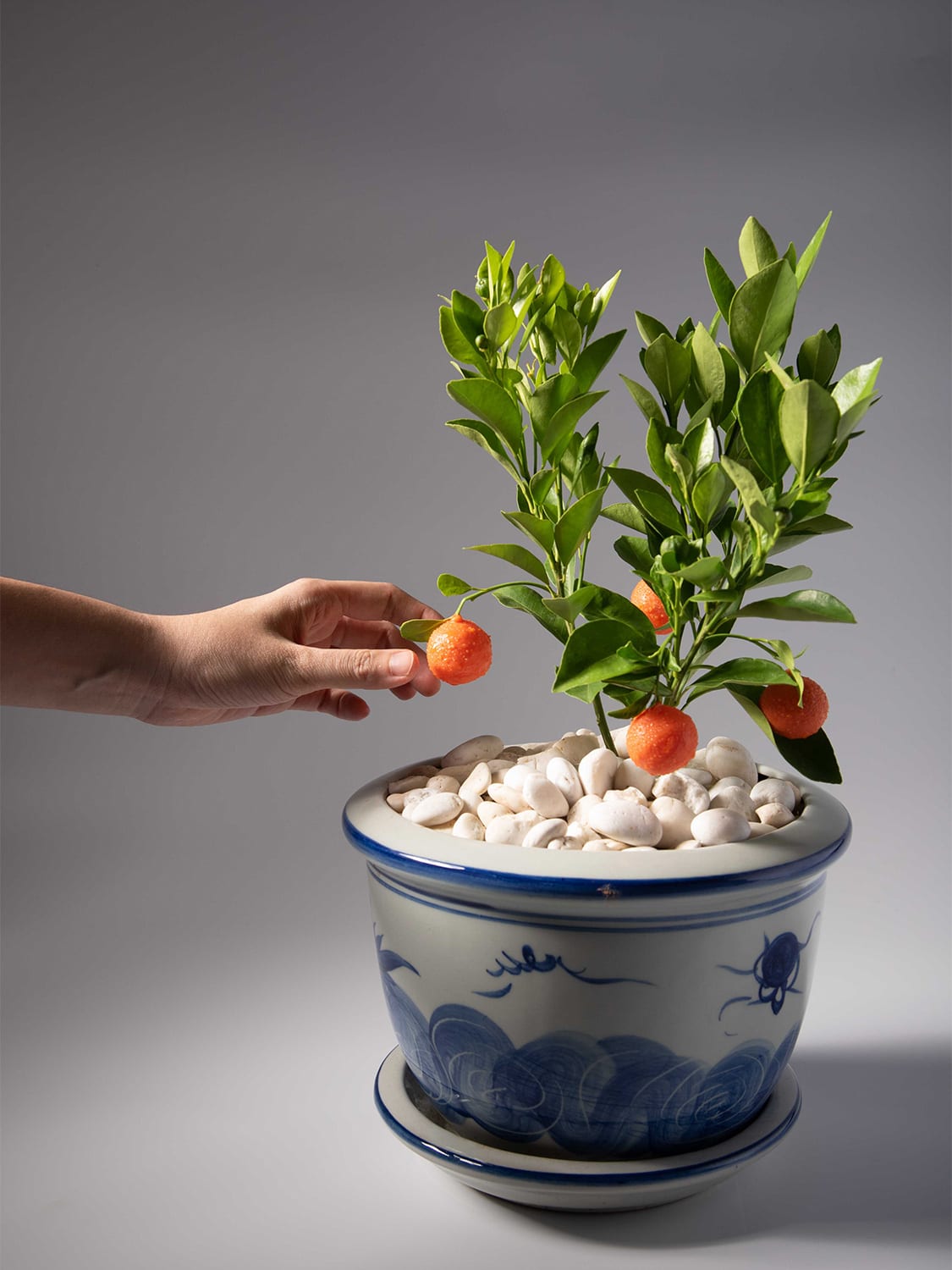 Noteworthy items include an amuse-bouche inspired by the Thai Chinese tradition of greeting friends, families, and guests with an orange. What appears to be a plump orange is white chocolate encapsulating citrus kombucha. Other standouts, meanwhile, include 13-day hay-aged duck breast, Angus beef ribs and rice bowls presented on a lazy Susan, a feature of every self-respecting Thai Chinese dining room set-up.
422 Vanich 1 Road Samphanthawong Bangkok. More information here.
KINTSUGI BY JEFF RAMSEY
American Japanese chef Jeff Ramsey is known for his modernising approach to the often-entrenched tenets of Japanese cuisine, a radical but considered culinary philosophy. The chef has applied his upstart slant to Japanese kaiseki dining in Bangkok. In doing so, he retains some of the signature characteristics of traditional Japanese multi-course dining.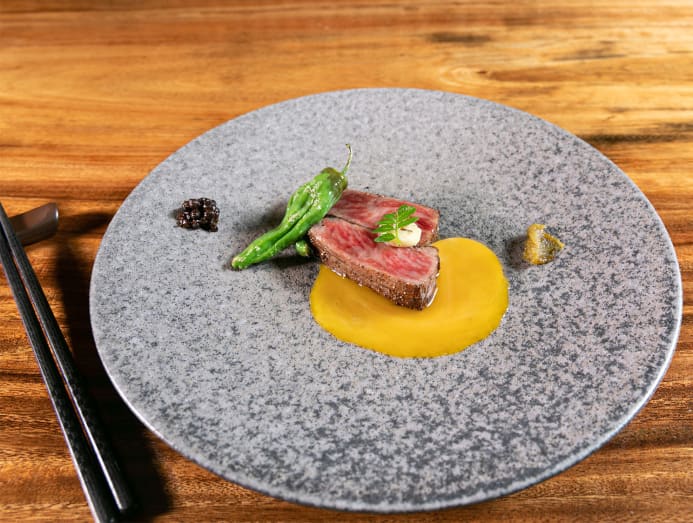 There's a strong emphasis on seasonality, with set menus completely changing every couple of months. The elegant presentation of each dish is as artful as one might expect from an iteration of Japanese cuisine widely viewed as the ultimate pinnacle of refinement.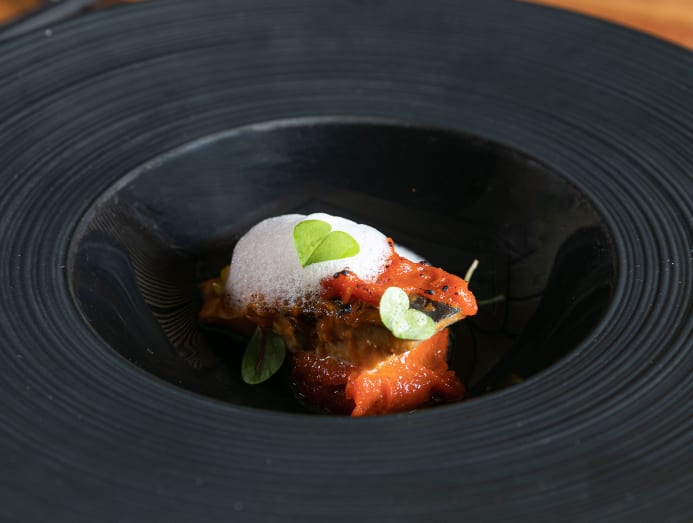 But Ramsey has not been afraid to inject a sense of daring into proceedings. Foams and infusions are as integral to menu items as the more minimalist inclusions. Of the former, parmesan cheese and snow crab chawanmushi is a tangy, creamy delight. Black garlic enlivens simple-sounding miso soup with Manila clams, combing with the briny clam juice to thrilling effect.
61 Wireless Road (Witthayu), Lumpini, Pathumwan, Bangkok, 10330. Tel: +6626508800. More information here.