Asia's 50 Best Restaurants winner: 'This tells us we can be proud of (Chinese) cuisine'
Danny Yip, owner of The Chairman in Hong Kong, attributes the win to staying focused and centred on good cooking.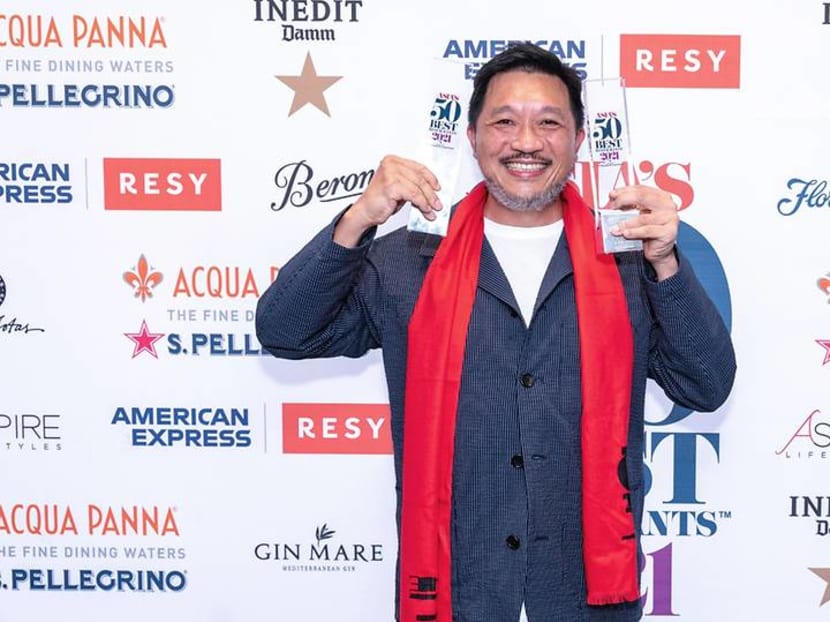 Taking top honours at the Asia's 50 Best Restaurants 2021 awards ceremony last night was a pleasant surprise for The Chairman's owner Danny Yip. That's because for most of 2020, his restaurant in Hong Kong's Central district was either closed or half-open. 
COVID-19 restrictions in Hong Kong mandated a two-month islandwide lockdown and that restaurants open only for lunch for three months after.
"But we always look on the good side of life," the visibly thrilled Yip told CNA Luxury on Friday (Mar 26) morning. "We opened from 12pm to 6pm without a break in-between… and this was the first time I saw so many people dine-in for full courses at 4pm! We had full-houses in the middle of the afternoon."
The upside of the pandemic was that it forced Yip and his team to stay focused on cooking. "No more travelling, no more four hands. We had all hands in the kitchen," he quipped. "We are chefs, we're supposed to be in the kitchen anyway. So we spent a lot of time pouring our resources into fine-tuning our dishes and creating new dishes. That was the good part of last year."
That may have just been what earned The Chairman its top ranking, and Yip agrees: "Last year, we had double the number of new dishes on our menu. We'd never had the chance to put so much energy into cooking. So we learned one thing: Always stay focused. It's the key to being a good chef."
When asked if he and his team expected the win, Yip responded with a laugh. "I mean, look at me. I haven't slept all night! It was unreal; we didn't expect any of this. We thought if we placed in the top 10, we would be very happy.
"This is so encouraging, not just for us but for everyone who works in Chinese restaurants. If you ever doubt the cuisine or the global acceptance of the cuisine, you should not. This tells us we can be proud of the cuisine, so be creative, take the bold step and just go for it. This just means a lot to us." 
"This is so encouraging, not just for us but for everyone who works in Chinese restaurants. If you ever doubt the cuisine or the global acceptance of the cuisine, you should not." – Danny Yip