Singapore's first immersive whisky experience opens at Raffles Hotel
The Macallan Experience comprises a whisky bar, lounge area, retail space, VIP dining room and – for a limited time only – a special, ticketed cinematic experience, with proceeds going to charity.
In pre-pandemic times, distillery tours in Scotland were a burgeoning business. But now that travel to Speyside, the Highlands and Lowlands is off the cards, here's the next best thing: A physically immersive whisky experience for those in Singapore, one that doesn't involve VR headsets or Zoom passwords.
On Monday, Oct 26, single malt purveyor The Macallan is introducing a whisky bar, lounge area, retail space and VIP dining room, as well as The Macallan Experience – a four-month-long pop-up exhibition space equipped with a Sensory Cinema – to Raffles Singapore.

For the first time in Singapore, whisky enthusiasts can get to sit back, relax and enjoy a cinematic experience alongside single malts from The Macallan.
The whole shebang sprawls over seven shop units at Raffles Arcade, in the block facing Bras Basah Road. For Raffles Hotel staycationers and whisky enthusiasts (both novice and veteran alike), it's a chance to soak up The Macallan vibes, delve deeper into the history of the 196-year-old distillery, try drams that aren't readily available elsewhere, and generally have a jolly good time.
But why the Raffles?
Justin Wang, the Southeast Asia & Pacific regional director for Edrington, which owns Macallan, clued us in: "We've had a longstanding relationship with the Raffles, and to many, the Raffles is a Singapore heritage icon, home to the iconic Singapore Sling. [But] unknown to many, the Raffles was once home to a 1926 Valerio Adami, which was recently auctioned for US$1 million (S$1.35 million).
"Aside from that, the Raffles was also once home to a collaboration between Raffles and The Macallan: An exclusive Raffles Hotel bottling, which you can find at our exhibition gallery.
"So when the opportunity came for us to collaborate with the Raffles, it was an easy decision to make. Two icons within their own worlds coming together to present an experience for consumers in Singapore and beyond, to enjoy, indulge and immerse [themselves] in."
Upon entry, you'll be greeted by The Macallan 72 Year Old in Lalique – the oldest whisky ever released by the Macallan family – sitting atop a funky acrylic pedestal. Gape, take photos, and be awe-inspired by this rare (only 600 such decanters exist globally) bottling, which was created to celebrate the opening of The Macallan's S$250 million Distillery and Visitor Experience in Speyside in 2018.
Lining the walls is a curated showcase of rare and prestige The Macallan expressions not usually found in a regular bar or retail space.
Further in lies The Macallan Bar, where you can enjoy a dram or two of expressions such as the Single Cask, or even The Macallan Gran Reserva 12 Year Old, which is no longer in production. Linger at the bar, strike up a conversation with the friendly bartenders, or saunter over to the lounge space to savour your dram(s).
This space is also home to a mesmerising kinetic art installation designed by creative technology agency FutureLabs. It's reminiscent of the Kinetic Rain sculpture in Changi Airport's Terminal 1, except much smaller in scale and more interactive – it moves in reaction to your actions.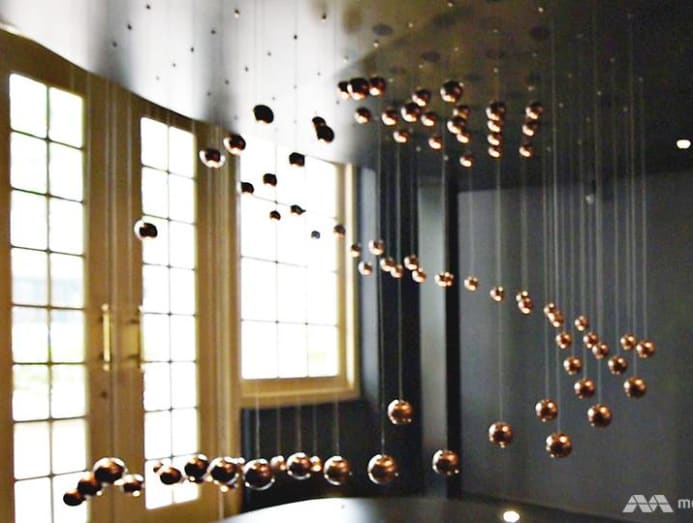 Once done, you may choose to exit through the gift shop, as it were. The small retail space offers a variety of expressions, including limited editions, as well as Lalique glassware and other accessories.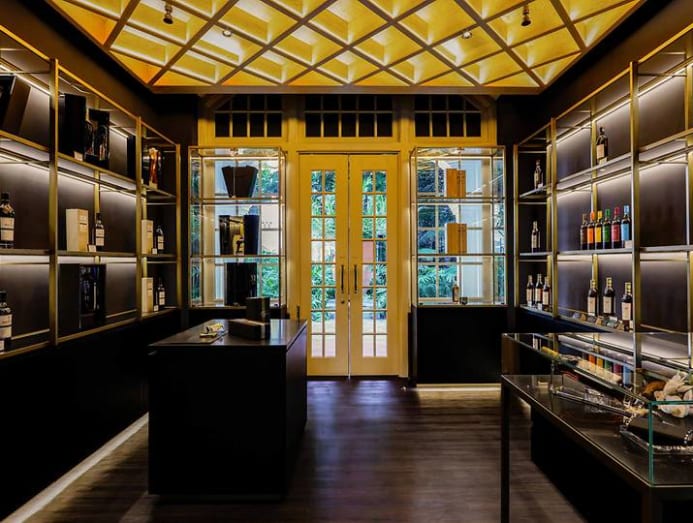 Or, if you're ready for The Macallan Experience, head over next door. The Experience, which costs S$28 per person – all proceeds will be donated to the Water and Healthcare Foundation (WAH) to help rural communities in Cambodia – runs from Oct 26 to Feb 10, 2021.
The "journey" begins with a tunnel-like gallery space filled with oak casks, casks being essential in maintaining the quality and flavour in whiskies. A film on loop captures the cask-making process, expertly executed by craftsmen from the Jerez de la Frontera region of southern Spain.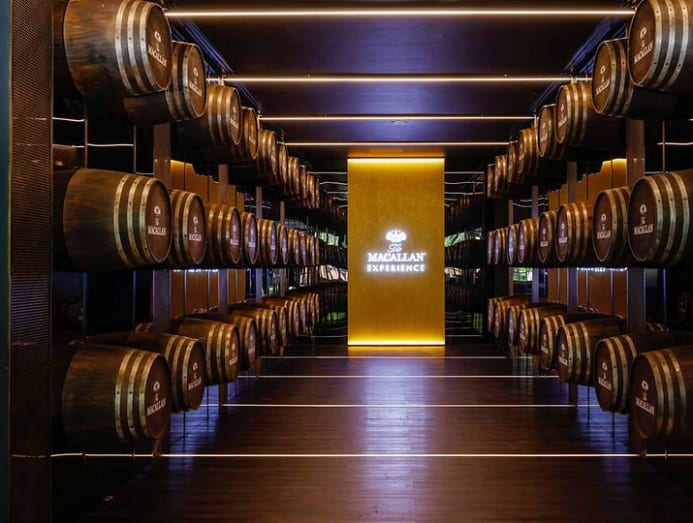 A photography gallery acts as a prelude to the main act: The "Sensory Cinema". Think of it as a Gold Class movie experience, with two drams to sample and savour as you enjoy a 12-minute short film while comfortably enveloped in plush leather seats. During a preview, we found the film to be engaging and beautifully shot; it did not play out like an extended ad, as we had initially thought.
The Experience ends there, but for connoisseurs keen to continue their Macallan "journey", they can choose to book a private VIP Dining Room experience.
This is conducted in an adjoining room, which can seat two groups of five per session. To keep things fresh, a new menu will be unveiled every month, consisting of dishes specially prepared by chefs from Butcher's Block, La Dame de Pic and yi by Jereme Leung. These, of course, are designed to pair perfectly with The Macallan whiskies.
Tickets to The Macallan Experience are priced at S$28 per person; make your reservations here