The merits of drinking alone, according to a Negroni-loving advocate
Drinking solo lets you engage with the bartender and cut down on binge drinking. Plus, as wine editor Lin Weiwen argues, it may be the safest tippling option in the midst of a pandemic.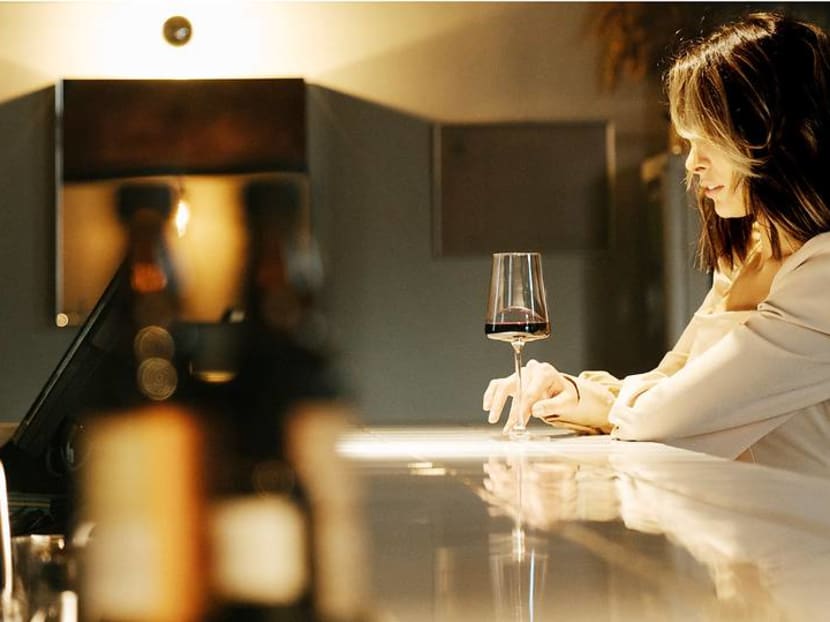 In the classic horror film, The Shining, there is a scene where the protagonist (and antagonist) Jack Torrance – played by the irrepressible Jack Nicholson – enters an empty ballroom in the deserted Overlook Hotel, heading straight towards the vacant bar.
At the bar, the weary Torrance buries his face in his hands. As he uncovers his mien, he sees a bartender before him. The shelves, previously empty, are now stocked.
"Hi, Lloyd. A little slow tonight, ain't it?" said Torrance, before unleashing a maniacal laugh that has since become a Nicholson trademark. The bartender agrees and takes his order. The ensuing dialogue reveals that the two of them know each other – or is Lloyd just playing the polite, accommodating bartender?
Either way, it doesn't matter. Lloyd, a phantom bartender he may be, is a charming old school professional, one of those tuxedo-clad barkeeps who reply in sparse and sometimes witty lines. ("Women. Can't live with them, can't live without them" was his response to Torrance's domestic grievances.)
Every time I visit a bar alone, this scene plays in my mind; this display of easy-going camaraderie. It's one of the reasons why I enjoy going to the bar solo: I look for this Lloyd-Torrance dynamic; a quirky obsession to meld reel life with real life, except I don't need my bartender to be a ghost.
Over the years, I have paraphrased Torrance's opener – "Hi [bartender's name], quite peaceful tonight, huh?" – minus the maniacal laugh. More often than not, this would segue into a nice conversation for the evening. It is also from such interactions that a person of my profession would glean information on trends in our relevant beat, and possibly follow up with a story. Alcohol and journalism. You can't separate them, it seems. (P.S. I'm not an alcoholic)
On a few occasions, while overseas, I got local tips from the bartender: In Sapporo, a kindly barkeep, upon hearing that I was a ramen fiend, recommended me an excellent ramen shop.
I don't think such interactions with the bartender would come by easily if I were to drink with my friends – after all, it is the solo drinkers who often get deposited at the bar counter – because we would be lost in our revelry.
Now I must say that I'm no misanthrope. I enjoy company as much as the next person, and tippling with my drinking buddies is a session I always look forward to. But when friends' schedules don't align, or when you happen to be near a bar you wanted to check out, or when you just want to have some 'me time', then drinking solo is the perfect solution.
But many still shy away from drinking alone. I know of some friends who wouldn't do it, much like how they wouldn't watch a movie, dine, or travel alone. It's the image of being alone – the solitude, the blatant lack of company – that frightens them. You know, that nerd in the class who has no friends, who is totally not cool. I understand such a perception. Humans are social animals, and the need to feel accepted or be part of a group is strong.
But what if people around you don't care whether you are part of a group or not? What if the bartender doesn't think of you as Mr or Ms Lonely Heart? What if you were just being paranoid?
Dave Koh, bartender of Bar Stories, said he has "a lot of respect for solo drinkers". Drinking alone is "an advantage because we tend to look out for you more". Koh is inspired by chef Thomas Keller of The French Laundry, who gives his solo diners the VIP treatment.
"Solo drinkers know what they want and aren't afraid to get it regardless of having company or a social 'cushion'," said Koh. "A lot of them have become our most loyal regulars, and most become our friends. But we try to read the situation: There are people who are cocktail enthusiasts, and there are those who want to be left alone."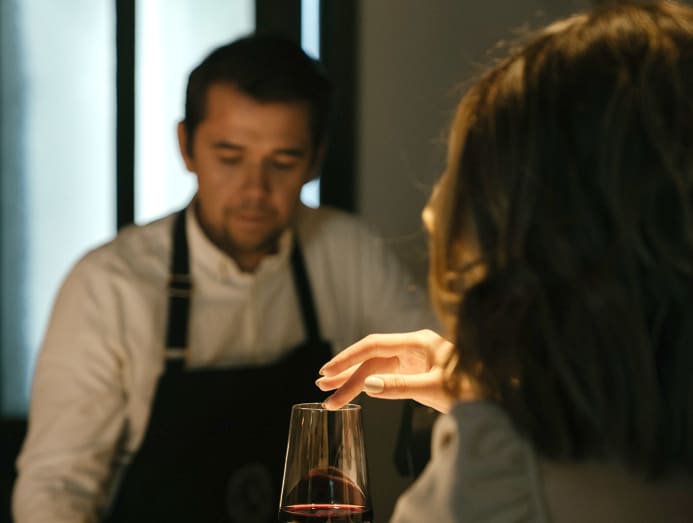 Indeed, wanting to being left alone, whether by the bartender or other guests, can be a tricky situation to decode. There are occasions when I just want to nurse my Negroni quietly and search for life's answers in that ruby-red cosmos in my glass. (And thus my preference for quiet bars without bass thumps that send vibrations into my drink, like that unforgettable scene from Jurassic Park.)
"Solo drinkers know what they want and aren't afraid to get it regardless of having company or a social 'cushion'." – Dave Koh
I'm aware that drinkers, especially women, may feel uneasy about going to a bar alone because they worry about getting unwanted attention from strangers. I pity those who just want to have a drink in peace and not deal with some creep who thinks he is the next Brad Pitt.
Perhaps more bartenders can take a cue from their counterparts in Japan. My friend Mika Tomiyama, a freelance business consultant based in Singapore, often drinks solo at her regular bars in Tokyo, where the bartender would first ask her if it's okay to introduce her to other guests. She thinks bars in Japan are more of "a sanctuary" instead of a social venue. (Many high-end bars in Japan discourage communication between separate groups or drinkers, emphasising the Japanese custom of 'not bothering others'.)
"Going to bars alone is more normal [in Tokyo], even as a female. I can enjoy 'me time' and just relax," said Tomiyama, adding that it is easier to control how much she drinks when she is alone.
I drink less when I'm alone at the bar – sometimes even keeping it to a single glass – which runs against the stereotype that solo drinkers are on a downward path to alcoholism. (If you are already drinking much more when alone, then you need to get help.)
Plus, we are in the middle of a pandemic, and my germaphobic self thinks drinking solo is the safest option now. You can still enjoy a tipple and contribute a little business to your favourite bar without breaking safe distancing rules. Tip: Call your bar to find out if they open earlier for operations and head there before the crowd arrives.
If you spot me in a corner, do say hi. But no handshakes for now. And please safe distance yourself, or else I'd have to unleash my maniacal laugh on you.
"Going to bars alone is more normal [in Tokyo], even as a female. I can enjoy 'me time' and just relax." – Mika Tomiyama