Pack your sunscreen and swimming gear: The world's best beach resorts beckon
Take your pick from destinations that are closer to home – such as Bali and Langkawi – or roam to far-flung locales like Morocco and the Dominican Republic.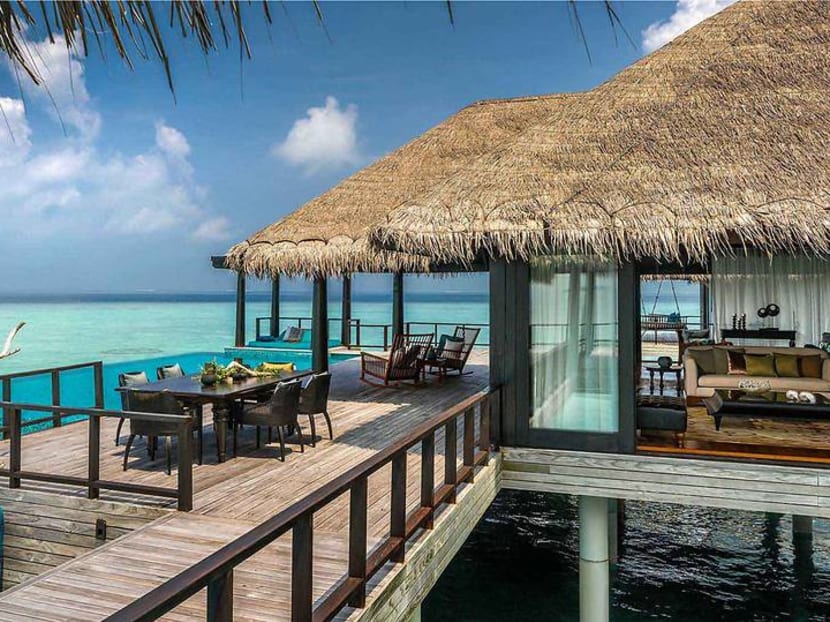 From cliffside stunners to prime beachfront addresses, here are six of the world's most alluring destinations to soak up the sun, splash around in pristine waters, and indulge in pampering spa treatments.
AMANERA
The Dominican Republic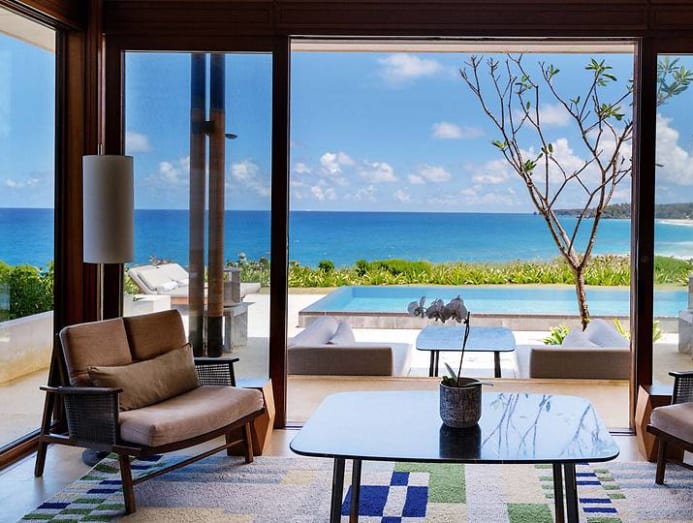 When it comes to luxury resorts, the Aman group still holds most of the aces. Even so, it is difficult not to be impressed by its outpost in the Dominican Republic, which was designed by John Heath, the Singapore-born architect behind the Four Seasons Sayan in Bali.
Located on a dizzying 18m cliff overlooking the fabled Playa Grande beach, this Caribbean paradise offers a dramatic combination of panoramic ocean views, lofty mountains and just 25 luxurious lodges built of locally quarried stone, Aguayo tiles and flat gardened roofs.
Ten of these feature 10m private lap pools which make for cosy family play time as sea-scented trade winds sweep through the cool white open pavilions. There's an adjoining 370-acre golf-course, but why would you bother when the spa features treatments based on the moon cycle, and the shamanic traditions of island's indigenous Taino Indians?
ANANTARA KIHAVAH MALDIVES VILLAS
The Maldives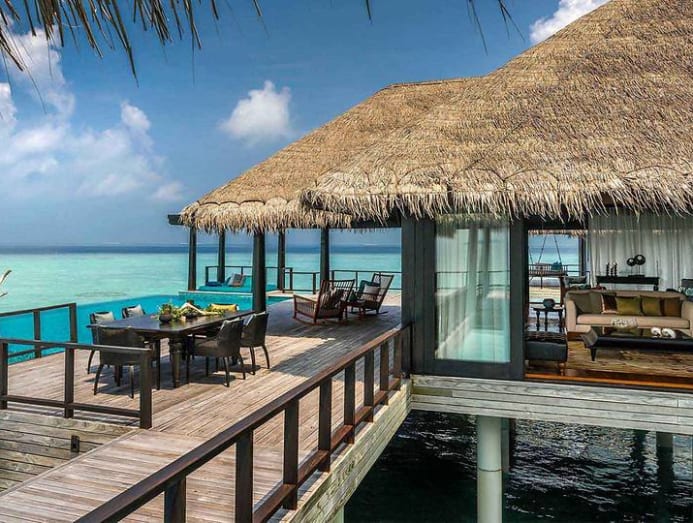 The Maldives is that rare destination where you could throw down a twig shack on the blinding white sand and it would still be drop-dead gorgeous. Hats off, though, to the Anantara for managing to upstage that setting with an idyllic 80-villa resort in the midst of a UNESCO Biosphere Reserve – which you can get to, if you got a nice bonus this year, by either a Citation or Gulfstream private jet.
Each of the beach and over-water villas – capped by grass thatched roofs and lined with white stone and soft drapes – is set against an unending horizon of see-to-the-bottom turquoise water.
By day, channel your inner Nemo and snorkel with the mantas and Hawksbill sea turtles, or book an Ayurvedic spa treatment, before adjourning for a lunch of Maldivian lobster in the underwater restaurant (which also boasts the world's first underwater cellar).
www.kihavah-maldives.anantara.com
BANYAN TREE TAMOUDA BAY
Moroccco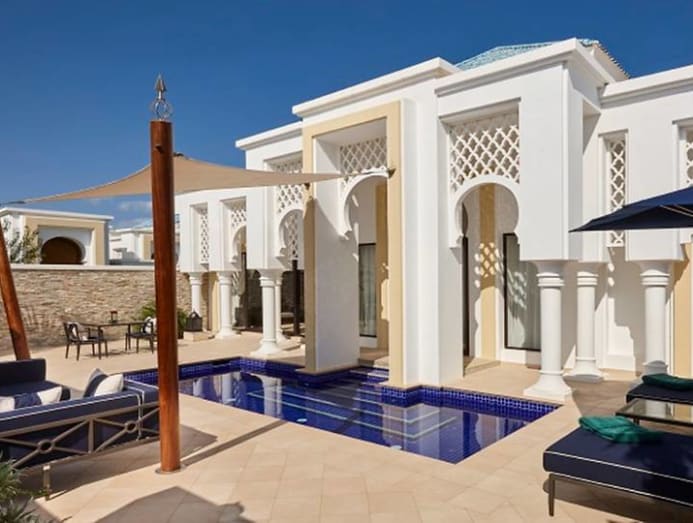 Though firmly on the tourist map, especially since the opening of the must-visit Musee Yves Saint Laurent Marrakech, Morocco is still one of the most beguiling destinations in the world. The combination of crazy scenery that's practically CGI in its grandeur and colour, great cuisine, and evocative culture makes for a memorable getaway. Especially when you venture off the tourist trail and head for the north-eastern coastline for the Banyan Tree's Tamouda Bay property.
Here, framed by the Rif Mountains and the Martil Valley, the all-pool villa resort is a fantasy of Andalusian Moorish themes complete with arabesque and Mashrabiya patterns, long corridors of arched doorways, hand-cut mosaic tiles and wrought ironwork.
Schedule day trips to explore the nearby UNESCO towns of Chefchaouen and Tetouan, and return in time for a dip in the sea, followed by a body scrub whilst lying on hot marble slabs in the Andalusian-inspired spa.
www.banyantree.com/en/em-morocco-tamouda-bay
COMO UMA CANGGU
Bali, Indonesia
The newest jewel in hotelier Christina Ong's small but exquisitely edited collection, this 64-room property sits on a stretch of prime beachfront in Bali hot-spot, Canggu. The curiously fusion mood – think copper hued tiles, pale blonde timber furniture and judicious lashings of batik – is anchored by a gigantic swimming pool and a breezy beach restaurant stocked with fresh fruit juices and a health-conscious menu.
The outdoor seats offer the perfect perch from which to watch the parade of tanned and buffed young things strolling along the promenade with their boards underarm, down to surf the waves. The child-care facilities are top-rate, including a huge romper room filled with every imaginable child-friendly distraction.
Check out, too, the Tropicsurf's Turtle Club which offers a specialised learn-to-surf programme for children aged eight to 14. For adults, there are daily yoga sessions, a dip in the ocean, or if you're feeling particularly indulgent, a peel-me-off-the-bed treatment at the spa.
SOUTHERN OCEAN LODGE
Kangaroo Island, Australia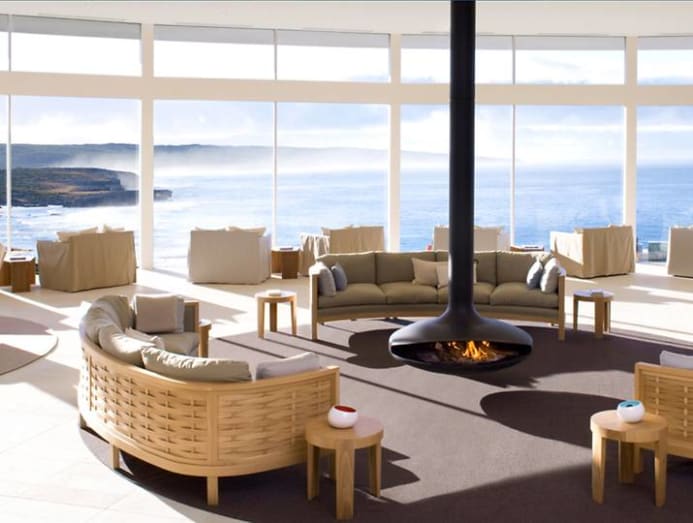 Ok, let's talk logistics. Getting to Kangaroo Island off the coast of South Australia is a little bit of a schlep – beginning with a half hour flight from Adelaide followed by a nearly two-hour drive – but it will be utterly worth the effort.
Set high above a windswept cliff overlooking Hanson Bay, the remarkable 21-suite retreat is the centrepiece of a wildly beautiful part of Oz. Stretched out below are resort are five hundred kilometres of pristine coastline and, count them, 50 beaches.
There are daily guided island excursions where you can get up close and personal with the area's abundant wildlife in what the resort calls a 'zoo without fences', including the sea lions at Seal Bay and the coastal flora along the limestone clifftops.
Slightly more adult itineraries include a tour of the walk-in cellar stocked with South Australian vintages, a spa treatment scented with local botanicals, or simply retreat to your sun-drenched room lined with limestone and killer views.
ST REGIS
Langkawi, Malaysia
In the midst of all the island paradises on offer in the region, particularly Phuket and Bali, Langkawi still manages to hold its own. In particular, the St Regis Langkawi, the brand's first outpost in Malaysia, is – from the grand entrance styled like a tropical rainforest down to the beach of powdery white sand – as pretty and luxe as it gets.
Snuggled within a cosy private cove and flanked by low-slung limestone hills, the 89 all-suite resort is a fantasy blend of Aladdin-like pavilions, blue and white daybeds, Swarovski chandeliers, private plunge pools, thick landscaping for the kids to run through, and acres of marble and oak.
A crack team of attractive personal butlers are at your beck-and-call as you settle onto the over-the-water hammocks with a cocktail and watch the sun set over the Andaman Sea. For a great Instagram moment, have the Iridium Spa draw you a rempah wani bath – an outrageously colourful tub infused with cut ginger, lemongrass and pandan leaves.
marriott.com/hotels/travel/lgkxr-the-st-regis-langkawi