Trunk House: This one-room hotel in Tokyo set in a former geisha house is full of hidden surprises
This tiny establishment in Tokyo feels more like a luxurious private home than a hotel.
Imagine a luxury hotel with no lobby, no restaurant, no club lounge, no panoramic view and will set you back more than the cost of a Cartier Tank watch a night. Would you still want to check in?
Well, that's exactly what you'll find at Trunk House in Tokyo, a place that's so different from any luxury property in the city – and that's a very good thing. The sister hotel of the hugely popular Trunk Hotel in Shibuya calls itself a "creative salon", hoping to spark inspiration for those lucky enough to stay here. Its biggest ace is that you have the entire place to yourself. How many five-star hotels can offer that? Close to none, I reckon.
Trunk House likes to buck convention and that starts by being hard to find. While most luxury hotels are concentrated in the extremely convenient and built-up areas of Marunouchi and Ginza, Trunk House is nestled in the lovely district of Kagurazaka, whose centuries-old architecture and association with geisha culture has earned it the nickname "Little Kyoto".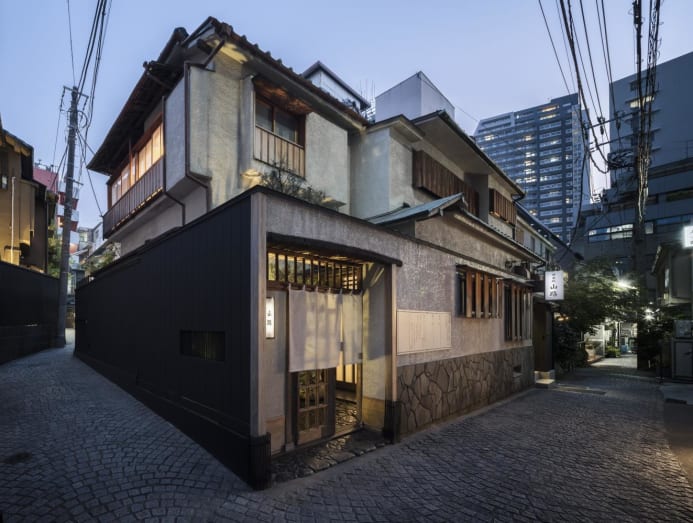 The area is also called kakurenbo yokocho, which roughly translates to "hide-and-seek alley" because of its winding, maze-like streets. This may not bode well for first time visitors to Tokyo, but being immersed in a local and historic neighbourhood more than makes up for almost getting lost on your way there.
Luckily, I didn't have to wander around aimlessly with my luggage in tow because Trunk House's butler, Younhee, was waiting for me by the side of the road dressed head-to-toe in an all-black Yohji Yamamoto ensemble. He led me and my family to a tiny cobblestone lane and right to a noren curtain imprinted with the Trunk logo. Talk about hidden in plain sight – the entrance looks completely inconspicuous to any normal passer-by, so much so that a friend who has been living in Tokyo for 20 years couldn't even find it when I invited him over.
"Once you see the black walls (called kurobe in Japanese), you're not so far away," said Younhee, describing a detail that distinguishes buildings associated with ryotei restaurant and geisha entertainment.
Trunk House is set within an old ryotei, a traditional restaurant that only accepts customers by referral; this particular one also served as a geisha dancing school back when it was in operation. The 70-year-old structure was sensitively restored by Trunk Atelier in collaboration with local design firm Tripster, and they infused the colourful history of Kagurazaka into the interiors, along with plenty of interesting details.
"Kagurazaka is one of the oldest and best preserved geisha quarters, which means it comes alive at night. We loved the location of the ryotei and its surroundings so we decided to make changes to the inside but our aim was that neighbours wouldn't be able to tell the difference by how it looks on the outside," said Kunichi Nomura of Tripster.
They achieved just that with a humble facade that totally belies the wonders it holds within. Enter Trunk House and you're welcomed by a genkan area decorated with a moon-shaped wall art and proceed to discover various objets d'art connected with the district or a playful element of Japanese culture. There's a geisha-inspired artwork in the bedroom by American artist Alex Dodge, who only agreed to the commission because he loves Kagurazaka and used to live there, as well as a stained glass panel on a door depicting Mount Fuji, referencing the fact that this area was once a prime vantage point to view Fuji-san before all the skyscrapers came along.
The first floor houses the dining and entertainment areas, including Tokyo's smallest karaoke bar hidden behind soundproof doors and a charming pocket garden with cherry blossom and maple trees. The second floor has the bedroom, a living room furnished with Stephen Kenn leather sofas, a tatami room complete with irori, and an expansive bathroom that takes up almost a third of the footprint.
The house is swathed in predominantly neutral hues – a classic combination of black, camel, and ecru – and features a host of natural materials such as wood, leather and paper. The result is a modern, soulful Japanese interior that is a minimalist's dream and hard to replicate elsewhere.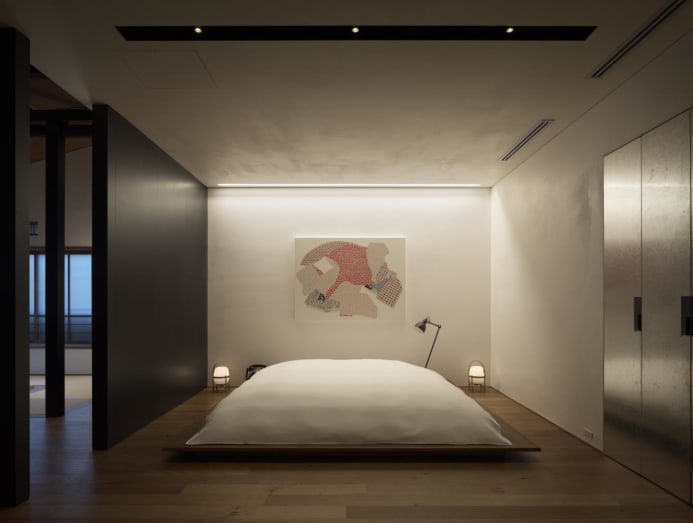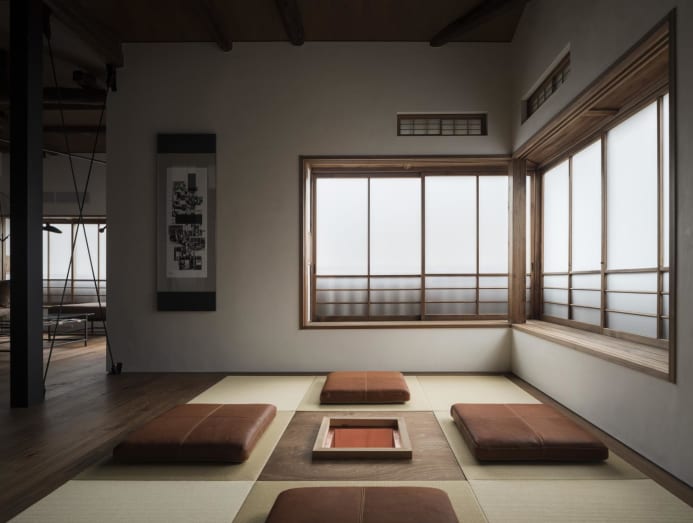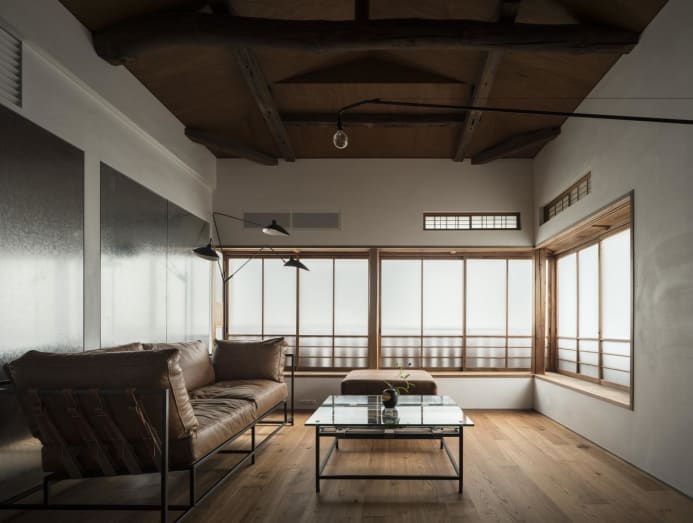 The exceptional quality of the design is enough to make any creative want to book the hotel – Kaws reportedly did and left a doodle in the karaoke room – but what truly makes Trunk House stand out is already in its name. It is a house, not just a hotel, and ultimately succeeds in being what every luxury property purports itself to be: A home.
Guests decide what kind of private home they want it to be: a Tokyo party den, a historic escape, family pied-a-terre or all of the above. Being the only guest means you can choose exactly what you want to do and when to do it, especially as staying here comes not only with a butler but also an army of chefs at your disposal.
On the first night, I went to the bijou karaoke bar with my husband and a university friend to enjoy a round of drinks, an experience that felt like I was in a scene in Lost in Translation, sans the pink wig. The second day I had an amazing omakase dinner, which I enjoyed dressed in Trunk House's chic pyjamas and with my six-month-old baby beside me propped on a plush high chair. Parents know how it's almost impossible to go to a fancy dinner with a baby, much less enjoy a meal worthy of three Michelin stars. This was a real treat for me, my husband and my baby, who has the honour of being the first infant to ever stay at Trunk House.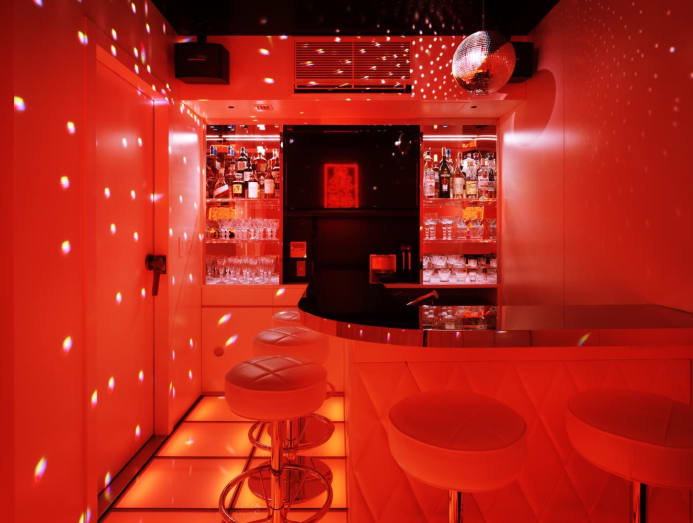 Watching chef Daiki Shibai cook was like witnessing an episode of Midnight Diner: Tokyo Stories unfold in front of my eyes. The French-trained chef is extremely versatile, able to whip up a heartwarming bowl of ramen on the go as well as craft the most divine chawanmushi I've ever had, made from five ingredients including the famous Nagoya cochin (chicken).
The attention to detail is extreme – he ensures that at least eight types of rice are served throughout the stay, carefully picked to match each meal. Even the fruits are so thoughtfully chosen. For dessert, they served a plate of strawberries, each one sourced from various parts of Japan – a strawberry tasting tour, if you will. At breakfast, they offered up a perfectly simple orange slice, but of course it wasn't an ordinary one but the sweet Asumi mikan from Kyushu considered the best variety in Japan.
Perhaps the cherry on top of the stay is having a bathroom like no other. It's anchored by a large beautiful hinoki wood bathtub set against a modern-style ukiyo-e mural. To enjoy a bath, all you need to do is press a single button, wait a few minutes, enjoy your soak and spend your time looking at the mural filled with cultural touch points like Peko-chan and other not so wholesome references that I'll leave for you to discover. So curated is this hotel that even the toilet isn't left untouched. I thought I've seen all manner of high-tech toilets in Japan but this one goes even further by automatically playing Brian Eno's song Deep Blue Day when you enter the cubicle. This ambient track from the cult favourite film Trainspotting will now forever remind me of this hotel.
The allure of Trunk House is that it has so many layers that it truly celebrates the beautiful complexity of Tokyo. Staying here is not just a luxury experience, it's an education in Japanese culture with everything from samurai history to secret cooking methods being shared to you. Most of all, it is a kind of place that urges you to savour every moment – there were a lot of precious memories made over two days but the morning I spent sipping the highest grade matcha while looking at the garden and the cherry blossoms coming into full bloom is one for the books. Simple and unrepeatable – isn't that the ultimate sophistication?