Need a pick-me-up? Consider Tanjong Pagar for your next wellness retreat
With a wide array of sessions to indulge in, there are many ways for a wellness junkie to spend a day at Trapeze Recreation Club, Singapore's latest wellness and fitness destination.
Taking a deep breath, I step into the cold plunge pool quickly before my sense of self-preservation kicks in. But just standing calf deep in the 10ºC water, I find there is no way I can will myself to sit, so that my entire body is submerged in this freezing water.
What unique form of torture is this, you wonder.
Once a form of therapy that elite athletes like Olympians or marathoners used to aid muscle recovery and reduce inflammation, ice plunge baths have gained popularity among the fitness- and wellness-inclined.
Which is why, there I was, at Trapeze Rec Club (TRC), one of the newest fitness and wellness clubs in town, gawking at the strange sensation of my legs going numb in mere seconds.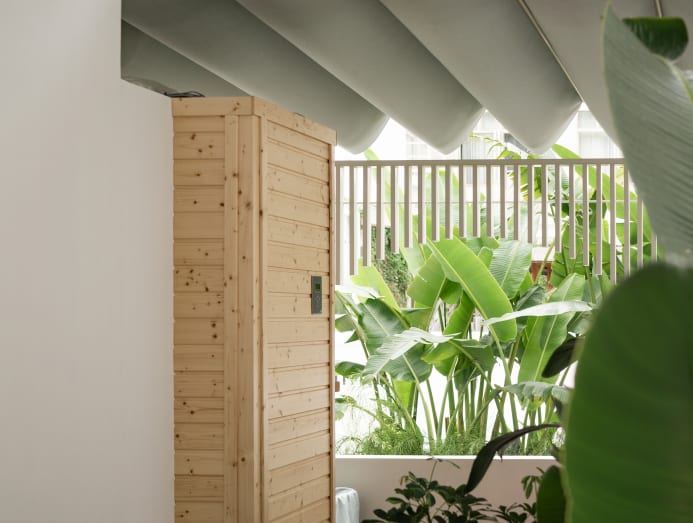 Thankfully, the recreation club's plunge pool is located on a private outdoor terrace, so there is no one around to witness my rather undignified clambering out of the icy water. I hotfoot it to the sauna cabin, just four steps from the pool and settle into the comforting heat with a sigh of relief.
This is just one of the indulgent holistic facilities available at TRC, which bills itself as a one-stop destination that offers a diverse array of fitness and wellness options, ranging from fitness and yoga classes to reflexology massages and mental wellbeing therapy sessions with a clinical psychologist. Soon, a Traditional Chinese Medicine practitioner will be added to the roster too.
With so many activities to choose from, it is entirely possible to create a customised wellness retreat to sculpt your body and pamper your mind the next time you have leave to spare.
In fact, this is exactly what a growing number of guests are doing, said founder GJ Wee, a health and fitness enthusiast who started Trapeze after noticing that there were few such destinations where one could enjoy a range of holistic treatments all under one roof. Inclusivity is a key consideration too – while members get to enjoy perks such as discounts and access to the thermal suite, most of the classes and activities are also open to drop-ins.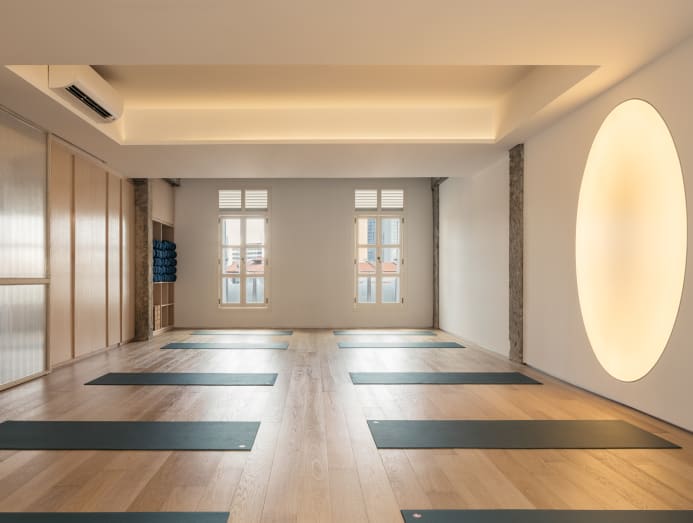 "Besides yoga or gym sessions, people like spending up to half a day at Trapeze, where they can use the thermal suite, have a sports recovery massage and enjoy nourishing yet delicious food at the cafe," said Wee, 27.
Plus, with TRC conveniently located right on Tanjong Pagar Road, city dwellers do not have to travel deep into the woods to enjoy a respite from their manic lifestyles.
Housed in a four-storey pre-war art deco shophouse, the light-filled space is predominantly clad in natural tones, with wooden floors and exposed cement and brick walls. To freshen up the vibe, there are splashes of lavender and sage green – the Club's signature colours – as decorative motifs. Design elements such as custom-made wall light sconces, curved mirrors and a meditative mural by artist Dawn Ang aka Aeropalmics add to the visual interest of the space.
True to TRC's ethos, the level 2 cafe aka Canteen features a superfood centric menu of drinks, smoothies as well as yoghurt and acai bowls. Just about every item on the menu is liberally supercharged with nutrition-packed ingredients like bee pollen, moringa and reishi to dial up the feel-good factor.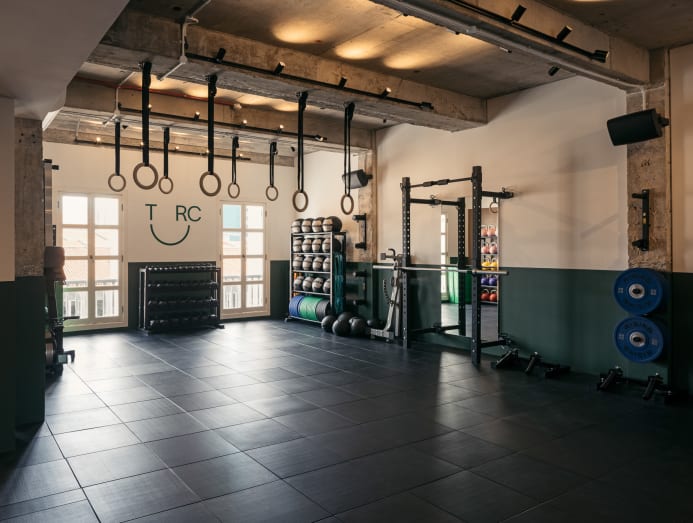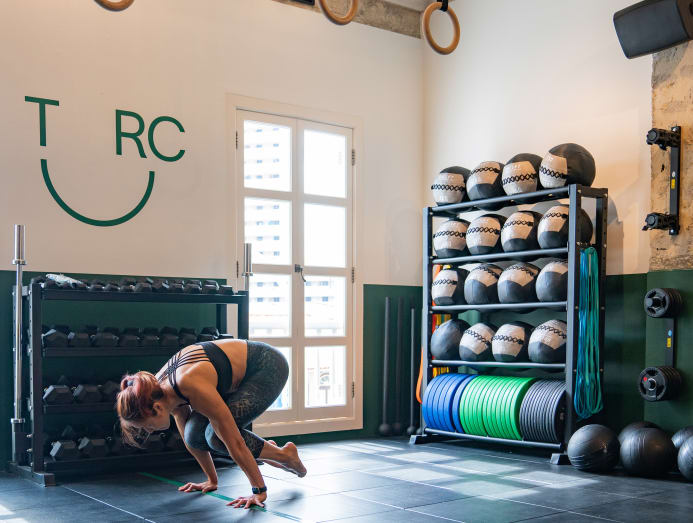 My personal favourite is the Golden Latte, a brew of turmeric, ashwagandha, cinnamon and even a dash of black pepper for an invigorating zing. Adventurous souls should try the Spicy Dan Dan yoghurt, which includes peanut butter, chilli oil and refreshing Japanese cucumber – it may sound weird but works surprisingly well, especially for those who like a kick to their nosh.
Rejuvenated from the nourishment and also from the shock of dipping myself in very cold water, it is time for yoga with yoga manager Kristin Khor. The Ebb and Flow vinyasa practice, where you flow from one pose to another, is a great way to work up a sweat while stretching, bending and twisting into various pretzel shapes. Khor is also a whizz at giving verbal cues and careful hands-on adjustments, which can go a long way in elevating one's yoga practice, whether you are a beginner or a more advanced yogi.
TRC also offers a mix of fitness classes which focus on different goals such as strength training, endurance or mobility and movement. During the strength class I attended, we were led through a series of core, upper and lower body reps and sets under fitness manager Jarratt R's watchful eye. He emphasises form and technique and takes time to work with each individual, even in a group setting to ensure we are maximising our gym time and getting our money's worth out of the session.
Then, it is off to my final stop of the day – my long-awaited foot reflexology session. As with the other practitioners at Trapeze, massage therapist Khoon Hai is a master at his trade. As he expertly kneads into the various pressure points on my feet to clear out the "energy blockages", he peppers our conversation with interesting trivia about this Chinese massage technique and shares practical wellness tips, which serve as a good reminder that I ought to pay more attention to my health on a daily basis. Best of all, not only did I feel like I was walking on clouds after my foot massage therapy, the session also miraculously eased the tension in the rest of my body too.
Before I left, I stole away to a tiny balcony to enjoy a moment to myself. As I looked down on bustling Tanjong Pagar, it struck me that the greatest luxury in being here is getting to arrive at the right headspace to enjoy this cocoon of calm, instead of worrying about the next ten items on my to-do list. The next challenge – to maintain this serenity as I get back to regular programming.