Gin palaces, cocktail parlours and the deliciously boozy reinvention of Tras Street
Thanks to a few notable openings in recent months, the once-dodgy (and not in a good way) Tras Street is now a libation hot spot, whatever your poison.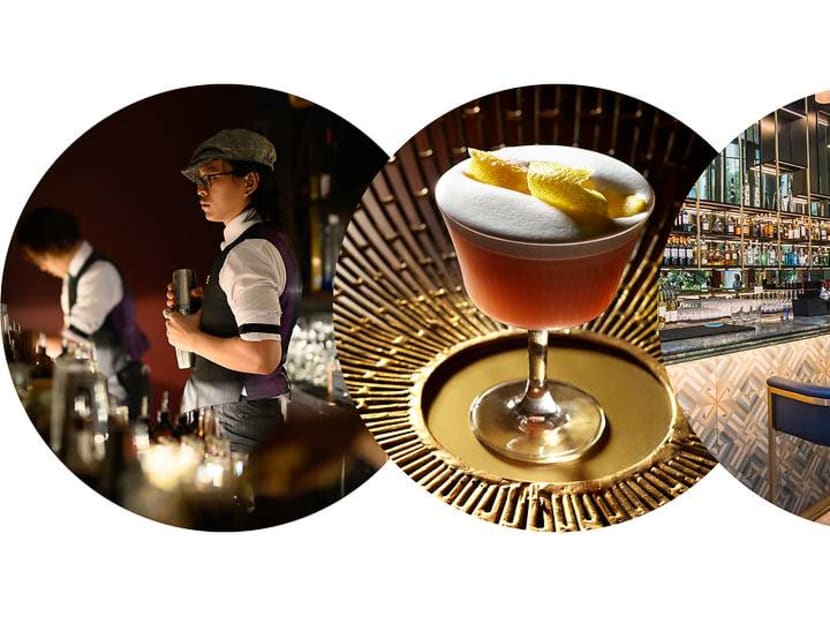 Some five years ago, the conservation shophouse-lined Tras Street started shedding its dingy image as a KTV hub for the less discerning, reinventing itself as a foodie destination thanks to a spate of restaurant openings.
Since that time, the street has continued to evolve, seeing a handful of F&B outlets come and go, but stalwarts like Brasserie Gavroche, Fleur De Sel, Gattopardo Ristorante di Mare and Sushi Mitsuya have been joined by the likes of Ushidoki, Terra and Chef's Table to provide a wide variety of dining options.
With a few recent notable openings, Tras Street has witnessed yet another round of revitalisation.
Local cocktail institution Jigger & Pony relocated to Amara Hotel, while the folks behind Formula 1 party series The Podium Lounge and defunct supper club Pangea have launched a new party playground The Monarchy Cocktail Bar & Ultra Lounge. Luxury hotel brand Six Senses restored a lovely piece of property on the Cook Street end and now Six Senses Maxwell boasts its own cluster of dining and bar establishments.
Here, CNA Luxury picks the best bars in the Tras Street area to get your drink on.
BAM! TAPAS & SAKE BAR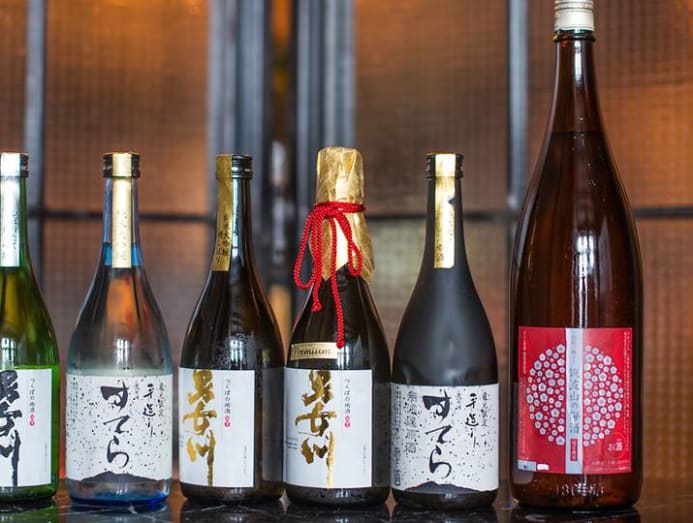 Spanish tapas and Japanese sake may seem like odd bedfellows but at this resto-bar, the food menu has been paired with nihonshu. Certified resident sake sommeliers are on hand with pairing suggestions from their over 80 sake labels. BAM! works with small-batch and organic breweries, as well as bigger producers to provide a wide range of rice wines to please all palates. If you'd like to try something special, order one of their sake cocktails.
38-40 Tras Street, Singapore 078977; +65 6226 0500; bam.sg
CAFE & BAR GAVROCHE
Cafe by day and bar by night, this sister establishment to French Brasserie Gavroche across the road features a thoughtfully curated list of quality French wines, with at least 50 labels below S$100 a bottle.
Traverse the terroirs of France with the newly launched French Wine Flights. From a list of over 20 daily-rotating wines, diners choose flights of three, five, or seven wines in 5cl tasting pours to sample top drops from Champagne, Loire Valley, Alsace, Burgundy, Bordeaux and more.
69 Tras Street, Singaproe 079008; +65 6225 4869; cafegavroche.com
CIN CIN
One for all gin aficionados, CIN CIN carries close to 100 different gins sourced from around the world, including exclusive label Kyro Helsin Gin, a Finnish gin boasting cardamom, coriander, citrus and floral botanicals.
With a range of gin this wide, guests have over 500 ways to build their own martinis and G&Ts, though the bar's signature gin cocktails like the Bronze Venus – earl grey-infused Bulldog gin, simple syrup, Domain Chandon Brut and Valrhona chocolate – are well worth trying.
#01-02 Oasia Hotel Downtown, 100 Peck Seah Street, Singapore 079333; +65 6385 2604; cincin.sg
COOK & TRAS SOCIAL LIBRARY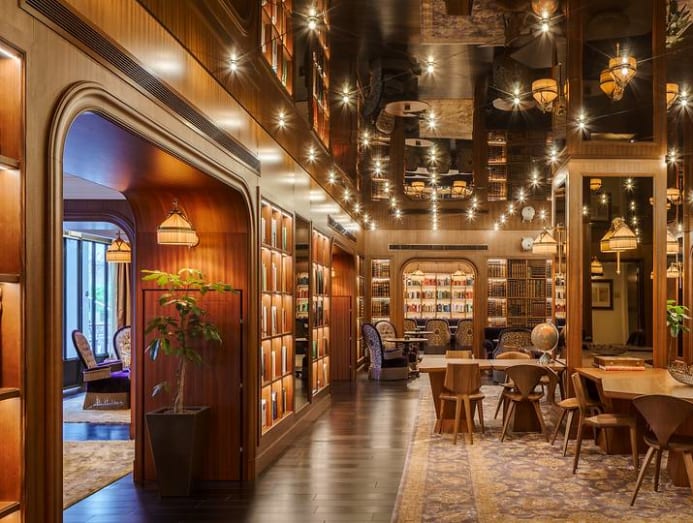 Taking centre stage at this social library restaurant and bar in Six Senses Maxwell is a specially curated book collection of over 3,000 titles, which can be checked out. During the day, the all-day dining space serves light breakfast and healthy small plates. At night, award-winning mixologist Ricky Paiva serves up bespoke cocktails based on classics.
These are influenced by Straits flavours, infused house-made spirits, shrubs and tonics. Try the Shakerato, made with Martini Reserva Rubino, Averna, cold brewed coffee, and Xocolati Mole bitters; or Cougar Paw, with Bombay Dry Gin, cava, lime, mint and meringue.
2 Cook Street, Singapore 078857; +65 6914 1421; sixsenses.com
GRAFFITI SKY BAR
Tucked high up on the rooftop of Carlton City Hotel, this stylish bar offers up a stunning view of the Keppel harbour coastline, something best experienced at sundown. Complementing the view is an extended Happy Hour that lasts from 3pm to 8pm daily, so you know where to steal away from work early to enjoy a tipple or two.
Expect a selection of classic cocktails, spirits, wines, and beers, as well as delectable bar snacks like Salted Egg Yolk Cauliflower Poppers and Grilled Otah-Otah.
Rooftop Level 29, Carlton City Hotel Singapore, 1 Gopeng Street, Singapore 078862; +65 6632 8929; carltoncity.sg
JEKYLL & HYDE
Jekyll & Hyde has been reinventing itself since its October 2013 debut. One of the first cocktail bars to open on Tras Street, it continues to churn out whimsical cocktails, like their signature Mr Bean. Part tipple and part dessert, this velvety smooth cocktail is made with tau huay (soy bean curd), Frangelico, butterscotch liqueur, kaya and vodka. Guests can also quell their hunger pangs with late night dim sum offerings.
49 Tras Street, Singapore 078988; +65 8649 0524; jekyllandhyde.sg
JIGGER & PONY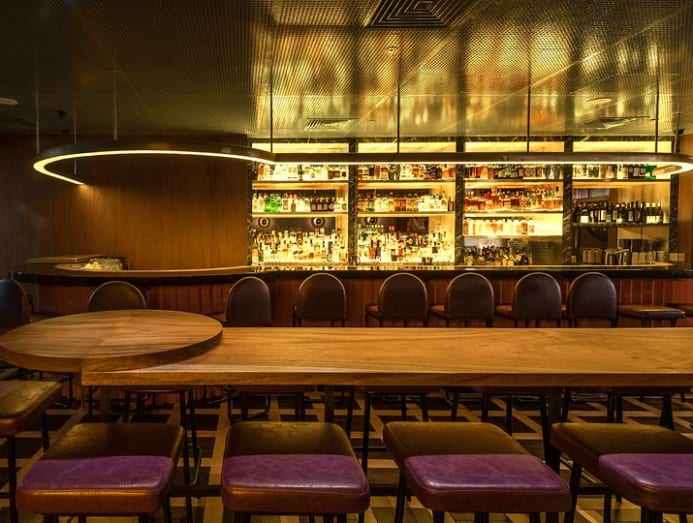 Named after the double-coned measuring device used by bartenders to accurately pour out spirits, Jigger & Pony is an institution in the local cocktail bar scene. Late last year, it moved from its original Amoy Street spot to its current, bigger location in Amara Hotel.
The design and decor received an upgrade, and the drinks remain as stellar, continuing their penchant for fresh interpretations of classic cocktails. The brand new menu features 27 tip-ples, a mix of new concoctions and old favourites like the Bumbo Old Fashioned and Ramos Gin Fizz.
L1 Amara Singapore, 165 Tanjong Pagar Road, Singapore 088539; +65 9621 1074; jiggerandpony.com
KINOU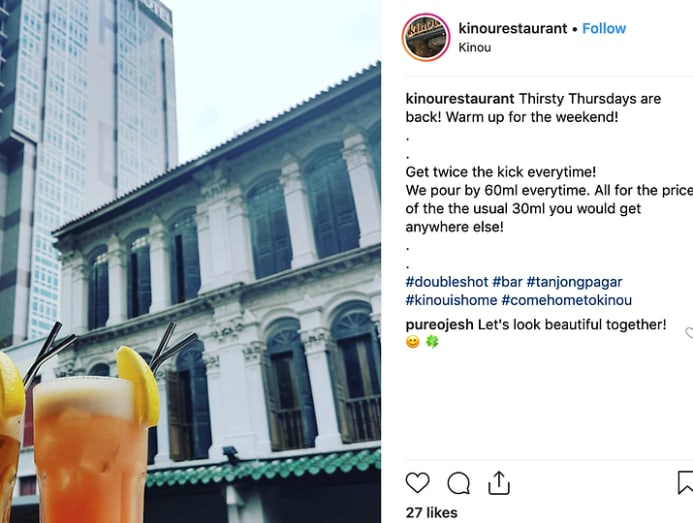 A relative newcomer on the street, Kinou is a restaurant-bar featuring a menu of global cuisines – think everything from seafood ceviche to tomahawk steaks. On the drink front, revellers can look to imbibe classic as well as creative cocktails that come in an impressive New York pour of 60ml.
Interesting concoctions include the Ruby, built with vanilla vodka, herb and spice liqueur, mango puree as well as fresh water-melon and cranberry juice; and The Last Minute, a twist on the classic martini comprising vodka, Grand Marnier and apricot brandy with a tangy, nuanced mix of mango puree, orange and fresh coriander.
81 Tras Street, Singapore 079020; +65 6224 0463; kinourestaurant.com
THE MONARCHY
As its name suggests, this cocktail bar and "Ultra Lounge" club is themed after British royalty. Even its entrance is fashioned after the doors of 10 Downing Street. Inside, commissioned artworks of British monarchs adorn the walls of the swankily decked out space.
The cocktail menu features concoctions named after UK hit songs like Message In A Bottle (Scotch whisky, Dubonnet, sweet vermouth, orange liqueur and maraschino) and Champagne Supernova (Pimm's, water-melon, lemon, cucumber, mint, ginger and champagne).
56-58 Tras Street, Singapore 078995; +65 9800 3787; monarchy.sg