Travellers are already booking their trips for 2021. Where are they going?
Travel operators are reporting a surge in private villa bookings in Bali, Sri Lanka and Greece, as well as private island buyouts in Cambodia, Indonesia and the Philippines.
Chasing rooftop sunsets with a glass in hand, swinging lazily in a hammock by the beach and the chinking of glasses to boisterous laughter around a table. Sounds like typical vacation scenes, except they haven't been so since COVID-19 happened.
As countries gingerly tread border openings, and wanderlust builds up, people are increasingly looking forward to time out with loved ones and ticking off bucket-list adventures. Even better if everyone can stay well and give some love to the community and the environment. All without the crowds.
The lead time for planning has extended, as travellers mull over longer and themed itineraries such as a wintry expedition in Swedish Lapland, a wildlife trip in Canada to see whales and grizzly bears, or a cultural week in Israel, said Scott Dunn Singapore's General Manager, Mike Harlow.
He added: "Guests are generally looking to travel in 2021, with many booking trips with a longer lead time or taking the opportunity to plan for bucket-list trips to destinations that require advanced planning. Along with this is a demand for privacy and space, and higher expectations for cleanliness and well-equipped health facilities."
As such, off-the-beaten-path destinations are pinging with interested queries. Lightfoot Travel's co-founder and director Lucy Jackson noted: "Adventurous souls are looking to explore untamed wilderness frontiers and reignite their love for travel, choosing quality over quantity. Destinations such as Mongolia, Bhutan, Antarctica, Central Asia and Patagonia all offer unique landscapes, intriguing cultures and opportune moments for storytelling."
"Guests are generally looking to travel in 2021, with many booking trips with a longer lead time… Along with this is a demand for privacy and space, and higher expectations for cleanliness and well-equipped health facilities." – Mike Harlow
GETTING AWAY WITH FAMILIES OR GROUPS OF FRIENDS
Safaris and hotels in remote locations with minimal interaction with other guests are definitely topping the list of places to stay, especially with brands that have been consistent in their commitment to community, culture and conservation.
"We're seeing a surge in multi-generational trips, with groups opting for a more COVID-19-protected stay in a luxury villa in popular destinations such as Sri Lanka, Greece or Bali," Jackson shared.
"Villas are a brilliant option for individuals looking to limit those they come in contact with, and also act as a great base for extended family get-togethers and celebrations."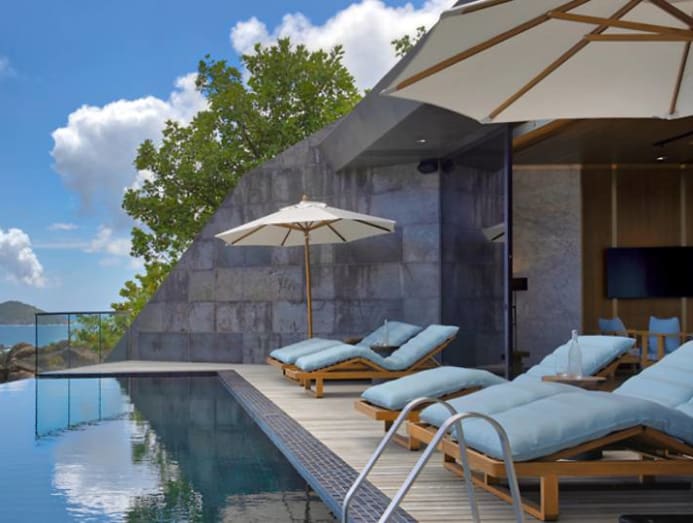 In cities, where personal space is scarce, residence-like accommodation such as Capella Singapore's Club Residences and Capella Shanghai's architecturally iconic shikumen villas, are attractive options for groups that want to keep to themselves.
SKYE Suites, which offer one- and two-bedroom serviced apartments in Sydney's Parramata, Green Square and CBD districts, has also been receiving enquiries on connecting units for holidays with the extended family or friends.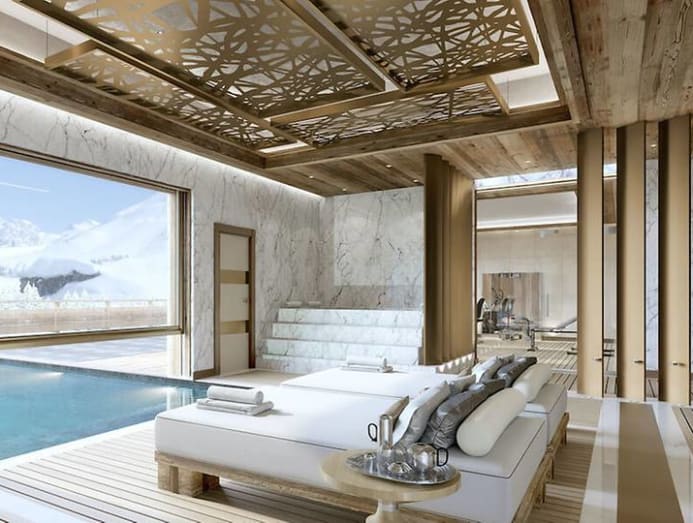 Ultima Collection's six-night Ultima Hideaway Programmes lets guests hole up in posh well-appointed residences in Switzerland, France or Greece, with no worry about what to do next. Meals, transfers and a customised wellness and fitness programme are included, and there are facilities like swimming pools, gyms, and cinemas to make it feel like a holiday home.
For somewhere completely off-grid, wholly local and eco-conscious, Falcon Brae is the place for groups of up to 10. The exclusive-use villa on New Zealand's South Island is surrounded by three national parks and gets power and water from solar panels and its own spring. It has also planted 70,000 native trees and produces manuka honey on-site.
CHILL OUT ON AN ISLAND
Island buyouts are also on the cards. "Private islands are proving popular with travellers looking to add some luxe back into their lives, but with the reassurance that they're in a safe space with carefully controlled numbers," Jackson said. "Destinations such as the Maldives, or private islands in Asia such as Bawah Reserve, Song Saa Private Island, and Amanpulo tick all the boxes."
The St Regis Maldives Vommuli Resort can be an intimate wedding venue or party pad for 154 guests at US$250,000 (S$347,760) a night, or an indulgent romantic getaway for two complete with dolphin-watching trips from an Azimut Flybridge 66 yacht.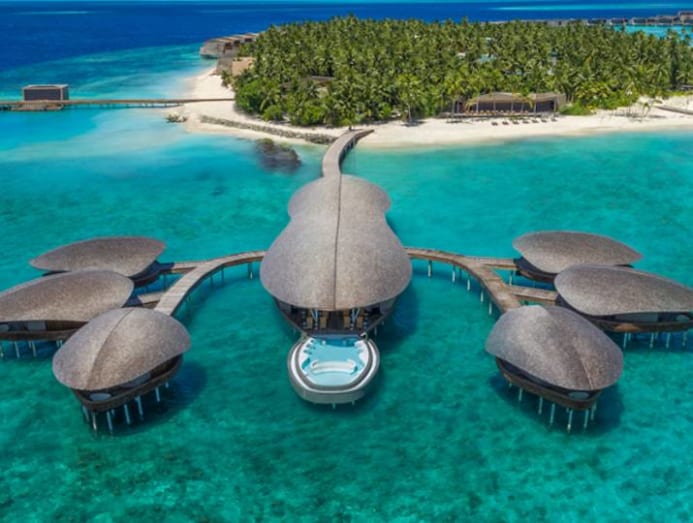 And surely even the Debbie Downers in the family would enthusiastically nod to exotic castaway vacations in places such as Anantara Medjumbe Island Resort in Mozambique and Six Senses Zil Pasyon on Seychelles' Felicite Island.
SNUGGLE UP IN A BUBBLE OR BOX
If too much space brings lonesome jitters, bubble tents and glass pods are your answer. Snuggle up with a plus-one with added thrills at these stunning locations. Elephants trundle past the Jungle Bubbles of Anantara Golden Triangle Elephant Camp & Resort in Chiang Mai. Spectacular sunrises and sunsets are part of the daily wonders for Bubbletent Australia's off-grid glamping hemispheres in the outskirts of Sydney.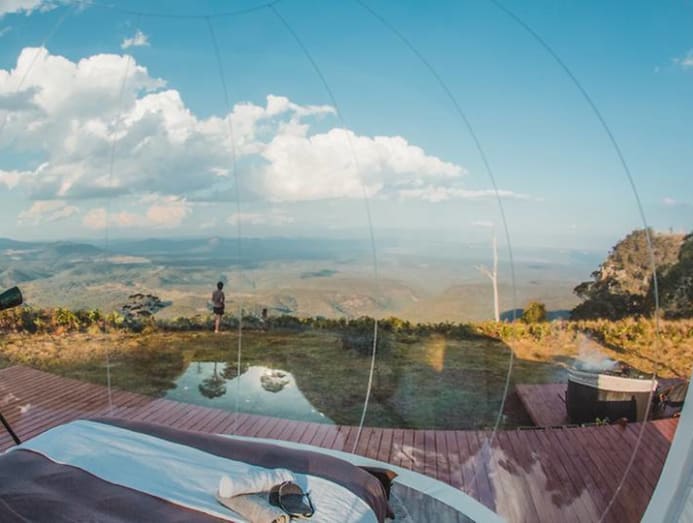 Being lost in the rugged wilderness of Norway and New Zealand would not be too shabby either. Norwegian mobile cabin concept Birdbox lets you sleep in modern comfort and wake up to fjords, mountains and forests at your doorstep.
The three pods at The Lindis lodge, which is located in the Ahuriri Valley, have 180-degree uninterrupted views of mountains and clear night skies. The solar-powered and wifi-less PurePods, scattered in six locations from an hour to two-and-a-half hour drive from Christchurch, make sure the only scenery you take in is from the outdoors and not mobile devices.
EXPLORE THE WORLD IN A CLOSER WAY
For all the isolating, we would all have to get out of our cocoons and mingle with the outside world at some point. Experiences with a dose of safe-distancing are appearing on the horizon. The 12-seater, reservations-only The Vietage train launches on July 1 and takes passengers through the bucolic Vietnamese countryside of Da Nang and Quy Nhon on daily return journeys.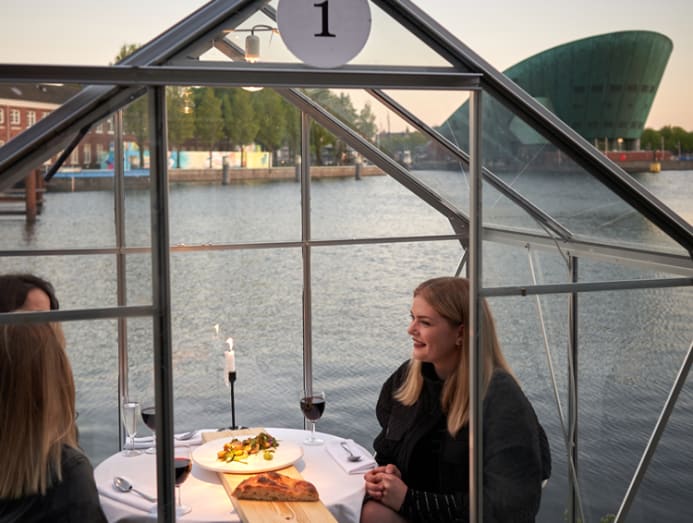 In Amsterdam, art centre Mediamatic offers a greenhouse dining experience along the Oosterdok waterfront with its Serres Separees restaurant. Each greenhouse fits two to four people and dishes from the seasonal plant-based menu are served on long boards by waiters wearing face shields and latex gloves.
For germaphobes – or introverts who have always wanted to dine alone un-judged – a three-course dinner awaits in the meadow of tiny Swedish town Ransater. Bord for en, which means "table for one" in Swedish, is run by Linda Karlsson and her chef-partner Rasmus Persson. Food is delivered via a rope-and-pulley system and guests can pay whatever they want or can afford.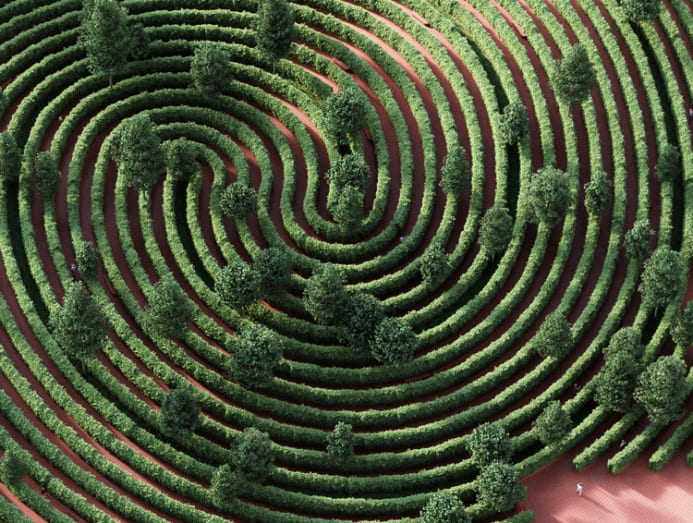 Walks in the parks may also be slightly different, if cities adopt the maze-like Parc de la Distance blueprint proposed by Austrian-based studio Precht. Pedestrians can hear but not see each other as they walk on gravelled lanes that are 240cm apart and separated by 90cm-wide hedges. It is an ingenious solution for crowded metropolises where the outdoors is always a welcomed respite.
COMMUTE IN PRIVATE TRANSPORTATION
Staying away from the crowds doesn't start only when you get to the destination. The transport trendsetter is now seamless connectivity from land to air to sea in a dedicated car, plane or boat. VistaJet's jet-to-yacht service for Malta whisks you straight from the VIP arrival lounge to your private yacht at the marina, after temperature checks, of course. 
Air-Dynamic has partnered Alexa Private Cruises to provide air charters from Europe and Australia to romantic sailing adventures among Greece's Ionian islands and in Indonesia's Raja Ampat archipelago and Komodo National Park, gourmet meals and beach picnics included.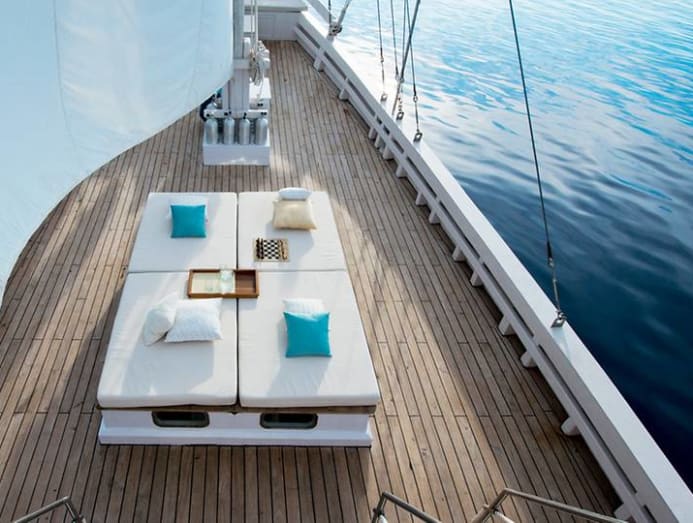 Now all we have to do is to hang tight and wait for the day we can hold boarding passes in our hands and skip quarantines.