HIIT workouts and trampoline acrobatics: Sweat it out at 5 trendy fitness classes
With a slew of trendy workouts making their way to Singapore, it's never been more fun to get ripped, just in time for your summer vacay.
The lights are dimmed, there's thumping music blasting and all around you are toned, trim (and scantily clad) bodies moving to the beat. No, we're not talking about hot new nightclub Marquee at Marina Bay Sands.
Expect this hip, clubby scene when you attend some of the latest group fitness classes in town. While there's always been plenty of gyms and studios to visit for a good sweat sesh, the latest slew of exercise studios are so trendy – both in terms of design and the type of classes they offer – that you'll be forgiven for thinking you've landed in fitness obsessed New York or Los Angeles.
Bebe Ding, co-founder and master trainer at Hollywood celebrity CruBox, a boxing studio which opened on Duxton Road in February, told CNA Luxury that "Singapore is definitely leading in Asia when it comes to fitness. New studios have been sprouting up everywhere lately, with no signs of slowing down."
This month, Barry's Bootcamp, the globally renowned, Los Angeles-founded gym billed to have created the original high intensity workout, will open its first studio in Singapore at Raffles Place. In a nod to the glamour of the city of angels, the Singapore outpost will include luxe amenities such as a smoothie bar for made-to-order concoctions and premium grooming products.
Here are some of the coolest workouts to hold a sweat party at.
BARRY'S BOOTCAMP
Gym bunnies around the world have Barry's to thank for popularising high intensity training. Founded in 1998 in West Hollywood, this workout is said to be the original HIIT class and the chain has since expanded to 55 locations worldwide, including Los Angeles, New York, Milan, London, Sydney and Dubai.
Each one-hour class incorporates interval-based cardiovascular training on treadmills with strength and conditioning exercises using free weights and equipment. Classes are held in the studio's iconic Red Room, featuring dimmed, red lights to get your blood pumping for more intense activity.
While Barry's may have a reputation for ultra-intense workouts, in reality, students are encouraged to exercise at their own pace. But once you get up to speed (this may take regular training to get there), their classes are said to burn up to 1,000 calories in a single session.
BEATX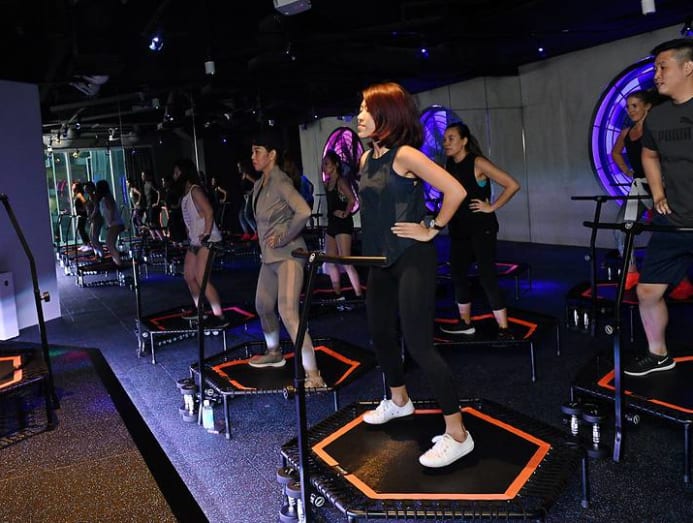 Who doesn't like jumping on a trampoline? That's basically what you will do during a Hybrid Rebounding class at BeatX, which is founded by two Singapore national swimmers, Leslie Kwok and Joel Tan.
Do know that trampoline fitness isn't an aimless hop and skip in a kiddy park. It has become somewhat of a viral sensation, with plenty of YouTube videos of people executing acrobat worthy moves.
But classes here typically start with the basics. An instructor guides students through a series of different jumps like high-knee or in-and-out to be done to the beat of the music. You'll soon realise this requires plenty of core control, leg strength and coordination to execute the moves. Besides getting a great cardio workout from all that jumping and toning your major muscles, the studio says trampoline exercises will also improve your lymphatic system, which helps with reducing bloating in the body.
CRUBOX
Founded in Los Angeles by the Singapore-born Ding siblings – Valerie, Bebe and Calvin – this boxing studio, the sister studio to CruCycle, counts Hollywood celebs including the Kardashians and Hailey Baldwin as fans. The studio is an industrial chic space, with cage-like lockers and fun neon signs for great pre- or post-workout OOTDs.
The 50-minute classes comprise choreographed boxing moves, interspersed with intervals of strength training for a high octane, fat busting workout. Unlike many other studio boxing classes that use water bags, this gym uses authentic sand bags to keep to the spirit of old school boxing training techniques.
Besides the epic endorphin-inducing workouts, what really keeps people coming back for more are the killer playlists that are individually curated by the trainers for every single session. Expect to see themed classes, like Hip Hop or 90s Pop on the schedule too.
HAUS ATHLETICS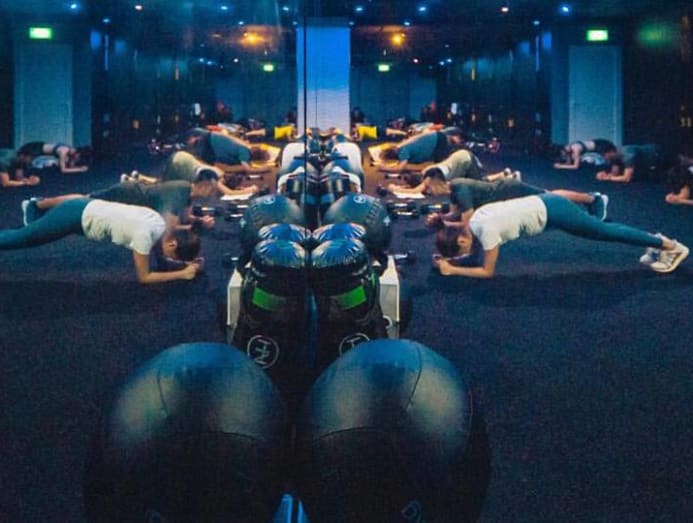 One of the newer HIIT gyms in town, Haus Athletics' dimly lit, clubby studio is a stylish change from some of the more old-school, bare-bones gyms around. Founded by Reagan Kang, a former Malaysian national swimmer and bodybuilder, there are three types of 45-minute high intensity conditioning sessions here – Lean Out to tone the body, Meltdown to rapidly burn fat and Kore for well, the core.
You won't have to worry about operating fancy gym equipment here. Instead the classes typically combine simple but effective gear such as dumbbells, med-balls and sliders with primal body weight movements such as squats and lunges to keep workouts intense yet accessible to all.
HOUSE OF ASCEND
In the quest to get a toned six-pack, it is also necessary to incorporate recovery sessions into one's fitness regimen. To help with relaxation, why not try sound healing, a popular wellness therapy that has been popularised at many music and wellness festivals around the world?
Practitioners believe that sound therapy, where an instructor plays on instruments such as gongs and singing bowls to create sounds and vibrations, helps to soothe the listener both physically and mentally.
House of Ascend offers a range of sound healing classes, some of which includes yoga postures, to help restore balance to the body. It may sound a little new age-y but many who have tried it love the benefits of sound healing, so if you are feeling particularly #sorefordays, it might be worth giving this a try on your rest day.