On the hunt for truffles in Italy – and where to find them in Singapore
From adorable dogs sniffing through the chilly hillsides of Piedmont to three-starred dining in Alba and Italian eateries in the Lion City, we embark on a heady truffle odyssey seeking out "white gold".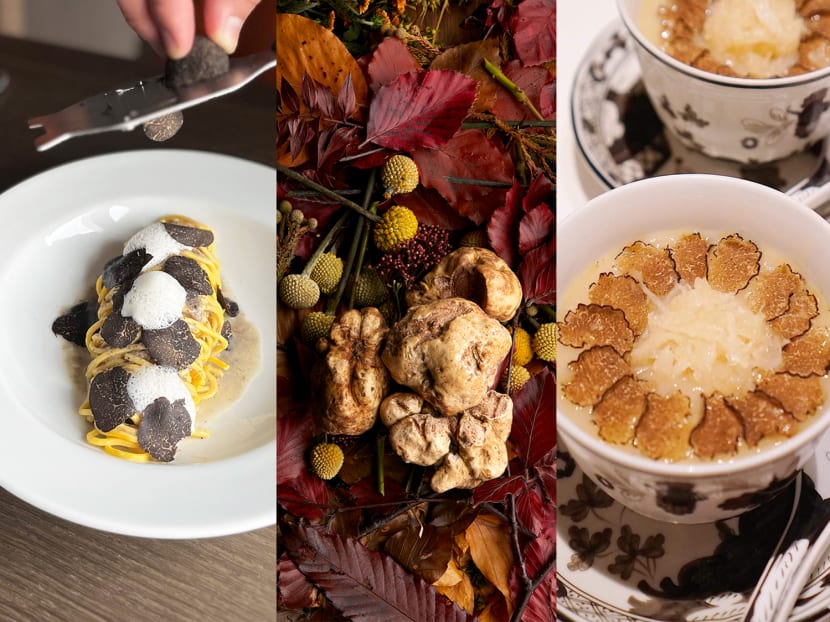 Zara, Blu and Chiria are three elegant Italian ladies with a keen nose for the finer things in life – wild truffles. Blu and Chiria are Spinone Italiano, a breed of hunting dogs with dense white fur, an affectionate disposition and calm temperament. Zara, a border collie, seems more interested in playing and wandering off on her own little adventures through the gently rolling 11-hectare land belonging to Renato, a 57-year-old farmer who looks younger than his years.
Even in the biting cold of winter, it's a beautiful spot, a few miles south of the town of Bra in Italy's Piedmont region. Underfoot were damp leaves and bare branches, save for some ivy-clad trunks towering above us. Renato used to run a sportswear shop but a few years ago chose to change tack completely and now single-handedly raises 80 goats around his cosy farmhouse, producing some of the finest and freshest goat's cheese you'll ever taste.
He also trains his three beautiful and loyal dogs to sniff out black or white wild truffles around his land, which slopes gently down to the river, providing ideal soil conditions. Anything he finds, he either keeps to treat himself or occasionally sells in the truffle markets that dot the region and then finish up in high-end restaurants around the world.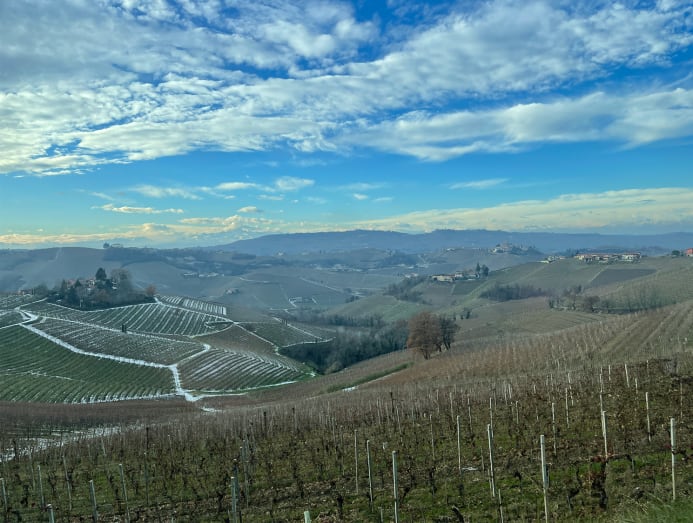 Luckily, the timing of our visit was impeccable as just a couple of hours later, heavy snow fell for the first time in the winter, all but completely masking the scent of truffles for even the keenest of noses. Not that we were expecting a bumper crop as it was comparatively late in truffle season.
Also, unlike many truffle hunting experiences in Italy, this was no staged affair. No truffles were hidden away, to be miraculously unearthed by dogs within a few minutes of starting your "hunt". Renato also has no need or interest in letting visitors join his truffle hunting – I just lucked out through a local contact who happens to love his cheese and became friends. Renato explained why he loves truffles: "You can smell the terroir in them! I prefer them shaved over sunny side up eggs. Truffles need fat for the flavour to come out."
Blu and Chiria, their long noses lowered constantly just above ground level, quietly sniffed and occasionally pawed the soil. They investigated for around 20 minutes under fallen tree trunks and in ditches, in foxholes and under bare cherry trees – but to no avail. But then suddenly excitement and volume filled the air as Blu had found the scent of something – and knows that a treat awaits her and her sister.
Renato investigated the spot, crouching and then gently scraping at sandy soil with his special curved blade on the end of a wooden stick. The fabled prize, a black truffle, was found and then tails started wagging furiously as the dogs get their treat and Chiria stood up, paws on Renato, almost matching him in height as she showed her pride and affection at her discovery.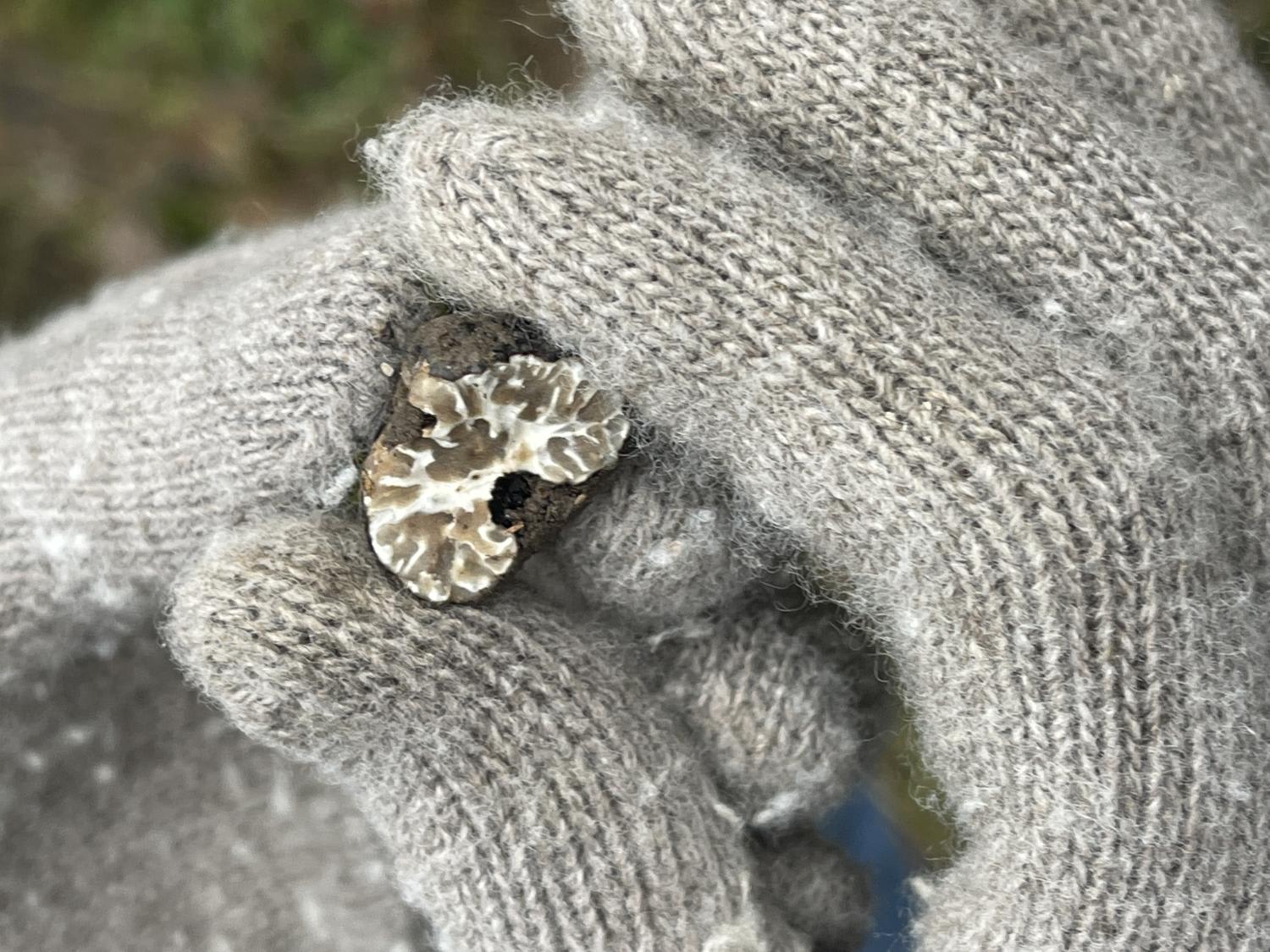 It was a beautiful moment, but clearly not a truffle which will make Renato wealthy. In fact, there was barely enough of it to shave over a boiled egg – but it's real, wild and Chiria and Blu were as thrilled as if it was a 400g monster worth thousands.
Finding truffles is one thing, but selecting the best and knowing how to make them sing is another entirely. Few Italian chefs are as qualified in both areas as Enrico Crippa at the three Michelin-starred Piazza Duomo restaurant in the picturesque ancient town of Alba, known as the world capital of truffles.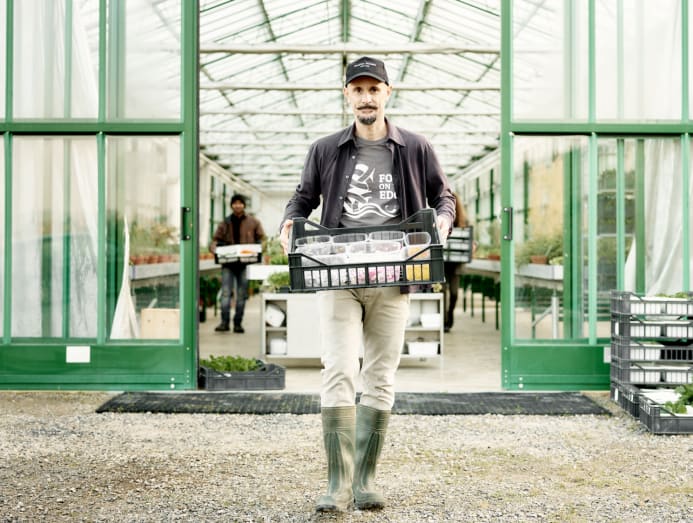 His remarkable resume speaks volumes about the curiosity, open mindedness and dedication which have let him reach the culinary pinnacle and gain a reputation as a "chef's chef" – namely one that all in the industry look up to.
After a diploma in hotel management, he apprenticed at the age of just 16 under the legendary chef Gualtiero Marchesi known as the founder of new Italian cuisine. Crippa worked at his restaurants in Kobe and Osaka, staying in Japan for three years, while French culinary titan Michel Bras was another mentor.
The year 2023 marks 20 years since he met the Ceretto winemaking family, with whom he opened Piazza Duomo in Alba. He won his first Michelin star in 2006, his second in 2008 and third in 2012, a distinction he has held ever since.
Crippa's greatest culinary pride and joy is clearly his three-hectare garden – wholly organic since 2003 – which grows a mind-boggling array of produce that he teases into stunning dishes.
One of his most famous is Salad 21, 31 ,41, 51, a salad that features your choice of those four numbers of entirely different ingredients. It's a brilliant demonstration of the versatility of vegetables and perfectly reflects the incredibly rich soil and terroir of this region that overlooks the hills of Barolo, the legendary winemaking region.
But understandably, one ingredient that almost every diner looks forward to, are truffles. He explained: "Truffles here are needed, it's part of our culture and the story of this town. Working with truffles you must respect tradition. Customers don't ask for innovation with truffles, they only want the classics. From the point of view of a chef, black truffles actually give more satisfaction, in sauces and fillings. But the white truffle is so iconic as it cannot be preserved or cooked in other ways. Its limits are actually its power."
It's a fascinating insight and underlines their almost mystical quality, one that bewitches diners with their musky, earthy aromas. Provenance and condition are everything, given the famed fungus' frustratingly transitory life. "A truffle is alive, it can be good for a maximum of two weeks if freshly picked, but the trick is to be able to predict if the green colours will develop. You check the skin, the consistency, the colour, the weight. It's like ageing a cheese, you never quite know what will happen – sometimes, you don't even need to smell it. You need years of experience."
The 36-cover Piazza Duomo defines Italian elegance with its mural by Francisco Clemente and works by a remarkable line-up of contemporary artists. Another masterpiece, this time on Crippa's menu named The Journey, is the unforgettable Potato Cream.
The cream in question comes from local Alta Langa potatoes and covers a quail egg that has been marinated in Lapsang Souchong tea – and then topped with a blizzard of white truffle from a specimen weighing in at a cool 150g. Crippa later explained that the dish is, in part, his homage to century egg. "It represents a connection with Asia, as the flavours of the tea create real atmosphere," he shared.
Dinner at Piazza Duomo is a true culinary tour-de-force and reconfirms that it – and Alba – is a must-visit for gastronomes visiting Italy. But Crippa now has another location to show his skills, as his first international restaurant has just opened, ALBA by Enrico Crippa at Raffles Doha, in Qatar. The hotel's astonishing architectural statement on the capital's skyline is set to be matched by Crippa's signature dishes – and yes, truffle will definitely be on the menu.
Alba boasts plenty of other opportunities to immerse yourself in the heady world of luxury tubers. Foremost among them is the annual Alba Truffle Fair that runs from October through December, a sensory overload as truffle hunters descend to sell their wares in what is undoubtedly the world's most fragrant marquee.
Elsewhere, Tartufi Ponzio has been in business in Alba since 1947 and has played a key role in the global growth and love of truffles. In addition to fresh truffles, its shop and online store sell spreads and truffle scented potato chips, oils, pastas, risottos and more.
Then Tartufo Regale is the brainchild of Chef Ugo Alciati at one Michelin-starred Ristorante Guido. The truffle ambassador – that's a title we'd love to share – has created an ingenious sweet treat made entirely from the finest chocolate and hazelnuts, but crafted to look identical to a black truffle. It can even be shaved perfectly.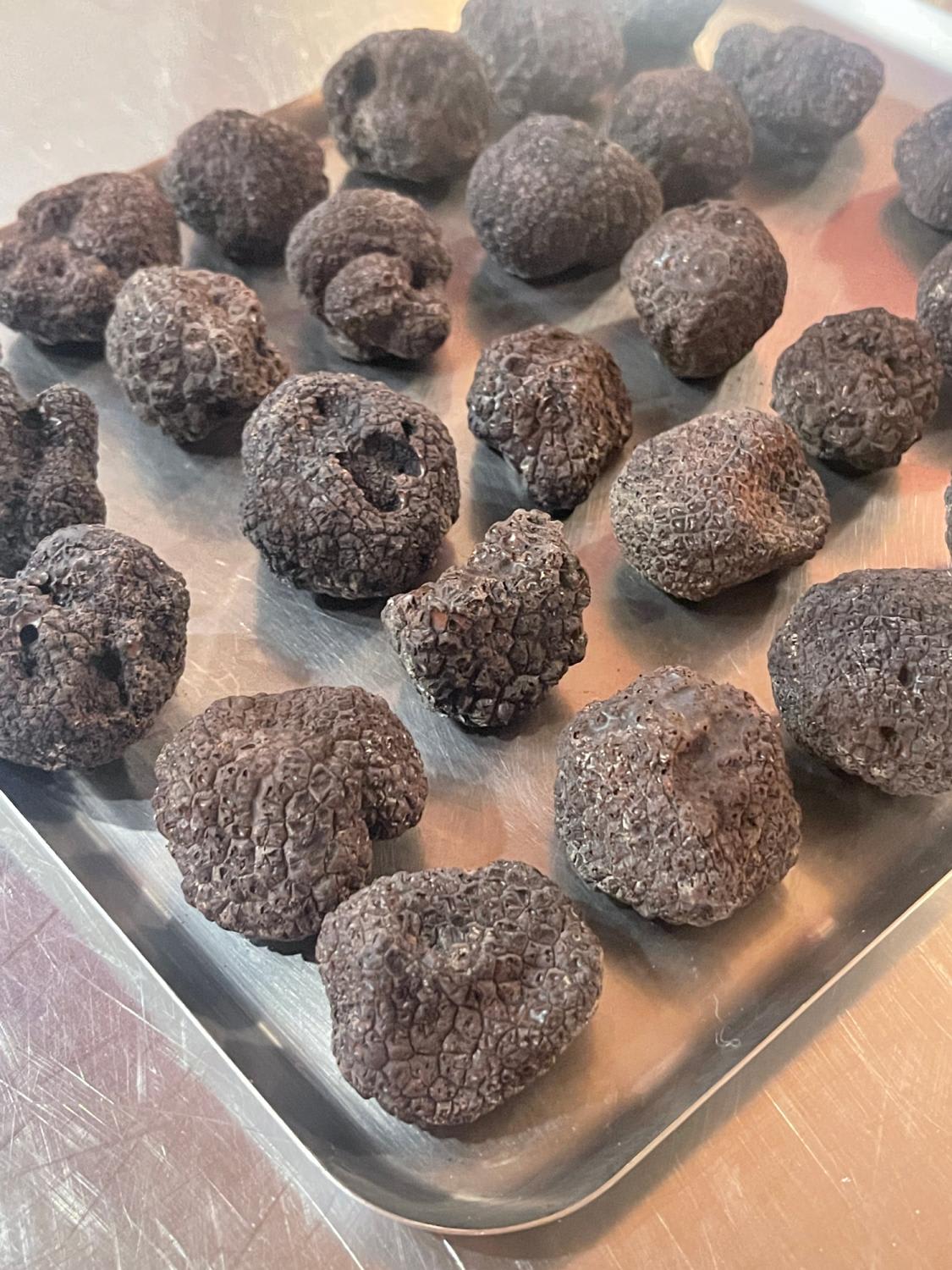 The brilliant Giolito Formaggi, a cheese ager and artisan in the town of Bra, a short drive from Alba, is definitely worth a visit. In business for more than a century, they sell more than 150 cheeses, have a cheese museum and let you visit their ageing rooms where the charming and charismatic owner Fiorenzo plays classical music to his cheeses.
One thing he doesn't recommend, however, is truffle cheese: "It doesn't work! It's only for tourists!"
WHERE TO FIND TRUFFLES IN SINGAPORE
The season of Italian white winter truffles is now upon us and there are plenty of options to try them. Here are a few. 
SUMMER PAVILION, THE RITZ-CARLTON, MILLENIA SINGAPORE
Chef Cheung from Summer Pavilion at The Ritz-Carlton, Millenia Singapore crafts a braised superior bird's nest soup with winter truffle and minced chicken. Inspired by his travels in Italy, it marries east and west as the winter truffle adds depth to the soup and enhances the umami.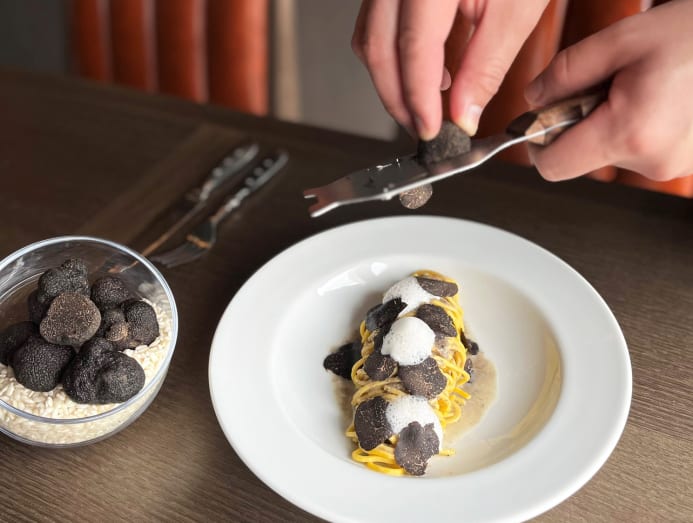 Premium steakhouse 665°F specialises in prime meats but also crafts impeccable pastas and their handmade tagliolini come with winter truffle and an emulsion of Parmigiano Reggiano cheese. Another dish celebrating Italy comes with risotto with lightly torched Hokkaido scallop, braised chanterelle mushrooms, then topped with shaved winter truffle.
OSTERIA MOZZA
Nancy Silverton's flagship restaurant in Singapore, Osteria Mozza is home to brilliant cuisine that marries California and Italy and the menu currently features two stellar truffle dishes. A delectable entree of Fonduta Ravioli comes with white Alba truffle and 25-year-old Italian balsamic vinegar, then black truffle from Perigord in France adds unique aromas to their Bianca pizza with sage and cheeses.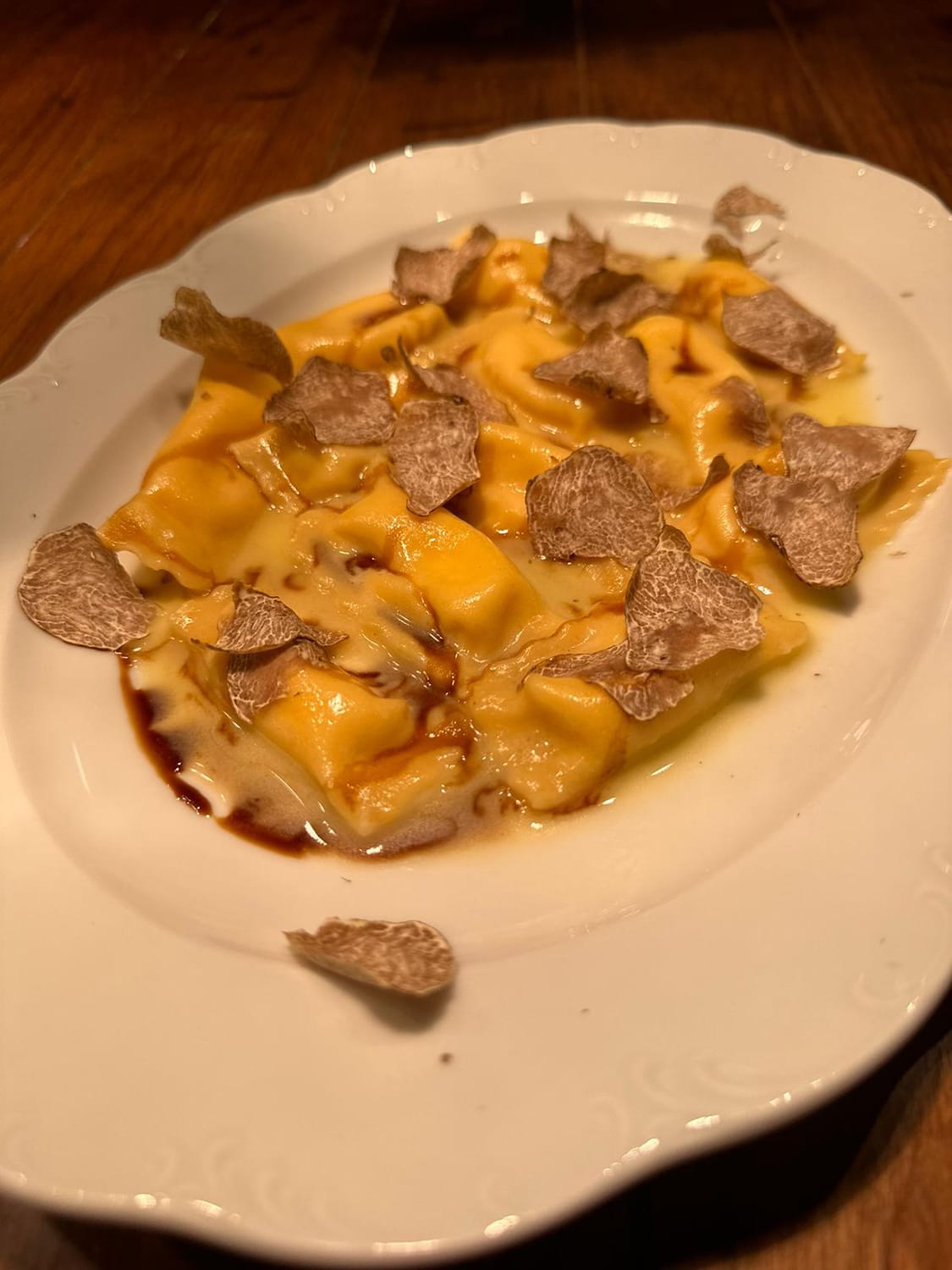 Chef Julien Royer at three Michelin-starred Odette is a master of crafting the world's finest ingredients and white truffle features across the menu when in season. One current iteration of the beauties from Alba comes with a stunning ravioli of langoustine, served with a leek fondue and vin jaune.