Unique ways restaurants are practicing safe distancing, around the world
From glasshouses to plastic pods, here are the weird and wonderful ways that restaurateurs are adopting to keep patrons safely apart.
Here in Singapore, dine-in restrictions have been lifted since June 19, which means that you can now head to restaurants for a meal with family or friends (with a maximum of five people, of course). Though the lifting of dine-in restrictions is welcome news for local restaurateurs, safety measures, in particular safe distancing, are an important consideration.  
For Singapore restaurants, ensuring safe distancing means spreading tables further apart, and even reducing the number of tables. At one Michelin-starred Alma by Juan Amador, tables have been placed 1m apart. "Given the ample space at Alma, tables will comfortably sit at more than one metre apart. Each table will seat a maximum of five pax," a spokesperson at Alma shared.
Over at Buona Terra, the one Michelin-starred restaurant has had to reduce tables by 10 per cent to comply with the required 1m safe distancing regulation. "The space is designed like a home with its warm and intimate setting, so even with appropriate distancing, the restaurant still feels cosy," a spokesperson at Buona Terra said.  
Overseas, however, restaurants have found weird and wonderful ways to ensure diners keep a safe distance away from each other. Here's a look at some of them.  
CARDBOARD CUT-OUTS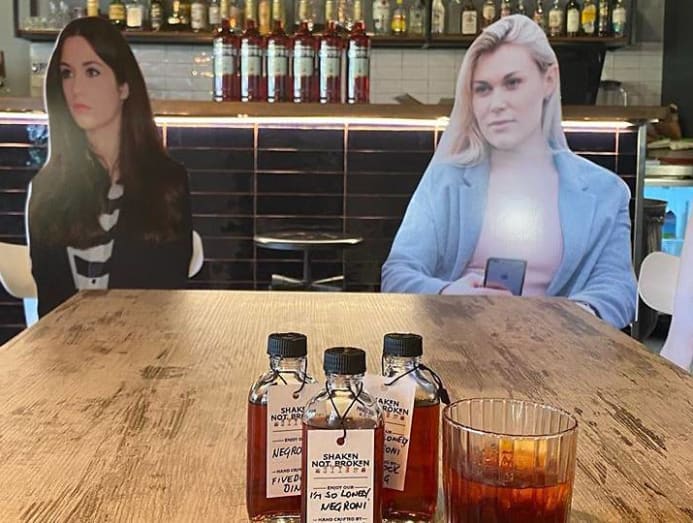 With cities imposing limits on the number of people that can dine in, Five Dock Dining in Sydney, Australia, has found an ingenious way to make the restaurant look less empty, and diners feel less lonely.
Cardboard cut-outs have been placed in empty chairs, and the restaurant has even gone the extra mile to play background chatter to make the place seem busier. In a Facebook post, the restaurant said, "It's all about having a laugh and making the most of our situation."
POOL NOODLES
Did you ever imagine that one day, people would be dining while wearing pool noodles on top of their heads? Patrons of Cafe Rothe in Germany are doing just that.
When the cafe reopened after lockdown restrictions were lifted, it had its customers wear hats with pool noodles to ensure a safe distance between them. The cafe's owner, Jacqueline Rothe, acknowledged that it was a silly method to get the job done. "In these difficult times, it's a pleasure to make others smile," she said.
DINING IN A GLASSHOUSE
Safe distancing doesn't mean compromising on aesthetics, a restaurant in Amsterdam believes. At pop-up restaurant Mediamatic ETEN, which specialises in vegan-friendly food, patrons dine in intimate, elegant-looking glasshouses.
The glasshouses "create a safe and intimate home for partners to reconnect with the outside world at their own leisure," the restaurant wrote on Instagram. Situated by the water, they also give diners a serene and romantic view, especially at dusk.
DRESSED UP MANNEQUINS
Genius or just plain creepy? A couple of restaurants around the world are using mannequins as stand-ins for customers. One of which is The Inn at Little Washington, a three Michelin-starred restaurant in Virginia, US. Here, mannequins, dressed in 1940s-style clothing, have been spread across the restaurant. Just in case the mannequins get thirsty, restaurant servers will even fill up the wine glasses placed in front of them.
PLASTIC SHIELD PODS
Here's something a little less wacky. At HAND restaurant in Paris, clear plastic cones, suspended in the air, have been installed to keep patrons safely away from one another.
The plastic shields are a prototype called Plex'Eat, created by French designer Christophe Gernigon. The shields allow patrons to share tables while dining together, while potentially preventing the risk of any airborne infection. After all, it's a little difficult to eat while wearing a mask.
PANDA PLUSHIES
In Bangkok, Vietnamese eatery Maison Saigon has introduced a cuddly companion to the dining experience. The restaurant has added glass partitions tables, along with panda plushies to keep patrons company as they dine in.
The restaurant already had the plushies on hand for entertaining children, and now with safe distancing measures introduced, the pandas now have an added task to their job description.