In Australia, you can enjoy a winery experience without leaving the city
A breed of urban wineries in Australia are making commercial winemaking in the concrete jungle an exciting reality. Plus, you can make your own wine, too.
Basements always hold secrets. Five years ago, Cam Nicol moved into a house in the Melbourne suburb of Thornbury and discovered an open concrete fermenter in his basement. Apparently, it had belonged to the previous tenants, an Italian couple, who had lived in the house for 20 years. They had built the tank so they could make wine at home and enjoy it with their friends and family.
Instead of getting rid of the fermenter, Nicol decided he should carry on the tradition. He invited a couple of his old school friends, stomped some grapes, and fermented his first batch of wine. One of his partners in crime was Alex Byrne, a winemaker. Several pop-up events and bottling parties later, the pair opened Noisy Ritual – the first urban winery in Melbourne – in 2016. The winemaking facility occupies a warehouse on Lygon Street.
"Once the grapes are harvested out in the country, the rest of the process can happen anywhere, so why not set up an operation where lots of people can have access to it?" said Nicol.
Today, Noisy Ritual makes 24,000 bottles of year and 12 different labels. The wines are fermented in individual picking bins with wild yeast, and then matured in oak barrels for about six months. The grapes are sourced from winemaking regions in Victoria such as Geelong, Heathcote, Sunbury, King Valley, and the Grampians. "Our aim is to showcase the diversity on offer throughout Victoria's wine regions, which is made easier by our central location and the fact that we are not tied to a single region," he said.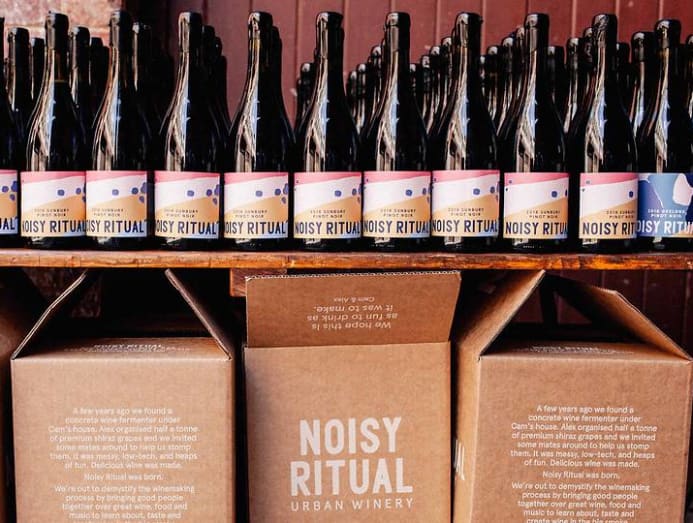 "[With an urban winery], proximity to our customers is the main advantage," added Nicol. "We are able to run a bar, a cellar door, and an events space. While nothing beats a weekend out in the country, people appreciate the opportunity to have a winery experience without leaving town."
The urban winery concept of taking winemaking beyond the ambit of the wine country and into the city isn't exactly new: New York was on to it several years ago, with players like Brooklyn Winery and City Winery injecting their brand of cool into wine appreciation and winemaking with their alchemy of wine, live music, and parties.
In a wine-rich territory like Australia, Noisy Ritual's entry into the urban winery club seems a little overdue, but then again, trends take time to trickle down into the Southern Hemisphere and across the great swathe of land that is Australia.
Still, better late than never. Since Noisy Ritual's arrival, urban wineries have popped up in other cities. New South Wales-based winemaker, Alex Retief, opened Urban Winery in an old warehouse in Sydney's St Peters neighbourhood in 2016, before moving to the Entertainment Quarter in Moore Park last year. The winery is considered Australia's first large-scale urban winery, working with 50 tonnes of grapes every year.
In South Australia, Oddio (a play on the Italian words O Dio! or Oh my god!) – a collaboration between Greg Grigoriou of Delinquente Wine Company and Steven Crawford of Frederick Stevenson Wines – rigged up its fermenters in a former Methodist church located in the outskirts of Adelaide last December. Queensland got its own urban winery in March this year when Dave Cush, who was making wines in Tasmania, returned home to Brisbane to set up City Winery Brisbane.
Cush noted that unlike Adelaide, Melbourne or Sydney, Brisbane does not have a major wine region on its doorstep. "Although the Granite Belt and South Burnett are significant Queensland wine regions, most Queenslanders don't know how great their wines are," he said. "By bringing the winery, cellar door and restaurant concept to the city, we have made it easy for wine enthusiasts and novices alike to enjoy the experiences a winery venue can offer." The winery also sources some fruit from South Australia.
Customers at the city wineries don't just get to drink wine and chow on local fare. With the exception of Oddio, the urban wineries also let you blend and bottle their own wine, an activity that encourages group participation from friends, family or colleagues.     
City Winery Brisbane's blending workshops are available to groups as small as two, and up to groups as large as 60, although it is possible for an individual to participate. For the workshop, Cush lets you blend three different McLaren Vale Grenache wines made from varying amounts of whole bunches during fermentation: Fully destemmed, 50 percent whole bunch, and 100 percent whole bunch. (In winemaking parlance, whole bunch refers to a cluster of grapes with stems intact.) The three wines "are quite different and offer some good learning opportunities and discussions".
At Noisy Ritual, Nicol and Byrne organise an annual, nine-month winemaking experience, which requires membership. Members start by stomping freshly harvested grapes before fermentation, and then pressing the wine must to separate the juice from the solids. The wines are then stored in barrels for ageing. At the end of the year, members bottle them up with a "bottling party" to celebrate the end of the process.
"The blend is overseen by our winemaker Alex, and quality is paramount so people are contributing towards that wine and learning from the process, rather than creating their own blend per se," remarked Nicol. "Our members receive six bottles of wines at the end of the year, and also get discounts on any more they'd like to purchase as well. Our aim is to demystify the winemaking process by encouraging people to actively participate in the process of making it." 
Over at Urban Winery, blending gets a little competitive. Participants are separated into small groups and taken through six single variety red wines with Retief. Each group is given measuring cylinders and half an hour to rustle up their own blend, which can involve, for example, mixing Shiraz, Merlot, Petit Verdot, and Tempranillo. The blends are then blind-tasted by everyone and the winning blend is decided on the day. If you are looking to take your client to a corporate wine retreat, perhaps this is most fitting. But don't blame us if nobody likes his or her blend.