Love in the time of coronavirus: Valentine's Day plans still going strong
Businesses across the island have been hit hard since Singaporeans have taken to hunkering down at home. But, apparently, we are making an exception for Valentine's Day.
Love, as the old trope goes, conquers all… even fear of the coronavirus, if restaurant reservations for Valentine's Day are anything to go by. While some F&B establishments – particularly those in high tourist traffic areas such as Resorts World Sentosa – have reported an up to 80 per cent drop in revenue in the last few weeks, it seems adoring couples are willing to put aside their concerns to celebrate their love with a meal come Valentine's Day.
Restaurants contacted by CNA Luxury reported healthy reservations for Feb 14. Establishments like urban microbrewery Level33, Italian fine diner Forlino, and French bistro L'Entrecote are almost fully booked, while others like Tablescape at Grand Park City Hall have been booked out.
"With the current coronavirus, we have seen a few cancellations due to the worsening situation," said Vadim Korob, Operations Manager of Zafferano Italian Restaurant and Lounge. "But the majority of the bookings are still going ahead."
Olivier Bendel, CEO of Deliciae Hospitality Management, whose restaurants include Forlino, L'Entrecote and BTM Mussels and Bar, added: "While we are heartened by the healthy number of reservations for Valentine's Day at our restaurants, we are still concerned about no-shows."
GOOD, CLEAN FUN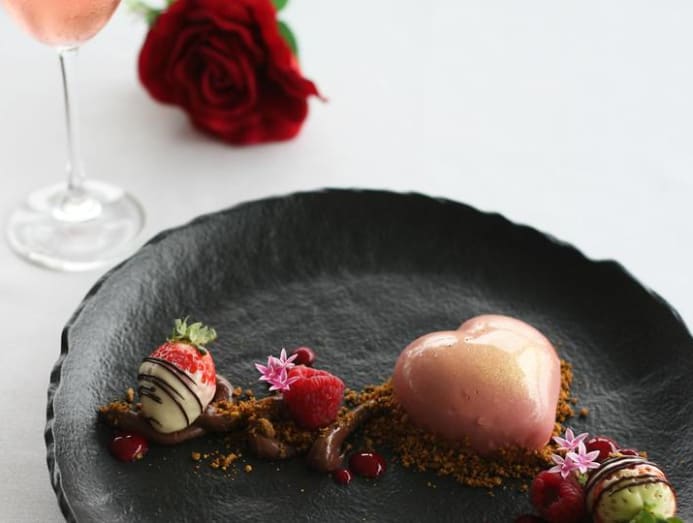 To ensure diners enjoy peace of mind with their meal, restaurant owners such as Bendel and the 1-Group, which has outlets including The Alkaff Mansion, Monti and Stellar at 1-Altitude, are taking extra precautions such as temperature checks for staff and placing sanitisers at traffic touchpoints across their outlets.
At Level33, toilets are sanitised every half hour, with a logbook specially set up for stewards to record this procedure. Tables and menus, the latter an oft-overlooked item, are sanitised with alcoholic solution after every use.

LOVE IS HERE TO STAY
While most hotels declined to comment on staycation bookings for Valentine's Day, many are still offering packages to entice Singaporean couples to spend the weekend with them.
At Grand Park City Hall, the staycation package for between Feb 8 and 16 comes with a complimentary bottle of Prosecco, a basket of fresh strawberries in the room, a five-course Valentine's Day dinner for two at Tablescape, and breakfast in bed.
The hotel has stepped up precautions, with a temperature screening station at its concierge counter to screen everyone before entering the hotel, and masks and sanitisers readily available throughout the establishment. At Park Hotel Clarke Quay, guests are required to fill a health declaration and contact tracing form as well.
"The raised [Disease Outbreak Response System Condition level] from yellow to orange has put a dampener on Valentine's Day bookings," admitted Kieran Twomey, Group Chief Operating Officer of Millennium Hotels and Resorts. "However, our hotels are still receiving enquiries on our Valentine's Day dining and room packages."
The group's regional Valentine's Day package offers a 30 per cent discount on suite rooms in its hotels, which include Orchard Hotel, Grand Copthorne Waterfront and M Social.
Echoing a sentiment shared by many in the hospitality and F&B industries, Park Hotel Clarke Quay's General Manager Dino Lim said, "The current situation has made everyone very intense and concerned. We hope that this Valentine's Day, our guests can take a breather and immerse themselves in the celebration of love. It's about celebrating moments and the fact that life goes on despite its occasional challenges."