Restaurants all booked out for Valentine's? Consider these nifty alternatives
With Valentine's Day coinciding with the Chinese New Year long weekend this year, the city's hottest restaurants are booked solid. What to do with your paramour, then? Here's what we're planning.
We may have been warned to beware the ides of March, but when Valentine's Day falls on the third day of Chinese New Year – especially when everyone's in town and has an excuse to eschew visiting – it's really the ides of February that one must navigate carefully.
Sure, Valentine's Day is an invention of the Hallmark ilk, but societal expectations have turned it into an occasion of importance, especially for lovers who take their significant others for granted and chase it with a healthy dose of guilt.
In that respect, bigger gestures are just so much better.
Instead of booking a table in a restaurant, book out the entire venue (but good luck 'cos the good ones, like lovers, are all taken). Plan that trip of a lifetime (for when borders reopen). Or surprise them with a serenading band (virtually, of course). If all else fails, here's what we recommend. 
BOOK A STAYCATION
Valentine's Day staycations come with plenty of romantic options, like a two-hour motorcycle sidecar ride around Singapore's colonial enclaves when you book with Park Royal Collection Pickering.
At Amara Sanctuary Resort Singapore, there's a romantic couples suite with direct access to the property's infinity pool and jacuzzi, while at Hotel Fort Canning, a Dawn of Romance Staycation package features champagne, dinner and a couples' treatment at Chinois Spa.
CHARTER A YACHT
Few things are more romantic than taking to the high seas (it's as far away as you're going to get away from the city), just the two of you. One°15 has a Valentine's Day package that comes with a romantic dinner for two and a stay at One°15 Marina Sentosa Cove.
Yacht charterer m-Barq offers customised experiences, from day cruises with activities like jet-skiing and kayaking to night outings with a barbecue at a special location. To make it extra special, try hiring your favourite chef to feed you on board your yacht for the evening.
CREATE YOUR OWN GOURMET PICNIC
The country is our oyster and romantic spots abound, even if they are more popular now than they've ever been. Public reservoirs, beaches, parks and gardens are there for the taking – just pick a spot and make it yours.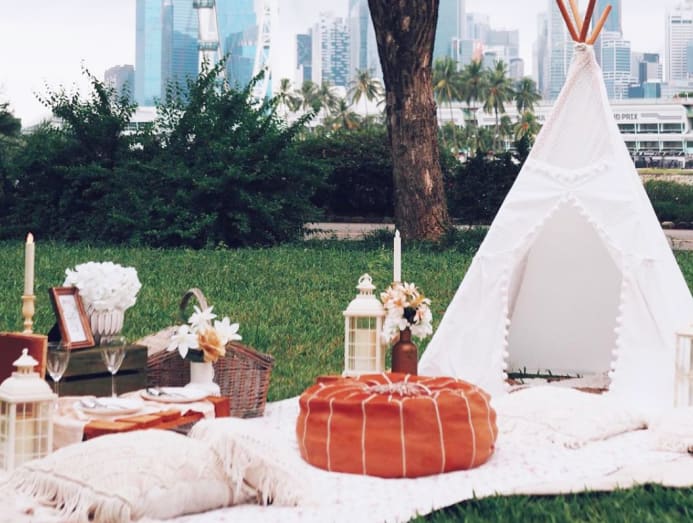 Thanks to the culture of documenting life's picture-perfect moments on social media, picnic specialists like Picneeds, Pie in the Sky Picnics and The Duo Planner have blossomed in recent years. Fairy lights, themed tents, table designs, menus, plush cushions, ice buckets – they've got them all. All you have to do is plot, pay and show up.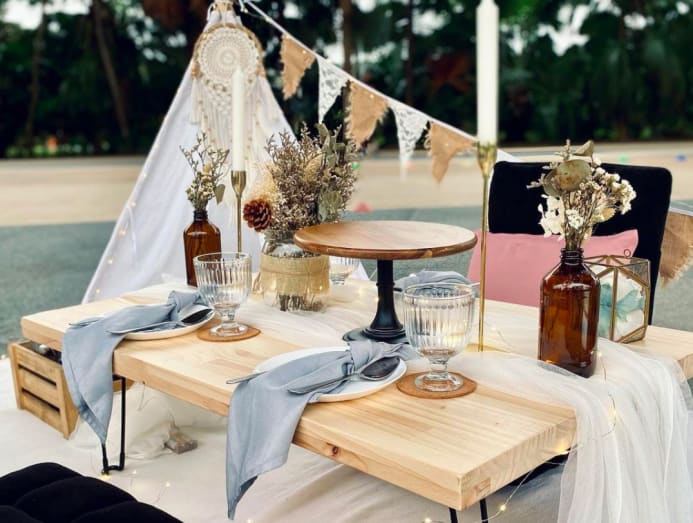 STAY HOME AND ENJOY A GOOD MEAL
Reservations at hip, hot restaurants like Burnt Ends and Lucali BYBG are notoriously difficult to procure.
So it's a good thing that just for Valentine's Day, Lucali has made its much-talked-about pizza available for delivery as part of its Get Some Kit. For S$300, you get said pizza, pasta, a salad, chocolate truffles, a half bottle of champagne, a bottle of L.A.S. Vino x Lucali red wine, a candle, music playlist and blindfold for good measure.
If your better half has been jonesing for a reservation at the likes of Burnt Ends, having signature dishes like its king crab legs in garlic brown butter and steak tartare with caviar delivered to your doorstep might win you major brownie points.
TAKE TO THE SKIES
Sailing 100m above sea level and gazing at breathtaking views of the glistening harbour below is as good as you're going to get to flying for a while.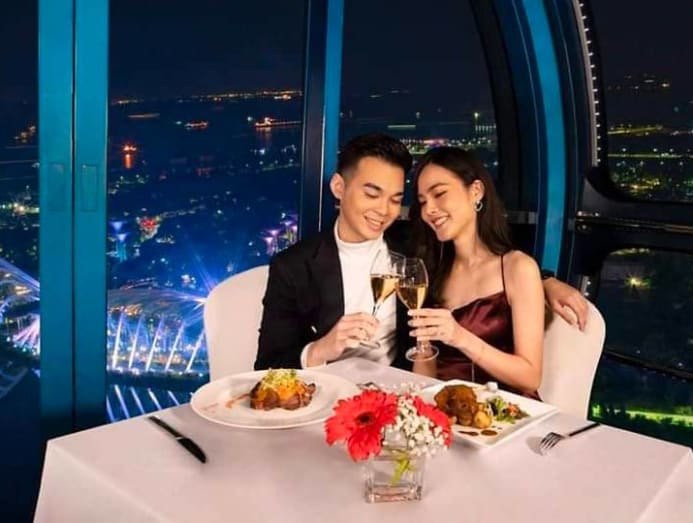 Might as well make the most of it with a 90-minute, four-course dinner in a Singapore Cable Car that includes a filet mignon wrapped in Parma ham or pan-seared lobster.
The Singapore Flyer has dinner options too. Though Valentine's Day slots are now sold out, there are available slots the week before and after.