Where to find everything that's great about French gastronomy in Paris — in plant-based form
The ultimate guide to vegan Paris.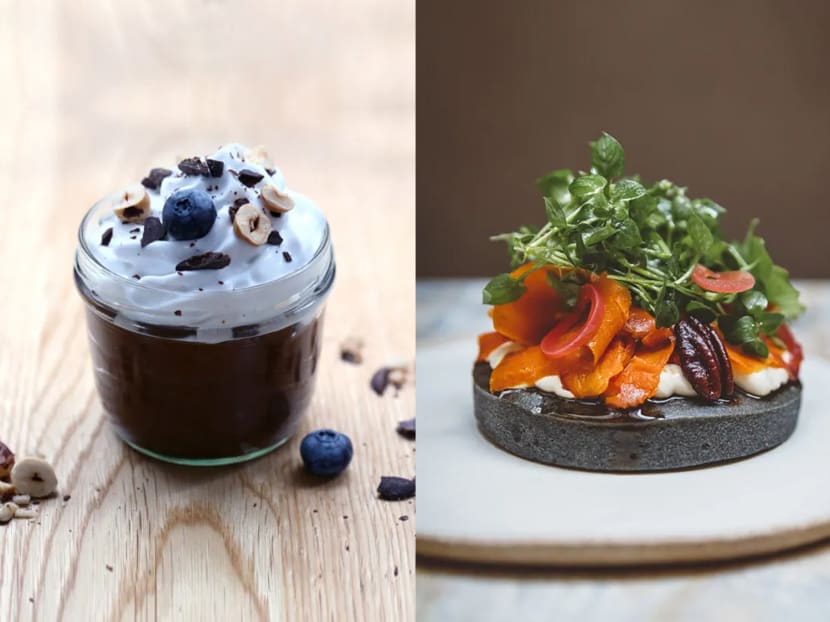 Hosting visitors in Paris is usually a painless experience. Most are delighted to simply walk around, eat food and drink wine. But when a vegan friend came to see me from London, I felt out of my depth. The ubiquitous buttery pastries, cheeseboards and steak tartares were definitely not going to cut it.
The French are understandably defensive about their gastronomy. It is so central to their identity and renowned globally that the Unesco has awarded it World Heritage status. Unfortunately for my friend, they have been equally resistant to the growing trend of vegan cuisine as they are protective of their own.
This defiance takes many faces. When I interned at an independent French magazine, my boss despised vegans so much that he banned us from writing about their restaurants. Last year, the Green Party mayor of Lyon sparked outrage when he proposed introducing meatless meals to school canteens. Farmers driving tractors stormed the city hall in protest.
It's not just pride: Many French people see veganism as an existential threat that could jeopardise jobs and alter the country's social fabric. France is Europe's biggest beef and second-largest poultry and dairy producer. Regional specialities such as charcuterie and cheese are tied to centuries-old traditions and are often protected by state regulation.
Food, however, has a way to bypass borders and keep up with the times. And so a niche but ambitious new breed of Parisian chefs have made it their mission to marry the best of French culinary traditions with plant-based cuisine. Below are some of my favourite bakeries, restaurants and even fromagers for vegans in the eternal food capital of the world.
LAND & MONKEYS (11TH ARRONDISSEMENT), 86 BOULEVARD BEAUMARCHAIS, 75011 PARIS AND BRANCHES ACROSS THE CAPITAL
Good for: Breakfast or a mid-afternoon snack
Not so good for: Sitting down — the picnic tables aren't the cosiest
FYI: The bakery is such a hit that it now has six stores in Paris
Forget the bizarre English moniker: Vegan bakery Land & Monkeys is resolutely French. From crispy, airy baguettes to cakes and colourful pastries, it has plenty of enticing options to choose from.
As a French native and reformed vegan-sceptic, the real test for me was the croissant, which I tried on my first visit. Made with plant-based butter and chickpea water, it felt as buttery and flaky as the real deal. I could have been fooled were it not for an unusual hint of saltiness. Still, I was blown away by how subtle the difference was. The tarte au citron was also delightful with its eggless-meringue top. It had just the right ratio of zesty dairy-free citrus cream to crumbly shortcrust pastry and sweet fluffy meringue.
The Boulevard Beaumarchais branch is a short walk away from the stunning Place des Vosges in Le Marais. Have your pastries to go and head there with a book; it's beautiful all year long. The store opens at 7.30am (8am at the weekend), so I often add an oat-milk latte to my order to start the day.
MESA DE HOY (9TH ARR), 68 RUE DE MARTYRS, 75009 PARIS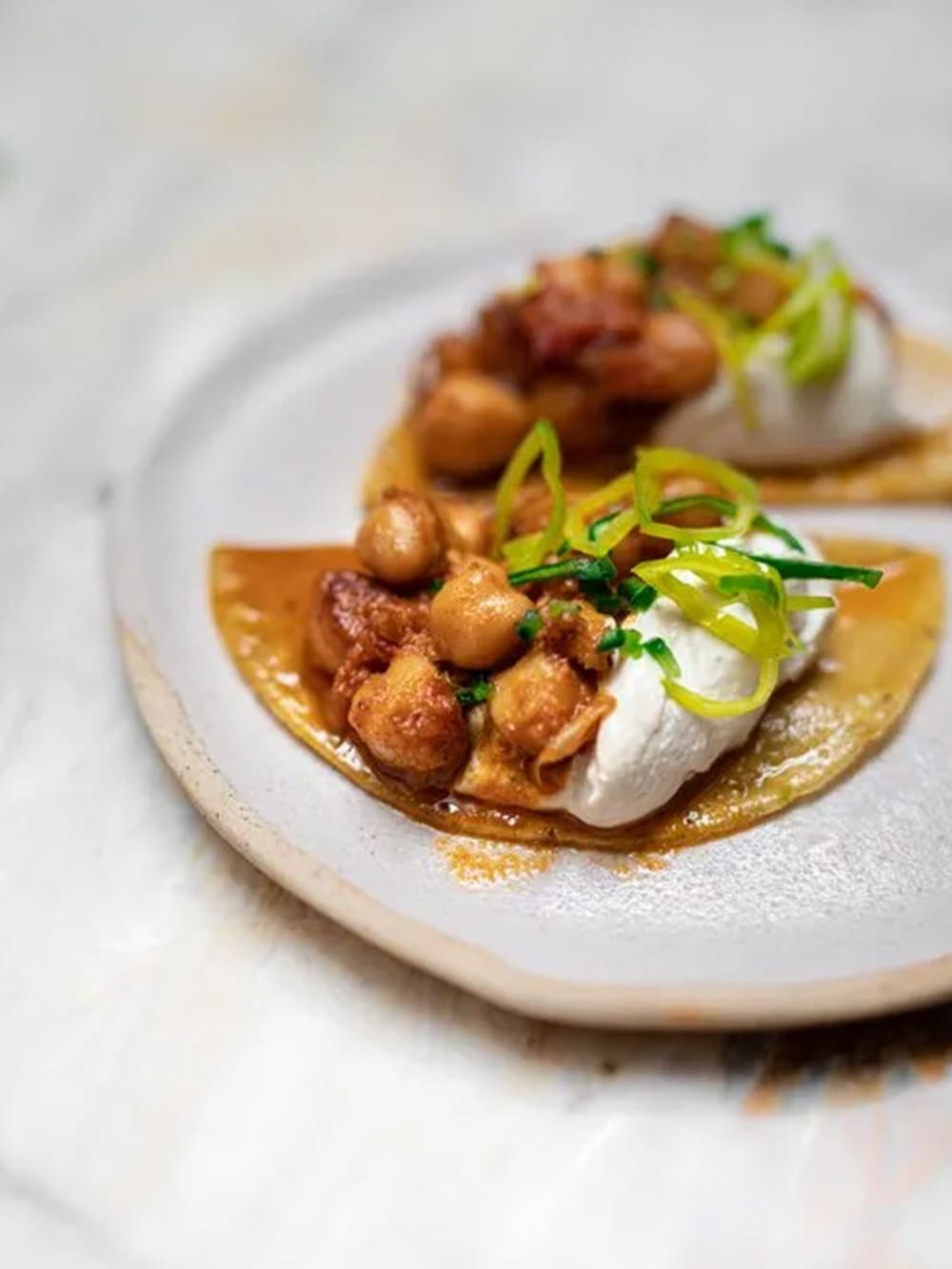 Good for: An intimate tête-à-tête
Not so good for: Big groups
FYI: The restaurant is part of a wellness hotel that offers yoga and meditation classes. The only dinner option is the €55 (S$79) set menu
The stylish Hoy hotel is located on Rue des Martyrs, on which there are more than 200 independent shops and restaurants. I ventured inside the hotel, into its flower shop and towards a hidden dim room with a hushed atmosphere: Mesa de Hoy, the hotel's vegan restaurant. My friend joined me and we started off, as one should, by following the sommelier's advice. She brought us a bottle of Les Valseuses Fleur Tropicale, an orange wine from the Jura, the mountainous region buzzing with natural wines.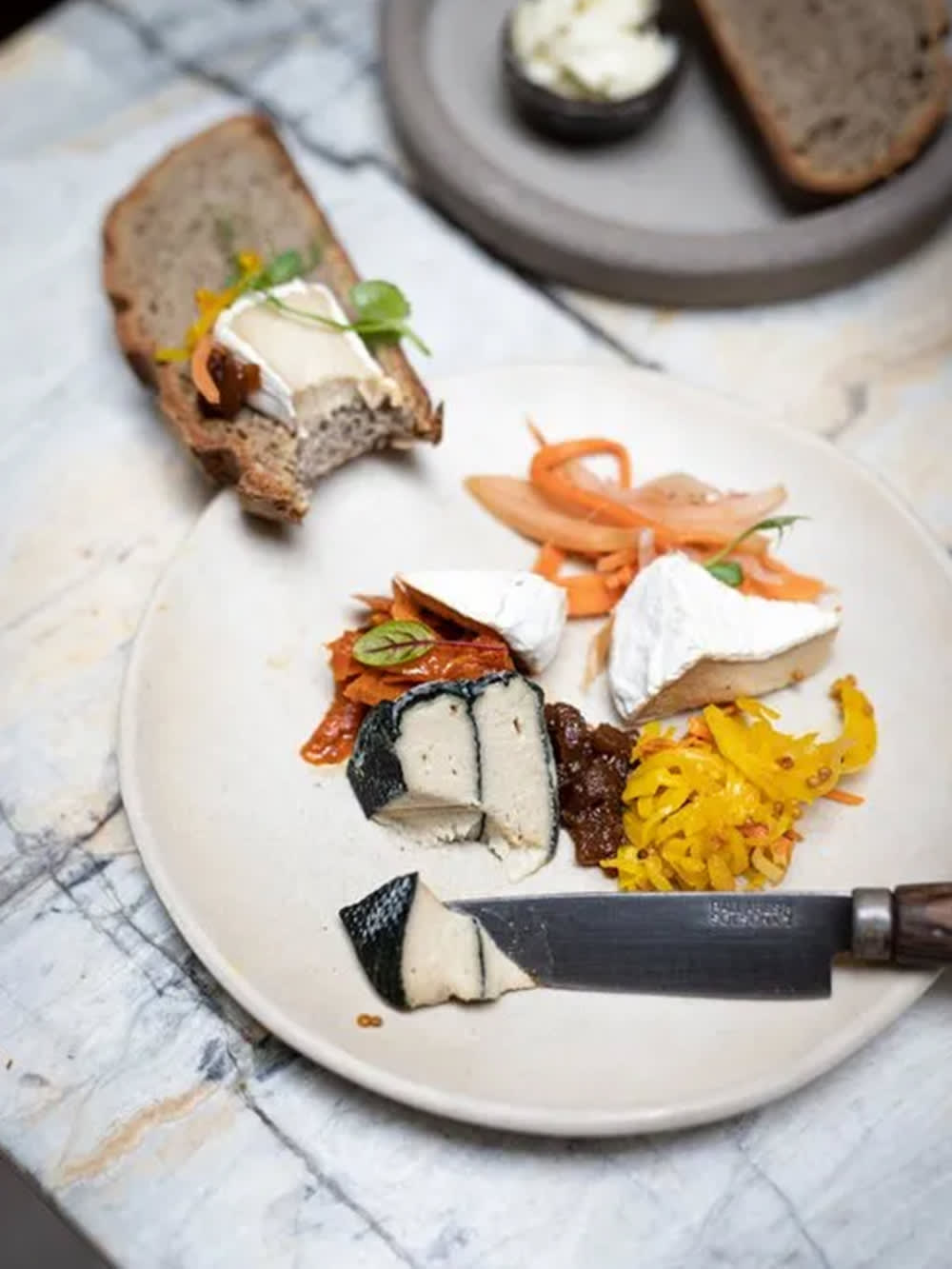 The tasting menu started with a mushroom and avocado appetiser, served in a tiny baby-gem lettuce leaf. Vegetables were, of course, the main act, celebrated in surprising ways rather than as shadows of known classics. The food felt like modern French cuisine in its presentation and techniques, but it was infused with South American touches. The kombucha-braised leeks with foamy potato croquettes, crispy leeks and almond cream were complex enough to make me forget about meat and fish altogether. 
TEKES (2ND ARR), 4 BIS RUE SAINT-SAUVEUR, 75002 PARIS
Good for: Birthdays, big nights out and dressing up
Not so good for: A private chat or business dinner
FYI: Tekes is plant-based, not strictly vegan. But most dishes can be veganised (just ask, they said they do it all the time)
Tekes means ceremony (with the implication of a celebration) in Hebrew and it's obvious why star restaurateur Assaf Granit chose it. My sister and I sat across from chef Cecile Levy at the kitchen counter, mesmerised. As we shared spicy cocktails and a string of delicious platters, her team cooked, cheered and danced in a way that felt inviting rather than performative. The restaurant is fittingly located in the 2nd arrondissement, where many cocktail bars have sprouted in recent years.
Tekes offers a fun and creative take on ancestral Middle Eastern cuisine. Signature dishes are glammed-up versions of familial Jewish recipes. We shared the veggie "chicken liver", cooked without butter and made of caramelised onions and mushrooms. As in small-plate restaurants, the right way to do it is to share everything, but beware: The plates are not in fact small. The English-, Hebrew- and French-speaking staff are as generous with the portions as with their hospitable service. They surprised us with a shot of strawberry liqueur mid-dinner, which they drank as well. The flatbread was unmissable and came with a dairy-free version of a flavourful yoghurt dip.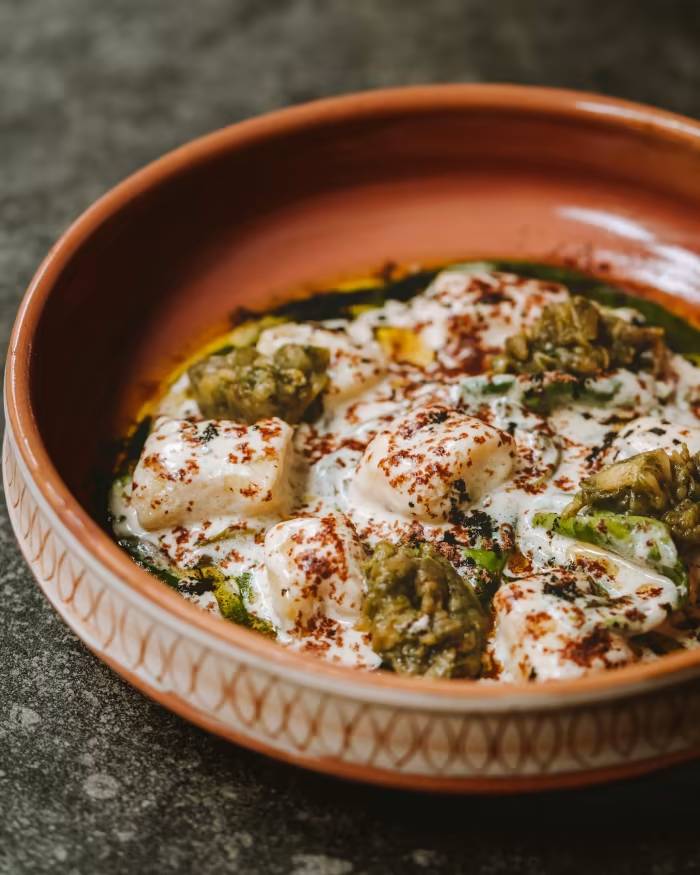 There were audacious touches too, like the faux-oysters made of baby gem, raw onions and oyster leaves. Salty water dripped down our chins as we engulfed them. We came out of Tekes in awe, feeling like we needed to find a party to go to. We stepped out in the cold only to realise that we were just leaving it.
LE POTAGER DE CHARLOTTE (17TH ARR), 21 RUE RENNEQUIN, 75017 PARIS
Good for: A French family joint with an elevated twist
Not so good for: Showing up on a whim. There are only two seatings, at 6.45pm and 9pm, so it's wiser to book online
FYI: There is another branch in the ninth arrondissement that attracts a slightly younger crowd
Out of all the Parisian vegan restaurants I tried, this one was most reminiscent of the comforting French food I know and love. Perhaps it was the family feel: Le Potager was founded by two brothers, restaurateur David Valentin and trained naturopath Adrien Valentin. Their mother, Charlotte, works with them too and tended the bar when I visited for dinner. All ingredients are sourced from a vegetable garden in the outskirts of Paris. The menu changes with the seasons but features some beloved staples — I was told the avocado "hard-boiled-egg style" is a hit with customers. They sprinkle it with kala namak salt to mimic the sulphurous taste of yolk.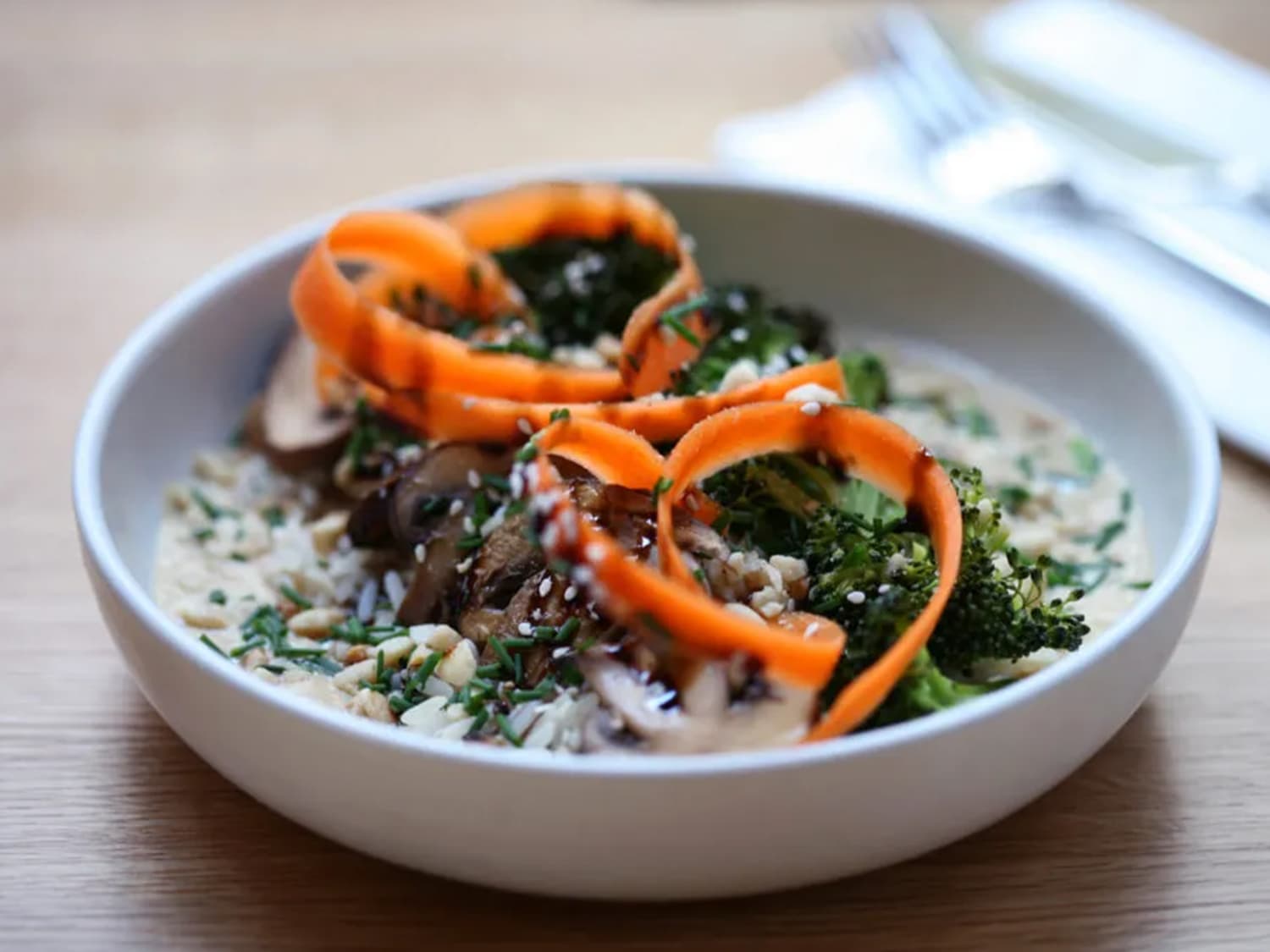 I opted for the tofu instead. Marinated in a sweet agave and spicy paprika sauce, it came seared like a tuna steak, encrusted in sesame seeds and on a bed of lime yoghurt. I devoured every bite. The rigatoni with soy cream and homemade pesto was very convincing despite being dairy-less. I finished on a high with another fan favourite: The mousse au chocolat made with aquafaba, a fancy name for chickpea water. I couldn't believe it was vegan — it tasted so rich, yet was even lighter and fluffier than a regular mousse. The nostalgic dessert came in a beautiful glass with raspberries and caramelised pecans sprinkled on top. The twist was a micro branch of Atsina cress, which added an unexpected burst of liquorice flavour.
42 DEGRES (9TH ARR), 109 RUE DU FAUBOURG POISSONNIERE, 75009 PARIS
Good for: Adventurous spirits and health nuts
Not so good for: Those full of clichés about vegans risk leaving here more deeply entrenched in their views
FYI: The kitchen does cooking classes on raw cuisine and vegan pastry techniques
42 Degres is not just free from dairy, meat and fish. It is also organic, gluten-free and "raw". In this kitchen, nothing is cooked above 42C, which explains the cryptic name. Food cooked below this temperature is meant to be more nutritious, detoxifying and immunity-boosting. I didn't do my due diligence on the science but I tried the menu gourmand with an open mind. Three dishes came paired with organic juices and a faux-cheeseboard interlude. The fermented turnip juice was a step too far, in my view, but a wonderful natural wine helped wash it down.
Each experimental dish was definitely conversation starter. Highlights included the apricot with dill and "frawmage glacé" (frozen yoghurt), and the cashew and aubergine bruschetta. Both were tasty, unique and looked beautiful. The lasagne, layered with courgette slices and cashew béchamel, was well executed; rich and heartwarming despite its rawness. We enjoyed the best-seller, an indulgent raw cocoa pudding, which gets a slight makeover with each season. But the standout for me was a simple peach bathing in champagne-like, fizzy hibiscus juice. In this east Paris bistro, the food is elegant and the atmosphere without frills — perfect for a casual lunch. Just make sure your companion is open-minded.
Akila Quinio  © 2022 The Financial Times
Source: Financial Times/bt