A trip back in time: What it's like to travel on board one of the world's most luxurious trains
Glass of champagne in hand, CNA Luxury climbs aboard the legendary Venice Simplon-Orient-Express for its first-ever winter journey to the French Alps.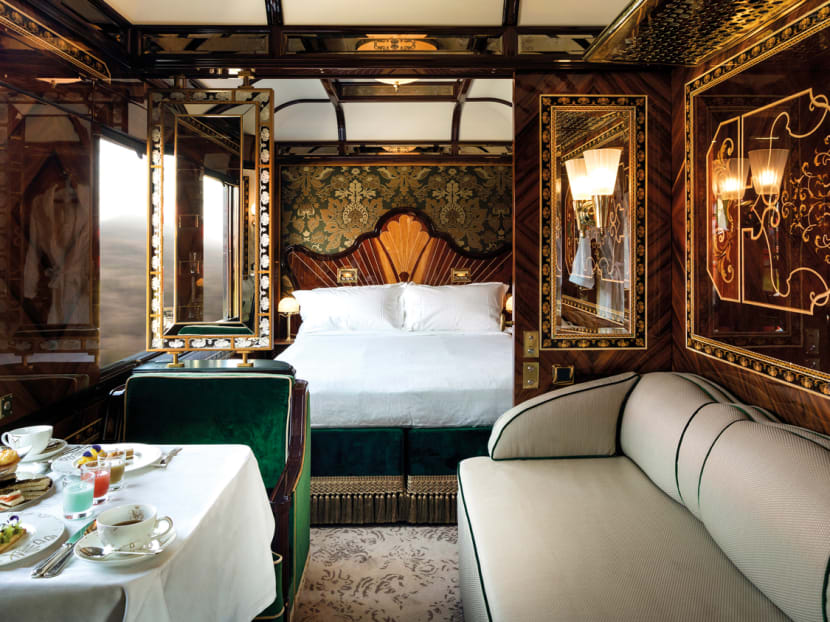 Last December, I travelled back in time.
As you might expect, this called for an elaborate ensemble. Which is how I found myself decked out in a floor-grazing, navy Halston evening gown, hair curled in flowing waves and enough ornate bijoux to rival the entire cast of Wakanda Forever.
I, along with other guests dressed in their finery, stepped onto the red-carpeted runway in Paris' Gare de l'Est station. The wintry air was filled with the lively tunes of a three-man jazz band as our attention turned to our portal to the past. Before us was Belmond's iconic Venice Simplon-Orient-Express (VSOE), with its gleaming midnight-blue and gold carriages, each doorway helmed by a smiling, white-gloved steward in matching blue-and-gold livery. Beyond, glowing windows illuminated tantalising hints of polished mahogany and silk brocades. A trip through time awaited.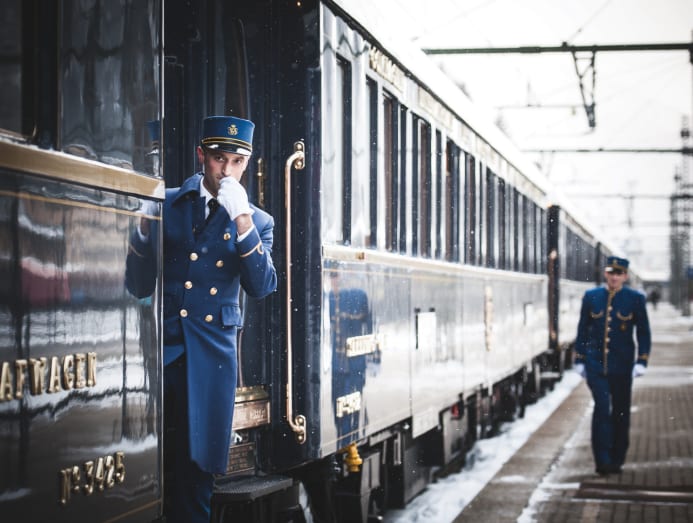 A HISTORIC JOURNEY
We were here for a special media preview of the VSOE's winter journeys between Paris and the French Alps, the latest addition to its new wintertime calendar which include Vienna, Paris, Florence and Venice.
Launching this December, these will see the train journey up to the alpine train stations of Albertville, Moutiers and Bourg-Saint-Maurice. Guests can disembark at any of the three stations, each a gateway to various iconic ski destinations. My overnight journey from Paris would conclude in Moutiers, a quick hop from Courchevel, part of the celebrated Les Trois Vallees, the largest ski area in the world.
Priced from £3,300 (S$5,340) for an overnight stay in a Historic Cabin, the experience includes luxurious accommodations, a four-course dinner, breakfast and brunch and shared transfers to Gare De Lyon in Paris.
This year, Belmond will also add eight new Suites, each decorated to reflect the grandeur of European terroir. But for true, all-out indulgence, the six Grand Suites (overnight stays from £9,975) are the accommodation of choice. Each of these opulent abodes comes with a double bed, spacious marble en-suite bathroom (with gilded shower and toilet), lounge area, private in-cabin dining, free-flowing champagne and 24-hour butler service to ensure the former.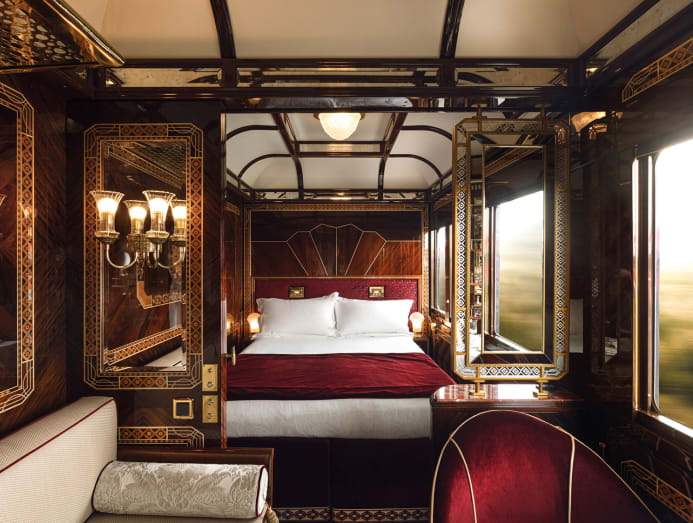 Even for non-skiers, there are still many reasons to experience this unique wintertime journey, such as the opportunity to glide, utterly cosseted, through snowy scenes of pristine countryside, lakes and quaint French villages. Then there is of course the legendary Venice Simplon-Orient-Express itself, which includes restored carriages from the Orient Express' 1920s and 1930s golden age of travel, and which Belmond has owned and operated since its inaugural journey in 1982.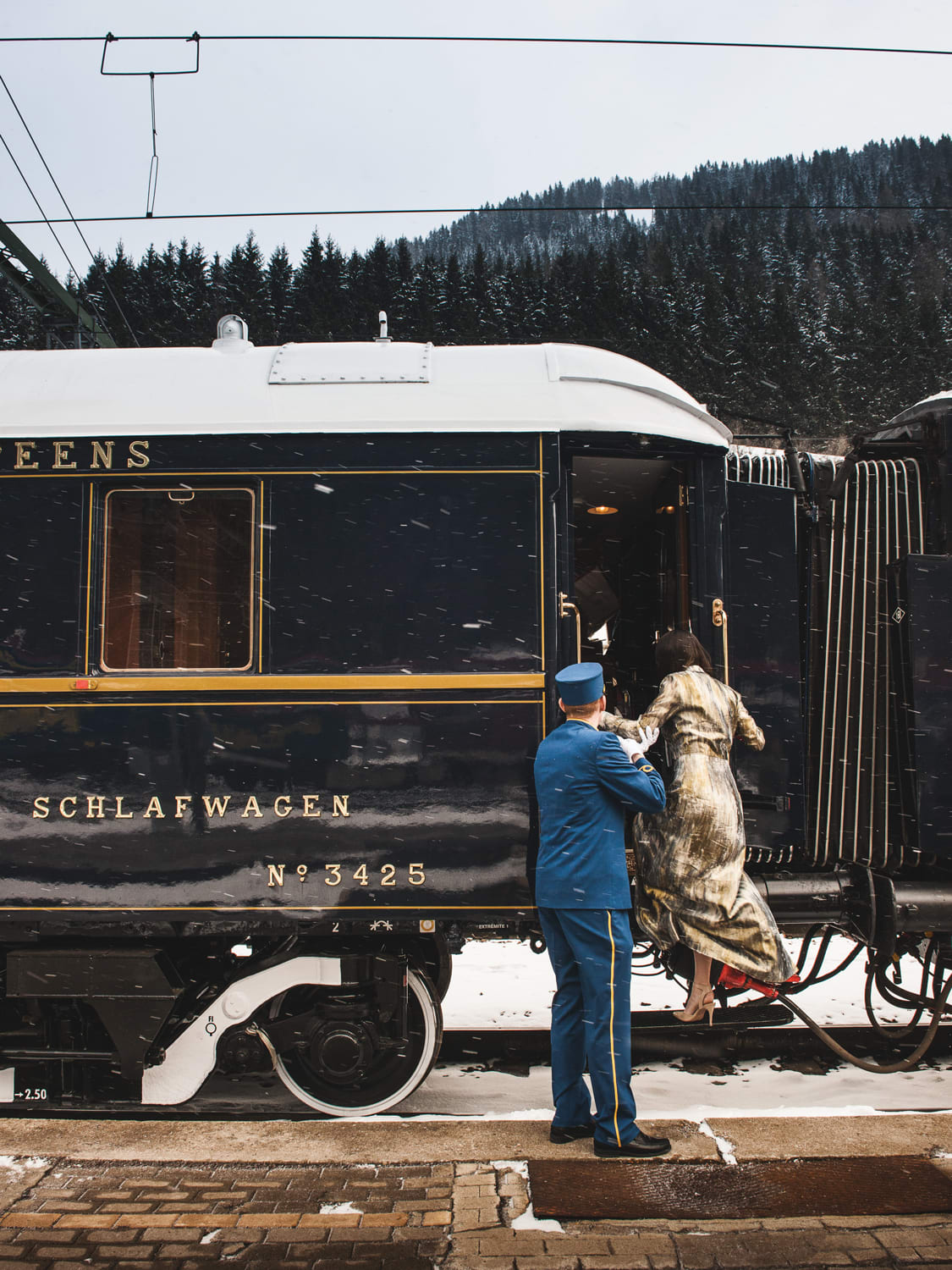 Synonymous with Agatha Christie's novels, the near-mythical train has starred as an extravagant backdrop for Kenneth Branagh's grandiloquent detective Hercule Poiret and even disappeared entirely – courtesy of magician David Copperfield in 1991.
Even the sleeping cars bring the drama – 3309 was famously marooned in a snow drift outside Istanbul for 10 days, while 3544 was at one point used as a brothel. Mine, sadly, was not the latter, though 3483 is charmingly adorned throughout with a signature Flower Basket marquetry motif – a large, low vessel filled with colourful, gracefully curving blooms.
FLAVOURFUL TRADITIONS
One does not discuss the VSOE without mentioning its renowned bar car – its social hub where live music famously plays till the last guest leaves for the night. Now rebranded as 3674, its energetic piano-and-trombone heartbeat is supplied by The Uppertones, a three-man band. Its suave, big-voiced frontman's exuberant renditions of 1950s classics like Volare and Tu Vuo Fa l'Americano quickly got everyone singing along, no doubt fuelled by the endless procession of negronis, spritzes and sours that passed through the car, all miraculously kept aloft by the servers despite the moving train. 
To enter 3674 is to commit to a beautiful illusion, where every guest is momentarily transformed into a gilded libertine, freed from modern afflictions like rising inflation and Zoom meetings. This mirage is greatly aided by head barman Ignazio Maxia's and his team, who serve up classic-leaning libations from the delicious Choo Choo Train Martini (gin, vodka, Italicus Rosolio di Bergamotto) to Chateau d'Yquem and Petrossian Beluga caviar. 
"You can never be overdressed on the VSOE" states the train's dress code, which encourages formal evening attire and frowns on jeans ("not acceptable at any time"). As the music and cocktails flowed, our suspension of disbelief was complete, if not for the fact that a large-screen TV had somehow made its way into the bar car, televising the 2022 World Cup semi-finals between France and Morocco. The unusual modern intrusion (wifi, is at best, intermittent) was for the benefit of the train's French contingent, which included Jean Imbert, who was appointed VSOE's chef last July.
"I was very excited to do it," said French fine-dining's enfant terrible, who generated major waves when he succeeded Alain Ducasse at Paris's iconic Plaza Athenee restaurant last January. Imbert is also behind the Monsieur Dior restaurant at the French fashion brand's 30 Montaigne flagship, along with restaurant collaborations with musician Pharrell.
"When you're a chef, you can just go from project to project," said Imbert, "But you want to be part of something beautiful that when you tell your family and friends about it, they say 'wow'!'"
To this end, Imbert has redesigned all of the VSOE's culinary offerings, even overseeing the introduction of new mood lighting in the dining cars ("warm and welcoming" he said, "not like a hospital"), new bespoke art-adorned French porcelain dinnerware and menu designs.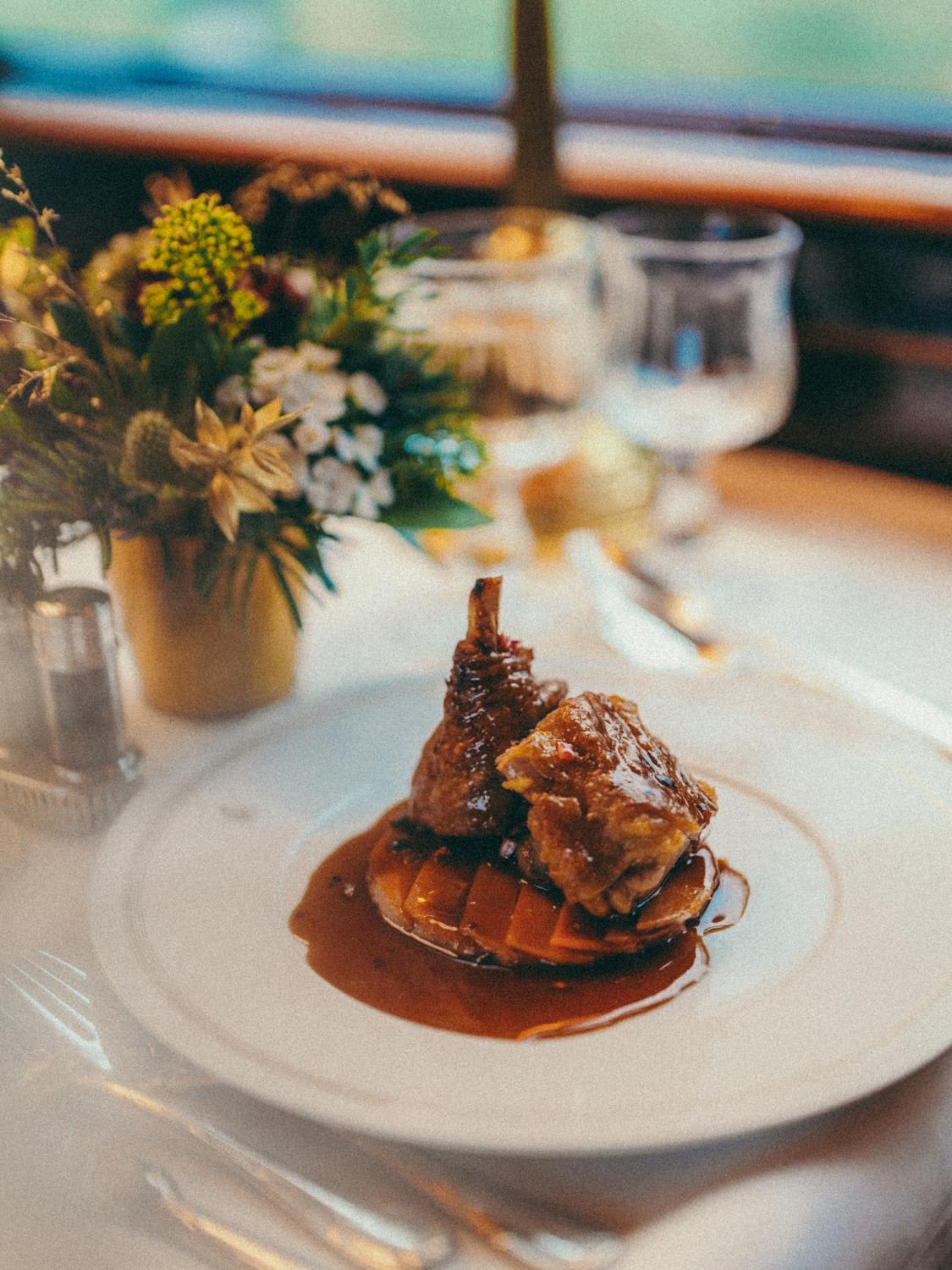 Respecting history is extremely important to Imbert, who studied old VSOE menus and was delighted to discover the train's long tradition of French cuisine.
"The VSOE always comes first, and I come second," Imbert told me. "It has a strong history of food, not just travel. The food I do here has to be respectful and linked to its history. It would be confusing if I served '2022' food, like a ceviche with avocado. The menu on the train is truly unique, you can't put it anywhere else."
Imbert's winter menu was inspired by a traditional French Christmas dinner. It started with a quartet of oysters topped with a velvety sabayon and green apple, followed by my choice of Chapon de Bresse, an AOC-certified cockerel served with chestnut, squash and cranberry sauce. Dessert was Imbert's favourite, a Yule log with coffee and crunchy Piedmont hazelnuts. "It's very comforting and reminds me of my favourite day in the year with my family," he said.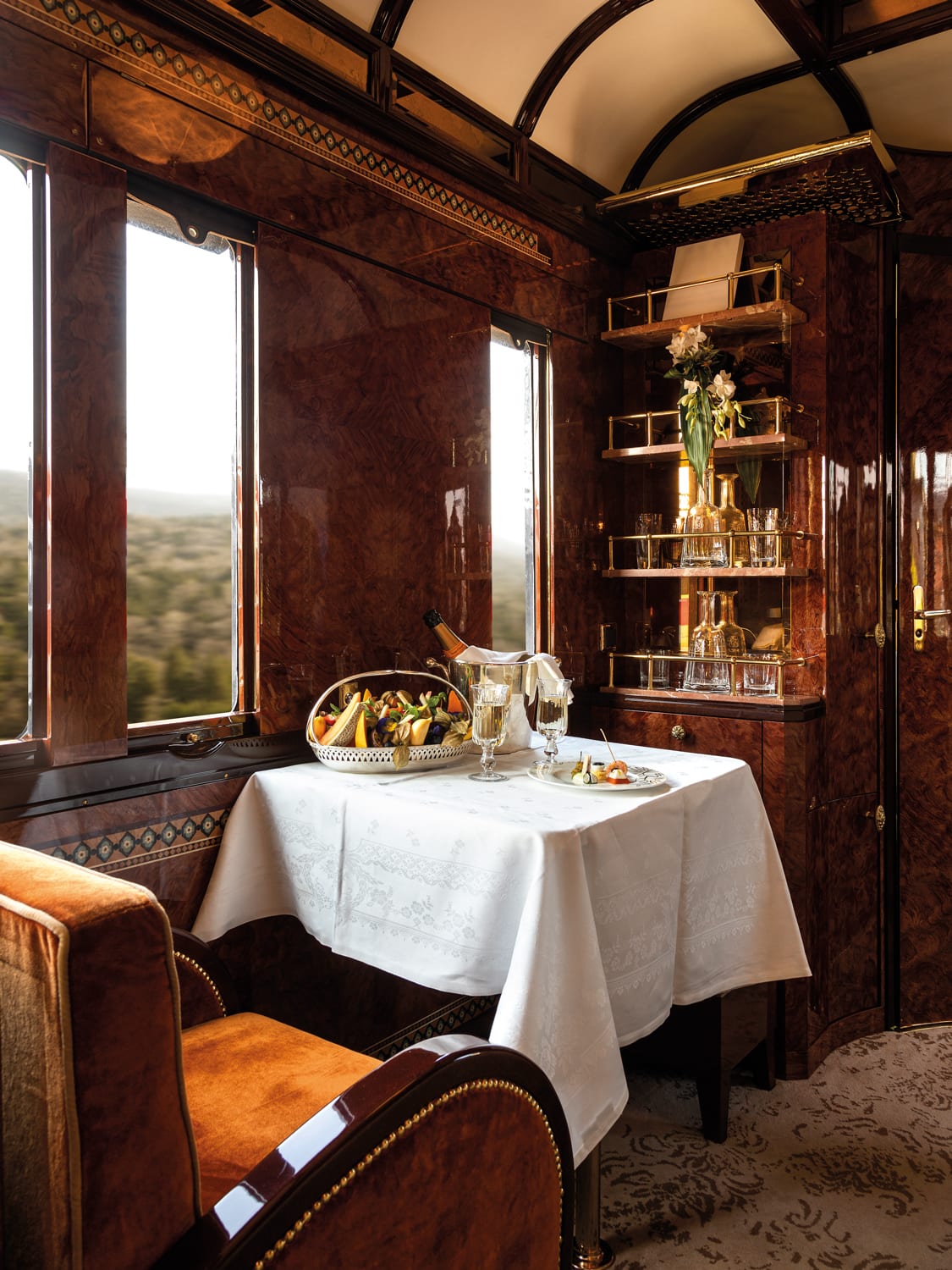 The food is festive and elegant, infused with an unmistakable whiff of nostalgia. Train cuisine, I mused, is a world unto itself.
"When you have something beautiful like the VSOE, you don't want it to 'slip'," said Imbert. "You want it to be as attractive in 10 years as it was 50 years ago. This is the challenge."
Also tricky is the act of preparing gourmet meals in the constant seismic activity of a train in motion. Imbert and his small team have to work within the constraints of a small kitchen, a single oven and sometimes with just minutes to load all the necessary produce during a stop.
"It's like the addition of 20 difficult challenges. But that means you have to be more creative in finding solutions," added Imbert, who's especially proud that all the meals are cooked from scratch before service. "It's not about opening [pre-cooked] bags," he said.
A LUXURIOUS BEDROOM ON WHEELS
Lurching rather inelegantly back to my cabin (after two post-dinner digestifs), I discovered that my banquette seats had magically been transformed into an inviting bed, along with plush slippers, a skincare kit from British brand Temple Spa and a blue-and-white kimono (handy as guests staying in Historic Cabins use shared toilets).
I immediately fell into a deep, dreamless slumber, only to be – ironically – awoken by the train coming to a complete stop. In the silence that followed, the sound of every mechanical wheeze (coal boilers are used in the sleeping cars) or passing guests (returning from late-night repasts in 3674) could seem amplified, so ear plugs are probably advisable.
The following morning, I awoke to frosted-over windows and a white landscape of bare trees and snow-dusted fields. Once my steward Elenora swiftly re-transformed my cabin back into a sitting room, breakfast – a salver of viennoiseries, petite Bordier butter, steaming coffee and fresh juices in colourful Murano glassware – arrived.
It was too tempting to pass up, but an hour later I was summoned to brunch in the dining car, another decadent spread of perfectly fluffy coddled eggs with a dollop of caviar, along with langoustine ravioli and a tarte tatin, all washed down with champagne. I felt pretty coddled myself as we pulled into snowy Moutiers, from which we would take a transfer to Courchevel. But that's the whole point, Imbert told me.
"I'd like guests to remember that the food was perfectly matched with the history of the VSOE," he said. "I want it to be a complete experience."