To infinity and beyond: An inside look at the world's first commercial spaceport
Virgin Galactic's Gateway to Space will be the launchpad for the world's first commercial space flights, slated to launch in 2020 – for those able and willing to fork out US$250,000 (S$346,000) for the privilege, that is.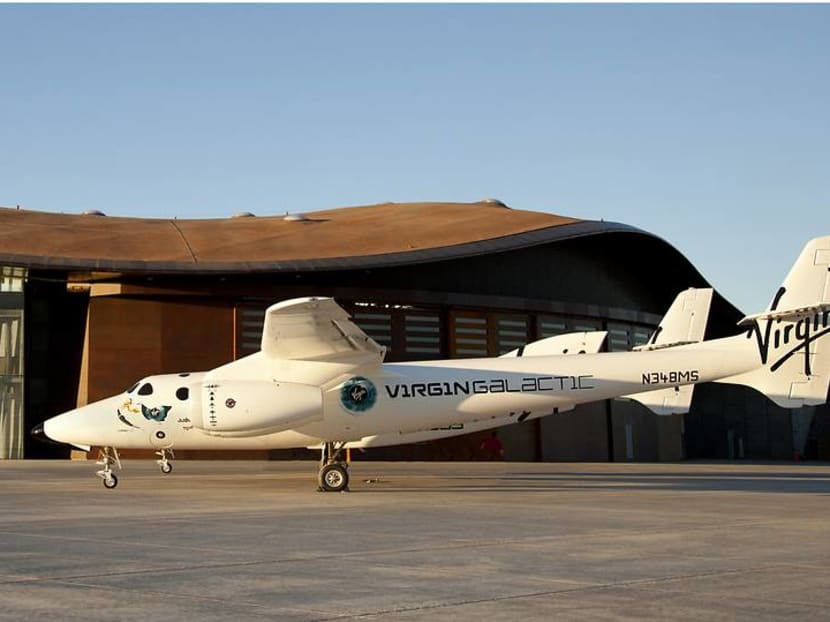 Located within the 72 sq km Spaceport America in New Mexico, USA, the stunning two-storey, 670,000 sq ft (62,245 sqm) facility features an organically-shaped, copper clad, skylight-studded domed roof (resembling a giant sting ray, or even an alien, depending on your perspective) and a lofty double-height atrium.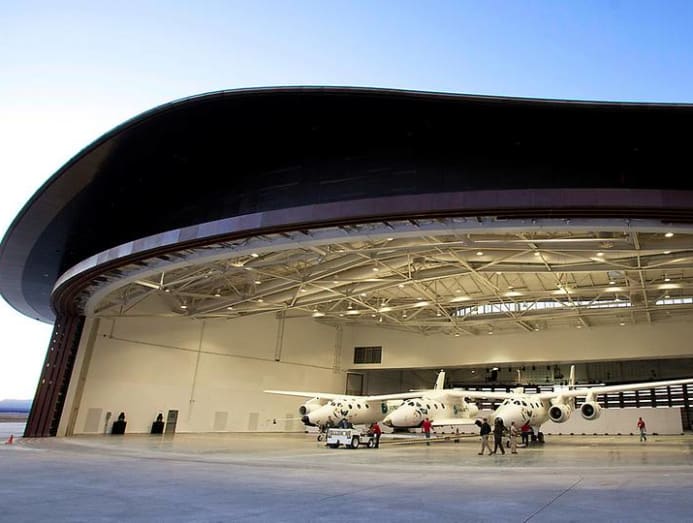 Designed by renowned architectural firm Foster + Partners to pay homage to the past by respecting the ancient surrounding landscape, safeguard the future by promoting energy efficiency and sustainability, and create a memorable setting for the journey of a lifetime, the interior fit-out was led by veteran Virgin architectural and interior designer, Jeremy Brown, Virgin Galactic's Design Director, in collaboration with London-based Viewport Studio.
"(Gateway to Space) is a building that allows us to create astronauts from human beings," said Jeremy Brown, Design Director of Virgin Galactic, in a statement. "When I first arrived in New Mexico and saw Spaceport, I was blown away by the location, and the beauty of that, the landscape around it, and of course the amazing light… The materials and the colours that you find here in New Mexico flow effortlessly (from the ground floor) through this double-height void, and the story continues upstairs when you move up to Mission Control (which) is the beating heart of the organisation."
On the ground level is a series of split-level terraces called Gaia Lounge (named after planet Earth), which acts as a shared lounge area for customers and their friends and families, as well as Virgin Galactic employees.
Furnishings and fittings in earthy desert-inspired hues, such as sunny yellows, rusty reds and green tones reminiscent of desert vegetation, represent departure to, and return from space, while the use of natural materials aims to bring in the stunning surroundings.
Barista Island, a central bar made of back-lit Italian marble hovering above hand-crafted oak, takes centrestage in Gaia Lounge, providing a social hub where future intergalactic travellers can mingle with spaceship pilots and rocket engineers over meals or a coffee.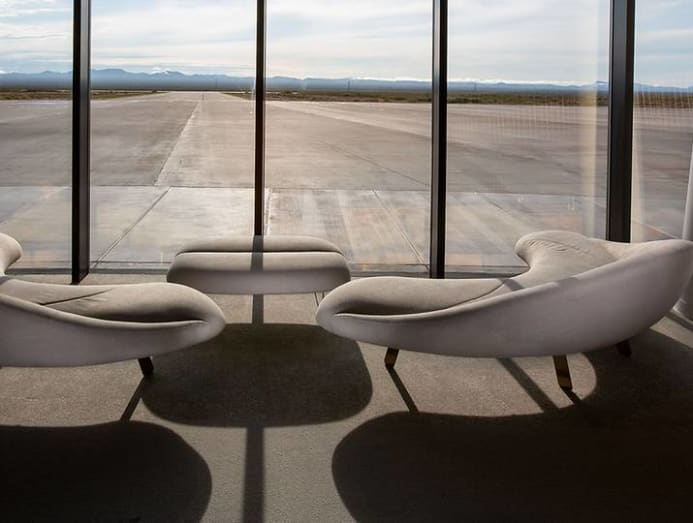 The second floor, named Cirrus, represents light, air and flight, and is appropriately decked out in white and grey shades to represent clouds, and space travel. Functioning as the operations centre, it houses Mission Control, the Mission Briefing Room, the Pilot Corps and the rest of the Flight Operations team, while offering staff an unrestricted view of ground operation areas including the apron and runway.
A double height atrium unites the two floors, while an elevated, interactive digital walkway heightens the departure experience for travellers (and their friends and family) as they set out from Spaceport to VSS Unity on the day of flight.
A huge expanse in the middle of the building, large enough to accommodate two carrier aircraft – each with a 42m wingspan – along with five SpaceShipTwo vehicles, will serve as the hangar for Virgin Galactic's space fleet.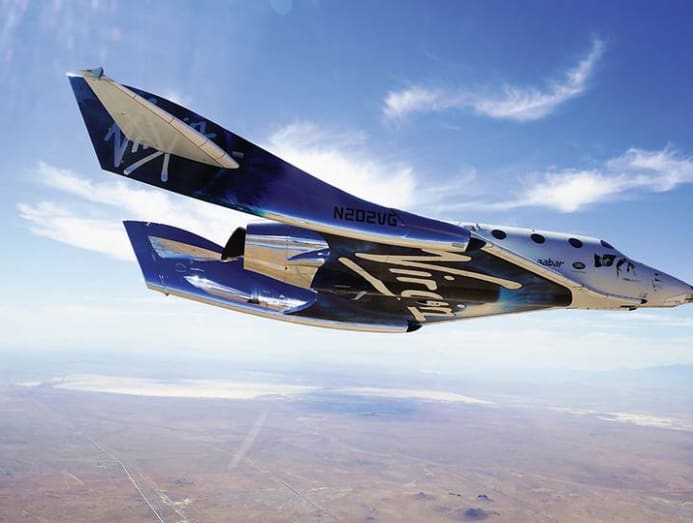 As George Whitesides, CEO of Virgin Galactic, explained in a statement: "We want to have this be a remarkable historic facility that when people arrive at, they feel that 'yes, this a place that I am going to be going to space from, and it feels right'. The design elements infused throughout the facility make it something that is a remarkable experience for our customer… I know I personally almost have to pinch myself that we are now working out of from a real operational spaceport."
Following the progress in operational readiness at Spaceport, including the completion of the hanger, offices, fuel farm, warehouse and antenna for telemetry and communications, this latest development is seen as the final countdown to the advent of regular commercial spaceflight service – a fact no doubt eagerly awaited by the backlog of more than 600 passengers (including famous names such as Tom Hanks, Katy Perry, Brad Pitt and Angelina Jolie), who had already purchased tickets since 2013. 

Over the next few weeks, Virgin Galactic will reposition its space system consisting of carrier aircraft VMS Eve and spaceship VSS Unity from Mojave, California to Spaceport America. It will then complete its final test flights from New Mexico for commencing a full commercial service for passengers and research payload. 

Virgin Galactic's carrier aircraft WhiteKnightTwo, will carry space plane SpaceShipTwo for approximately 60 minutes, up about 16 km into the sky. 

From there, SpaceShipTwo, which is manned by two pilots, seats six passengers and which can reach a top speed pf 4,000 km per hour, will be released. It will then travel to reach a height of 110 km, going beyond the Karman Line 100 km above earth, the common definition of where space begins.  

The time from liftoff of the White Knight booster carrying SpaceShipTwo until the touchdown of the spacecraft after the suborbital flight would be about 2.5 hours. The suborbital flight itself would be only a small fraction of that time, with weightlessness lasting approximately six minutes. Passengers will be able to release themselves from their seats during these six minutes and float around the cabin.