Visit these 5 unconventional showrooms for renovation inspiration
From kitchen appliances and tiles to furniture and lights, these brands are coming up with new ways to attract customers by rethinking the ubiquitous showroom.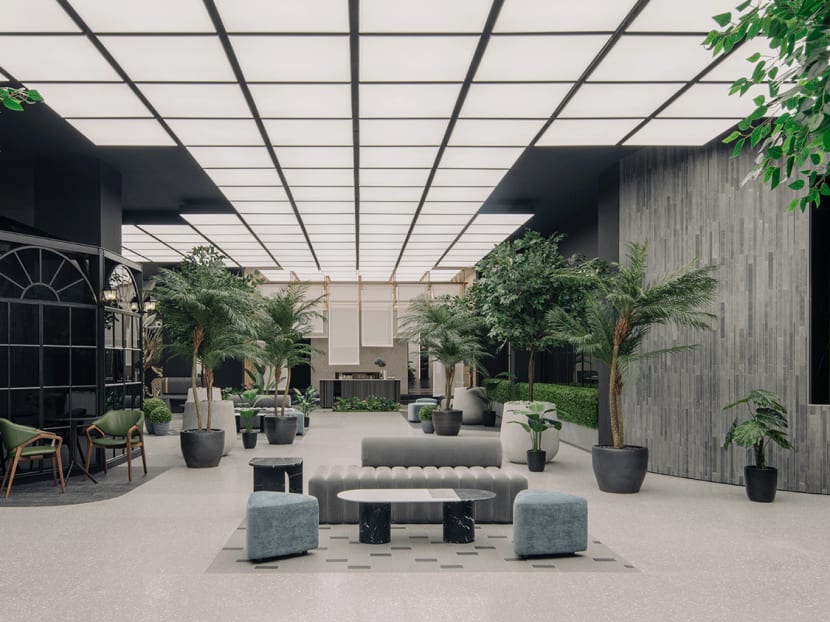 Picking up the right items for a home renovation used to mean walking down aisles chock-a-block with products or drawing inspirations from information-heavy catalogues. Today, some companies are eschewing such traditional sales methods because consumers now are a savvy bunch with a wide range of resources at their disposal - they can trawl the Internet for similar items at better value or go beyond our shores to handpick one-of-a-kind products that may not be available here.
Joseph Ho, founder of lighting company Sol Luminaire agrees. "In the past, lighting stores were often the last things homeowners looked at. As consumer behaviour evolved, most shoppers are not just looking to buy lights, but also to support brands whose values they can relate to," he said.
Dario Reicherl, CEO of Fritz Hansen Asia, commented that offering interesting experiences satisfies consumers' desire to associate with brands rather than products. Consumers follow the brand because it inspires them and not just because it's trendy, he added
These days, showrooms are more than just a space to showcase products; they're also workspaces and event spaces. These are some of the ways brands have hybridised their galleries to offer multi-tiered experiences. Here, we highlight five brands that use their spaces to inspire, educate and engage.
LIGHTING: GALERIE 5
Lighting company Sol Luminaire opened the Galerie 5 showroom on Craig Road in February this year in celebration of its fifth anniversary. "We wanted to create a gallery experience for homeowners instead of conventional 'task shopping'," said founder Joseph Ho. "We highlight our products like art pieces, because lighting is an art after all. We never believed in maximising the square feet and space because we do not want the client to overload on product offerings and information."
At Galerie 5, the items are arranged in artistic clusters. The lounge seating and videos showcasing the artisans at work amid curvilinear walls are meant to inspire visitors to slow down. The showroom houses five resident brands as well as the works of other artisans from around the world. Products include the pod-like Khmara pendant lamp from Makhno Studio and larger-than-life lamps by Belgium artist-designer Sarah Dehandschutter in knitted fabric that stretch playfully across a room.
On the second storey, a garden of cacti by local boutique botanical studio This Humid House is highlighted under a skylight as a setting for the display of AEON outdoor lights. That's not all. Galerie 5 also offers a selection of homeware, such as the bulbous and colourful tableware from New York-based studio Sticky Glass that adds a dose of colour and fun to the contemplative environment.
Galerie 5 is at 50 Craig Road, Singapore 089688
SURFACE MATERIALS: COSENTINO CITY SINGAPORE
Cosentino is a Spanish company that produces technologically advanced and sustainable surfaces. Brands include Silestone engineered quartz, the ultra-compact, carbon-neutral Dekton surfaces and natural stone under its Sensa by Cosentino range. On Apr 5 this year, the brand moved from a shophouse into a larger space in Marina One.
The plentiful plants and green features incorporated into the showroom reflect its biophilic theme that is aligned to Singapore's Garden City theme. It is one of 22 city-themed immersive and experiential showrooms around the world under the brand's City 2.0 concept that employs unique localised features.  
"Cosentino City Singapore was designed to boldly reimagine the traditional showroom experience by focusing on an all-encompassing design experience rather than [only] merchandising its own products," said Celine See, city manager for Singapore
Product samples of fabrics, wood and metal fittings alongside Consentino products let visitors and designers work on their mood boards on the spot. Through the augmented reality digital experience, they can customise spaces and facade mock-ups using Cosentino materials. There is also a Digital Slab that allows to-scale, full-slab digital display to help visitors visualise the veining, colour and detail of various Cosention product surfaces in high definition. The digital interfaces are a good way to showcase the endless colour, material and application combinations of products.
A fully functioning kitchen is also available for hosting small dinners and networking cocktails. It doubles up as a display for Cosentino products such as the Dekton Slim (4mm) pieces that clad kitchen cabinet doors. Designers are also welcome to work at comfortable networking corners.
Consentino City Singapore is at 5 Straits View, Marina One (West Tower), #01-16/17, Singapore 018935
KITCHEN APPLIANCES: CASA SINGAPORE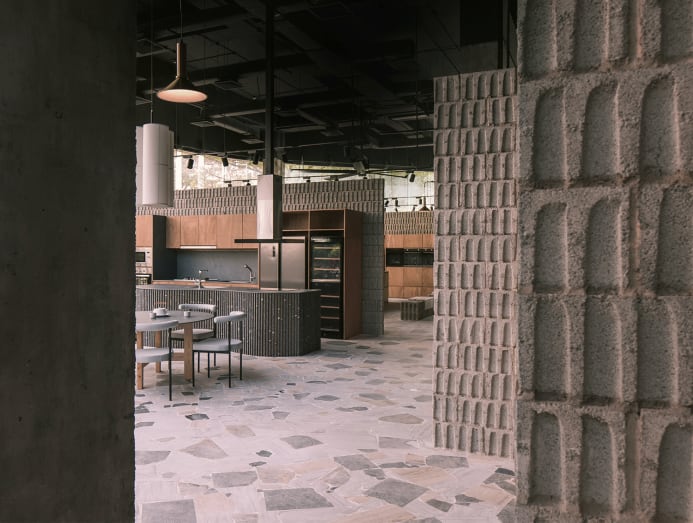 The first thing one notices about this multi-label kitchen appliances and homeware showroom is not the stoves and hoods but the walls and floors. Common materials applied in a stripped down way gives off an industrial vibe. Off-cut stone salvaged from a natural stone supplier are arranged into a terrazzo-like floor pattern while section-cut hollow cement bricks are displayed as walls. Kitchen products are showcased among plywood cabinetry.
L Architects designed the showroom for Casa Holdings – it was inspired by the term 'brick and mortar'. The showroom's austere, unconventional and soulful design garnered two awards at this year's Singapore Institute of Architects Architectural Design Award – the Design Award under the Interior Architecture category as well as a joint winner for Design of the Year Award. 
"The brand had always wanted to create spaces that surprise and intrigue. I visited other kitchen appliance shops and realised most of them do not pride themselves as having much of a retail experience as they typically take on a very ubiquitous presence. I wanted to change that perspective," said L Architects' founder Lim Shing Hui.
On the "pauses spaces" comprising a lounge setting, a large table for gathering and a smaller table for intimate gatherings, Lim explained that the intention was to encourage customers to take their time to browse and shop.
The interior design has been a conversation starter between sales persons and visitors, Lim highlighted. "The retail landscape has been significantly disrupted partly due to ecommerce. Consumers are more likely to shop at stores with memorable experiences. The client gave us that creative freedom to bring in a different in-store atmosphere."
Casa Singapore is at 15 Kian Teck Crescent, Singapore 628884
SURFACE MATERIALS: HAFARY GALLERY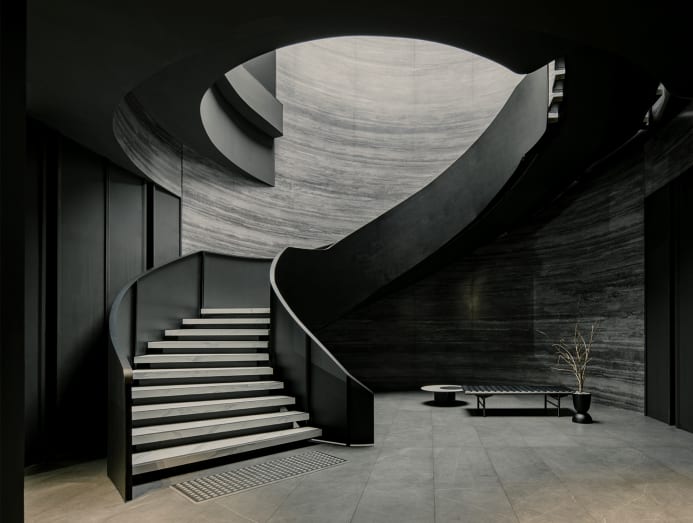 Is it a cool cafe, art gallery or someone's luxurious home? Designed by Park + Associates, the Hafary showroom at Eunos channels all of the above. Completed in July 2021, the new renovation extends its original showroom to the current size of 43,000 sq ft.
"We essentially invigorated the entire experience through redefining traditionally transactional process of material shopping. This meant steering away from the conventional showroom that often showcases an endless display of collections placed neatly side-by-side. The result [of the renovation] is the creation of a visual spectacle," said Christina Thean, Director at Park + Associates.  
The showroom aims to ignite visitors' imaginations with a sequence of actual and fantastical spaces that demonstrate the creative possibilities of products. For example in The Hall of Tiles, nature-themed tiles stand in the space like sculptures, letting visitors visualise them on vertical surfaces in a different way. There are also displays with residential themes such as The Apartment and The Mansion, as well as scenarios for commercial spaces such as retail and hospitality.  
The gallery also has a large multifunctional space that can be repurposed into a meeting space, an art gallery or event venue. "This elevates the idea of the retail space to another level," said Thean. The result has distinguished the company from competitors. Thean said: "The company's overall branding and image has further evolved to be more than a mere reliable surfacing material supplier, but also one that is invested in bringing their customers' design visions to life."  
Hafary Gallery is at 105 Eunos Avenue 3, Singapore 409836
FURNITURE: FRITZ HANSEN LOUNGE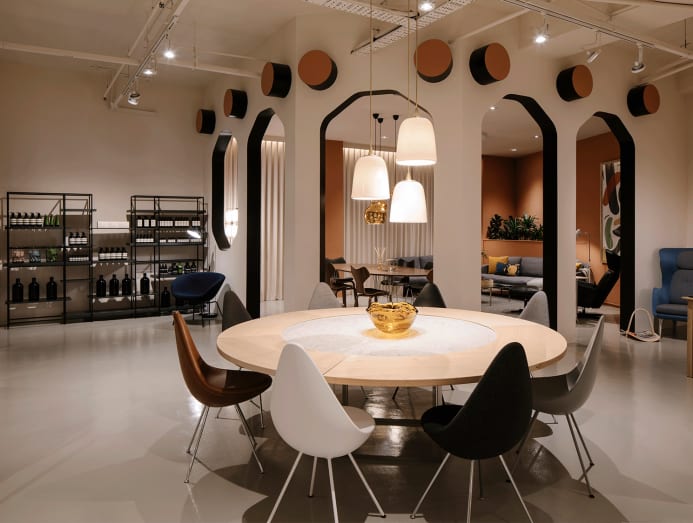 When Dario Reicherl, CEO Asia at Fritz Hansen, was sourcing for a new location in Singapore back in 2019, he decided on an unlikely place. Tan Boon Liat is an industrial building on the fringe of Orchard Road known more for warehouses than a luxury furniture showroom.
"It's a bit like Hong Kong, where you would enter the cargo lift of an old industrial building and end up in a beautiful gallery or art studio," said Reicherl. He also took the opportunity to reinvent the brand's presence in Singapore. "I didn't want to do another conventional furniture store. So I created the Fritz Hansen Lounge," he shared.
He was inspired by the flexibility and dynamism of first class airport lounges "where you can have a nice coffee, an area for work, a place to relax and another like the bar to chill with a drink". Spanish designer Jaime Hayon gave the space a whimsical touch with arched steel framework peppered with shades of turquoise, olive and terracotta. Curved windows that bring to mind airplane windows connect spaces designed like living, dining and study rooms.
Besides exhibiting furniture, the showroom also allows partners and clients such as architects and companies in the hospitality business to conduct events. There have been Ikebana classes, yoga sessions and cooking classes (held at a large kitchen counter). While meetings are conducted here, partners and customers can appreciate iconic furniture such as the Swan and Egg armchairs. "We don't even talk about the products. We want to give them an experience without wanting anything back; you enjoy the brand and then it's your call," said Reicherl, who believes the conventional strategy of hard sell is outdated. The success of the Fritz Hansen Lounge in Singapore has spawned an expanded concept in Seoul in a three-storey building with a restaurant serving gourmet food and natural wine.
Fritz Hansen Lounge is at Tan Boon Liat Building, 315 Outram Road, #13-08, Singapore 169074