Experiencing Waldorf Astoria in the Maldives, loving the fish in the wardrobe
The brand new Waldorf Astoria Maldives Ithaafushi boasts 122 villas, 11 dining concepts, one private island, and a most unexpected way to view marine life.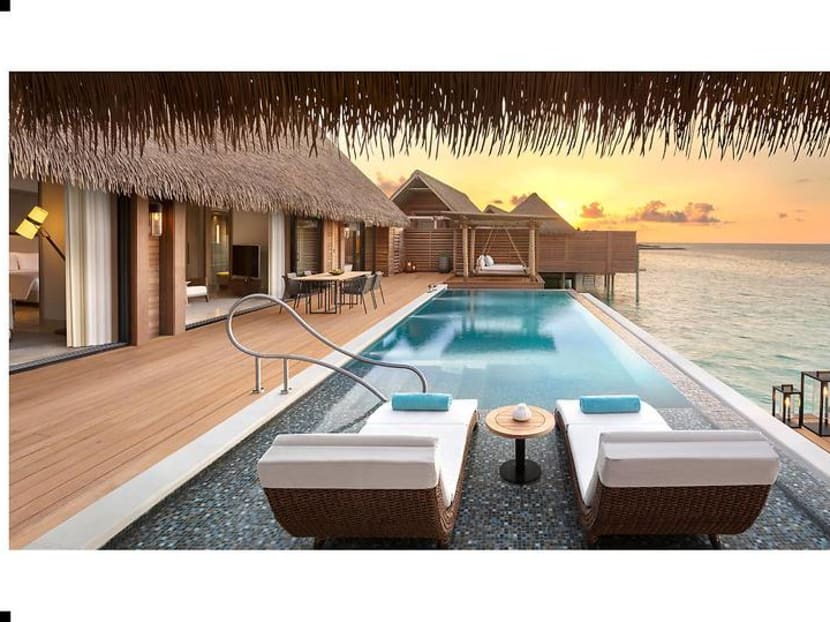 If you've been to the Maldives, you'll know that Male international airport is literally surrounded by water. Your hotel transfer comes in the form of either a yacht, speedboat or seaplane. My ride, however, looked like something right out of a Bond movie.
"I've never been on a yacht quite like this", said a fellow Singaporean traveller on her seventh visit to the Maldives. I nodded politely as I explored the 70-ft yacht, discovering air-conditioned bedrooms for guests to rest their eyes, should the 30-minute ride across the azure blue waters of the Indian Ocean to the brand new Waldorf Astoria Maldives Ithaafushi prove too taxing.
The storied Waldorf Astoria brand arrives in the Maldives, boasting 122 villas, 11 dining concepts, one private island, and a wardrobe full of fish.
I was too busy taking everything in to notice that my personal concierge was already with me when I boarded the yacht. She was to be my go-to person for basically everything I needed throughout my stay – from transportation around the compound, to dining recommendations based on your personal palate preferences, to booking the myriad activities offered in the resort.
Each personal concierge takes care of just a handful of guests so they can be available at all times. They know what time each guest would usually wake up for breakfast, and what time they're likely to retreat to bed at night. My concierge told me she already knew everything about me prior to my arrival.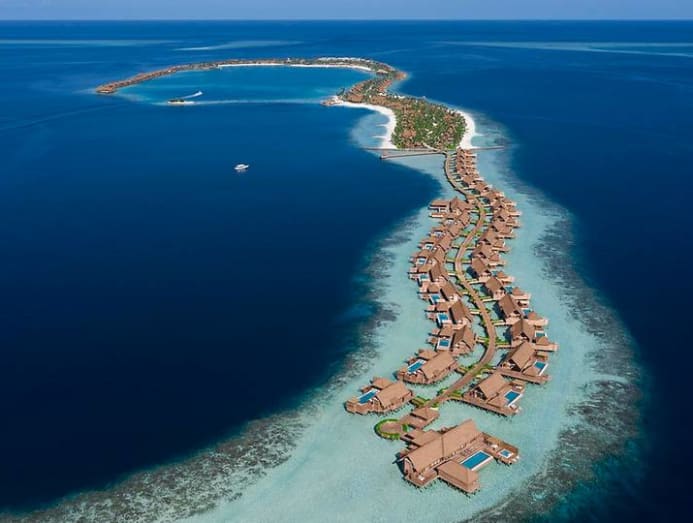 That's nice, I thought. But I couldn't help but wonder what she meant by everything. A woman does need to leave some mystery intact.
On the third night of my stay, I returned to my room from a long day of filming around the resort to a very bubbly surprise: A bath had been drawn for me, and it had been timed so well that the temperature of the water was perfection. A long bath made with Salvatore Ferragamo amenities to luxuriate in, delicate pieces of chocolate handmade by an in-house pastry chef, and a few glasses of Krug champagne was exactly what I needed.
A TRANSCENDENT SENSE OF SPACE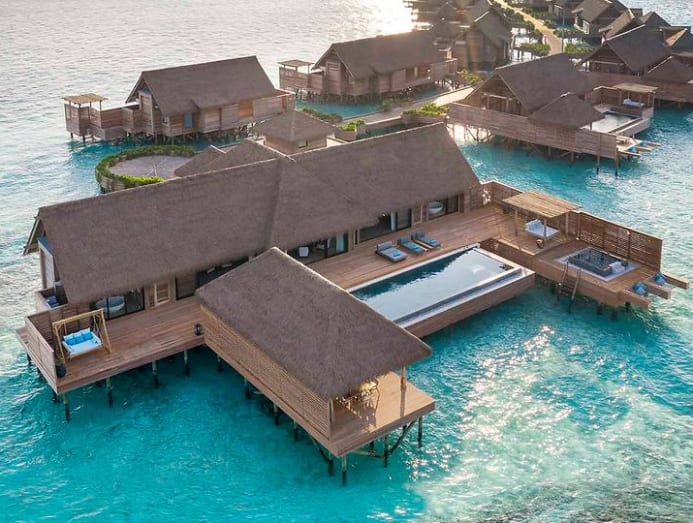 The Waldorf Astoria Maldives Ithaafushi is massive for a resort on an atoll. Something I only realised when I was running late for an activity within the compound one morning and it took me 15 minutes to get there.
Officially launched in July 2019, the resort itself is 3.5km long – the commute from point to point via a buggy is around 25 minutes. It encompasses 122 standalone villas, a whopping 11 dining establishments, and a plethora of facilities including an overwater spa and gymnasium, a PADI diving centre and a 40m mirror pool.
This doesn't include their private island. Accessible only by yacht, the 32,000 sqm sanctuary features a four-bedroom residence, two villas, private recreational facilities, and a dedicated team of chefs and personal staff.
Back at the main resort, three types of villas are available: Beach, reef and overwater, which was the accommodation I was treated to. I admit having to collect my jaw off the floor after walking through those doors for the first time.
The 283 sqm overwater villa is splendidly expansive, amplified by gorgeous high ceilings and an unobstructed 180-degree view of the Indian Ocean from wherever you stand in your villa. It's incredibly difficult not to feel spoiled in this space. Even the wardrobe boasts a see-through floor that looks down into the turquoise water teeming with marine life. I called it "Nat Geo Live".
Honestly, I spotted more fish standing there getting ready for the day than I did on some of my previous snorkelling trips.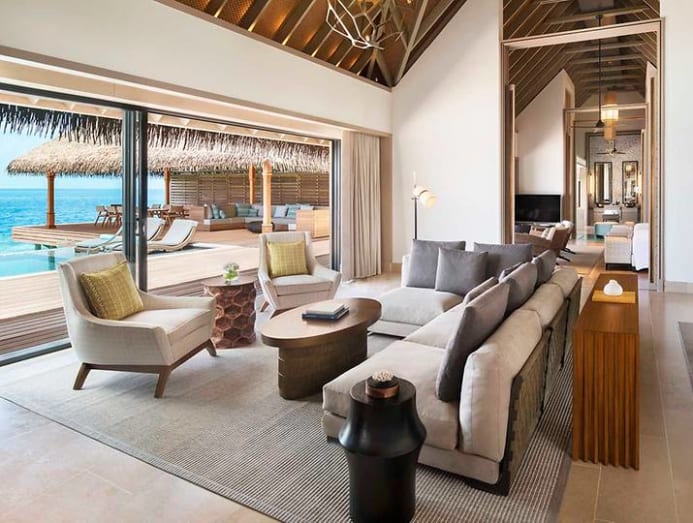 The room is so big that you'd think twice about getting out of bed to draw the blinds. Thankfully, there is an iPad in every room that controls just about everything – from lights and blinds to turning on the do-not-disturb sign.
My villa featured a 10m pool and direct access to the ocean. It is a breathtaking setting. And also, for paranoid me all by my lonesome, just a tad unsettling in the beginning. The seclusion of my villa and vastness of the space made me feel like I was the only one in the middle of the Indian Ocean. No one would know if I got swept away by a rogue wave, I thought.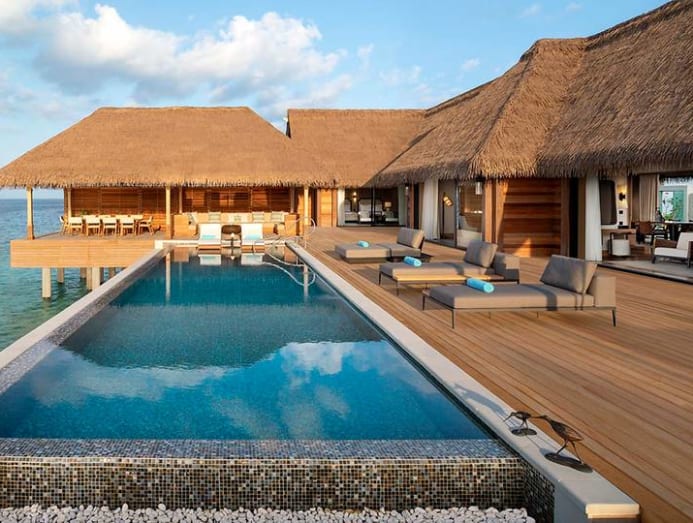 I jumped at the opportunity for a quick swim when I saw neighbours in the water and quickly got over my paranoia. Snorkelling in these waters was surreal – a barracuda and two parrotfish came to say hello as soon as I dipped my head in.

Natural splendour is in abundance in a place like the Maldives, and Ithaafushi is doing its part to keep it that way. Plastic key cards and stationery have been replaced with wood alternatives. There are no plastic straws in the entire resort. As part of efforts to reduce its environmental footprint, the resort bottles its own still and sparkling water – in glass containers, of course.
"Even before we began constructing the resort, we had two marine biologists on hand, to guide the project team throughout the process to minimise impact to the natural environment," Daniel Welk, Vice President of Luxury and Lifestyle, Hilton Asia Pacific told CNA Luxury. "We're continuing to look for additional partners, within the Maldives, to ensure that we're not only reducing our environmental footprint, but leaving a positive impact on the local community."
A DIFFERENT FOOD SCENE AT EVERY MEAL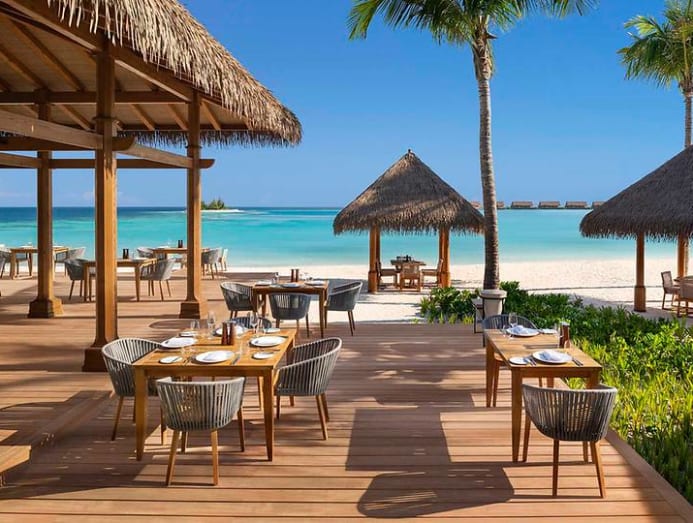 Culinary pleasure is usually the highlight of a Waldorf Astoria experience. And the Maldives edition did not disappoint.
The array of dining options here is incredibly impressive. Ithaafushi is the only resort in the Maldives that offers a gastronomic array of 11 world-class dining options – from Asian and Middle Eastern to European and local cuisine. It will be tempting to extend your trip by a few days just to be able to eat your way through all the restaurants.

Dave Pynt – the mastermind behind Singapore's Michelin-starred restaurant Burnt Ends – has opened The Ledge, an offshoot of the Singapore flagship. Led by Singaporean head chef Deborah Yeo, the restaurant expands on what Burnt Ends is best known for: Grilling, smoking and roasting up deliciousness over an open fire.
My dining companion that evening remarked that that she had always wanted to try Burnt Ends but could never get a table. I dare say that the experience at The Ledge was as good as – if not better than – Burnt Ends. The restaurant is three times bigger, with a spectacular action shot of the open-kitchen on the right and a view of paradise on the left.
Highlights of our dinner included freshly grilled lobster (the resort partners up with local fishermen to get fresh rock lobsters on a regular basis) and a 45-day dry-aged beef rib that was the perfect vibrant shade of pinkish red.
Despite my scepticism, I decided to heed the advice of my personal concierge and give natural dining restaurant Glow a try. The words "natural dining" are not usually top of mind when I'm looking for a tasty meal – but it turns out the concierge did know me better than I thought.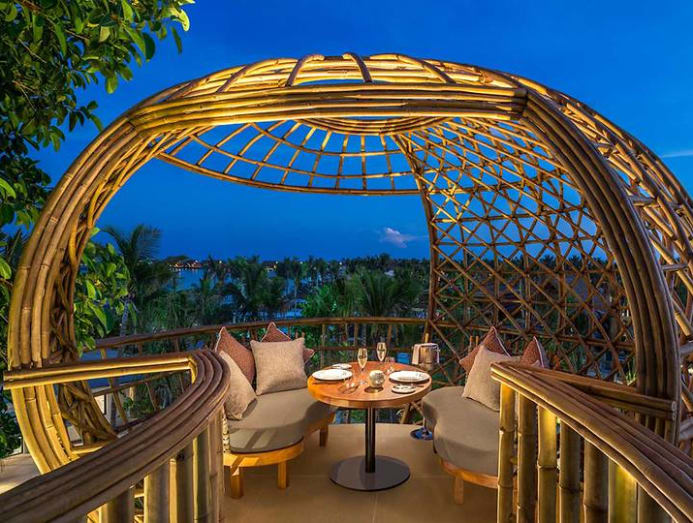 Despite its healthy sheen, every dish was a winner with a clever combination of ingredients, flavours and seasoning. My low-fat broccoli-kale soup was elevated with a poached egg that provided the extra creaminess, which I later soaked up with my parmesan toast. And my "organic, flourless, gluten-free" chocolate cake tasted indulgent in spite of the use of words that should never – in my opinion – describe dessert.
Other dining highlights include Terra, which is their most expensive restaurant in the resort. Situated on the island's highest point, guests are given the experience of dining in private pods crafted from natural bamboo. Meanwhile, Yasmeen, their Middle Eastern restaurant, is an open-air space filled with decorative artefacts and antiques. Both restaurants, however, are unsheltered, so they're not open for business on rainy days – which I happened to experience during my trip.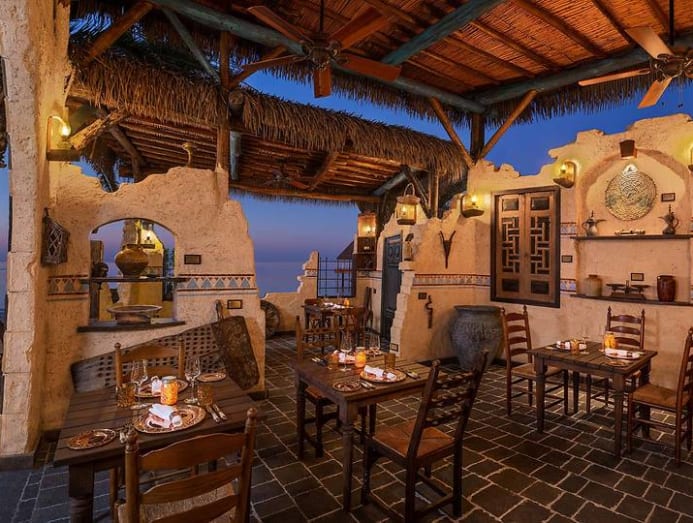 No matter: I got to wrap up my stay in true Waldorf Astoria style – with those signature Waldorf Astoria Eggs Benedict.
Like all resorts in the Maldives, this is a destination in itself. It isn't a place you visit hoping to discover local delights outside the resort. Not that I ever felt the need to leave the Waldorf Astoria Maldives Ithaafushi.
I was perfectly content in my villa perched above the waters of the Indian Ocean. I was happy lounging on the many sunbed options by my pool. I was pleased as punch just standing in my wardrobe full of fish.
When I first arrived at the resort, I was almost embarrassed by the effusive welcome shown by the staff on the pier. Sure, the waving hello was nice, but the applause seemed a tad much for how my terrible my hair looked after a 30-minute boat ride.
Next time, I told myself as I left Ithaafushi on my modest Bond villain yacht, I will return with a large, cheer-worthy hat for the occasion. And a friend or two, so I can finally get through all those restaurants.
CNA Luxury was in the Maldives at the invitation of Hilton. The Waldorf Astoria Maldives Ithaafushi is now open for bookings.