We ask Singapore sommeliers: What's in your wine fridge?
What do Singapore's top sommeliers drink when they're off-duty? We ask Odette's Vincent Tan, Saint Pierre's Angel Liu, MBS's Mathias Camilleri and Cicheti's Ronald Kamiyama to share their favourite vinos, plus tips on how best to enjoy them.
By Farr Sangreal Pinot Noir 2018
Nick Farr produces some of the finest Pinot Noirs out of Victoria. His wines bear imprints of his time in Burgundy under the tutelage of Dujac, yet are imbued with his own sensibilities.
Sangreal is probably the most elegant of his wines that I love introducing to people because of how surprising and unexpected it is. It's a great example of how stepping outside of the mainstream can lead to wonderful discoveries.
Menade Nosso 
I've formed a personal friendship with the family at Menade over the years and worked closely with them at Odette. As it happens, I like to keep a stash of their wines at home as well.
The Nosso is a fun one; a deliciously fresh and crisp wine that's easy enough to drink on any given day, but also worth breaking out on special occasions.
As winemakers, their focus is on making delicious wines beyond appellations and classification, which is something that strongly resonates with me as a sommelier. It's a true crowd-pleaser and an easy wine to love, which is why I included it in the bundle I recently curated for Clink Clink. 
Domaine Alain Voge Cornas 'Les Chailles' 2016 
Shiraz/Syrah is one of the more underrated grape varietals often overshadowed by the success of Barossa Shiraz. This has led to the perception that Shiraz tends to be overpowering.
That is definitely not the case with the 'Les Chailles', which is more on the aromatic and uplifting side. This is a wine that I've been recommending to friends as it introduces a lesser-known side of Shiraz.
Moric Blaufrankish Reserve 2012
Roland Velich wines are home cellar staples for me. The Blaufrankisch is simply outstanding. I like to think of it as a richer Pinot Noir, a wine to be savoured over good conversation; something to open when you're feeling adventurous.
Despite the attention given to Austrian whites, don't underestimate the reds. I'm a firm believer of never limiting yourself to regions or labels. It's hard to deny when a wine is simply a good wine. 
Willi Schaefer Graacher Domprobst Riesling Kabinett 2018
Will Schaefer is a fantastic and underrated winery in Mosel which I've been following since I started as a sommelier.
I visited them in 2018 during what was a particularly challenging vintage, but the way they adapted to the circumstances and produced this stunning bottle is testament to their passion and understanding of their product.
This off-dry Riesling is refreshing on the palate and makes for a perfect nightcap. 
"I'm a firm believer of never limiting yourself to regions or labels. It's hard to deny when a wine is simply a good wine."
ANGEL LIU, SOMMELIER, SAINT PIERRE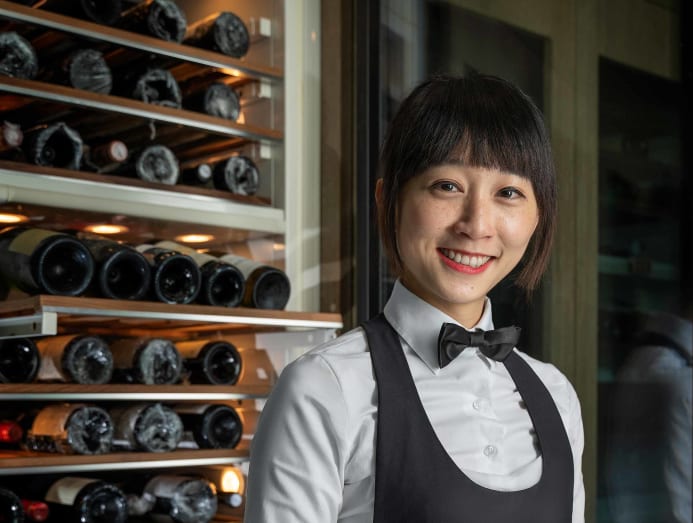 Pol Roger Blanc de Blancs 2012
Anytime is a great time for champagne. I would love to spend a relaxing afternoon lounging in the balcony, watching Netflix, eating my favourite potato chips and enjoying this lovely bubbly. C'est la vie!
I love champagne, especially the Blanc de Blancs. Pol Roger 2012 is an excellent vintage. The grapes are all hand-selected from the grand crus of the Cote des Blancs and aged for six years in their cellars. It is medium-bodied with a rich but precise stone fruit character and concludes with a brioche finish. This elegant beauty is affordable but of great quality.
Didier Dagueneau Pouilly-Fume Silex 2016
Didier Dagueneau's wines really impressed me the first time I tried them. He is famous for producing some of the best Sauvignon Blancs in the world, so I'm really keen on sharing this bottle with all my friends.
Even if you are not a fan of Sauvignon Blanc, give it a try. There are intense flavours of quince, lime, minerals and stone. It is a powerful and harmonious wine. I enjoy it with prawn mee.
Henri Magnien Gevrey-Chambertin Champerrier 2016
To be honest, I'm not a red wine lover. But if I must choose one, I'd pick Henri Magnien Champerrier. Gevrey-Chambertin is my favourite village in Burgundy. The Pinot Noir here is usually finer, powerful but elegant, and offers a slight richness.
This bottle is extremely fruit-forward – strawberry, black cherry and plum. I'd like to open it at an early dinner, at 6pm, to admire the ruby red hue in a Burgundy glass accompanied by a sunset view and a bowl of Taiwanese braised minced pork rice. It goes well with pigeon or duck confit, too. The 2016 vintage is slightly young but this bottle is great for its juicy freshness.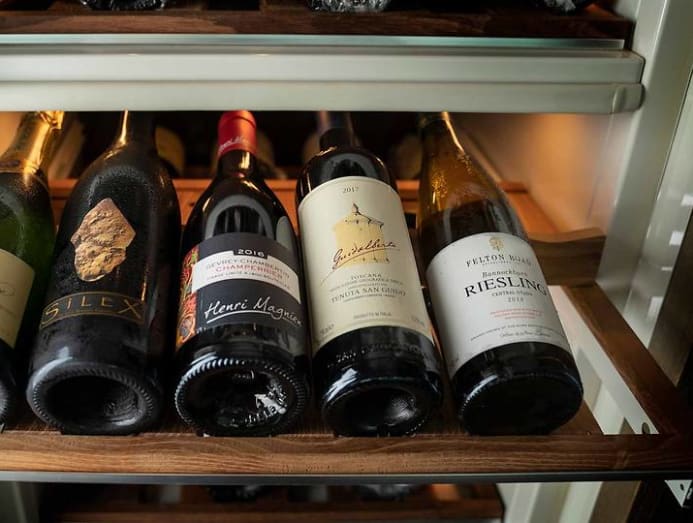 Guidalberto Tenuta San Guido 2017
I do enjoy some intense, powerful reds and I prefer a medium- to full-bodied red from Tuscany. This is the second label of Sassicaia. It is quite a young wine but transforms after it is decanted for 30 minutes.
A powerful Tuscan-style wine with black cherry, cassis, cedar wood, spices, tobacco and hints of jammy flavour, with good length. Perfect with a well-marbled rib-eye steak.
Felton Road Bannockburn Riesling 2018
Never say no to an off-dry Riesling. I would usually choose a German Riesling, but I was stunned by this Riesling's chalky-mineral flavours and optimal balance between acidity and residual sugar.
It's sweet but not overwhelming, and produced by an organic and biodynamic vineyard to ensure a sustainable ecosystem. As a dessert lover, I would pair this with a classic New York cheesecake or with Saint Pierre's fig tart.
"Anytime is a great time for champagne. I would love to spend a relaxing afternoon lounging in the balcony, watching Netflix, eating my favourite potato chips and enjoying [a] lovely [flute of] bubbly. C'est la vie!"
MATHIAS CAMILLERI, SENIOR BEVERAGE MANAGER AND MASTER SOMMELIER, MARINA BAY SANDS
Gusbourne Blanc de Blancs
While working in the UK, I discovered that the country produces amazing sparkling wines. In fact, many of them deserve a lot more attention than champagnes do.
Gusbourne is one of them. The Blanc de Blancs they produce is a stunning expression of the qualities found in Cote des Blancs Champagne in terms of precision, elegance, and complexity. While this sparkling wine can be enjoyed as an aperitif, it also has all the gastronomic virtues to elevate a home-cooked meal.
Thibaud Boudignon Anjou Blanc
Made with Chenin Blanc, this wine ticks all my boxes. It has complexity and is deeply aromatic with flavours of quince, caramelised apples and white truffles (which are currently in season), with a nice touch of salinity.
The acidity lingers on the palate to whet the appetite. It is a beautiful complement to my favourite Japanese cuisine, such as sushi and sashimi.
Susana Balbo Crios Torrontes
This is a dry white wine made with Torrontes, a distinctive grape variety from Argentina. It shines with its powerful perfumes of white rose petals, tropical fruit and fresh citrus blossoms. It bears a lot of similarities with grapes like Muscat, Sauvignon Blanc or Riesling.
Given Singapore's hot and humid climate, I love to enjoy this as an aperitif, which awakens the taste buds before a meal. It is also a good substitute for fruity cocktails. This white wine is an exceptional pairing with Asian cuisines like Thai, Japanese, Cantonese and Indian.
Franck Massard Licis
This indigenous grape from the northwestern region of Spain is a cross between two of my favorite grapes: The Pinot Noir from Burgundy and Syrah from Northern Rhone.
Pinot Noir boasts an elegant texture with velvety tannins, while Syrah is well-loved for its dark cherry, blueberry, violet, lavender, and peppercorn notes. Made by ex-sommelier Franck Massard, this is a brilliant wine that I love to drink and share with friends who are curious about wines.
Yannick Amirault Saint Nicolas de Bourgueil, La Mine
More often than not, we associate the pleasure and significance of a drink with our fondest memories. In my case, I attach tremendous sentimental value to my wines.
This red brings me back to my days of studying wines in Paris – my first step into the amazing world of wines. Yannick Amirault was the first winery that I had the opportunity to visit and I remember it was during harvest season.
There I discovered the secrets of Cabernet Franc and learnt to enjoy it. It naturally became my favourite grape variety and a wine I would drink at any occasion, at any time.
"Given Singapore's hot and humid climate, I love to enjoy this [Argentinian dry white wine] as an aperitif… it is an exceptional pairing with Asian cuisines like Thai, Japanese, Cantonese and Indian."
RONALD KAMIYAMA, SOMMELIER, THE CICHETI GROUP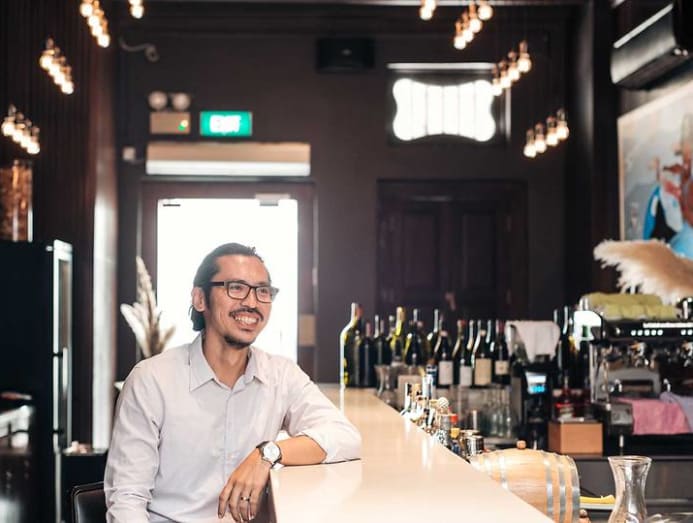 Damien Laureau Savennierea La Petit Roche 2018
I consider Chenin Blanc one of the greatest white grapes for wines. Every sip is different, which is why I find it fascinating. The balance of texture, aromas, acid and lingering flavour is such a continuous joy.
This is a charming entry-level Savennieres. Its nose is very expressive, pure and reminiscent of citrus fruit rubbed on stone, with a touch of bitter lime. The palate starts off cool and lean, with some light and sandy fruit. Pure, lightly smoky, stony and with a little weight and bitter grip on the finish.
Yvon Metras, Beaujolais 2017
Yvon Metras is not just any Beaujolais producer; he is one of the best. I enjoy drinking his wines because it reminds me of how amazing an underdog (in this case, Gamay, a purple grape variety) can be. His Gamay can easily compete with the better-known northern Pinot Noir producers of Burgundy, at a fraction of their price.
This Gamay is very perfumed, open and has a nose of aromatic red fruit showing sweet cherries with hints of herbs and spice. It is very fine and elegant, delicate and pure. Gamay is low in tannins and easy to drink, so if someone is not so into wines, they are a great way to start.
2018 Burlotto Verduno Pelaverga
What is Pelaverga? It is a rare variety of red wine grape that hails from the hills of Piedmont with a lovely, spicy aroma and strawberry flavour.
Whether it's Pelaverga, Freisa, Vernatsch, Gaglioppo, or Nerello Mascalese, I am always able to discover some new and exciting grapes from Italy at great value from a great producer such as Burlotto.
I remember tasting a vertical of different Pelavergo producers over a decade ago when I was learning about Italian wines. I was so impressed by the uniqueness of the fruit that it made me curious to learn more about the world of Italian wines.
Tiberio Cerasuolo d'abruzzo 2018
Wonderfully fresh and perfumed, showing depths of smoky minerals on the nose, giving way to notes of ripe strawberry and wild flowers, with hints of crushed limestone and chalk.
On the palate, its silky textural depth is offset by a mineral salinity and brisk acids, with notes of cherry and orange citrus. The finish is long, with a twang of tart red berry and hints of wild herbs. It's almost salty, begging me to take another sip.
I've always been a fan of rose wines, but not just any rose wine. I prefer the more intense, flavourful ones, with deeper character whether it is from Tavel, Bandol, or in this case, a Cerasuolo rose from one of my favourite Italian producers, Tiberio.
"Gamay is low in tannins and easy to drink, so if someone is not so into wines, they are a great way to start."