Is festive feasting causing you to overindulge? Time for a detox getaway
The top-rated wellness centres across Asia to book a retreat to recover from the holiday you just had.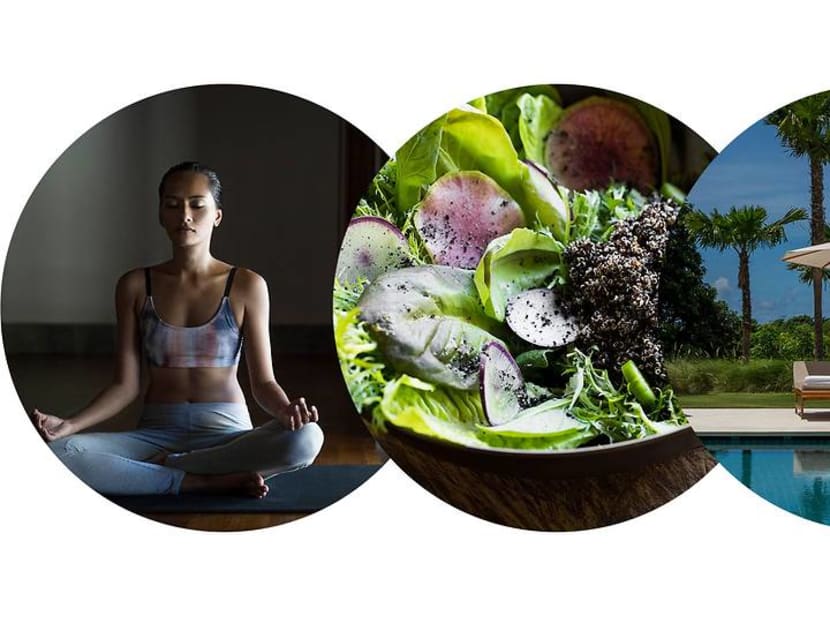 It's the most wonderful time of the year, with all that feasting, parties and merrymaking to indulge in. But post-Christmas, reality strikes when you step on the weighing scale and realise you've piled on – gasp – a few pounds. Even worse, you feel sluggish and perhaps rather unfocused at work.
Well, that's not the way to start 2020. What you need is a holiday to recover from your holiday. Not just any lazy beach vacay, but a detox getaway to reboot your system and get your body back into fighting fit shape. Here are five of the top-rated wellness retreats in the region with detox programmes where you can recover from the festivities and kick-off the new year with a bang.
ASAYA, HONG KONG
Hong Kong might not be the first place that comes to mind for a peaceful retreat at this point in time but hear us out. The city is home to some of the region's most impressive hotels and Asaya, the wellness retreat by six-star hotel Rosewood Hong Kong is truly a stand out.
Asaya's one-to-three night Cleanse retreats include a professionally tailored schedule which includes bespoke exercise sessions, naturopathic doctor consultations, guided meditations and body treatments. Your meals will also be specially created by its in-house Asaya Kitchen featuring clean food prepared in a delicious Mediterranean meets Japanese style with a focus on seasonal ingredients. With all your needs well taken care of while you detox, you won't even have to step out of the hotel, unless you want to.
CHIVA-SOM, HUA HIN, THAILAND
Award-winning wellness retreat Chiva-Som is back and better than ever, following a complete renovation – it's first major overhaul since its launch 24 years ago. Wellness junkies will be pleased to know its wellness facilities have also been upgraded with the addition of a new hydrotherapy suite and flotation chamber as well as a new sunbed area to bask in the sun.
Its Art of Detox retreat is a fully personalised dietary focused programme, which includes a specially formulated cleansing diet to help you kick-start your body's detox process. A personal adviser will also prescribe herbal and nutritional supplements to help you bring your digestive system back into equilibrium.
Besides the resort's range of resident consultants who specialise in various holistic fields from naturopathy to chakra healing and acupuncture, Chiva-Som also hosts a roster of visiting experts who can offer sessions on esoteric healing practices like hypnotherapy or reiki.
COMO SHAMBHALA ESTATE, BALI, INDONESIA
The Cleanse programme at Como Shambhala in Bali features a tailor-made menu that is created in close consultation with the resort's wellness experts. The meals could include whole-food cuisine or, for more hardcore types, a liquid diet of juices, teas, broths and tonics.
What's good about this resort's detox programme is that instead of having to stick to a timetable of activities, you can check out its daily schedule of classes and events to decide what works best for you. The programme ranges from healing forest walks to yoga, pilates and fitness classes and even meditation sessions to keep you occupied through your stay.
KAMALAYA, KOH SAMUI, THAILAND
With three different types of detox programmes available, it is no wonder this luxury resort, just three minutes from Koh Samui's quieter southern Laem Set beach, is one of the most popular destinations for those after a thorough cleanse to their systems. The Kamalaya detox regimens are designed to cater to detoxifiers of different experience levels, from newbies to experienced, repeat customers.
The programmes, which range from three to 14 nights, combine a detox diet with a range of holistic therapies to ensure you won't spend your days wallowing miserably with hunger pangs. Be sure to go for the chi nei tsang, an ancient Chinese deep abdominal massage, which is meant to stimulate your internal organs into functioning more efficiently. It is said to improve the body's digestive capabilities.
While the Intro to Detox retreat focuses on more relaxing therapies like massages, the Basic and Comprehensive Detox include a wider range of treatments like colon hydrotherapy and even personal training sessions. All you need to do is show up and put yourself in the experts' hands and emerge feeling a lightness of being.
REVIVO WELLNESS RESORT, BALI, INDONESIA
Located in the idyllic hills of Nusa Dua in south Bali, amidst dense tropical rainforest and the deep blue Indian ocean, check into Revivo to reset your intentions for the new year. The wellness resort's Detox & Organic Weight Loss Programme offers a range of holistic therapies to help you shed the extra layers and bring mental and emotional balance to your life.
The programme comprises personal consultations with a wellness coach who can recommend specific nutritional supplements, therapies and classes to suit your needs. These could include lymphatic massages, vinyasa flow yoga sessions and ayurvedic diet courses. The meals are carefully curated to showcase ingredients that are high in nutrients and vitamins.
Do make notes on your favourites so you can continue looking out for similar ingredients and dishes even after you leave the resort. Of course, there are also mindfulness meditation sessions to detox your brain at the same time.
From bookings made now till January 31, 2020, the resort has a Stay 7 and pay 5 promotion on its four-suite villas, which can house up to 12 people – ideal for wellness wannabes who would rather "suffer" together in a group.