Sky highs: 5 of Hong Kong's best rooftop bars
Where to head for a cocktail with a view that's guaranteed to give you a lift.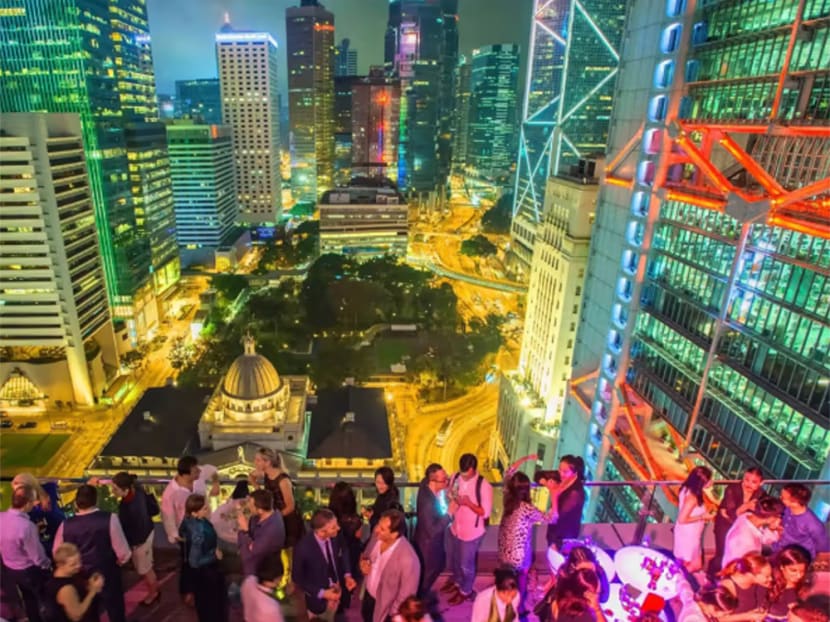 A pitfall of global drinking culture is that after a few sips of Peroni, Bordeaux or Drambuie, it's easy to fool yourself you could be in any city, anywhere. But pitch yourself on a Hong Kong rooftop and you'll know exactly where you are. A rooftop drink, even if charged at the higher end of the spectrum in what is already a very expensive city, can turn an ordinary night into an occasion. What in the day can appear tawdry, sullen and commercial is at night transformed into a sea of razor-sharp lights. 
New bars may open and everyone has their reliable favourites, but in my few months of being in Hong Kong, the following have stood out. In some you feel closer to the sky than the ground below. At others, the joy is simply the feeling that on a rooftop, you're existing right in the heart of the city. Two things to bear in mind: The risk of bad weather, and it is always worth checking if the place has been booked out for a private event. 
TERRIBLE BABY
Fourth floor, Eaton HK, 380 Nathan Road, Jordan, Hong Kong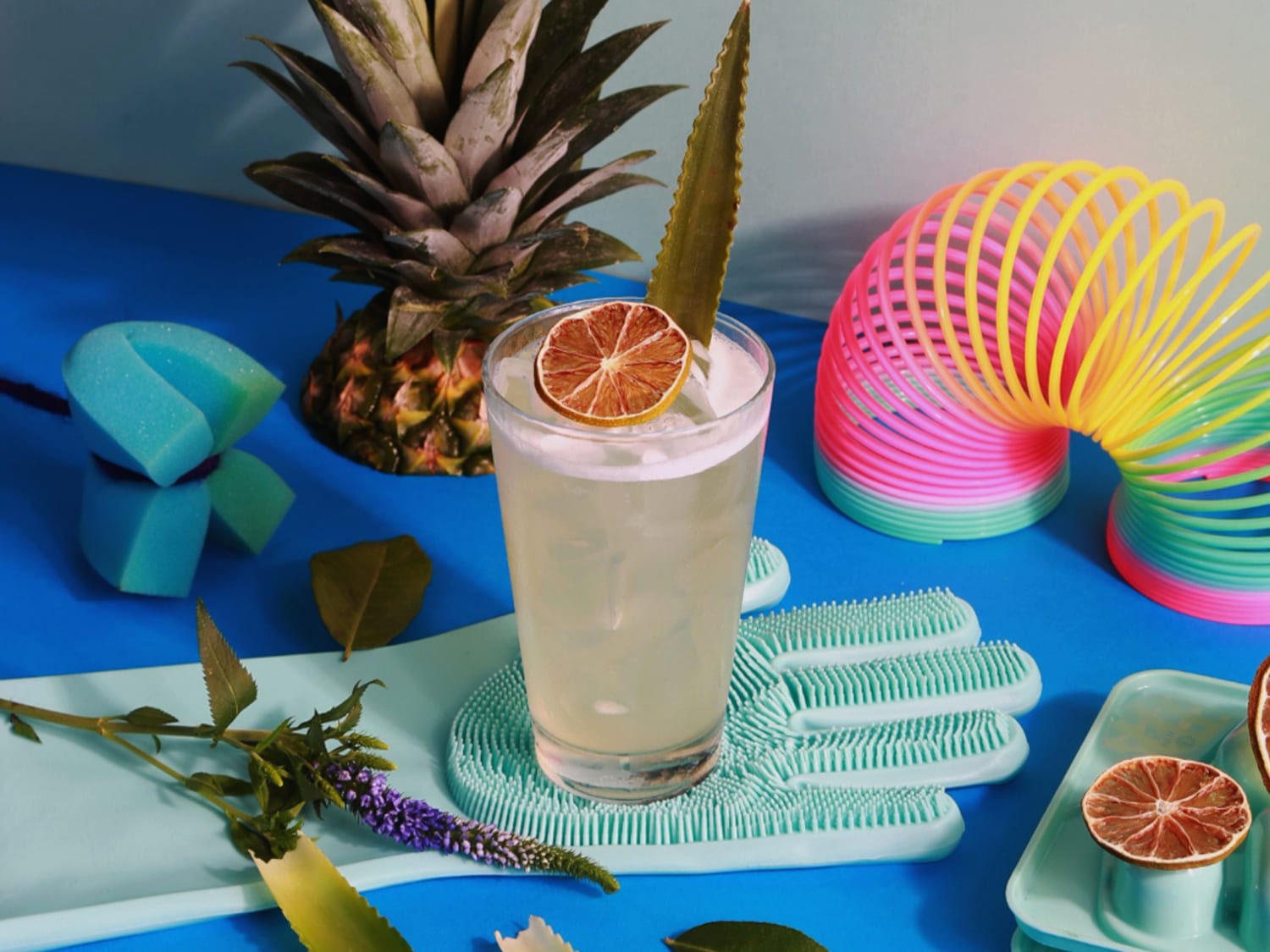 Good for: Hipsters and dance-music aficionados (features DJs and live music). Whiling away a Saturday evening with friends.
Not so good for: Grungy dressers
FYI: Nathan Road, one of the main roads through Kowloon, used to be known as the Golden Mile
Terrible Baby (from "enfant terrible") in this case refers "to a group of young, passionate and fearless creatives who take inspiration from the Dadaist art movement. They are talented yet nonconformists; innovative and unorthodox who enjoy taking risks and being daring", according to the bar's website. I worry that it might take itself a little too seriously. But on arrival, I check out the cocktail menu (from HK$85, about S$15) and figure that anyone who sells a drink called Freak Show, a mix of tequila or bourbon, passion fruit, Thai red-chilli syrup and lager that frankly sounds like something my seven-year-old might mix up in the bath, knows how to have fun. 
The fourth-floor rooftop bar is overlooked by a hotel whose neon-lit lifts fire up through the sky like molten wax in a lava lamp. We don't discuss Surrealism or take many risks, but we do knock back the Freak Shows – as well as other inventive cocktails such as the tasty Rusty Plum, Crybaby and Rock Chick – and make it down the neon-lit escalators without hurting ourselves. 
SUGAR
32nd floor, East Hotel, Taikoo Shing Road, Taikoo, Hong Kong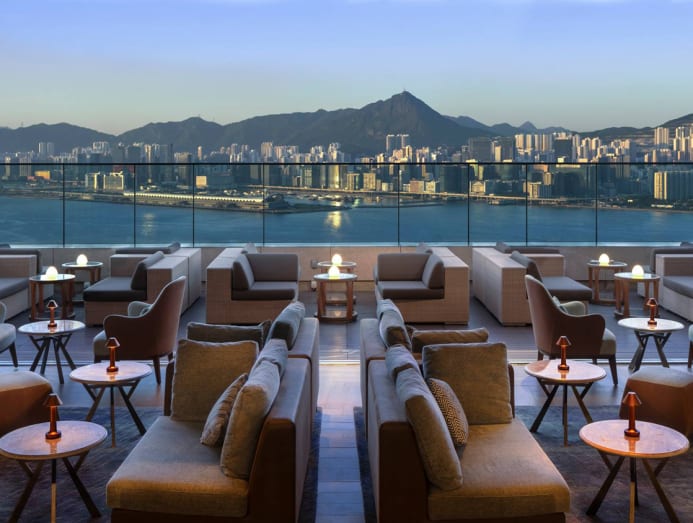 Good for: An alternative view of the harbour
Not so good for: Drizzly nights. They don't have enough umbrellas to go around
FYI: Take the slow route there on a tram – one of the world's last double-decker trams
Sit on the terrace of Sugar and think about history, geography and how Hong Kong came to be Asia's financial capital. The bar, named in homage to the commodity the district of Taikoo was once famous for, has a view of the harbour best enjoyed in early evening – not just for the sunset, but also the special offer of a Sundowner cocktail for HK$108 and two pints of draft beer for HK$158, from Monday to Saturday, 5.30pm to 7.30pm.
Drinks include the Cheeky Collins, a mix of Hendrick's gin, lychee liqueur, rose and green tea cordial, and the whisky-forward Where's the Monkey, a concoction featuring apple juice, rosemary and ginger beer.
For those who find the cocktails too saccharine, choose a whisky from the extensive list and take in a part of the city once filled with warehouses that is now crammed with high-rises. As an extra bonus, the washbasin in the women's bathroom has an equally startling view of a sparkling, high-rise horizon.
SEVVA
25th Floor, Prince's building, 10 Chater Road, Central, Hong Kong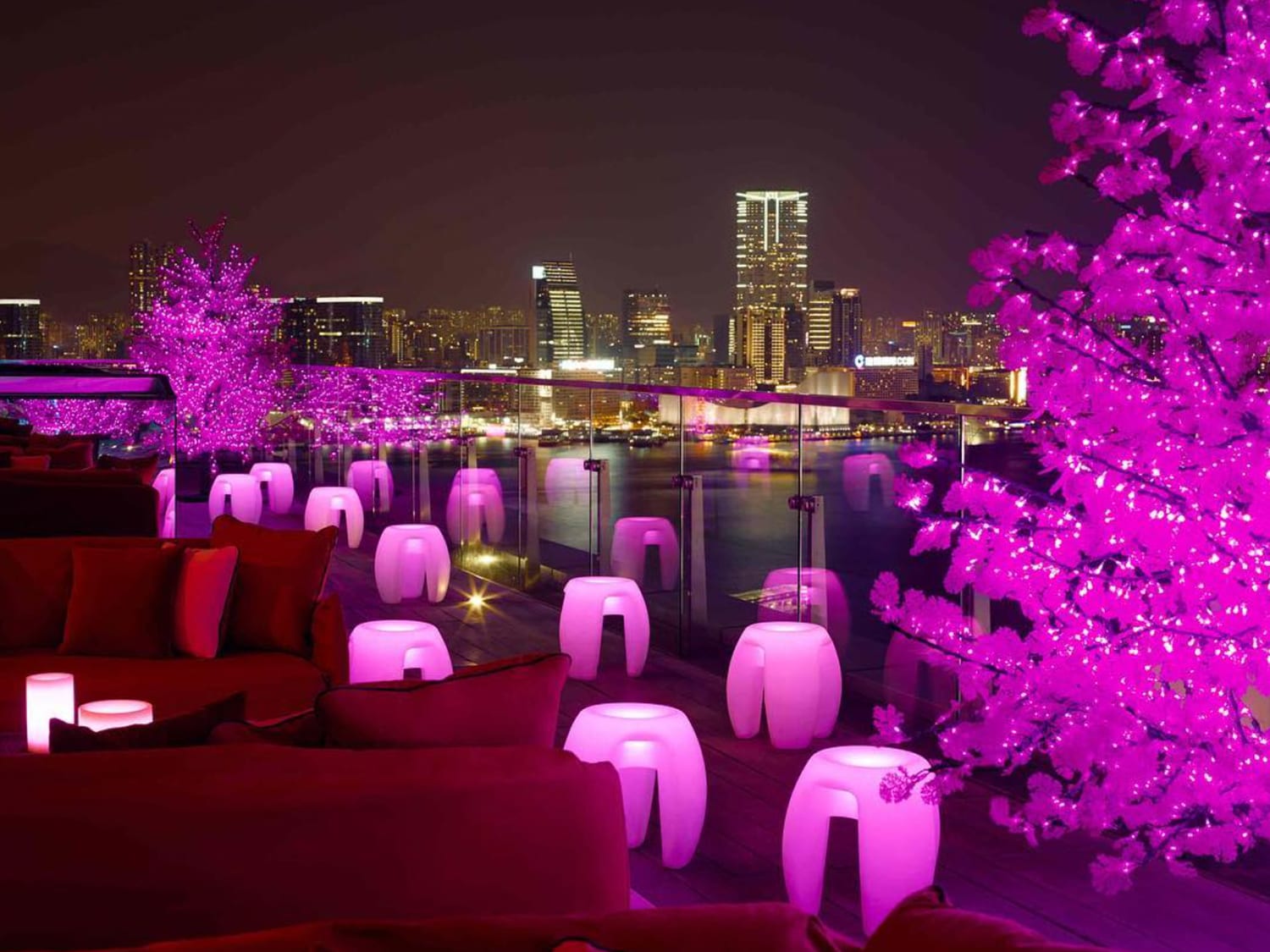 Good for: Glamour in the heart of the city
Not so good for: People with a poor sense of direction. I got lost in the web of air-conditioned tunnels beneath the Prince's building
FYI: Check out the display of Louis XV-themed cutlery by the entrance 
The Bank of China building, all flashing triangles and sharp edges, is one of the most distinctive in Hong Kong. Officials preparing for the handover to China in 1997 feared the design heralded bad feng shui. But the feng shui for visitors to Sevva is surely good. Step on to the panoramic terrace to a Blade Runner-like landscape that takes in not just the Bank of China and Statue Square but also the 60m-tall Hong Kong Observation Wheel and the harbour itself.
The champagne here is brain-numbingly cold, the music is high-octane, clubby and loud – setting the mood for a party just on the right side of cheesy. Prices are certainly at the higher end: The bespoke mojitos – litchee, guava, strawberry and champagne, and charred mandarin – all come in at HK$185. But it's worth it for the location and stylish setting: Go early to set the tone for an excellent night out.
POPINJAYS
The Murray, 22 Cotton Tree Drive, Central, Hong Kong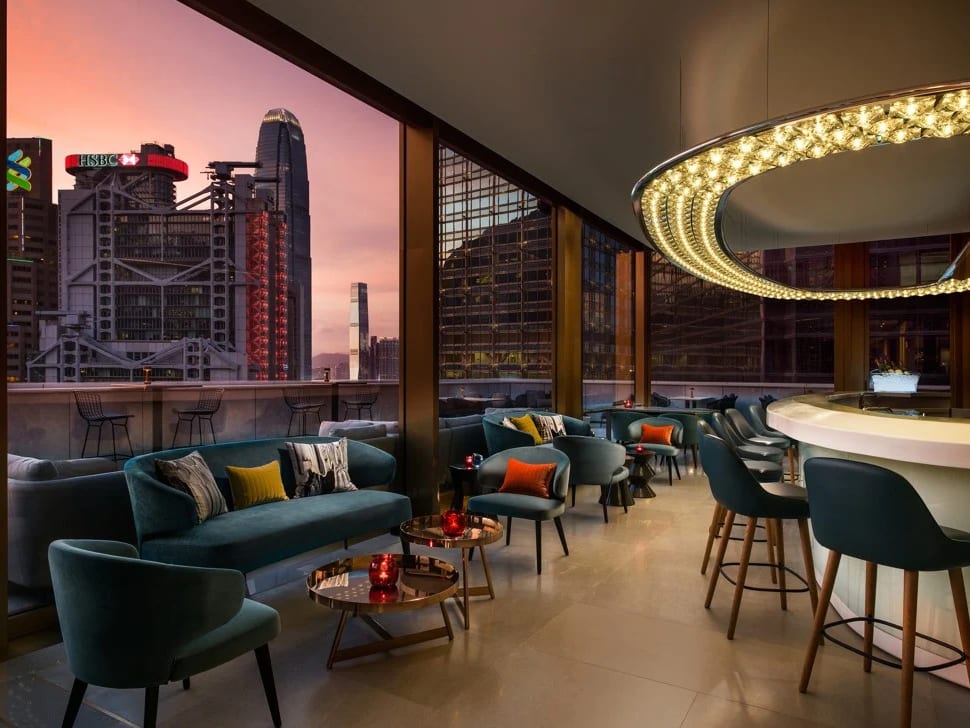 Good for: Corporate events when you want to impress a client. A high-stakes date 
Not so good for: Weatherproofing. The first time we tried Popinjays, the bar was shut because of the rain – dispiriting after a trudge up Cotton Tree Drive
FYI: Call in advance because it gets booked up for private events. The doorman at The Murray hotel can arrange a taxi home 
Popinjays, named after the parrot and a reference to its sociability, deals in the kind of luxury that can feel a little twee – namely the cushioned leather seat in the private lift at The Murray hotel that takes you right up to the bar. But the service, the right mix of formal and friendly, puts visitors at ease.
The wine list is decent, there are plenty of champagnes to choose from and the choice of whiskies seems to cover every distillery in Scotland, and then some. The delicious bar snacks include truffle mini pizzas and lobster rolls, and with an afternoon tea (HK$398) offering that includes oyster, caviar, lobster and Peking duck, this is very much special-occasion territory.
On the nights we were there, it seemed a destination for engagement parties and quiet fun. Whatever the event, there is enough space on the impressively large 420sqm terrace to kick back and enjoy the evening. 
OHANA
29th Floor, QRE Plaza, 202 Queen's Road East, Wan Chai, Hong Kong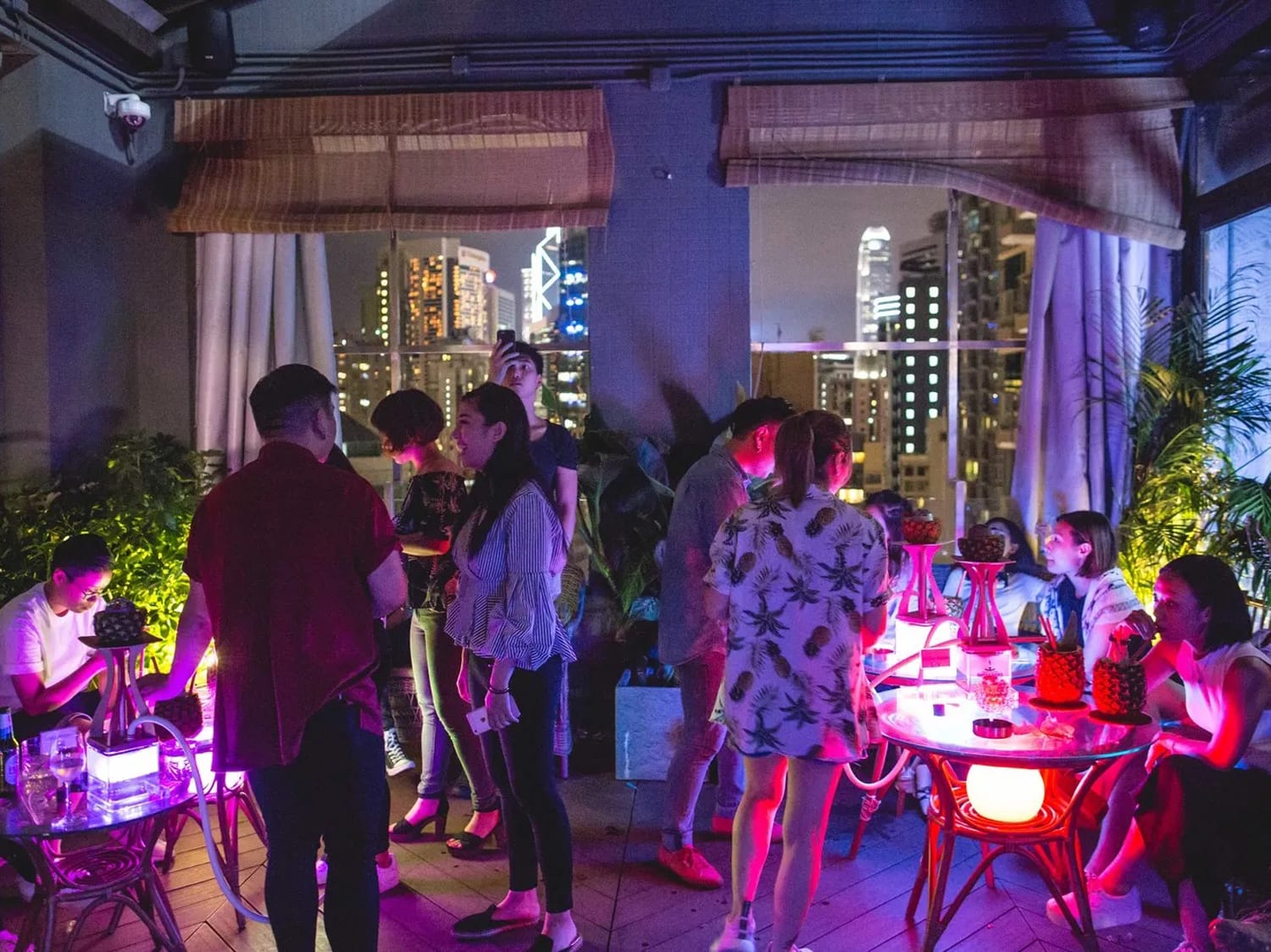 Good for: Unpretentious fun and reminder of misspent youth 
Not so good for: Impressing people
FYI: It's near a great Sichuan restaurant called Deng G. Head to Ohana after dinner
Ohana's selling point is its Hawaiian theme, and there's a smell of exotic fruit – or possibly air freshener – as we arrive. Its 29th-floor Wan Chai location gives the bar an urban, student-y feel, with its wicker chairs and hookah pipes underlining the fun and indie vibe. The crowd is young, its signature cocktails come in at around HK$128 and, if you're brave enough, it serves "Undrinkable" absinthe shooters too (HK$118).
Though the cocktails are where Ohana shines. The Lit'Chi, a vodka cocktail with a mix of fruit including lychee, raspberry, pineapple and orange, is dangerously quaffable, while the Ohana Colada, a refreshing mix of rum, pineapple, banana, coconut and lime, is a crowd-pleaser. Earning Ohana bonus points is how cocktail ingredients are used from "stem to seed", a nose-to-tail-like approach in mixology that aims to reduce waste. But this bar does not take itself too seriously.
The night I'm there, the staff wear T-shirts telling me to chill, there are beer mats advising the same and, with the exception of the no-nonsense signs in the toilets telling me to clean up my own vomit or pay for the privilege of having someone else do it, this is indeed a chill club. Head here for a few drinks to cap off an evening.
Orla Ryan © 2023 The Financial Times
Source: Financial Times/bt