What is it like to dine at Niras, the new Hong Kong outpost of Asia's Best Restaurant Le Du
Chef Thitid "Ton" Tassanakajohn brings his unique take on Thai ingredients and flavours overseas for the first time at the new restaurant Niras.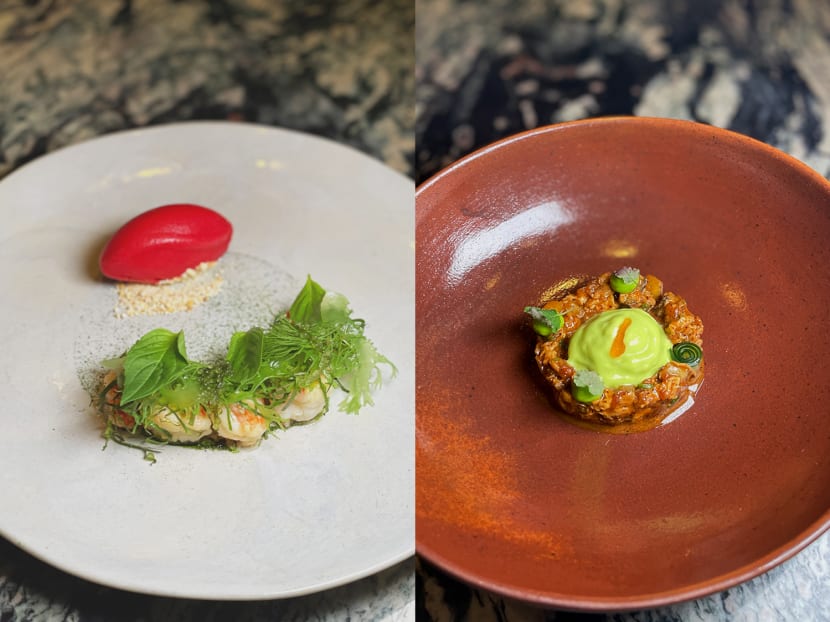 Hong Kong is getting a taste of Thai-Chinese chef Thitid "Ton" Tassanakajohn's modern Thai cooking with a local flair. Fresh from a double win on the Asia's Best Restaurants 2023 list for Le Du (No.1) and Nusara (No. 3), Ton has now opened Niras on the seventh floor of the K11 Musea mall in Tsim Sha Tsui.
The elegant 60-seat fine diner, which is decorated with leaf-shaped motifs that echo Le Du's logo, offers views of Victoria Harbour and consists of a main dining section that includes comfortable banquettes as well as three private rooms that can take up to 12 guests. Undulating crystal stalactites hover over the central bar where diners can enjoy classic cocktails, wine and non-alcoholic beverages.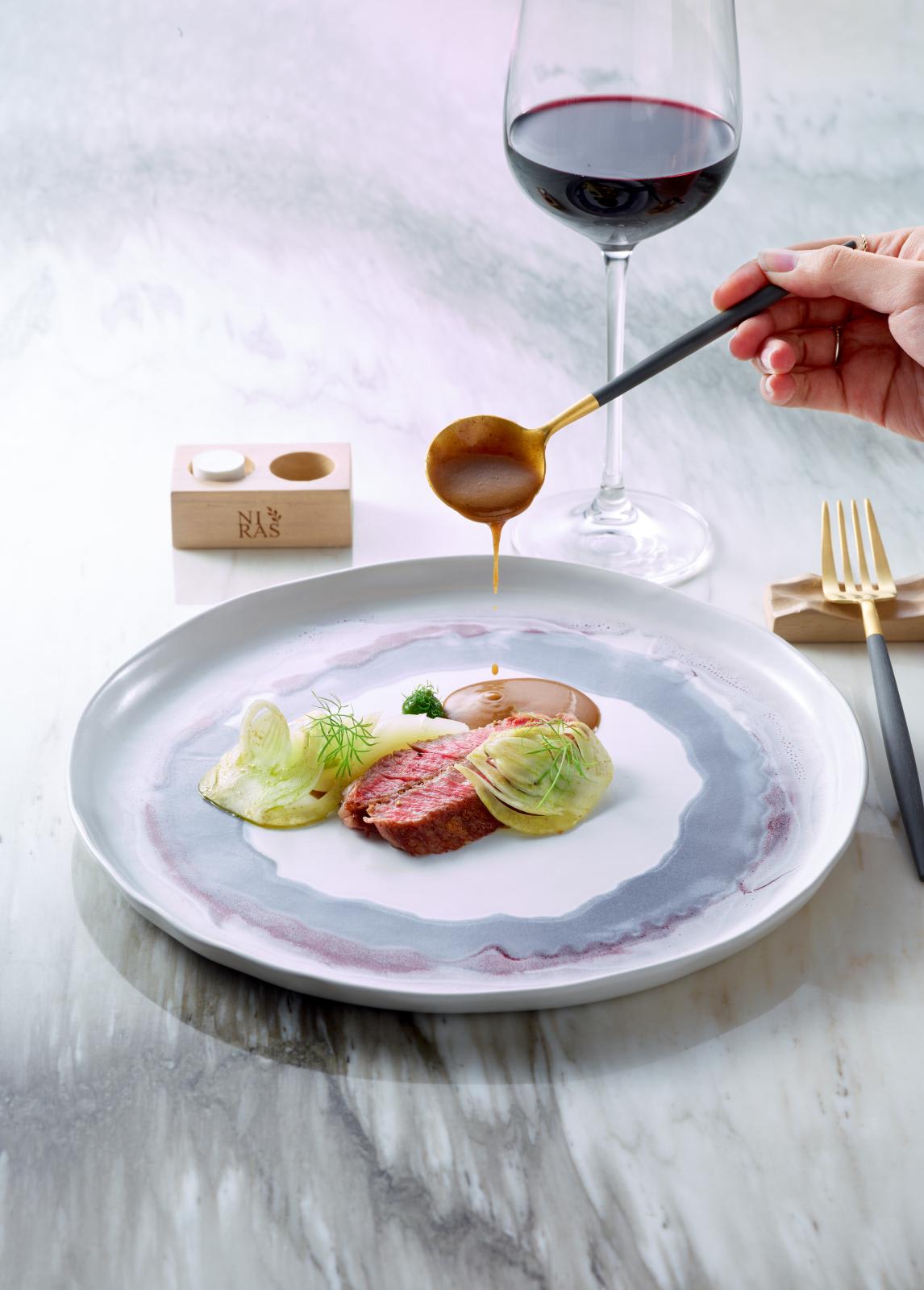 "I love visiting Hong Kong and there is no better place for me to open my first fine-dining outpost outside of Thailand than in one of the most vibrant food cities in the world," shared Ton in a phone interview with CNA Luxury.
Niras carries the same focus on local ingredients and authentic Thai flavours as Le Du, although Ton acknowledges that sourcing of local ingredients is taking some time.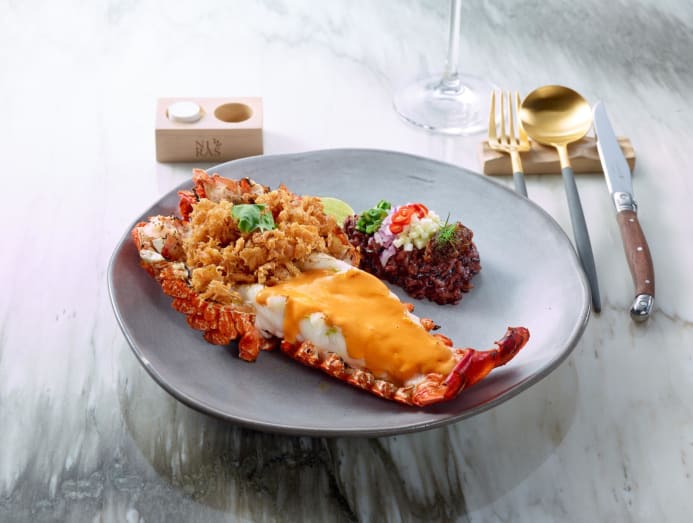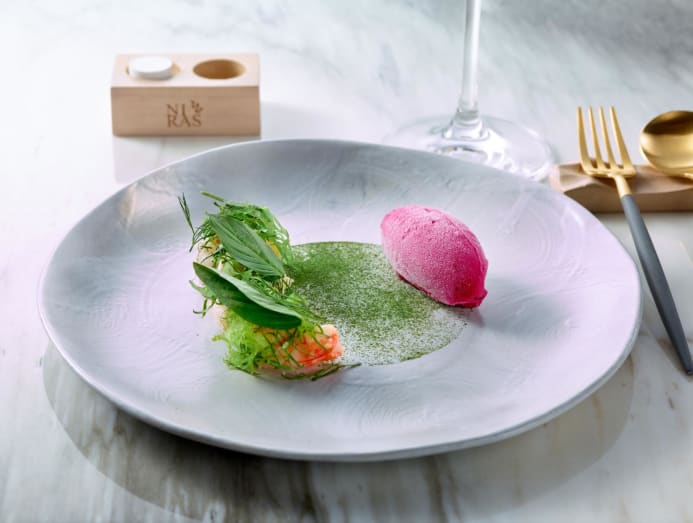 "The supply system (in Hong Kong) is similar to the one in Bangkok. We work a lot with small farmers and fishermen who keep the best stuff for regular customers like us who have been working with them for a long time. In Hong Kong it is the same. We have to slowly build the trust and connection," explained Ton. More importantly, quality remains paramount for Ton. "We are not using local ingredients just for the sake of doing so. We'd import ingredients if we cannot find similar good ones here. At the end of the day, you must provide customers with the best."
The poetic journeys implied in the Niras' name are distilled in dishes that traverse Thailand and distil the essence of Thai cooking – fresh ingredients bolstered by vibrant flavours and the skilful use of herbs and spice. Our six-course signature dinner menu started off with easy amuse bouches: A sweet corn tart lightly perfumed by lemongrass and kaffir lime dressing; a longan wood-smoked hamachi mixed in a traditional Thai fruit dip of caramel and fish sauce known as nam pla waan; and a deep-fried taro puff stuffed with cabbage and seasoned with curry powder.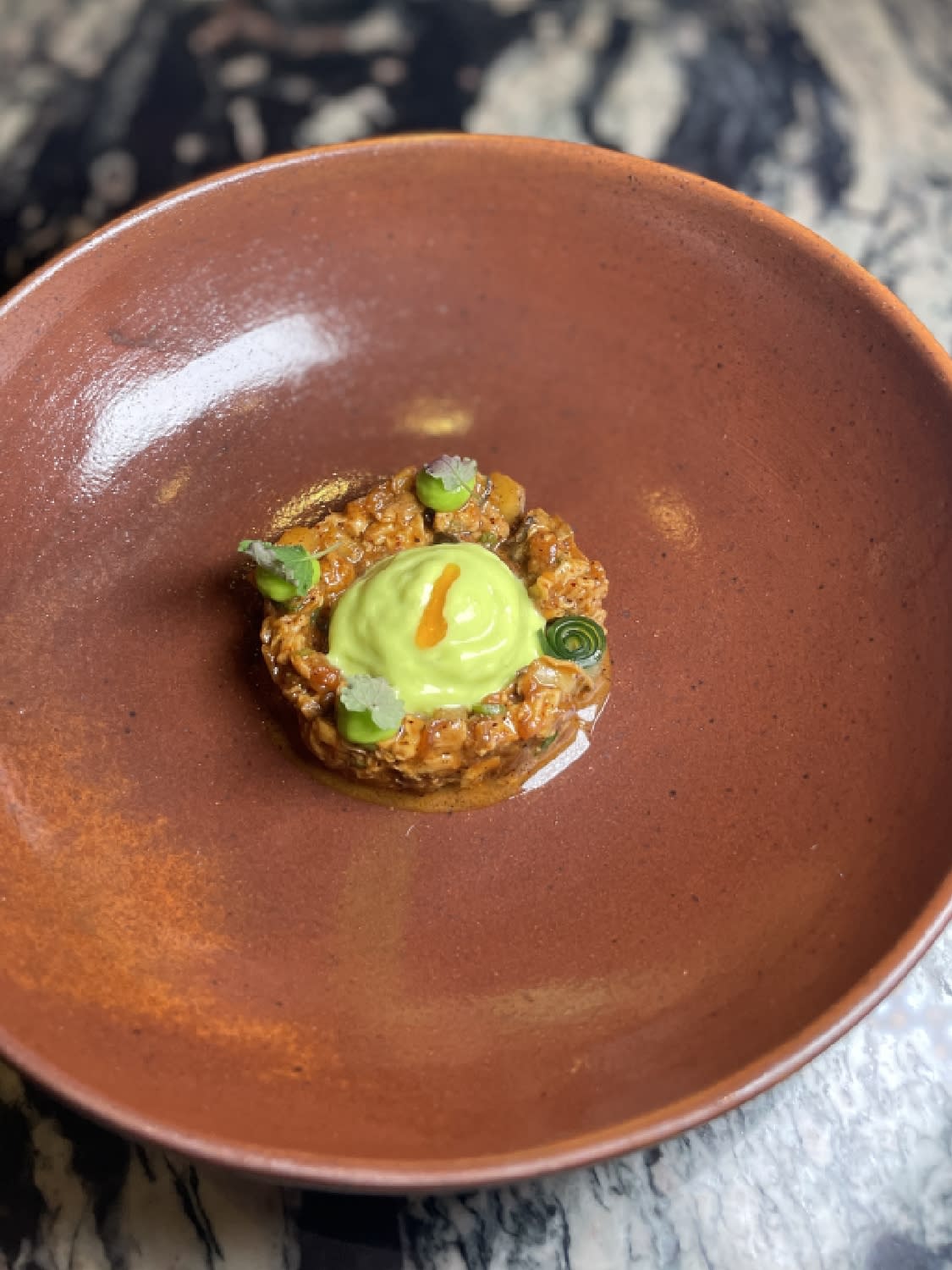 Up next is Le Du's signature dish of poached prawns, a recreation of the popular north-eastern Thai dish of goong ten (dancing prawns). Here, the sweet and firm meat from local tiger prawns gets an umami lift from Japanese seaweed and Thai herbs, with an intriguing twist from the complementing spicy beetroot "sorbet" sauce.In a refined version of the popular Thai street food phad ka prao, A3 wagyu, instead of minced pork, is served with fennel, with the original dish's sauce drizzled over it. The touch of familiarity hits all the right spots.
Another northern Thai classic Larb Muang Moo, which typically uses pork, is rendered as a dish of Japanese oysters cooked with Thai Sichuan pepper and served with burnt spring onion cream and a few drops of Jinda chilli oil. One moment I was savouring umami mouthfuls in air-conditioned comfort, and the next I was dabbing tissue on my forehead to soak up droplets of perspiration. It was like being on a roller-coaster that had trundled languorously only to do a death-defying plunge when you least expect it. It was a delicious punch despite the lingering numbing finish.
Chef Ton, who is third-generation Thai-Chinese and a former investment banker, shared that there are no special adjustments to the taste levels at Niras. "We serve the same taste as we do in Bangkok. I believe in presenting Thai food in a way that is authentic. We don't compromise on the flavours and make the food at Niras sweeter or something else.  We try to represent what Thai food should be."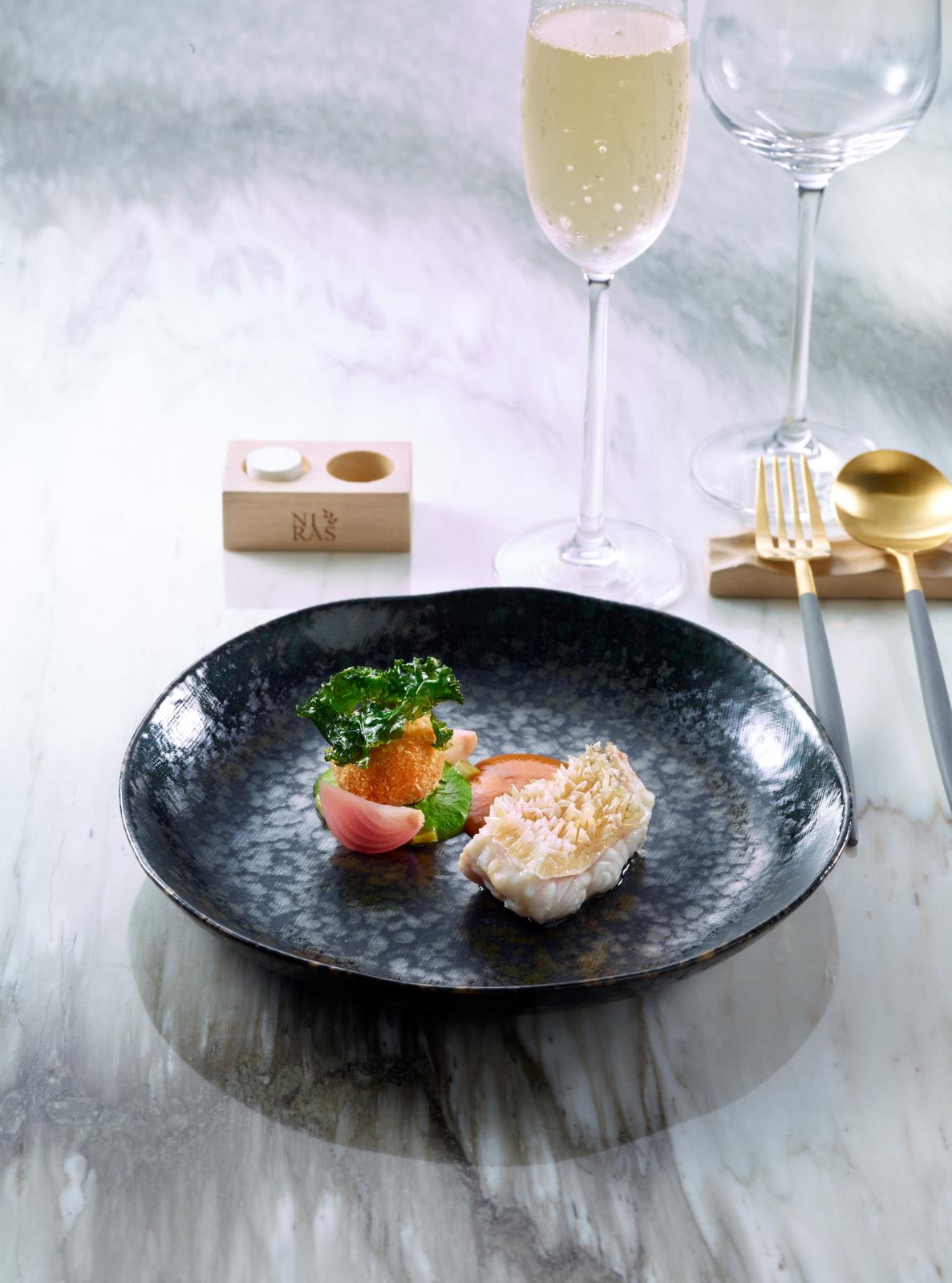 I particularly enjoyed the exploratory aspect of the meal where different elements are kept separate for diners to decide how they want to combine them. The Japanese amadai was presented alongside a minced pork and shrimp puff and Thai choo chee curry (made with coconut milk, red curry paste and seafood) in the middle. I could daub as much sauce as I wanted while appreciating the crisp texture of the fish and puff on their own. Le Du's signature khao khluk kapi, or shrimp paste rice, is offered here as sticky rice fried with mushrooms and topped with Japanese crabmeat. I am encouraged to try each mouthful with one of the three accompanying sauces: a spicy crab roe paste, a sweet and briny olive tapenade, and plummy housemade sriracha. It is an incredible example of the breadth and depth of flavours that can be achieved with just a few ingredients.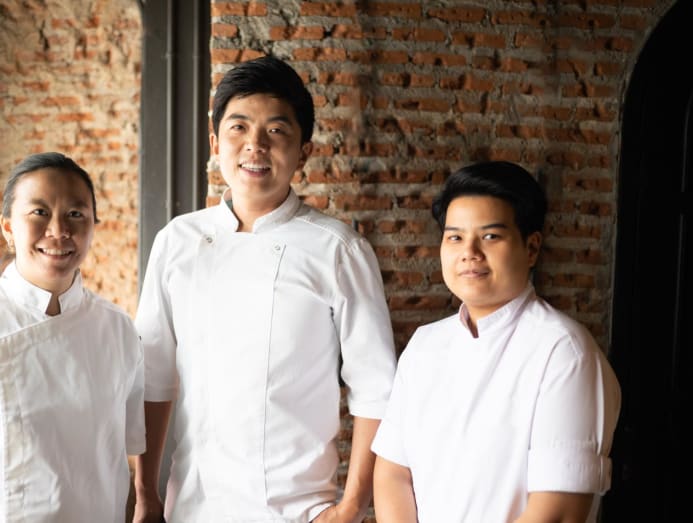 Niras is helmed by head chefs Naruemon "Mai" Ratiphuthilap and Sarocha "Bua" Rajatanawin, who are showing much promise with their deft grasp of culinary techniques and sensitivity to the ingredients. Bua has helmed Thai fine-dining restaurants such as Front Room in Waldorf Astoria Bangkok and The House on Sathorn at W Bangkok, while Mai has worked for eight years at Le Du. 
Ton said of Mai: "She cannot just be my right hand anymore; she has grown up (in her culinary skills) and the next step of her career should be that of a head chef. I believe in her."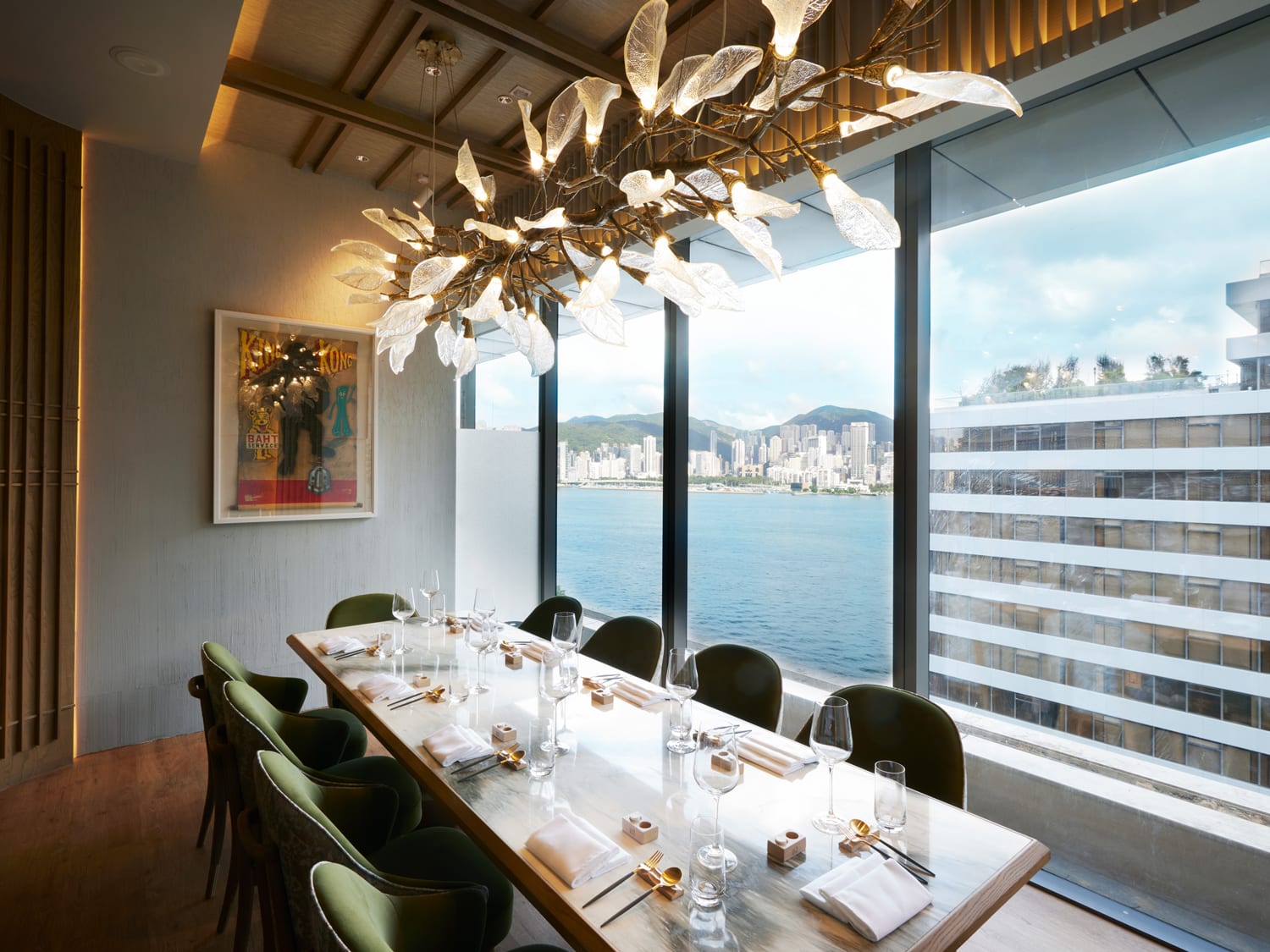 Hong Kong is just the beginning of Ton's expansion in the region, but he is biding his time. "There're many people who contact us, but we try to choose carefully. I don't want to stretch myself and the team. We are not here to get the most money but to make sure that we can serve the customer well and stay on the scene for the long run."
For reservations, go to: niras.hk