What's it like to dine on Gaggan Anand's 'greatest hits' without him there?
CNA Luxury checked out the feted Indian chef's extended residency at The Mandala Club and found lunch was missing its magic: The man himself. The good news: He's typically there.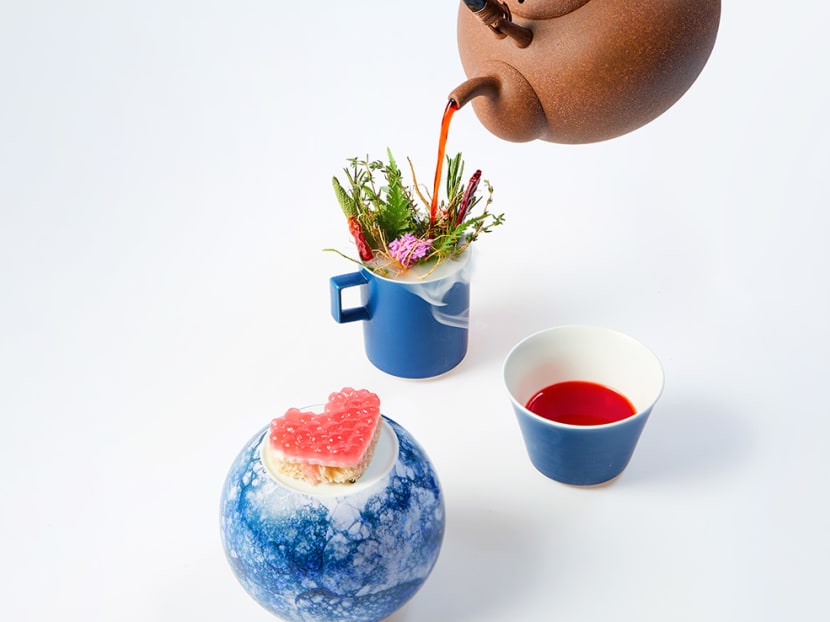 The last time I licked my plate at a Gaggan Anand event, Kiss' heavy metal hit Lick It Up blared in the background, everyone lifted their plates in sync, and the outre chef worked the dining room like a rock star at his own private concert.
This time, several years and a pandemic later, we were seated in a darkened and far more sedate dining room, non-descript music wafting softly in the background. Licking the plate feels a little absurd when the mood is less rock concert, more afternoon-at-the-club.
The venue in question – in case you've missed the hoopla surrounding the feted Indian chef's foray into Singapore – is the members-only Mandala Club. Its cavernous ground floor has been transformed into a Gaggan Anand playground, with neon aphorisms ("people should fall in love with their eyes closed") emblazoned against dark walls and cheeky motifs dotted across the space ("turn my knob" sits the message above a pair of door handles).
Because of the pandemic, Anand's eponymous Bangkok restaurant closed in April last year. Thailand's loss was Singapore's gain and seven months later, the chef and his team arrived to begin their much-hyped 10-week residency.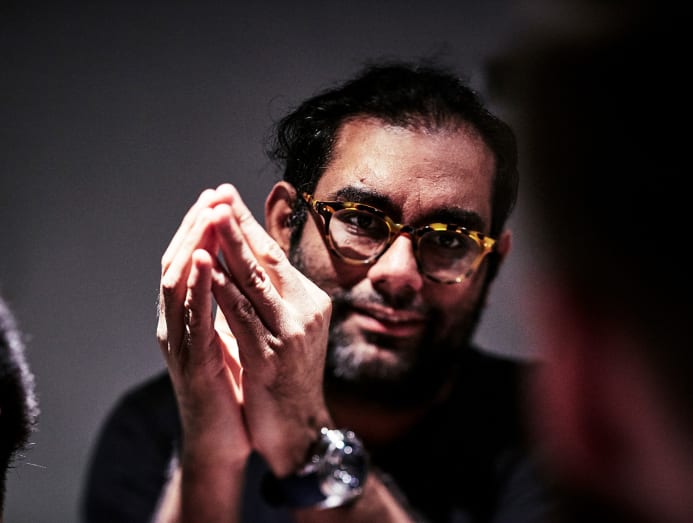 Three months turned into six and this latest and purportedly final menu labelled "Gaggan's Greatest Hits" promises to be "the last you'll see of these iconic dishes". With "limited seats available", the extension will run until Jun 30. Cue the clamour for reservations.
STICK IT TO 'YA
In true Gaggan Anand spirit, the meal started out with the promise of fun. Diners got a makeshift passport with Anand's mugshot and a set of stickers with emoji-like motifs. The mission was to pick and paste a matching sticker on the passport's pages after tasting each dish.
"There is no right or wrong," said our friendly waiter Viraj with a practiced gleam in his eyes. "Or maybe there is. We can discuss this at the end of your meal."
The point of departure was Anand's signature Yoghurt Explosion. Gently plopped onto a surprisingly delicious leaf made from dehydrated green chutney, the spherified essence of yoghurt chaat masala asked to be eaten with your hands in a single, flavour-packed mouthful. We obliged and then dutifully affixed the explosion motif sticker onto our passports.
We went on to lick another plate painted with spicy schmears, this time affixing the tongue motif to our passports and then examining the lick patterns we've made on our plates. Funnily enough, we noted, no one licked their plate clean. We expressed hope that the task of finding matching stickers for our passports will get more challenging with each course. "'Cos this is starting to feel like a pre-school exercise without the kids," we chuckled.
A crisp black orb arrived, perched on a pool of green sauce. "This is a classic dish called Charcoal," intoned Viraj. "The stuffing always changes. We've had chicken tikka masala, a (Mexican) mole, and smoked eel in the past." My dining companion bit eagerly into the orb, his face quickly overcome with disappointment. "Aiya, we got spicy mashed potatoes. Why didn't we get mole?"
Quotidian though the mashed potatoes may have been, they were enjoyable and perfectly spiced with mustard and green chutney. The crust, made from the ashes of vegetables burnt over a charcoal grill, were lovely to eat too, even if they stuck to our teeth like concrete and made us Google if grilled vegetables were carcinogenic (they can be).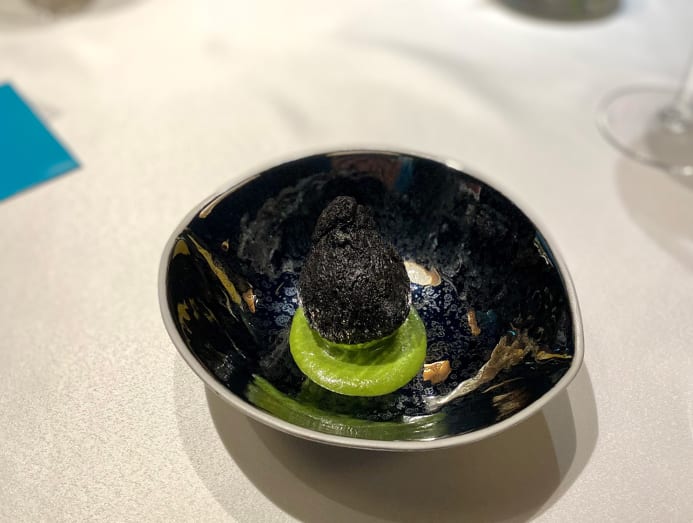 The elements of fun dwindled as the meal progressed with more conventional offerings that wouldn't be out of place in a more traditional restaurant. There were raw scallops served in a cold curry with coconut milk snow; a wonderfully warming spiced mushroom soup with egg yolk emulsion; an oversalted wild Atlantic cod with an Alleppey-style raw mango curry; and a sinewy 14-day dry-aged locally sourced duck with tamarind honey chutney sauce. All things considered, it was a pleasant meal, though steeply priced at S$288 for lunch.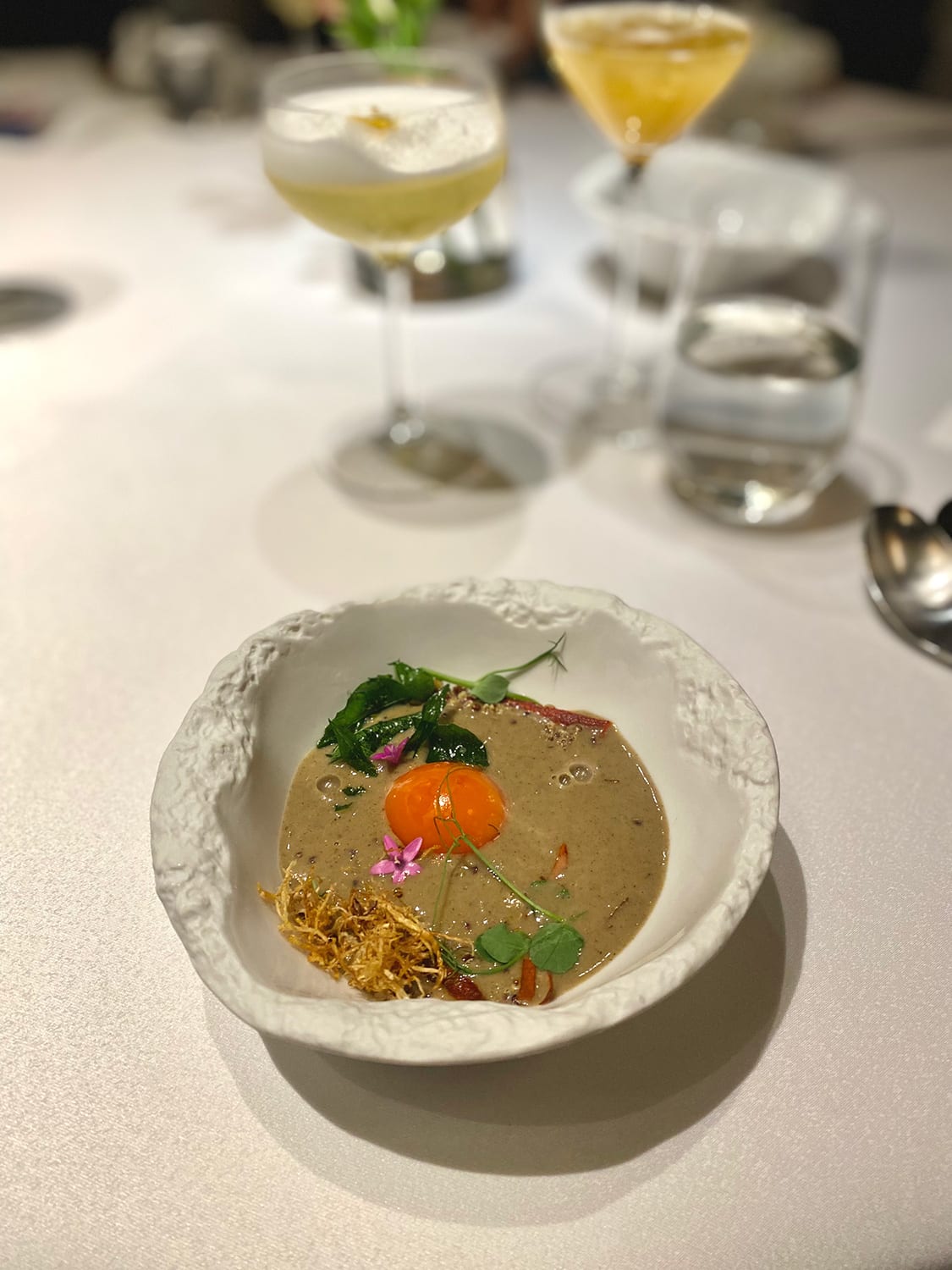 When a lassi-filled baby's milk bottle arrived at the end of our meal, the lacklustre vibe of the dining room had us feeling like the joke's on us. "We started the meal by asking you to lick it up," said Viraj in his hallowed tone. "Now, at the end of the meal, we ask you to (pause) suck it up." We responded with polite laughter.
MAKING A MEAL OF IT
Most guests fork out for a Gaggan Anand experience expecting the riotous good time that he is famed for. When the man himself is in the room, all booming voice and bawdry banter, it's a riot. His commanding presence is impossible to ignore; it draws you in like a spectacle. Without him, it was a competent enough meal that struggles to bring out the child in you, even if it came with a sticker book and baby bottle. It's like listening to Baby Shark without the infectious glee of a toddler in the room.
The good news is that Anand is typically in the restaurant, said a spokesman, unless he's travelling, which was the case when we dined there. So, if you're planning to secure a ticket to this swansong, it wouldn't hurt to ask if the showrunner will be in attendance.
Gaggan Anand's Greatest at the Mandala Club runs until Jun 30. Interested parties can book here.