What will having a drink be like when Singapore's bars reopen in Phase 2 (or 3)?
Safe distancing will be the norm for sure, but that could turn out to be a good thing, say some bar operators.
Even before Singapore's circuit breaker measures were implemented in early April, The Old Man Singapore, a bar on Keong Siak Road, had started making plans for bottled cocktail deliveries. In three days, it had set up its own webpage – it was hitherto tagged to The Old Man Hong Kong, the original outlet – and payment gateway. Cocktails were shortlisted for takeaways and deliveries.
"We executed our plans the moment we saw COVID-19 cases increasing locally, and anticipated that the government would be putting measures in place, based on what we observed in other countries," said Andrew Yap, managing partner of The Old Man Singapore.
The bar's monthly revenue has decreased by 80 percent since it shifted to takeaway and delivery services, although there has been a silver lining.
"The good thing that came out of [the cocktail delivery] is that we are expanding our customer base. Apart from our regulars who have been very supportive, we are seeing more new customers who enjoy our drinks," added Yap.
Cocktail delivery is a service that The Old Man Singapore, along with other bars that have pivoted to this model during the circuit breaker, will continue for now. Under the rules in the current post-circuit breaker phased reopening, F&B establishments are not expected to open till the tail-end of Phase Two of the post-circuit breaker –possibly around end-June – or Phase Three, assuming that community infection rates remain low. Social distancing is still expected to be practised on all premises.
Indra Kantono, co-founder of the Jigger & Pony Group that manages the bars Jigger & Pony and Live Twice, said that their cocktail deliveries, which have "generated much-needed revenue that has allowed us to keep our team in employment", will likely extend beyond July. The group is also taking this time to "work on a couple of limited edition bottles, in collaboration with top chefs and bartenders in our community".
Over at Bar Stories, bartender Dave Koh has been conducting virtual cocktail-making masterclasses by sending participants bartending tools and ingredients. The bar does not deliver bottled cocktails: They don't have a menu as they focus on bespoke drinks with fresh fruit ingredients.
Koh plans to continue his virtual cocktail-making masterclasses after he can reopen the bar safely. Because of the bar's limited seating space, it had always been hard for him to conduct a workshop or masterclass on-site. Taking the lessons online means he is unencumbered by such constraints.
"We had a virtual class with 18 screens," recalled Koh. "There was no way we could have done a hands-on class like that in our bar because we just don't have the space."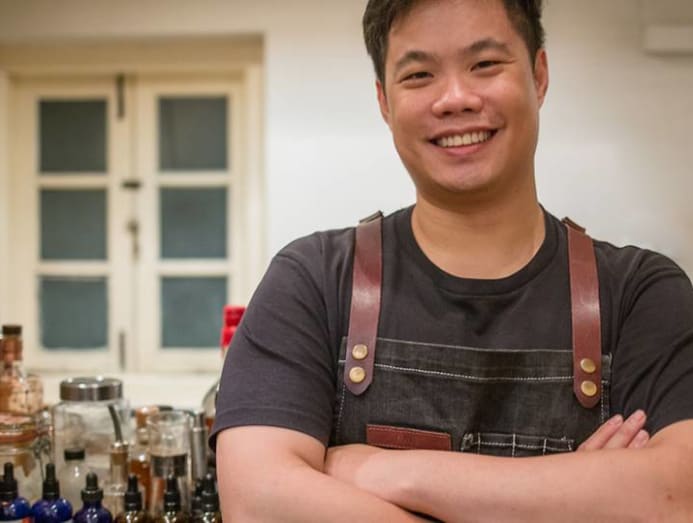 This amalgamation of the digital and the physical domains – a world of cocktail deliveries, takeaways, online tastings, virtual bartending lessons, and dining-in – looks set to be the new normal for bars once they reopen.
"The future is already here, based on what we are doing to cope with the current situation," said Yap. "The shift [to online masterclasses and bottled cocktails] has been harsh and brutal but it prepares us for the future of consumerism."
"The future is already here, based on what we are doing to cope with the current situation." – Andrew Yap
At Bar Stories, Koh expects seating capacity to be cut, and staff to be more productive by doing more with less manpower available.
"Ironically, because of the reduced seating, you might get a more elaborate or better quality [drink]," he said. "[A bar] will have more time to make cocktails: Instead of getting slammed with orders for 70 people during peak hours, there might now be a more manageable 35 guests. It's an opportunity to lavish service and make the experience more memorable for customers."
Adam Bursik, bar manager of Origin Bar at Shangri-La Hotel Singapore, spent the circuit breaker period developing a new cocktail menu as "guests would be looking forward to new, refreshing changes after being cooped up at home".
"Our seating capacity will be affected [because of social distancing measures], and it's normal to expect that bars would scale down their offerings in such circumstances. But we will be doing the exact opposite and introduce more experiences at our bar."
"Our seating capacity will be affected [because of social distancing measures]… But we will… introduce more experiences at our bar." – Adam Bursik
Bars that don't make cocktails – and thus don't deliver them – are exploring other sales avenues to complement their limited services in the reopening phase. Maria Satoh, who runs Orihara, a sake distributor and bar in Robertson Walk, is considering opening her shop earlier for retail purchases before bar operations start at 7pm. She expects smaller crowds because of social distancing.
Since the circuit breaker began, Orihara's sales have fallen by more than 50 per cent. (Before the pandemic, 60 per cent of the company's sales came from its wholesale division, which supplied sakes to 250 F&B outlets here. The temporary restaurant closures have severely affected this source of income.) Besides sake deliveries, the bar is also delivering yakitori from Toritama, its partner restaurant next door – both services bring in about 30 percent of the revenue.
Kantono thinks the reopening of bars will prompt the Jigger & Pony group to "engage our community of customers and industry friends more than ever before". "The circuit breaker has reminded us how valuable these human relationships are," he said.
"I think restaurants and bars would be valued more than ever before, for being spaces that bring people together," he added. "Humans are social creatures that thrive on interactions with others. Our brightest minds will work on vaccines and precautionary measures to allow us to become social again. When that happens, we would enter a new era of relationship-driven consumption; we would want to spend our money on things that enrich human relationships – and that is where bars and restaurants will play a central role."
"The circuit breaker has reminded us how valuable… human relationships are." – Indra Kantono