Looking for an idyllic stay with a gorgeous sea view in Jeju, South Korea? Head to JW Marriott Jeju Resort & Spa
All the rooms at JW Marriott Jeju Resort & Spa feature a balcony with most facing the sea.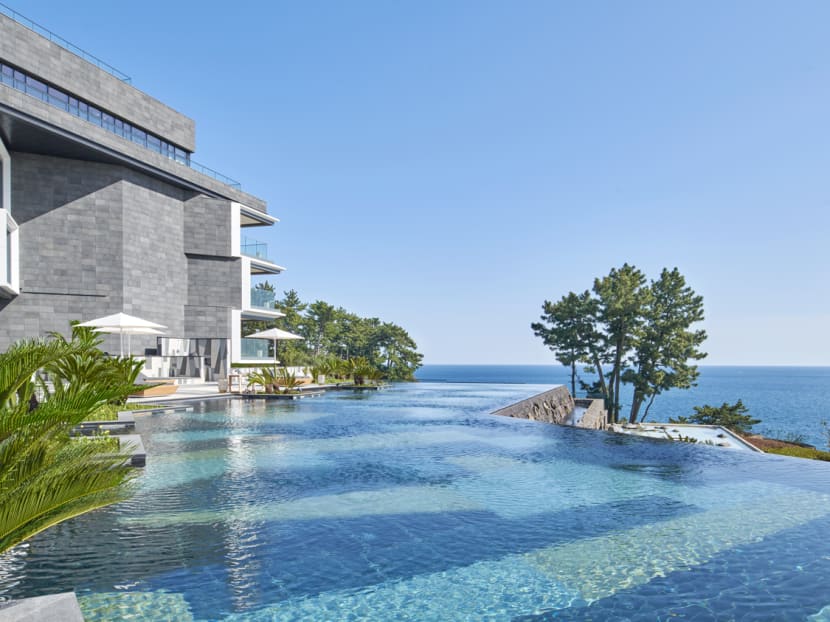 The drive from Jeju's small, neat airport to the brand new JW Marriott Jeju Resort & Spa takes just under an hour, but that's all it took for me to wonder why we have all been so fixated on, say, Phuket and Bali for so long ‒ especially with the hordes of tourists and impossible traffic jams that have bedevilled those islands in the short time since the lockdown lifted. 
For South Koreans and fans of the hit Netflix travel and food series, The Hungry and Hairy, Jeju is an idyllic sun-kissed paradise, barely an hour's flight south of Seoul, capital city of South Korea. For everyone else, it's something of an insider's secret to a relaxing, stress-free island escape. So, it's a little perplexing why there are not more big brand-name hotels here, leaving the field wide open for JW Marriott to open its first resort in South Korea on Jeju's gorgeous southern coastline.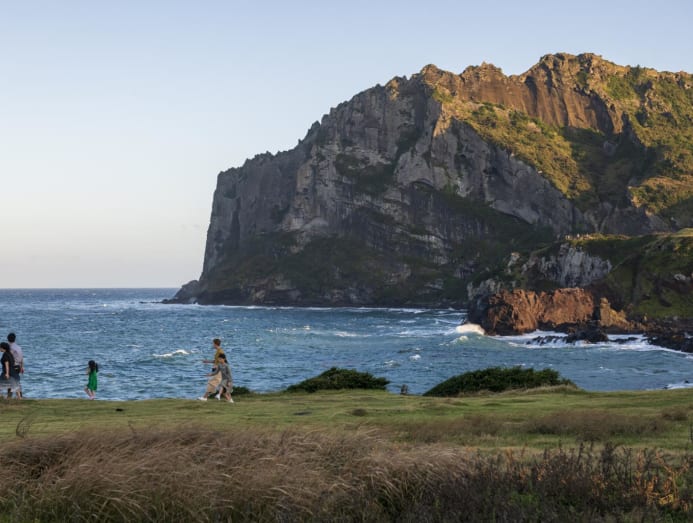 Once you're out of Jeju's downtown centre and into the countryside, it feels as if the world opens up with wide avenues lined with lofty palm trees, low stone walls, tidy villages, and sunny fields of oranges and canola. You get the sense that on Jeju, five cars on the road is considered a traffic jam. 
At some stage during the drive, the sea comes into view through the flickering line of trees ‒ a tantalising glimpse of cobalt blue through flashes of green leaves, and a domed sky of aquamarine. 
The turning into the JW Marriott is unexpected. One minute, we were sliding past long stretches of shrubs and trees and low-slung homes that are neat as pins, with not a scrap of litter or hint of graffiti to be seen; and suddenly, we pulled into a vast circular courtyard made of volcanic basalt stone and a ring of dwarf pine trees.
We'd arrived.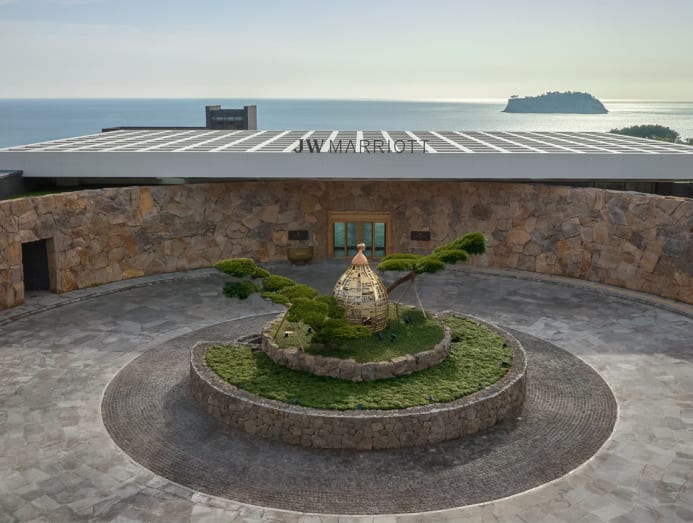 As I poked my head out of the car, the first thing I noticed was just how quiet the place is. It was as if we were at the entrance to the lair of a James Bond villain with exquisite taste. Just the faintest whisper of wind and then, the footsteps of the smartly dressed bellboy trotting out. "Annyeonghaseyo!" he chirruped as he reached for my bag.
"Where's everyone?" I wondered.
With just 197 rooms set on a 27,000-sqm estate, the hotel never feels crowded even at fully occupancy and for that, hats off to the crack design team. 
For starters, architecture studio WATG, the hotshots behind the Garden Wing at the Shangri-La in Singapore, have terraced the hotel into the edge of a high bluff. The reception, restaurants, spa and indoor and outdoor pools are all stacked in a central tower with the rooms sweeping out in handsome wings on either side. 
The interiors, meanwhile, are by Bill Bensley who has furnished the generously proportioned rooms and public spaces in a restrained mix of local stone, wood, glass and metal. There are light touches of traditional Korean design ‒ not too much, but just enough to remind you of where you are. The facades of imperial palaces frame the reception desk, for instance. The ceiling of the Flying Hog Bar evokes the image of a classic scholar's hat, whilst little metal fish, fired like old wood carvings, decorate the skirting of the corridors of the guest rooms.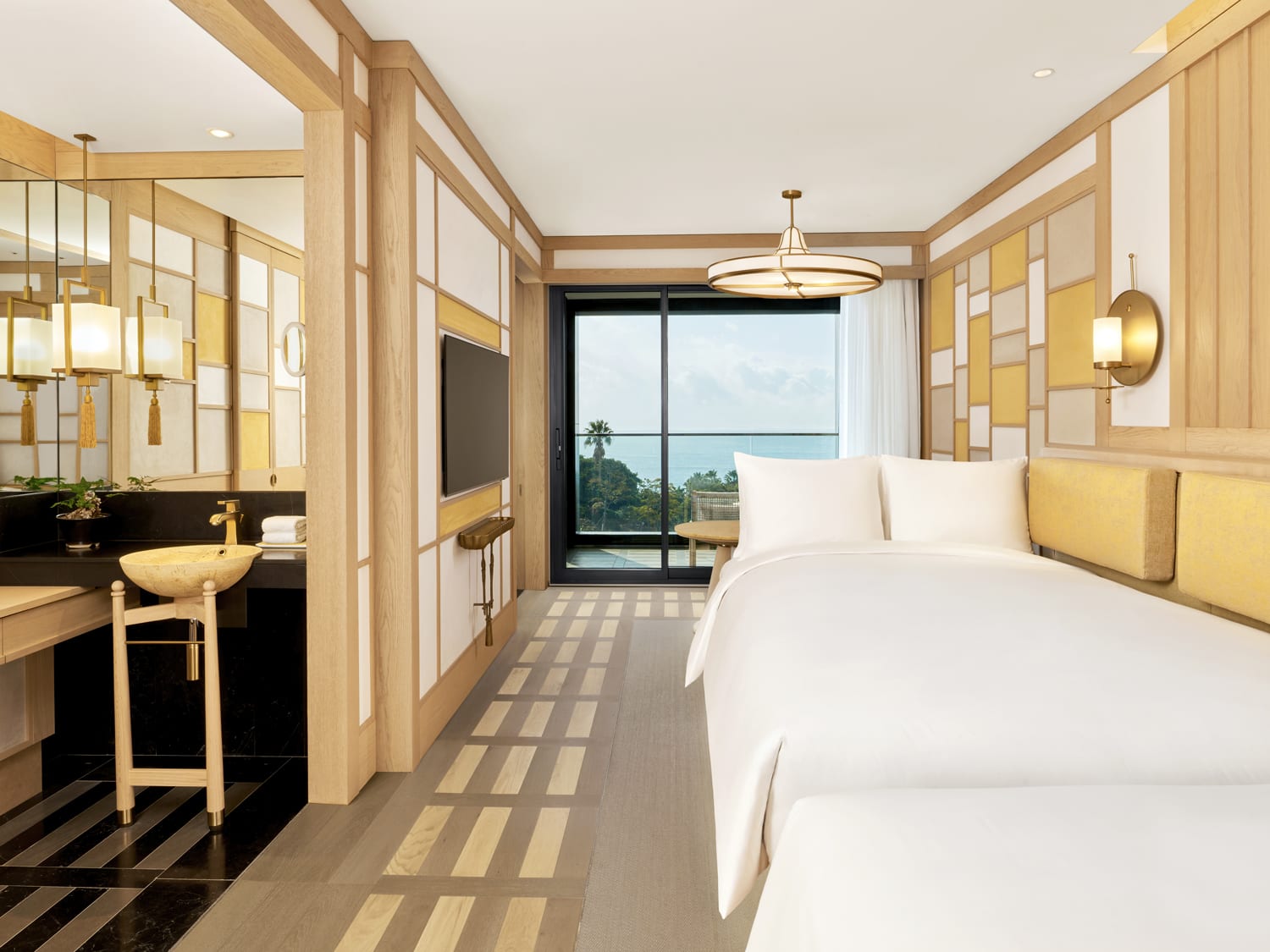 As resorts go, the JW Marriott has rolled out all the trimmings. Excess is the name of the game here. All the rooms feature a balcony with most facing the sea. The marble bathtub in the Panorama Suite is the size of my bathroom at home, whilst the indoor swimming pool stretches a languid 25 metres.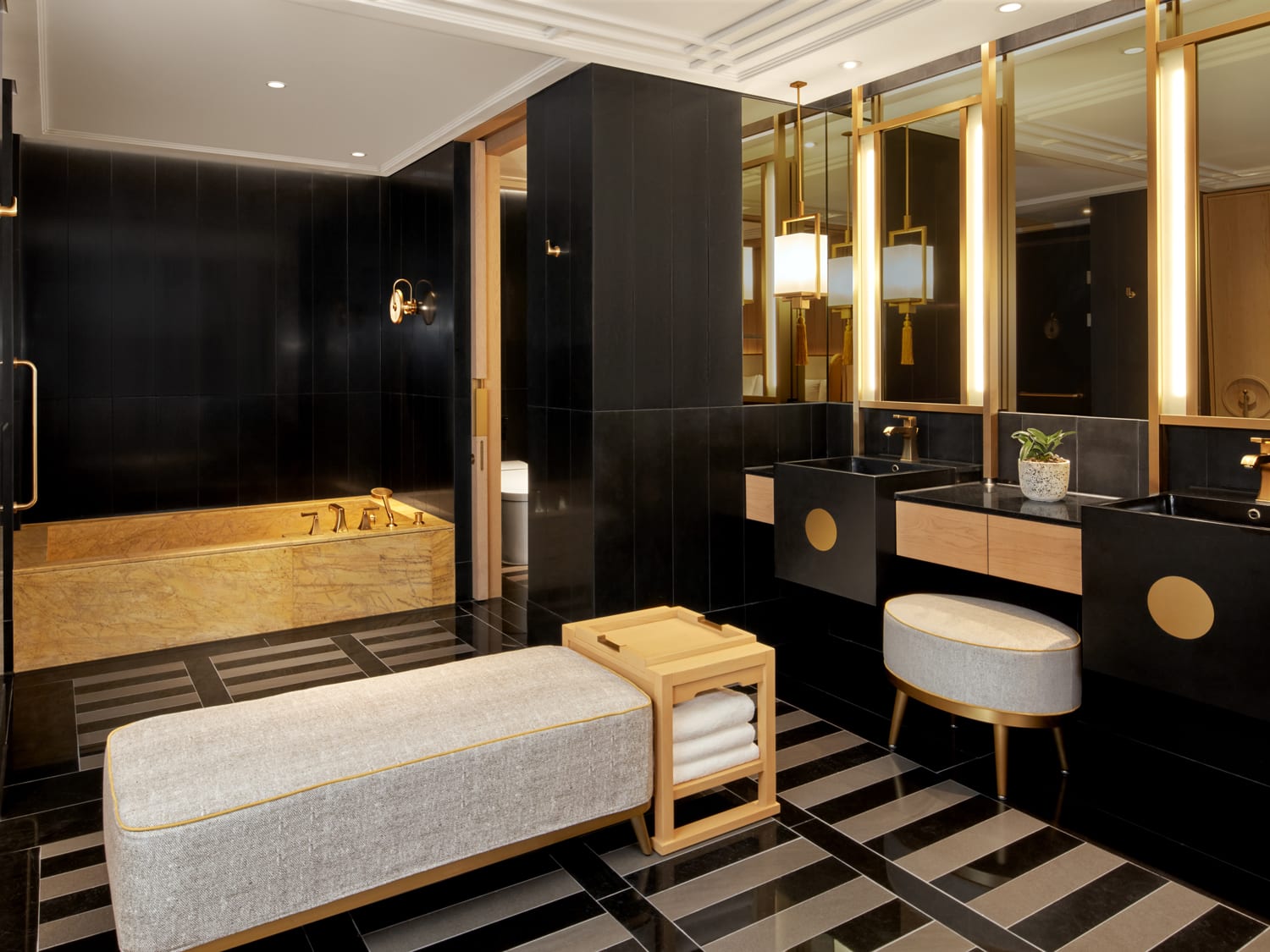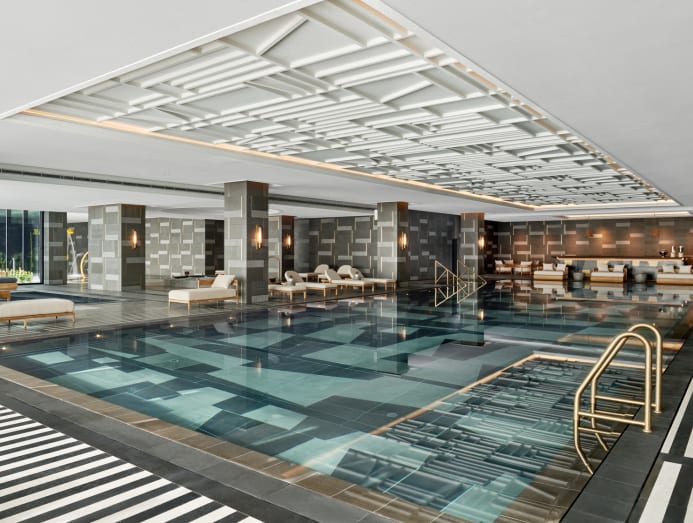 Lunch starts early here. The breakfast service is barely over before the Royal Brunch is rolled out, accompanied by a pastry and cakes buffet stuffed with everything from Red Velvet cupcakes and the flakiest croissant this side of Paris, to a savoury section whose tables fairly groan under the weight of sauteed black pork belly, fried fish, sushi and sashimi. 
Pace yourself because there's afternoon tea to come in the lounge upstairs where the pastry chefs send out tiered trays of duck and feta canapes, basil scones tipped with ricotta cream, sweet corn cream cake, and citrus sponge crowned with local green mandarin cream. 
And not too long after that, comes dinner at the Flying Hog where thick cuts of black pork, cuttle fish, duck and Hanwoo 1++ steak (Korea's equivalent of wagyu) are sizzled over an open oak-fired grill, and the meal ends with cheese soufflé and home-made ice-cream.  
And that's how my days passed. Eating from dawn to dusk. A couple of times, I made it off the resort. Once to go diving with the haenyeo, Jeju's famous female divers who free-dive into the island's nutrient-rich waters to harvest abalone, sea cucumber and turban shells; and another time to walk along one of the 27 Olle Trails that crisscross Jeju along almost 440km of well-marked paths through an extraordinarily picturesque tableau of sea cliffs, forests and coastal villages.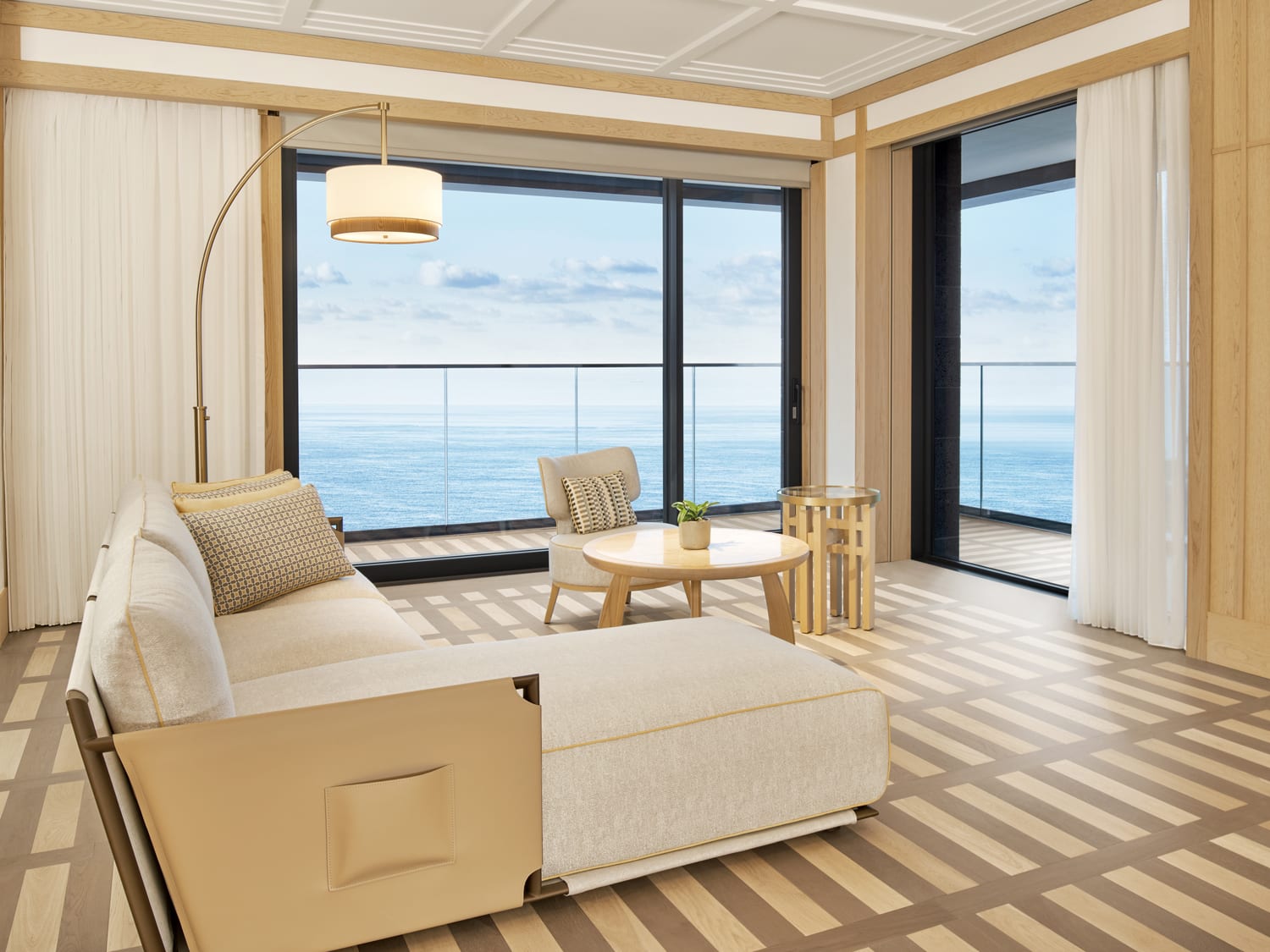 Once, I stood at the edge of the JW Marriott's wide V-shaped outdoor pool with its incredible views of garden, sky and sea and decided that was too much effort. I went back in and booked myself a hair and scalp treatment at the mood-lit spa which, as it turned out, was exactly what I needed after all that eating.
Though I wouldn't have minded a session gently broiling in the hot spring spa, but that's not due to open till this winter.
Side-bar: If you're travelling with children, you're in for a treat. The hotel is completely kid-friendly with a huge, beautifully furnished playpen stuffed with sophisticated slides, romper rooms and activity corners; a thoroughly engaging fountain zone by the indoor pool; and a huge outdoor playground with swings, running tracks and sandpits.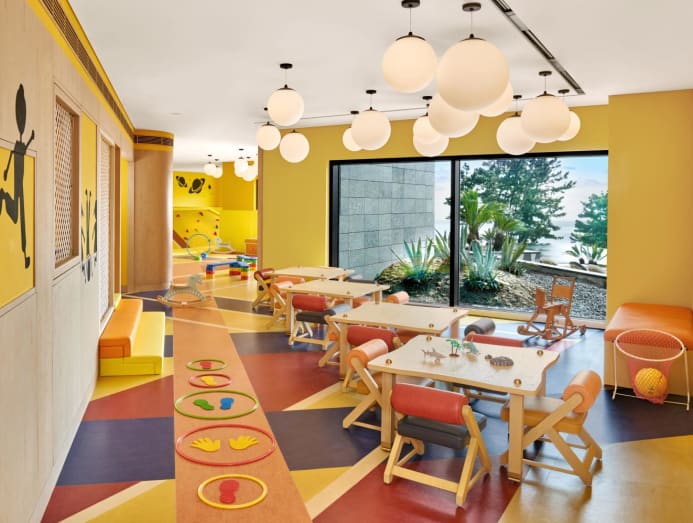 And very oddly, though there were a number of families in residence during my stay, I didn't really notice the children, much less heard them. In the restaurants and in the pool, they were all remarkably well behaved, which led me to conclude that Korean kids must realise from a very young age that their parents are not to be messed with. 
Leaving the rest of us free to head back to the buffet for another round of grilled black pork and poached lobster. 
www.marriott.com. Doubles from US$746 (S$1,010)